South Carolina vs. Missouri: Score, Grades and Analysis
October 27, 2013

US Presswire
Move aside, Maty Mauk. Connor Shaw still has some work left to do.
The senior quarterback inspired his No. 21 South Carolina Gamecocks to a 27-24 upset over the No. 5 Missouri Tigers in double overtime.
More shocking than the result itself was how much momentum swung in this game.
The story of the first half was South Carolina continuously shooting itself in the foot.
On their first two drives of the game, the Gamecocks were forced to punt after three-and-outs. Then after putting a good drive together and getting to the Missouri 23-yard line, Dylan Thompson seemingly hooked up with Nick Jones for the first touchdown of the game. However, Jones' foot was clearly out of bounds when he caught it, so it was an incomplete pass.
On the next play, Elliott Fry missed a 40-yard field goal.
Missouri wasn't going to waste a golden opportunity. The Tigers drove 77 yards in a little under three minutes to go up 7-0. Marcus Murphy ran it in from 11 yards out, shrugging off Jadeveon Clowney's strip attempt on his way to the end zone.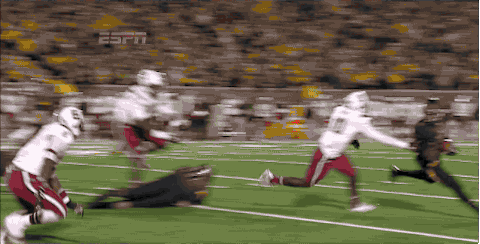 The Gamecocks looked to build some momentum after getting into Missouri territory once again. However, normally reliable Mike Davis fumbled on the 31-yard line.
After getting a stop on defense, South Carolina put another good drive together, making it to the 2-yard line. Surely this was the moment the Gamecocks would get on the board and make this a game. Yet it was Davis fumbling once again, this time taking sure points off the board.
Grantland's Michael Baumann has a novel strategy for how Davis will learn to hold on to the ball:
With his team backed up into its own end zone, Gary Pinkel wasn't afraid to open up the offense. After two straight runs, he decided to take a risk and attempt a pass. It was a gamble that worked out perfectly, as Mauk connected with L'Damian Washington for 96 yards and a touchdown to make it 14-0.
According to KRCG-TV's Rod Smith, it's the longest play from scrimmage for Missouri since 1976:
The St. Louis Post-Dispatch's Dave Matter thinks Washington should get some consideration for the All-SEC team at the end of the season:
In what was a microcosm of the first half for the Gamecocks, Dylan Thompson threw an interception two plays later.
On its next drive, South Carolina tried to surprise the Tigers on fourth down by quick-snapping the ball, only to have Thompson stuffed at the line of scrimmage.
Bleacher Report's Adam Kramer tried to imagine Steve Spurrier's reaction after that turnover on downs:
The first half ended with Missouri holding on to that 14-0 lead.
The third quarter was more of the same. The Tigers defense ratcheted up the pressure, and South Carolina couldn't get anything going.
Michael Sam in particular played extremely well. The senior defensive lineman wreaked havoc on the Gamecocks offense. He pressured Thompson in the pocket and met Davis at the line of scrimmage on running plays.
Following another failed fourth-down conversion attempt for South Carolina, Missouri added a field goal to take a 17-0 lead.
Spurrier could put up with it no longer. Having watched an ineffective offense for two-and-a-half quarters, he opted to put Connor Shaw in at quarterback.
That's when the game turned on its head.
Shaw got the Gamecocks got on the board in the fourth quarter, hitting Bruce Ellington from six yards out to make it 17-7. That capped a 13-play, 65-yard drive.
Yahoo! Sports' Pat Forde noted how much different that drive was from everything SC had done up to that point:
Forde also pointed out that the rest of the game would feel like a lifetime for Missouri fans and players as the Tigers tried to hold on to their lead:
After Missouri's Andrew Baggett missed a 46-yard field-goal attempt on the next drive, South Carolina got a 20-yard field goal from Fry to pull within a touchdown at 17-10.
Then the fun really began.
With just over three minutes to go, once again Shaw stepped up in a big way, leading yet another scoring drive to tie the game at 17. By the time Nick Jones caught Shaw's two-yard pass in the end zone, there was less than a minute left.
Considering he carried an injury into the game, Shaw's performance is that much more impressive. Matt Hinton thought the signal-caller was using that pain as fuel:
Pinkel opted to let the clock run out, taking the game into overtime.
After Missouri scored a touchdown, it looked like South Carolina was done. The Gamecocks had 4th-and-goal at the 15-yard line. Shaw wasn't done, though. After scrambling around a bit, he found Ellington in the end zone to tie the game.
South Carolina followed up with a field goal. Little did the Gamecocks know how big those three points would be.
Marcus Murphy began Mizzou's second overtime drive with a 17-yard run, putting the Tigers in great position. The offense stalled, though, only getting two yards, putting the ball on the 6-yard line. That left Andrew Baggett with a 24-yard field goal to tie the game.
But his kick caromed off the left upright, and South Carolina got the victory.
Replays showed the laces were in as Baggett kicked the ball. That led to the inevitable Ray Finkle reference, seen here by ESPN's Robert Flores:
This is far and away SC's biggest win of the season and a great display of determination after that awful first half.
Key Player Grades
Maty Mauk, Missouri: B

/Getty Images
Maty Mauk wasn't prolific, but he did all the right things in terms of avoiding too many costly mistakes. You have to remember he's a redshirt freshman. Not everybody is going to be Jameis Winston or Johnny Manziel.
What Mauk gets knocked on is Missouri's inability to move the ball in the second half. The Tigers offense managed just three points in the third and fourth quarters, and you can't help but think what could have happened if Missouri was able to get just another field goal. Would it have avoided going to overtime?
Mike Davis, South Carolina: C+
If Mike Davis doesn't fumble on the 2-yard line, this is a completely different game. It's fair to think he cost the Gamecocks six points coughing the ball up that close to the end zone. At the very least, SC settles for a field goal, and Maty Mauk doesn't hit L'Damian Washington for a 96-yard touchdown pass.
Davis' 51 rushing yards were his lowest total of the season. This was also the first game in which Davis didn't have a rushing touchdown. The saving grace was that he remained a fixture in the passing game, catching 10 passes for 99 yards.
Connor Shaw, South Carolina: A+

/Getty Images
Connor Shaw did about as much as one man can do to win a football game all by himself.
Rather than being broken up into the first half and second half, this game should be looked at as when Shaw was off the field and when he was on the field.
Banged up and all, the senior finished 20-of-29 for 201 yards and three touchdowns. This was perhaps the best performance of Shaw's career.
What's Next?
Missouri will look to get back in the win column when it welcomes Tennessee next week. South Carolina also has a home game, taking on Mississippi State.