Washington Redskins vs. Denver Broncos: Live Score and Analysis for Washington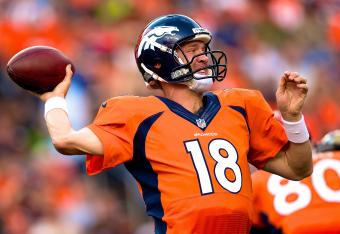 Getty Images
Washington Redskins 21-45 Denver Broncos Final Score
Robert Griffin III proved less than an irritation for Peyton Manning, as the Denver Broncos flattened an initially resilient Washington Redskins team 45-21.
Poor play-calling, particularly in the second half, along with terrible chemistry between Griffin and his receivers, kept Washington's defense on the field too long.
Manning and his offense eventually made them pay and rebounded from a 21-7 deficit to condemn the Redskins to a 2-5 record.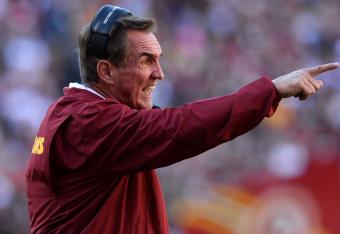 As tough as this loss is to take, the Redskins actually remain in the hunt in the NFC East. The Dallas Cowboys and Philadelphia Eagles were both beaten today.
The problem is Mike Shanahan's team is not playing anything like a group even capable of taking control of easily the weakest division in the NFL.
Thanks for sticking with this blog.
With Griffin having gone 15-of-30 passing today, he is now 52-of-98 in the #Redskins' last three games. That's a 53% completion percetage.

— Grant Paulsen (@granthpaulsen) October 27, 2013
But for those not yet overly concerned with quality of his play, consider these numbers:
Mike Shanahan: Robert Griffin is okay. The doctors cleared him to go back into the game but Shanahan held him out based on the score.

— Grant Paulsen (@granthpaulsen) October 27, 2013
Griffin's injury is apparently not considered serious.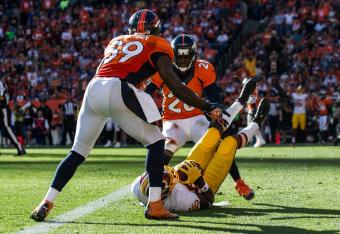 That is the end of the game as the Broncos mercifully take three knees to call it quits.
The final score is 45-21, Broncos.
Official word is that Griffin has a left knee injury. They say questionable, but it'd be shocking if he returned at this point.

— Mike Jones (@MikeJonesWaPo) October 27, 2013
Griffin's injury is officially confirmed.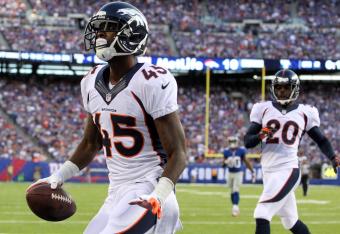 Touchdown! Cousins is intercepted after Dominique Rodgers-Cromartie broke on an out pass he clearly anticipated.
He also appeared to enjoy teasing Cousins all the way to the end zone.
The Broncos are ahead, 45-21.
It is shocking the Redskins could find themselves this far behind after how they played in the first half and the start of the third quarter.
Griffin just got a thumbs up after doctors checked his knee, and he got up. He's watching with no helmet in his hand

— Mike Jones (@MikeJonesWaPo) October 27, 2013
Griffin appears to be being held out for his own protection. In all honesty, you could make a case for benching him based on an abysmal second-half showing.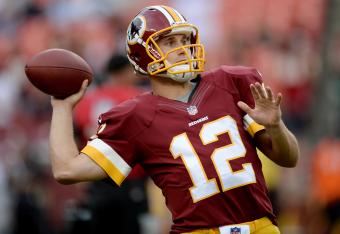 Kirk Cousins comes in after Hall makes yet another interception.
Looks like they're looking at Griffin's left knee.

— Mike Jones (@MikeJonesWaPo) October 27, 2013
Griffin was clearly shaken after that last hit, one of a number he has taken today.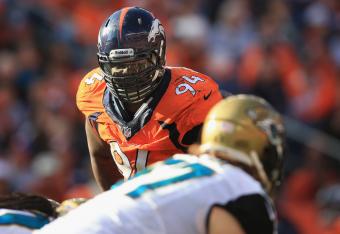 Interception! Griffin wastes little time giving the ball back to the Broncos. A massive hit from Terrance Knighton takes the air out of a desperate pass over the middle and Rahim Moore intercepts.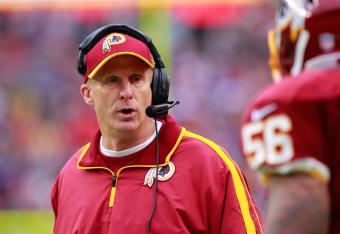 When you play this much man coverage and have covering defenders turning their backs, you are always going to be vulnerable to well-executed screen plays.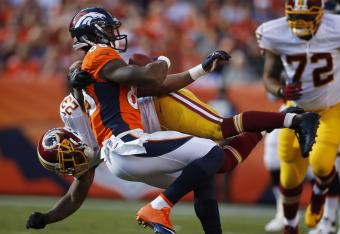 Touchdown! Another screen pass to the left, this one to Demaryius Thomas destroys the Redskins.
It's now 38-21 Broncos.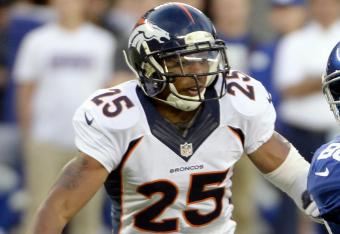 Interception! There goes Washington's last chance, as Griffin returns the favor just two plays later.
Harris steals a low throw that gave the receiver little chance.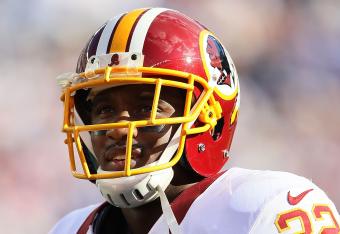 Interception! Jordan Pugh snares a tipped pass from Manning. Biggers got the tip after hanging on a route underneath with good trail technique.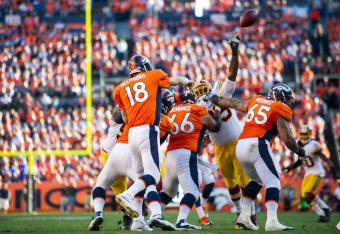 Being on the field for practically the entire second half is beginning to show for the Redskins defense. Poor tackling is evident on almost every play.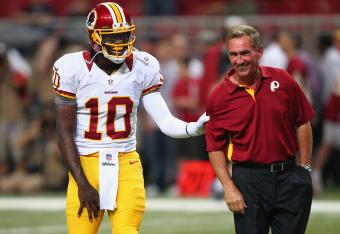 Another three-and-out for the Redskins. The Shanahans seem determined to start every drive with the deep ball.
The Broncos are simply taking it away and challenging Griffin to go through his reads. You have that luxury when you no longer have to worry about the run.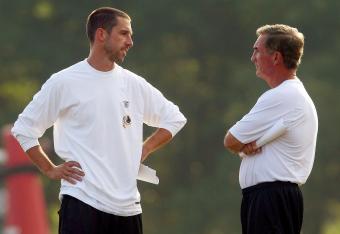 The Redskins have played so well for so long, but this game is close to slipping away.
This time it is not the fault of the defense. The blame lies squarely on Griffin, his receivers and the men calling the offense.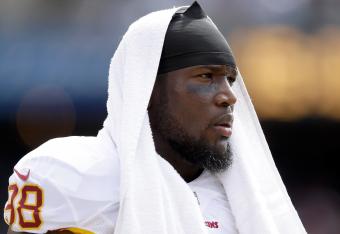 Field goal! Matt Prater kicks the Broncos into a 10-point lead.
Orakpo made a nice play on third down to swat down a risky slant from Manning.
Denver leads 31-21.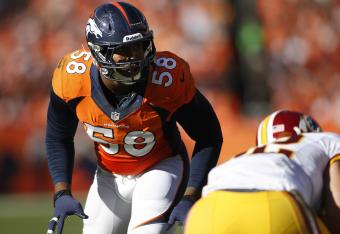 Fumble! Von Miller finally strikes as he chops the ball loose from Griffin. Derek Wolfe recovers. Griffin had little time, but also no open receivers.
Touchdown! The Broncos take immediate advantage of the generosity of Washington's special teams.
Moreno receives a screen pass and runs behind smart blocking to score.
Denver has stormed back and leads 28-21.
The 1st pass should've netted 35 yards. Wide open WR. RT @_JakeRussell Three straight passes on this drive comes across as a panic move.

— Grant Paulsen (@granthpaulsen) October 27, 2013
Griffin was awful on that last drive, but the play-calling was just as bad. Why throw three straight when the run has been working and you need to keep Manning off the field?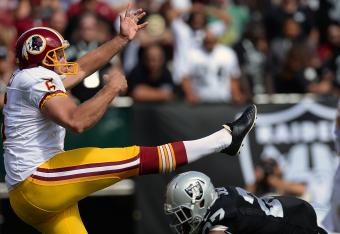 It all unravels as Rocca's punt is sliced. Broncos take over in Washington territory.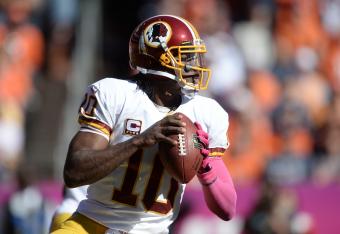 Griffin misses another open receiver off play action. He throws behind Joshua Morgan who was free deep down the middle.
Griffin's delivery has been wayward for most of this game.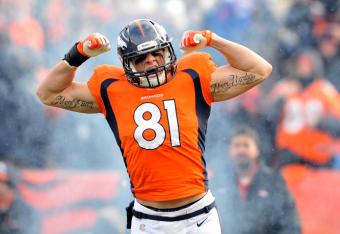 Touchdown! Manning tosses an easy one to Joel Dreessen.
The Broncos showed a trips look with three receivers bunched on one side. Two ran to the back of the end zone, while Dreessen ran an out underneath.
The game is now tied at 21.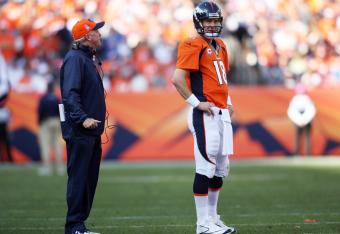 The very definition of crunch time. The Broncos are about to go for it on 4th-and-goal from the 1-yard line.
This article is
What is the duplicate article?
Why is this article offensive?
Where is this article plagiarized from?
Why is this article poorly edited?