Jameis Winston's Heisman Trophy outlook just keeps getting brighter. The freshman quarterback helped the No. 2 Florida State Seminoles score 35 first-quarter points on North Carolina State and then finished his day early.
The Seminoles went on to defeat the Wolfpack, 49-17.
Winston went 16-of-26 for 292 yards, three touchdowns and one interception. While this is a modest stat line (in terms of Heisman Trophy candidacy), almost all of that damage was done early. ESPN's Stuart Scott tweeted Winston's stats after the first quarter:
11-14....229-yds...3-TD passes.... IN THE FIRST QUARTER!! Jameis Winston is reeeediculously good!!

— Stuart Scott (@StuartScott) October 26, 2013
As ESPN points out, that was the most passing yards by any FBS quarterback in the first quarter this season, and it helped the Seminoles hold a 35-0 lead at the end of the first period.
Here is is first touchdown pass of the day:
Jameis Winston has the #2 Seminoles up 14-0 on NC State early 1Q. Winston 4-4, 86 yards, 1 TD: http://t.co/BcH74tktOV #NCSTvsFSU ABC/ESPN2

— ESPN CollegeFootball (@ESPNCFB) October 26, 2013
Winston took a seat after the Florida State's first possession of the second half.
Given Winston's hot start and ability to essentially win a game in one quarter, this performance will be a plus in the eyes of Heisman voters, and to that end, there will be more noticing Winston this week.
The freshman certainly hasn't been flying under the radar this season, but his profile went through the roof after last week's 51-14 demolition of Clemson in Death Valley. In that showdown, Winston wound up with 444 yards, three touchdowns passing and one rushing—which I am sure played a part in NFL.com's Albert Breer making this astute point.
From a publicity standpoint, Jameis Winston right now is far out in front of where Johnny Football was at this point last year. #Heisman

— Albert Breer (@AlbertBreer) October 26, 2013
Just a year after Johnny Manziel became the first freshman to win the Heisman, Winston has to be considered to have a strong chance to make that two freshman in a row.
By nearly all accounts, Oregon's Marcus Mariota is Winston's only real competition at the moment. Like Winston, he is the quarterback of an undefeated team, and he's definitely got the stats.
Heading into No. 3 Oregon's game with UCLA on Saturday, Mariota—a duel-threat nightmare—has produced a total of 2,500 yards and 28 touchdowns this season. That includes throwing for 19 scores and not suffering a single pick.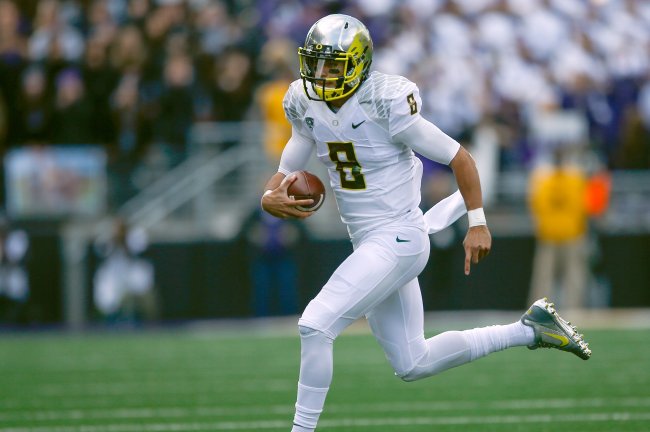 /Getty Images
Meanwhile, before adding to his stats against the Wolfpack on Saturday, Winston had thrown for 1,885 passing yards, 20 passing touchdowns and three interceptions.
Who will win the Heisman?
Winston has done this with a higher completion percentage (71) and quarterback rating (210) than Mariota.
Still, going on numbers alone, I'm prone to give Mariota the lead. However, this race is not all about numbers, and as things stand now, Winston is my leader—thanks in large part to his marquee victory over Clemson while Oregon has yet to have a signature game.
It's just splitting hairs at this point between the two, however, and it's hard to see anyone but one of these two young men winning the coveted trophy.
The winner in that race will be the one who finishes the season in more spectacular fashion.