World Series 2013 Game 3: Live Score, Highlights for Red Sox vs. Cardinals
Getty
The Cardinals take Game 3 of the 2013 World Series 5-4 on a wild walk off! Allen Craig was awarded home plate after an incredible play which resulted in obstruction after an errant throw to third base. We've never seen a game end like this. Matt Holliday lead the way with a 3 RBI night. The Red Sox fought back and tied the game late which set the stage for this unforgettable ending. St. Louis takes a 2-1 Series lead into Game 4 tomorrow night! Thanks for sticking with us.
Here's the obstruction play.
Middlebrooks: "I'm not in the baseline."

— Jon Morosi (@jonmorosi) October 27, 2013
Farrell on Saltalamacchia's decision to even throw to third: "Tonight was a costly throw."

— Jack Curry (@JackCurryYES) October 27, 2013
Middlebrooks: "It blows your mind to lose a game like that."

— Jesse Spector (@jessespector) October 27, 2013
John Farrell on #RedSox loss: "It's a tough way to have a game end, particularly of this significance. That's a tough pill to swallow.''

— Bob Nightengale (@BNightengale) October 27, 2013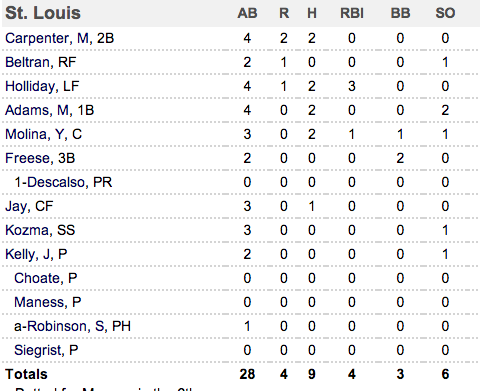 The Cardinals' box score.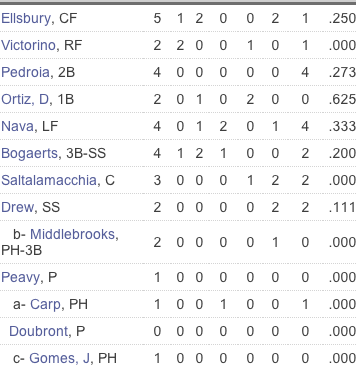 The Red Sox box score.
Officially error on 3B Middlebrooks for obstruction on final, winning/losing play after bad throw (no E) on Saltalamacchia.

— Gordon Wittenmyer (@GDubCub) October 27, 2013
Jim Joyce made that call immediately. Middlebrooks' legs going up intentional or not, it still constitutes interference.

— Matthew B. Mowery (@matthewbmowery) October 27, 2013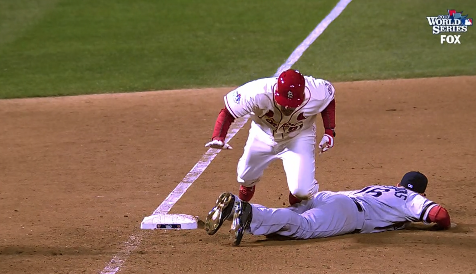 So here it is. Middlebrooks went to catch the throw from home after Molina was thrown out at the plate, but tripped up Craig for the obstruction call.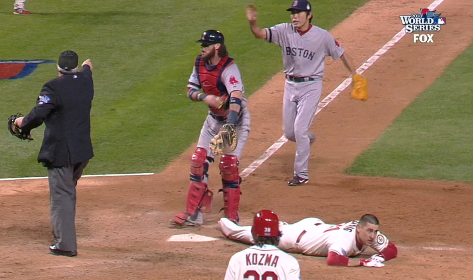 This is insane. The Cardinals win on obstruction!!! Allen Craig was tripped by Will Middlebrooks and was awarded home plate!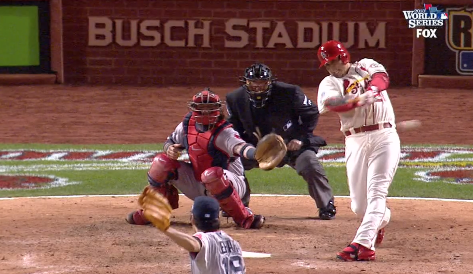 Allen Craig with a one-out double! We've got men on 2nd and 3rd!
Koji Uehara on to face Craig

— Eye on Baseball (@EyeOnBaseball) October 27, 2013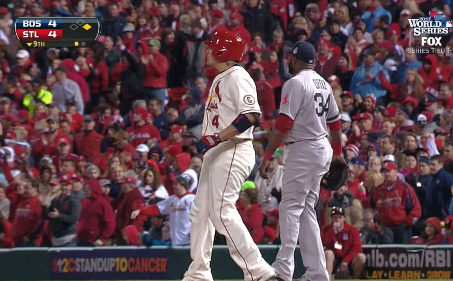 We've got action! Yadier Molina slices a single into right-center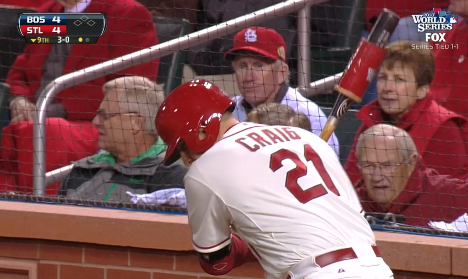 Allen Craig is on deck.
That was a beautiful curveball that got a huge out.

— Zachary D. Rymer (@zachrymer) October 27, 2013
Three up, three down for Trevor Rosenthal in the 9th inning, two via strikeout. Bottom of the 9th: Adams (2-4), Molina (2-3), (Craig/Cruz).

— St. Louis Cardinals (@Cardinals) October 27, 2013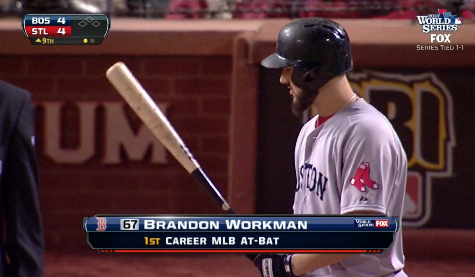 This should be fun.
Off to the 9th inning, tied at 4-4. Due up: Middlebrooks (0-1), Workman (.000) and Ellsbury (2-4).

— St. Louis Cardinals (@Cardinals) October 27, 2013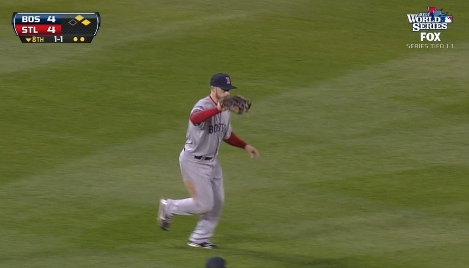 Holliday pops up as we head into the 9th!
Beltran intentionally walked Holliday up, he's accounted for every STL run so far (3 RBI, scored other run)

— Eye on Baseball (@EyeOnBaseball) October 27, 2013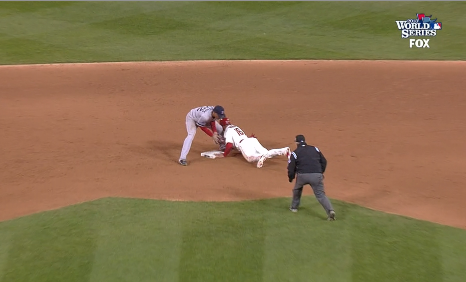 Kolton Wong moves into scoring position with the stolen base.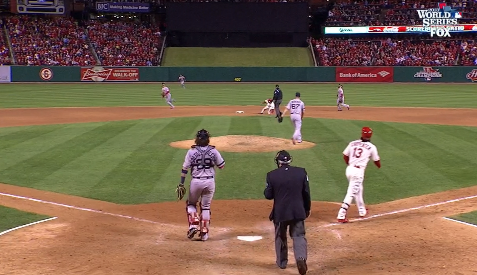 Carpenter pops out with Wong on the move. We've got two down here in the 8th.
This article is
What is the duplicate article?
Why is this article offensive?
Where is this article plagiarized from?
Why is this article poorly edited?