Baylor vs. Kansas: Live Score and Highlights
Image edited by Brett Gering
Original photo courtesy of Getty
The tandem of Bryce Petty and Tevin Reese demoralized Kansas' secondary throughout the evening, as Baylor keeps its flawless record intact at 7-0.
Final
Baylor - 59
Kansas - 14
Box score provided by NCAA.com.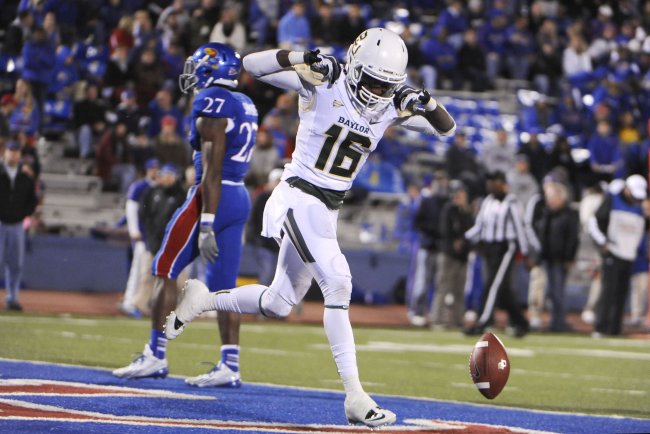 Baylor Bears
If Baylor continues to play with the execution it displayed tonight, there's little doubt in my mind that the Bears will be hoisting a Big 12 trophy in the near future.
After somewhat of an ineffectual start, Bryce Petty inevitably hit his stride and hosted a passing clinic. The Heisman hopeful—if anyone argues that that title's misplaced, they're fooling themselves—connected on 20 of his 32 attempts for 430 yards and three touchdowns.
Baylor's wideouts constantly charred the competition via post and go routes. Tevin Reese was the proverbial man of the hour, gaining separation with ease and tallying 110 receiving yards and two touchdowns on a meager four receptions.
The passing game's success was largely attributed to the clout of Lache Seastrunk, though. Kansas' safeties were repeatedly lured in and rope-a-doped by play-action. Even with a stacked box, Seastrunk registered 113 rushing yards on just 13 carries (8.4-yard average).
He was eventually relieved by Shock Linwood, who also trumped the century mark (108 yards) while adding two touchdowns.
The key component to Baylor's potential championship run is its defense. Just weeks ago, the unit was punished by a Daniel Sams-led Kansas State offense. Defenders were committing to hopeless angles and attempting wretched arm tackles.
What a difference two weeks makes.
Before the starters were sidelined, Baylor's defense was collectively stifling the Kansas offense. While the Jayhawks don't serve as a (reliable) competitive gauge, they do boast an underrated ground game. The Bears, albeit with safety help, suffocated James Sims and Darrian Miller—two backs accustomed to shedding tackles.
Baylor hosts the 7-1 Oklahoma Sooners at 6:30 PM (CT) on Nov. 7.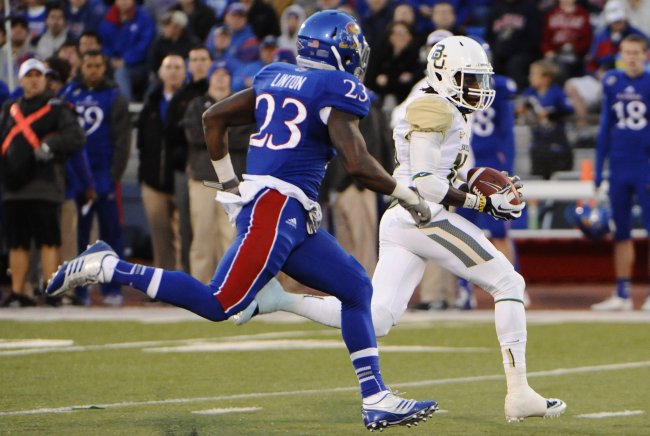 Kansas Jayhawks
Where to start...
Okay, Dave Campo has forgotten more football knowledge than most of his critics will ever possess, but tonight's defensive play-calling would lead you to believe that he's contracted some form of football-related amnesia.
Let's state the obvious: Playing Cover 0 against arguably the best passing offense in the nation is a one-way street to the unemployment line. Still, Campo deployed it in various scenarios, along with a healthy serving of Cover 1 (which is another recipe for disaster).
Yes, Lache Seastrunk is a stud. He runs like the wind and blurs by would-be tacklers like he should be fitted for a cape.
Yes, creeping an extra safety or two into the box will help in halting the read-option.
But leaving your cornerbacks—and in Kansas' case, cornerbacks that can't run stride for stride with Baylor's receivers—on an island will end with an aerial onslaught nine times out of 10.
Forty-five minutes around the way, the Kansas City Chiefs tout Pro Football Focus' No. 1 NFL defense, and the club utilizes a scheme similar to what Campo is trying to implement. But the Chiefs have the necessary talent to do so; the Jayhawks don't.
On the other side of the ball, Jake Heaps didn't find any semblance of success until Baylor's backups graced the field. Montell Cozart, a true freshman, looked the part, which is expected.
Due to the Bears continually stacking the box, Charlie Weis continued to put his faith in the passing game. The duo of Heaps and Cozart combined for 11-of-33 passing, 154 yards and a touchdown. Kansas' quarterbacks averaged 4.7 yards per pass—2.3 yards less than Baylor's backfield averaged per handoff.
Bill Self's lauded basketball team debuts with a scrimmage on October 29th. In Lawrence, Tuesday can't come soon enough.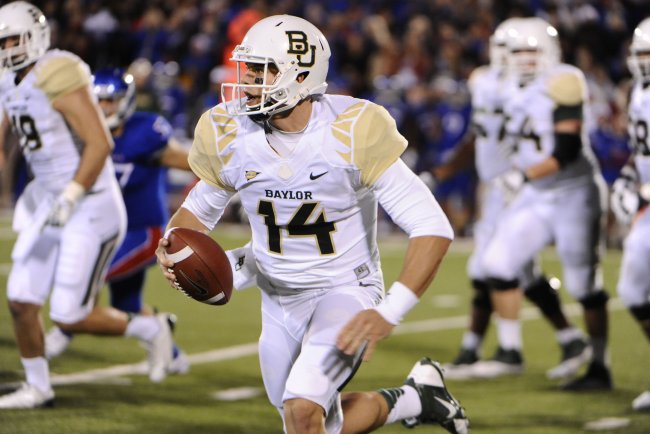 Final
Baylor - 59, Kansas - 14
Baylor's Bryce Petty, who was yanked in the middle of the third quarter, authored an aerial bombardment, passing for 430 yards and a trio of touchdowns.
The Bears improve to an impressive 7-0.
Charlie Weis' Jayhawks, meanwhile, fall to a head-hanging 2-5.
KU HELD BAYLOR UNDER 60. CELEBRATE. *SOB*

— Joseph Sandt (@EnterSandtman) October 27, 2013
A morsel of optimism.
My mom is wondering why Baylor hasn't scored 70 points yet.

— Alex Sims (@apsims) October 27, 2013
Parents just don't understand.
The last time KU beat someone currently in the big 12 (CU excluded), I was still in college. I'm now married with 2 kids. #kufball

— Beth Toomey (@bethtoomey32) October 27, 2013
The icing.
Fifth time (!!!) this season that Baylor has gone over 700 yards of total offense.

— Bryan Fischer (@BryanDFischer) October 27, 2013
Seven hundred and forty-two yards of total offense.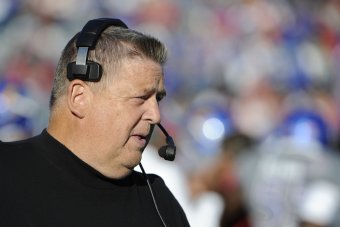 The conclusion of tonight's game will double as KU's 25th consecutive loss in Big 12 play. Wow.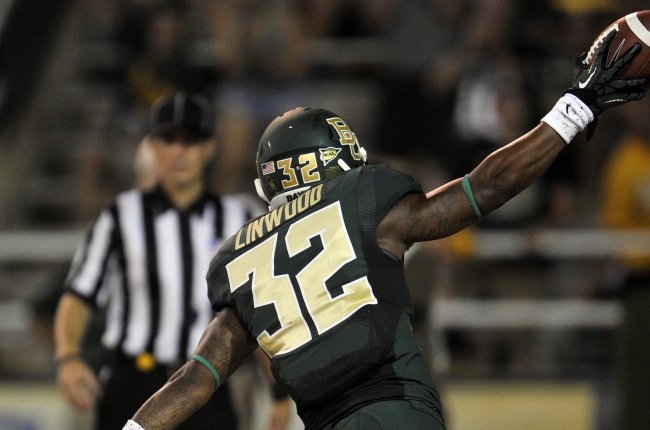 Touchdown
Baylor - 59, Kansas - 14
Shock Linwood cradles the read-option handoff and storms through the teeth of Kansas' defenses, breaking half-hearted tackles on a 68-yard touchdown run.
Just out of curiosity, I Googled the basketball scores between the two clubs at Lawrence last season.
Baylor already topped its 44-point output at Allen Fieldhouse. It's 10 points away from doing the same to Kansas' score.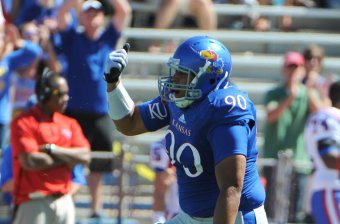 Kevin Young crashes down the line and forces Devin Chafin to cough the ball up. Kansas recovers.
If the Jayhawks played the Bears' second string, this game might've had a legitimate shot at being competitive.
Charlie Weis making $2.5M this year. Art Briles $2.3M RT @KCStar Kansas trails No. 8 Baylor 38-0 at halftime: http://t.co/djtNTHTnsE …

— Sam Mellinger (@mellinger) October 27, 2013
Safe to say that Weis wrote a thank-you letter to Bill Self sometime after that contract was signed.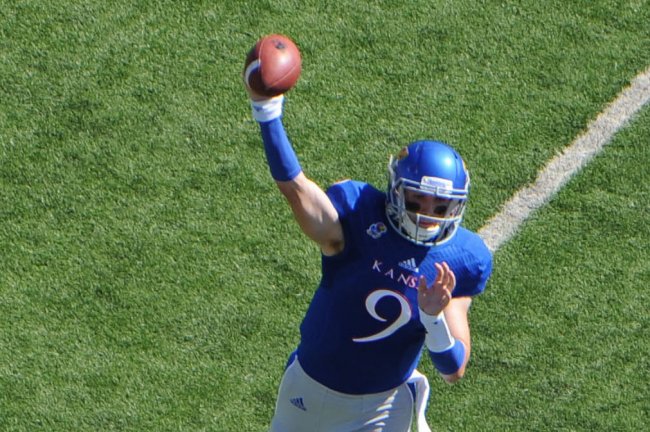 Touchdown
Baylor - 52, Kansas - 14
Jake Heaps snipes a bullet to Rodriguez Coleman for a 30-yard post route to cut the deficit.
The backups are in for Baylor's defense now.
a friendly horse/
will you communicate by/
Mo-o-o-o-orse?/"
Hat tip to SB Nation for the find.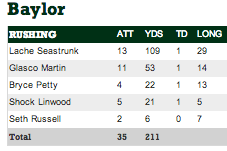 NCAA.com
Baylor has eclipsed the 200-yard mark on the ground.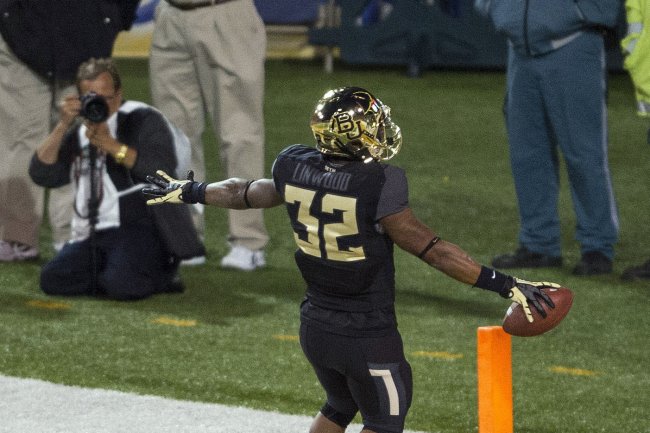 Touchdown
Baylor - 52, Kansas - 7
Shock Linwood bulldozes JaCorey Shepherd to inflate Baylor's cushion on the scoreboard.
Kansas' best coverage of the night just occurred against its one of its own defenders.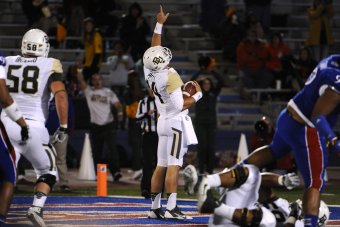 ESPNU is already handing out player of the game (Petty) awards.
There's still 3:31 left in the third quarter.
The amount of special teamers who routinely fail to keep lane discipline never ceases to blow my mind.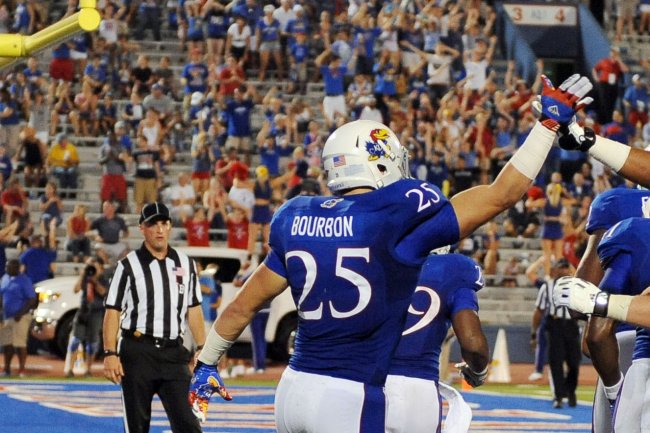 Touchdown
Baylor - 45, Kansas - 7
Montell Cozart pitches on the read-option to Brandon Bourbon, who breaks a tackle on his way to a 22-yard touchdown.
Hide your kids. Hide your wives.
Montell Cozart just catapulted a 45-yard pass to Rodriguez Coleman.
That antidepressant commercial that concludes with "there is hope" just flashed in head my head.
Official word: RT @BUFootball WR Antwan Goodley left in 2nd Q due to "muscle tightness", will not return - a precationary move. #SicEm

— OurDailyBears (@OurDailyBears) October 27, 2013
Antwan Goodley will be rendered a sideline spectator for the remainder of the game.
Fortunately for Bears fans, it doesn't sound serious.
Petty is 61 yards from throwing for most ever vs #kufball

— joshklingler (@joshklingler) October 27, 2013
Going to go out on a limb and predict that Petty surpasses that by the time this drive is ends.
This article is
What is the duplicate article?
Why is this article offensive?
Where is this article plagiarized from?
Why is this article poorly edited?

Baylor Football: Like this team?