New York Jets vs. Cincinnati Bengals: Live Score, Highlights and Analysis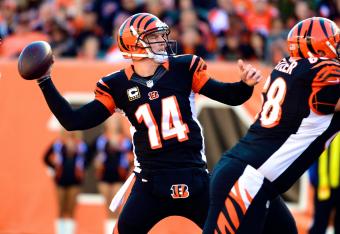 Getty Images
The Bengals easily take care of the Jets in a lopsided victory that was one of Rex Ryan's worst losses as a head coach.
The Bengals were stout on defense, outscoring the offense they were playing against on two pick-sixes. Andy Dalton had another strong game, connecting with Marvin Jones for four touchdown passes (five total).
The result was not expected, but the score certainly was. While the Bengals get to flex their muscles, it is back to the drawing board for the Jets, who had hopes of taking the division lead today.
Final
Jets 9, Bengals 49
And that does it. The Bengals get a big, convincing win over the Jets. The result is not surprising, but the score certainly is.
Final Score:

Jets 9, Bengals 49
A few runs should finally end this blowout.
Two-Minute Warning
The Benglas will move to 6-2, in full control of their division—especially with the Steelers and Browns losing today.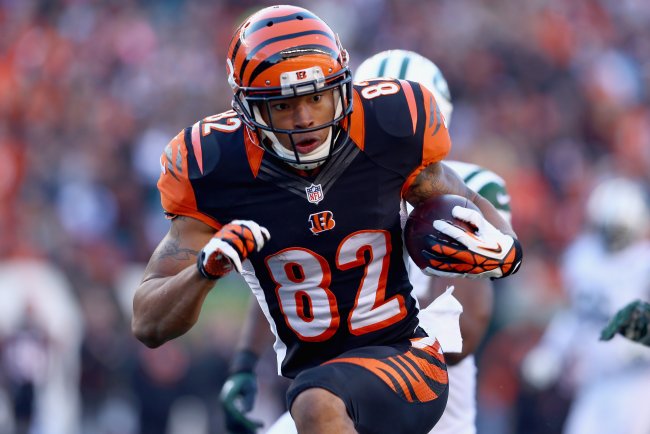 The Jets, who had aspirations of first place earlier this afternoon, fall back to 4-4. With the Patriots winning, they are now much farther from the top.
Simms made a spectacular run for the first down, but he may be a bit short. Either way, that was a fearless jump from the second-year player.
6:00, 4th Quarter
Matt Simms was showing off his legs on that long run. He has looked competent in these last two drives, at least.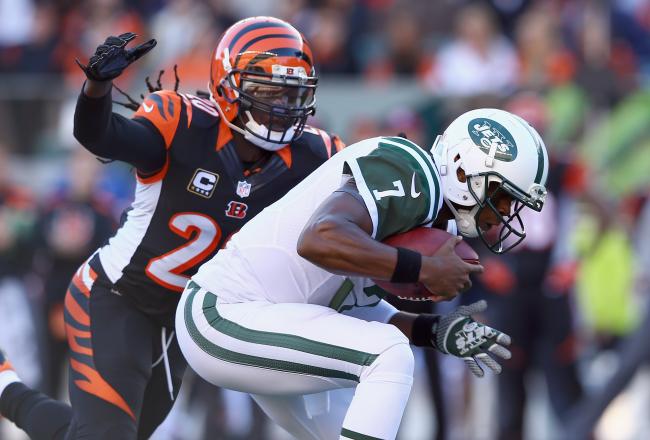 Smart move by Rex to change quarterbacks. Geno Smith is his long-term starter, but leaving him in an impossible situation does no one any good.
Might be time to change the channel.
QB Josh Johnson now in for #Bengals.

— Kimberley A. Martin (@KMart_LI) October 27, 2013
This is what sealed the game for Geno Smith.
Matt Simms in for Geno Smith. Rex waves the white flag.

— Rich Cimini (@RichCimini) October 27, 2013
The 49 points ties the most the Jets have given up under Rex #nyj

— Brian Costello (@BrianCoz) October 27, 2013
11:00, 4th Quarter
Touchdown Bengals!
Geno Smith throws his second pick-six of the day, waiting far too long to throw to David Nelson. Adam Jones made the easy read to take it back.
This one needs to end fast for the Jets.
Bengals 49, Jets 9
Jets have no answer for Reggie Nelson blitzing off edge.

— Dan Leberfeld (@jetswhispers) October 27, 2013
14:53, 4th Quarter
The Bengals pick up a penalty after Burfict hit Hill in the head. Vontaze will certainly get a fine this week.
If I didn't miss any, Green has been targeted deep 5 times vs. Cro for 2 catches, 1 pass interference, 1 drop and 1 PBU. #Jets

— Gonzalo Estradé (@PFF_Gonzalo) October 27, 2013
Marvin Jones set a Bengals record for touchdowns in a game - four.

— Dan Leberfeld (@jetswhispers) October 27, 2013
1:13, 3rd Quarter
Touchdown Bengals!
Marvin Jones takes a receiver screen in for a score, breaking tackles in the process. The Jets are getting embarrassed.
Bengals 42, Jets 9
Green with another huge catch:
Cromartie was badly burned. If throw was on the money would have been an easy TD. #nyj

— Seth Walder (@SethWalderNYDN) October 27, 2013
The #Bengals are the best team in the AFC North and it's not even close right now.

— Chris Burke (@ChrisBurke_SI) October 27, 2013
A big sack stalls yet another Jets drive, but Folk adds another three from a long way out. The Jets are just playing for pride at this point.
Jets 9, Bengals 35
6:36, 3rd Quarter
The Jets are now inside of the Bengals' 30 after a reception from David Nelson. Their stats will at least look respectable.
8:00, 3rd Quarter
The Jets are moving the ball against a soft Bengals zone, but the lead is insurmountable.
Jets likely to be 4-4 after today. This year they have yet to win two in a row or lose two in a row.

— Smart Football (@smartfootball) October 27, 2013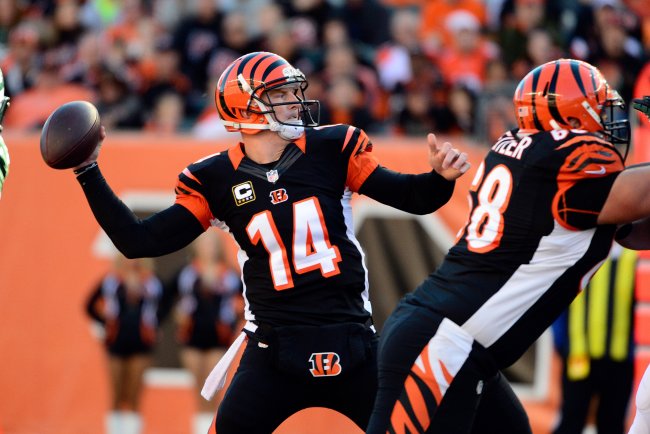 11:40, 3rd Quarter
A.J. Green drops a deep pass near the sideline to negate what would have been a huge play. Cromartie was beat and the throw was perfect.
Here is the interception:
This article is
What is the duplicate article?
Why is this article offensive?
Where is this article plagiarized from?
Why is this article poorly edited?