UFC Fight Night 30: Jimi Manuwa Earns TKO After Freak Ryan Jimmo Leg Injury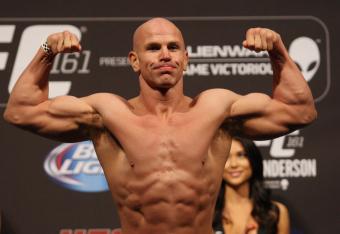 Bruce Fedyck-USA TODAY Sports
UFC Fight Night 30 offered up a battle of Commonwealth countries in the middle of the televised card, as England's hometown boy Jimi Manuwa battled Canadian Ryan Jimmo. The fight was a chance for both men, who sit at the middle of the division and each have little upside, to prove who should make the next step.
In the end, it was Manuwa who was successful via an unsatisfying injury TKO. After a knee from Manuwa early in the second round, Jimmo staggered back, paused, winced and then fell to the canvas after suffering what appeared to be a freak injury in his left leg.
What We'll Remember About This Fight
There won't be a lot to remember about it, truthfully. There was a great deal of cage pressure and stalling, and when it was contested at the center of the cage, it wasn't exactly flush with action. Jimmo's bizarre leg injury will probably be the most memorable aspect.
What We Learned About Jimi Manuwa
Manuwa is clearly able to handle a big, physical opponent who has a little skill to his game. He did a reasonable job of switching off the cage when he had to, was able to hold Jimmo there himself at times and didn't look out of place in exchanges.
He probably would have been on his way to a decision win regardless, but the finish looks better on his record, and he showed that he's developing nicely.
What We Learned About Ryan Jimmo
It's pretty evident that the pre-UFC Jimmo to whom Jon Anik alluded—the one who built a solid record on a collection of drab decisions—is the real Jimmo, not the one who demolished Anthony Perosh in a few seconds.
Jimmo has the style and skill set of Lyoto Machida but none of the mystery or allure, and he isn't on the same level as an athlete. He also relies on stall tactics far more often than the former champion.
He's good enough to be in the UFC, but it's likely that his next fight will be back on a Canadian card, and it shouldn't be seen on television. Hopefully, it won't be too long of a wait, though, given the unfortunate injury he suffered in taking the loss.
What's Next for Manuwa
A fight against Thiago Silva might be interesting. They're stylistically similar and would put on a good show, and with Manuwa on the rise and Silva in a holding pattern after his lazy win over Matt Hamill, it makes sense in the rankings.
What's Next for Jimmo
If he's healthy when the UFC hits Canada in the spring, he could be a good fit for the surging Ovince St. Preux. Two guys who tend to stall a little might make sense, as they could conceivably shut one another down and make things exciting.
This article is
What is the duplicate article?
Why is this article offensive?
Where is this article plagiarized from?
Why is this article poorly edited?