Cowboys vs. Lions: Live Score, Highlights and Analysis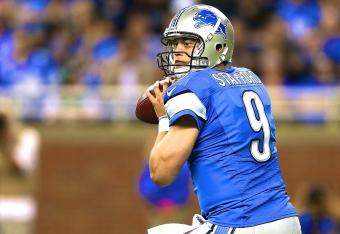 Getty Images
The Detroit Lions became the second team since 2011 to win an NFL game despite turning the football over four times. Dallas decided to give Matthew Stafford and Calvin Johnson one more try with the ball with 1:02 left in the game only needing a touchdown to win.
Megatron and Stafford orchestrated a game-winning touchdown drive that saw Johnson catch a ball from No. 9 at the 1-yard line. Stafford then decided to call a fake-spike quarterback sneak for the game-winning touchdown.
In what looked like a run-of-the-mill game at halftime with a score of 10-7, Ford Field's scoreboard lit up in a hurry after the break. The Lions will enter their bye week 5-3 with some significant time to focus on this big win and how to hold onto the football.
Dallas drops to .500, at 4-4, but still leads in the NFC East thanks to the New York Giants' win over Philadelphia. This loss will be just as, if not more difficult, to swallow for Big D as its loss to Denver two weeks ago.
Final
Lions 31
Cowboys 30
Here's the fake spike, quarterback sneak by Matthew Stafford.
Through poor defensive play by the Cowboys and some great play by Megatron and Matthew Stafford, the Lions are up 31-30 with 12 seconds remaining.
Calvin Johnson now has more than 300 yards receiving in this game and the Lions have a chance to win this football game despite four turnovers.
Dan Bailey converts his third field goal of this game. The Lions are down 30-24 with just more than a minute to go and no timeouts left.
No passes to Calvin on that last drive after he went 12 for 290 yards. Don't get it.

— Dave Birkett (@davebirkett) October 27, 2013
Important note here from Dave Birkett.
The Dallas defense holds off the Lions' drive right there. Fantastic coverage by Orlando Scandrick in an impressive defensive showing for Big D.
The Cowboys had to punt the football back to Detroit. Luckily for the away team, Jason Hatcher comes up with a sack on the Lions' first offensive play this drive.
Here's that touchdown run from Reggie Bush.
Stafford has 403 passing, the fourth QB to pass for more than 400 against Cowboys.

— Charean Williams (@NFLCharean) October 27, 2013
This is a stat that Cowboys defensive coordinator Monte Kiffin can't be happy about from Charean Williams.
Reggie Bush gets in for the score to get the Lions within three points yet again. With just over three minutes left in the game, the Lions are far from waving the white flag.
Dez Bryant and Calvin Johnson are putting on a ridiculous show.

— Chris Burke (@ChrisBurke_SI) October 27, 2013
Sports Illustrated's Chris Burke is impressed with the play of Dez Bryant and Megatron in this fourth quarter.
Calvin Johnson now has 284 receiving yards in this game, a new career-high for him in a single contest.
Here's that 50-yard touchdown reception for Dez Bryant.
Dez Bryant has been chirping at whoever will listen to him on the sidelines after the last two offensive drives. This drive, Tony Romo feeds him the ball and Bryant delivers another touchdown for Dallas.
Dwayne Harris with a 56-yard return that lets his offense start its drive at its own 47-yard line. He's been a huge contributor for Dallas all year on special teams.
Cowboys just need to protect the ball at all costs here.

— Charean Williams (@NFLCharean) October 27, 2013
With the Lions' nipping at Dallas' heals, Charean Williams offers her recommendation on how the Cowboys can keep this road lead.
The Lions follow the Terrance Williams touchdown with a hard-fought rushing TD to score six points of their own. That was a big drive for the home team.
Terrance Williams: 1st Cowboy with 2 TD catches of 60+ yards in season since Terrell Owens in 2008

— ESPN Stats & Info (@ESPNStatsInfo) October 27, 2013
An interesting stat here dug up by the ESPN Statistics and Information department.
Here's that big 60-yard touchdown by from Tony Romo to Terrance Williams.
By the way - the Terrance Williams juke to get the touchdown was awesome

— Andrew Garda (@Andrew_Garda) October 27, 2013
Bleacher Report's Andrew Garda tips his figurative cap to Terrance Williams' moves on that touchdown reception.
The Cowboys offense finally wakes up and Tony Romo connects with Terrance Williams for a 60-yard touchdown reception. Williams now has a Cowboys rookie record for earning his fourth touchdown catch in as many games. That must be why Romo has been trying to get him the ball all day.
Calvin Johnson's 200-plus game is his fifth, matching Lance Alworth's @nfl record. #OnePride #Megatron

— Detroit Lions (@DetroitLionsNFL) October 27, 2013
Calvin Johnson continues to make his mark in the NFL record books.
For Lions fans wondering about their chances to win with four turnovers already, only one team has achieved this feat. The Atlanta Falcons defeated the Arizona Cardinals back in 2011 despite similar turnover woes.
Calvin Johnson now has more than 200 yards receiving in this game. The Cowboys defense just can't stop Megatron today. Then again, that's not surprising.
Dan Bailey connects on another 53-yard field goal for the Cowboys. He's been one of their biggest offensive contributors today.
This article is
What is the duplicate article?
Why is this article offensive?
Where is this article plagiarized from?
Why is this article poorly edited?