UFC Fight Night 30 Results: John Lineker Must Now Consider Bantamweight Move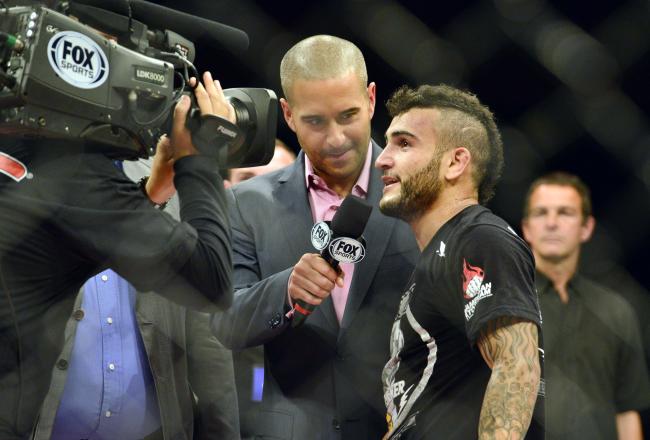 John Lineker

John Lineker knew he put himself against the wall again when he missed weight for the third time in five UFC bouts. He came in three pounds over the flyweight limit of 125 (126, if you count the one-pound allowance), and he faced a possible cut from the UFC if he did not defeat Phil Harris, let alone looking good against "Billy" in Manchester.
Once again, though, Lineker never let his opponent take control of the bout. He tagged Harris with shots to the head, landed a shot to the body that sent Harris down and rained down with some ground and pound to secure his fourth-straight victory. Better yet, he put Harris down in Harris' home country, and now, the MMA world awaits Lineker's next move.
Will he make a run towards the UFC flyweight title? Will he look to take on one more "name" opponent before eyeing down the winner of the Demetrious Johnson-Joseph Benavidez rematch at The Ultimate Fighter 18 Finale? Will he take time off to recharge and come back as a new Lineker in 2014?
Nobody knows Lineker's next move, but it never looks good to miss weight, even if the guy missing weight rides a four-fight winning streak, as Lineker now does. Not only does it scream "unprofessional," but it also makes it hard to coin said athlete as a title contender, even though Lineker holds the only justifiable case for a title bout, save for John Dodson.
The fact remains that unless he changes something up in his pre-fight preparation, he will not get to where he wants to go as a flyweight, and so he must now consider moving up in weight.
For non-champions, changing weight classes normally comes as a means to reinvent one's career after a string of losses, but Lineker's case does not fit that bill. He presents a case that, with this third instance of coming in overweight, he sees fans liken him to Thiago Alves and Anthony Johnson, both of whom experienced instances of coming in overweight to fights as UFC welterweights.
Bantamweight at least seems reasonable for Lineker because, aside from the "missing weight" issue, Lineker could actually find that he doesn't hold as much of a disadvantage in the size department, as some would otherwise believe. Flyweight may hold more comfort for Lineker, but again, it all goes back to the issue of making weight for the fight.
If Lineker had trouble making 125-126 for this fight, as well as his fight with Louis Gaudinot and his UFC 163 bout with Jose Maria Tome, perhaps, the cut just taxes him too much. If that proves true in any sense, then not taking time to at least consider the move will not only cost him some of his future purses, but it may also cut his fighting career relatively short.
This article is
What is the duplicate article?
Why is this article offensive?
Where is this article plagiarized from?
Why is this article poorly edited?