The No. 7 Miami Hurricanes were able to avoid a major upset after winning 24-21 over the Wake Forest Demon Deacons thanks to a big fourth-quarter comeback.
Wake Forest got off to a hot start in the game, taking the first drive all the way for a 12-yard rushing touchdown by Josh Harris. The initial drive went 16 plays for 79 yards and lasted eight-and-a-half minutes.
After a three-and-out by the Hurricanes, the Demon Deacons got the ball back at their own 25-yard line. They had another solid drive that lasted over five minutes, but it ended in a missed 47-yard field goal from Chad Hedlund to start the second quarter.
Earlier in the drive, Denzel Perryman laid this monster hit on Dominique Gibson that was one of the biggest defensive plays of the game.
When the Hurricanes got the ball back, they immediately started using Duke Johnson as much as possible. They ran him on six of the 12 plays in the drive, which ended with a Matt Goudis field goal to make it 7-3.
After two long drives that drained the game clock, the Deacons showed off some real explosiveness in their next drive. On third down with nine yards to go, Tanner Price rolled out to the left and found Tyree Harris for 56 yards to put Wake Forest in the red zone.
A few plays later, Wake Forest decided to go for it on 4th-and-1, just nine yards away from the end zone. The risk payed off, as Price found Michael Campanaro for the touchdown to put his team up 14-3 over the No. 7-ranked Hurricanes.
After a few stalled drives for each team, Miami was finally able to score their first touchdown of the day. The Hurricanes were running a two-minute drill when Stephen Morris decided to throw up this 35-yard bomb to Herb Waters for the touchdown with just over one minute remaining to score the final points in the first half.
Early in the third quarter, ESPN Stats & Info provided this interesting tidbit about Wake Forest's all-time record against Top 10 opponents:
Wake Forest leads No. 7 Miami, 14-10, early in 3rd qtr. Wake is 1-52 all-time vs top-10 ranked teams... win came 67 years ago today (1946)

— ESPN Stats & Info (@ESPNStatsInfo) October 26, 2013
The third quarter didn't feature a lot of action. Both teams had some decent drives, but the only scoring opportunity came on a missed 40-yard field goal from Miami's Goudis at the start of the quarter.
The fourth quarter got a bit more interesting. Tanner Price started driving the Deamon Deacons down the field, but a critical 13-yard sack killed the drive, and Wake Forest was forced to punt.
After the Hurricanes got the ball back, they went deep to Stacy Coley, who came up with an unreal catch to pick up 44 yards while on his back.
Unfortunately for Miami, the drive didn't go much farther, and they were forced to punt once again.
The Demon Deacons were unable to get anything going with their backs right up against the end zone, but something interesting happened. There was a whistle on the punt, but it didn't come from any of the refs. It looked like the play could have been called a safety, but the refs decided the play was dead and that they would redo the punt.
NFL kicker Jay Feely provided his thoughts on the play.
Miami/Wake game the punter stops in the end zone bc there was an inadvertent whistle from the stands. Refs ruled play dead. Interesting

— Jay Feely (@jayfeely) October 26, 2013
On the next drive, Miami started running it as much as possible and kept driving down the field, getting inside the 5-yard line. A couple of plays later Johnson was able to run it to the outside and dive into the end zone to give the Hurricanes their first lead of the game at 17-14 with less than six minutes left.
Wake Forest had to score on the next drive to get back into it. On the second play of the drive, Campanaro was able to draw a big pass-interference penalty to help them get moving.
On a huge fourth-down play, Price was able to find Jared Crump to convert for the first down and keep the drive alive. Then Price found Dominique Gibson on a wheel route after a play-action fake for a massive 44-yard touchdown to put Wake Forest back on top, 21-17.
With four minutes left, once again the Hurricanes leaned on Duke Johnson to get them down the field. They then got a big pass-interference call to move them inside the 30-yard line, and it wasn't looking good for the Demon Deacons.
On 1st-and-goal, it appeared that Johnson was able to break off a run to the left side of the end zone for a touchdown, but it was called back to the 1-yard line. It didn't matter, however, as Johnson ran it in for a score on the very next play to give Miami the advantage once again.
HURRICANES STRIKE BACK! Duke Johnson powers home for a 1-yard TD. Miami leads Wake Forest, 24-21. #WAKEvsMIA

— SportsCenter (@SportsCenter) October 26, 2013
Price had an opportunity to lead Wake Forest to an incredible comeback victory, but he was intercepted by Antonio Crawford to officially end the game. ESPN Stats & Info noted that it was the third straight game the Hurricanes won after trailing by double digits.
Miami (FL) is the first FBS team to win 3 straight games after trailing by double digits in each since Michigan in 2007.

— ESPN Stats & Info (@ESPNStatsInfo) October 26, 2013
The win for Miami was a close one, but it will likely keep the Hurricanes in the Top 10 for next week's BCS rankings. They've had a couple of close wins like this one, but they're still undefeated and looking to break into the Top Five before the end of the year.
Things won't get much easier for Al Golden and company, however, as they will be playing the No.2-ranked Florida State Seminoles next week. Dan Wolken from USA Today pointed out that as good of a season as it has been for Golden, that undefeated record is certainly in jeopardy in Week 10.
Al Golden is living right this year, but I suspect this ends emphatically next week

— Dan Wolken (@DanWolken) October 26, 2013
Ira Winderman from the Sun Sentinel tweeted that he thinks it wouldn't be the best idea for the Miami players to watch the Florida State game. The Seminoles were up 42-0 over NC State at halftime.
Assuming Al Golden is not allowing his players to have the FSU game on in the locker room right now. Frightening stuff in Tallahassee.

— Ira Winderman (@IraHeatBeat) October 26, 2013
Tracy Howard, Antonio Crawford and Shane McDermott provided their reactions to the close win after the game.
Wake Forest had a chance to pull off what could have arguably been the biggest win in the history of its program, but it came up just short. Still, the Demon Deacons played an incredible game and proved they're a solid team in the ACC.
Miami Hurricanes
Stephen Morris: C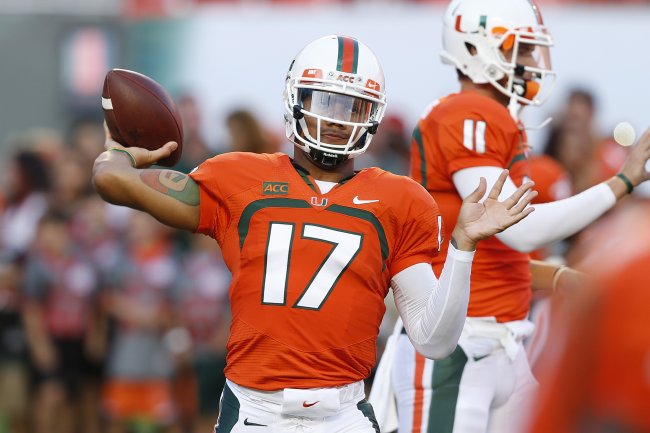 /Getty Images
This was supposed to be a breakout year for Morris, but he just hasn't been able to put up a big game. After throwing zero touchdowns and four interceptions in the previous game against North Carolina, he needed a game to turn things back around.
He didn't do much in this one, throwing for just 191 yards and a touchdown. He didn't turn the ball over, but other than two big passes, he just didn't look comfortable in the passing game.
Thankfully for Morris, the rest of his team stepped up and pulled out the big win.
Duke Johnson: A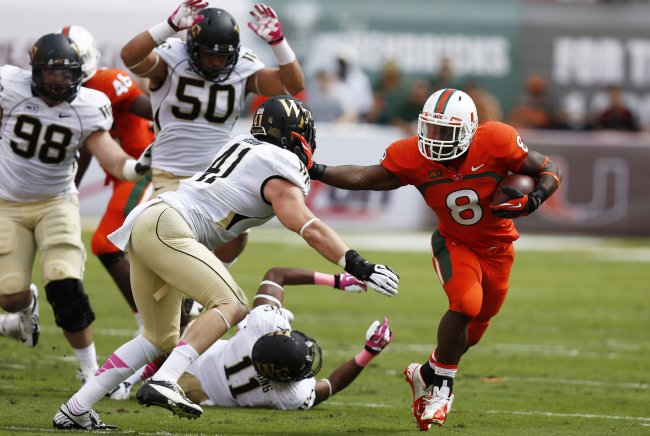 Johnson continues to be one of the more impressive running backs in the nation, and this game certainly didn't change that. He kept his head down and consistently ran for chunks of yardage throughout the game, keeping his team in it.
Johnson finished with 168 yards and two touchdowns, averaging 5.6 yards per carry. He was a true workhorse for the Hurricanes, carrying the ball a season-high 30 times.
After being banged up heading into this one, Johnson showed everyone just how good he really is, coming away with some big plays in an overall impressive performance.
Wake Forest Demon Deacons
Tanner Price: B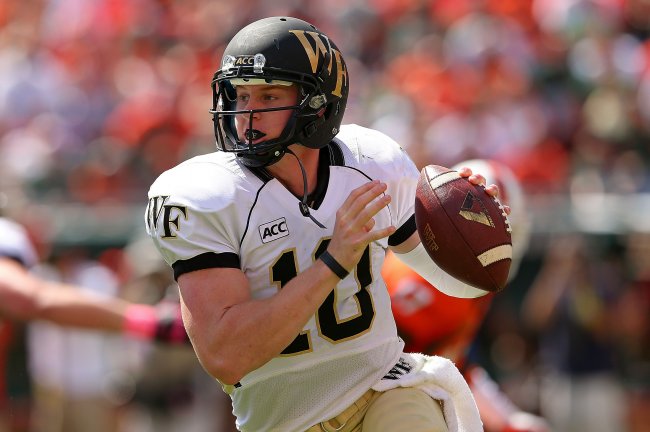 /Getty Images
He wasn't super flashy, but Price was able to make some big plays to put the Demon Deacons in position to win the game. He stayed poised against a strong defense, throwing for 302 yards and two touchdowns along with that heartbreaking interception at the end.
It was a very tough assignment for Price, but he came through at big moments.
This was just the second game for Price this season where he threw for 300 yards or more. He took care of the football and made the right decisions, which made him one of the players of the game for Wake Forest.
Michael Campanaro: A-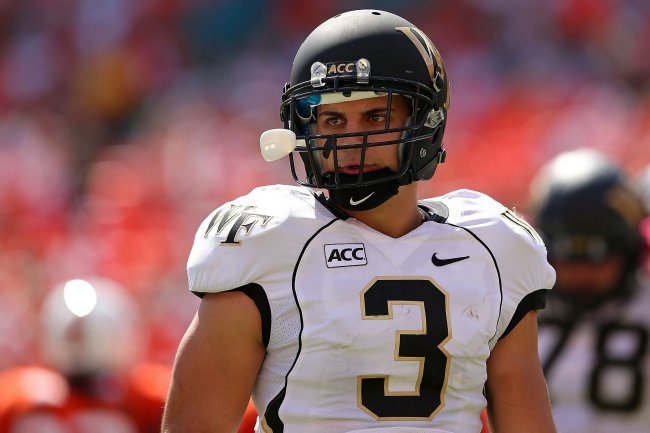 /Getty Images
As the top receiver for Wake Forest, Campanaro needed to have a big game in order for the offense to get going, and he did just that.
Campanaro finished with 10 receptions for 88 yards and a touchdown. He showed off some explosiveness and made key plays to help Price stay comfortable in the offense.
Heading into this one, Campanaro already had 55 receptions for 704 yards and five touchdowns. This was his third straight game with at least 10 receptions and a touchdown, but his performance on Saturday has been his most impressive—even though his team couldn't pull out the win.