Tennessee vs. Alabama: Live Score and Highlights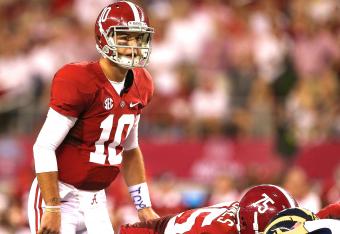 Getty Images
Tennessee 10, Alabama 45—Final
Top-ranked Alabama jumped all over Tennessee early to cruise to a 45-10 victory over one its most hated rivals.
A.J. McCarron produced another strong effort in passing for 275 yards and a pair of touchdowns, while T.J. Yeldon added three rushing touchdowns to pace the Tide's offense.
Alabama's defense knocked Tennessee starting quarterback Justin Worley out of the game, but not before grabbing two interceptions, one of which was returned 86 yards for a touchdown.
Alabama improves to 8-0 and will be off next weekend, while Tennessee drops to 4-4 and will face the SEC's other Top 5 team when it takes a trip to face No. 5 Missouri on Nov. 2.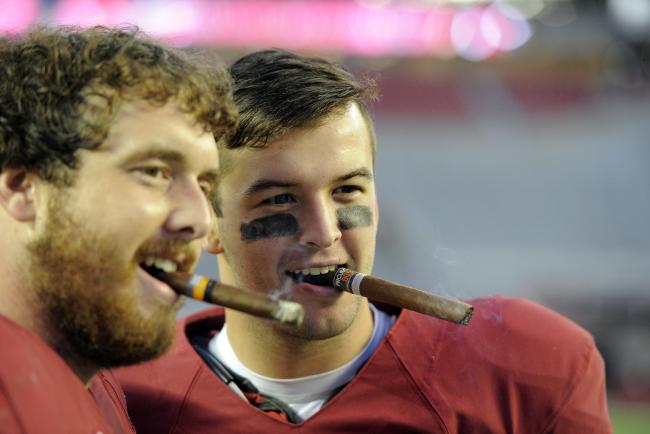 Here's my postgame piece on the Tide's big win over the Vols. Once again, I want to extend a sincere thanks to those who followed along with the blog. Good night, and see y'all again next weekend!
That wraps it up for now. Thanks to all the readers who followed along with the blog. Stay glued to B/R for more coverage of Alabama's 45-10 win over Tennessee.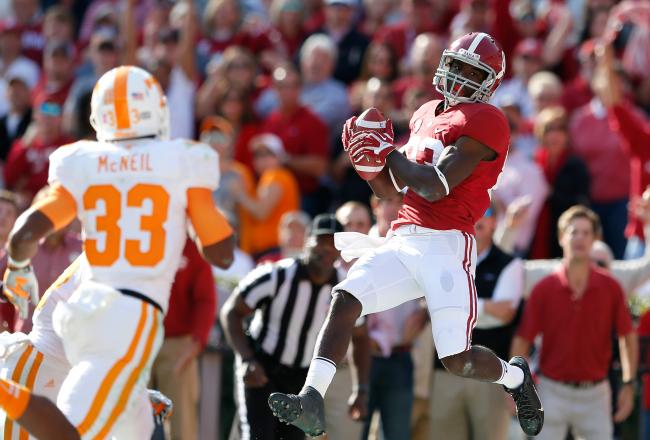 For Alabama, this was another impressive performance, one which proved that the Tide are still a scary unit when they are clicking on all cylinders.
The offense continued to display balance. The receiver unit is starting to become the deep and potent group most expected entering the season. Kevin Norwood led the way today, but Amari Cooper looks to be rounding back into the form he displayed down the stretch of the 2012 season.
The running game is humming along, as T.J. Yeldon and Kenyan Drake look much like the duos Alabama is accustomed to having.
On defense, Alabama continues to be lights-out on third downs and in the red zone. With the LSU game looming, the Tide appear to be gaining strength heading into one of the most important games on their schedule.
Overall, Alabama has done nothing to undermine the popular opinion that it will be a significant factor in the national title race.
Some final thoughts on this game.
For Tennessee, Butch Jones can be proud of his team's effort in the second half after going into the break down 35-0.
The first question that comes to mind is what Jones will do with his quarterback decision. Justin Worley looked ineffective and left the game with a thumb injury but not before throwing two interceptions.
I also think Tennessee needs to recruit some difference makers on the defensive side of the ball. Alabama's receivers had a field day against Tennessee's secondary, and McCarron rarely was pressured when he dropped back to throw.
Overall, Jones and the Vols have a long way to go, but the effort in the second half gives hope regarding what the program can achieve moving forward.
AJ McCarron: We kind of felt disrespected all week b/c they called us the Red Team, said we didn't deserve to be called #Alabama.

— LivingTheCrimsonLife (@LivingCrimson) October 26, 2013
A.J. McCarron acknowledged in the postgame interview that Alabama felt disrespected by Tennessee referring to the Tide as the "red team" during practices earlier in the week.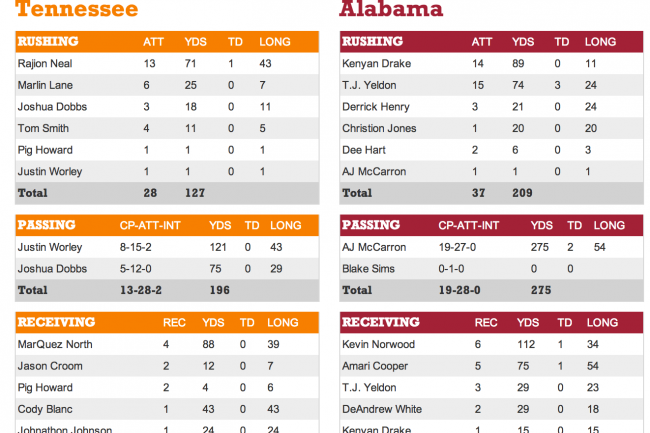 Final stats, courtesy of NCAA.com.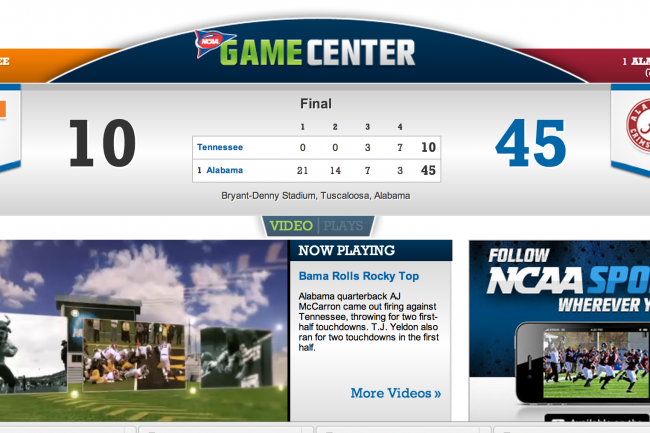 Alabama puts this one away. The Tide roll 45-10 over Tennessee.
Some poor Bama bro is about to wet his pants because he just can't hold it anymore but is afraid of Saban and can't leave his seat.

— Bleacher Report CFB (@BR_CFB) October 26, 2013
This is probably true.
Josh Dobbs has looked pretty good as a thrower tonight. The question for Tennessee fans becomes whether he has done enough to supplant Worley as the starter going forward.
Thoughts?
Tennessee's defense finally gets a stop in the red zone. Adam Griffith boots a 20-yard field goal, and Alabama extends the lead to 45-10.
Tennessee 10, Alabama 45—6:50 left in the 4th Quarter
Kenyan Drake is running as if he's trying to extend his streak of scoring a touchdown in seven straight games. His second-quarter fumble erased his best chance to score today, but he's inching closer toward another opportunity, as the Tide are inside the Vols 10-yard line.
Tennessee's defense continues to fight, as they stripped Kevin Norwood, but the whistle had stopped the action before the turnover occurred.
Here's the screenshot of Neal getting into the end zone.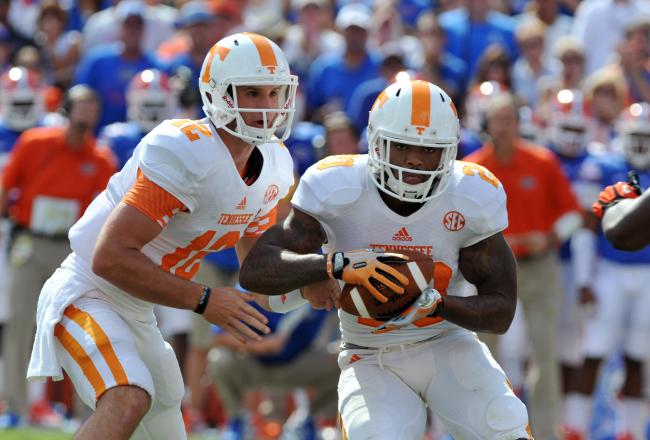 The ruling is overturned, and Tennessee gets the touchdown. Alabama now leads 42-10.
Tennessee 10, Alabama 42—12:58 left in the 4th Quarter
Tennessee running back Raijon Neal looked like he punched it in from three yards out. Refs ruled he was down. The play is under review. If it is overturned, it will be the first touchdown the Tide have allowed at home all season.
If Dobbs can get UT into the end zone here, it would the first TD Bama has given up at home this season.

— Ben Frederickson (@Ben_Fred) October 26, 2013
Oh.
Anyone with Gary or Verne's cell number do them a solid and text them that Landon Collins is a sophomore.

— Tim Watts (@TimWatts_BOL) October 26, 2013
Lulz.
"Hey Josh Dobbs, you're not in high school anymore," Trey DePriest, probably.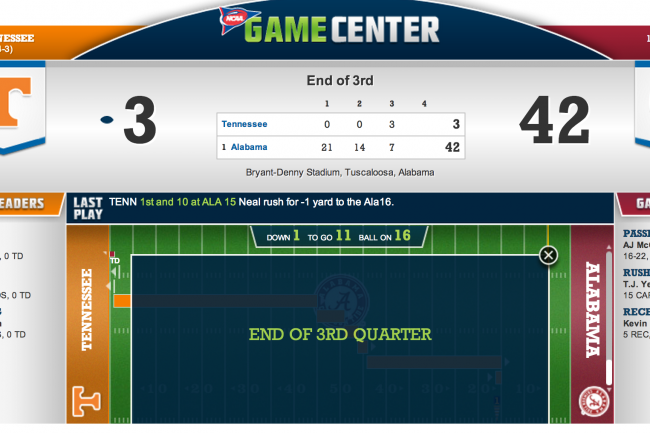 Heading into the fourth quarter, Alabama leads Tennessee 42-3.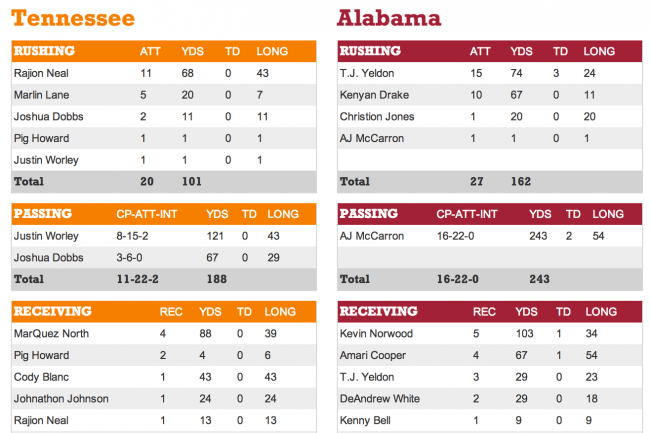 Through three quarters, stats courtesy of NCAA.com.
Wow. That CBS graphic of Tennessee's schedule is scarier than anything you will see on Halloween!
T.J. Yeldon's third score of the afternoon.
Kevin Norwood angling for an Allstate sponsorship sooner than later.
This article is
What is the duplicate article?
Why is this article offensive?
Where is this article plagiarized from?
Why is this article poorly edited?