Gennady Golovkin vs. Curtis Stevens: Preview and Prediction for Title Fight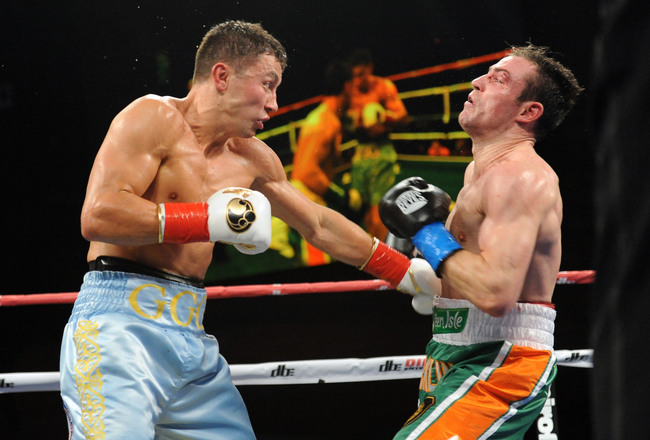 Gennady Golovkin is a scary dude, but Curtis Stevens refuses to be intimidated.

Gennady Golovkin vs. Curtis Stevens will take place at The Theater at Madison Square Garden Saturday night, and the WBA Middleweight Championship will be on the line.
Golovkin—who will be making the ninth defense of his title—is considered by many to be the baddest man in the sport. He has fearsome punching power, which has made it difficult for him to land significant fights, and he is at worst the second-best middleweight on the planet. None of the top dogs at 160 pounds seem in a hurry to face him, and with good reason.
Steven is a local kid who grew up in Brooklyn and will be fighting in front of a hometown crowd. Like Golovkin, he is known for his huge punching power, and he has refused to be intimidated by his foes resume, record or reputation. This will be his first challenge for a world title.
This is one of those fights where you don't want to blink. It could end at any moment. Here we set you up right for the big fight with our complete preview and prediction for Gennady Golovkin vs. Curtis Stevens.
Tale of the Tape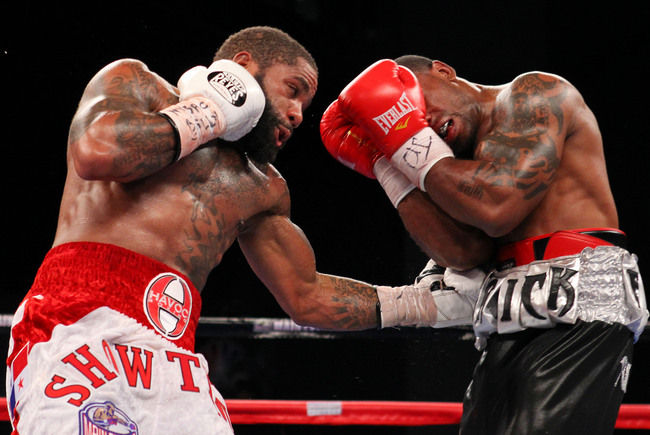 Curtis Stevens packs a punch of his own.

Gennady Golovkin's reputation precedes him. By now, everyone knows about his punching power and his borderline absurd knockout ratio of just a whisker under 90 percent. This guy can flat out punch, and he won over a lot of naysayers with his destruction of Matthew Macklin in June.
Curtis Stevens will be giving up 3.5 inches in height to GGG, but he'll enter the ring with a slight advantage in reach. His punching power may not be on par with the champion, but it's no joke, and he's stopped three of his last four foes in the opening round.
Record:

Gennady Golovkin

27-0, 24 KO

Curtis Stevens

25-3, 18 KO

Height:

5'10 1/2"

5'7"

Reach:

70"

71.5"

Weight:

159 (last fight)

159.75 (last fight)

Stance:

Orthodox

Orthodox

Hometown:

Karaganda, Kazakhstan

Brownsville, New York

Rounds:

109

125
*Profiles via BoxRec.
Main Storylines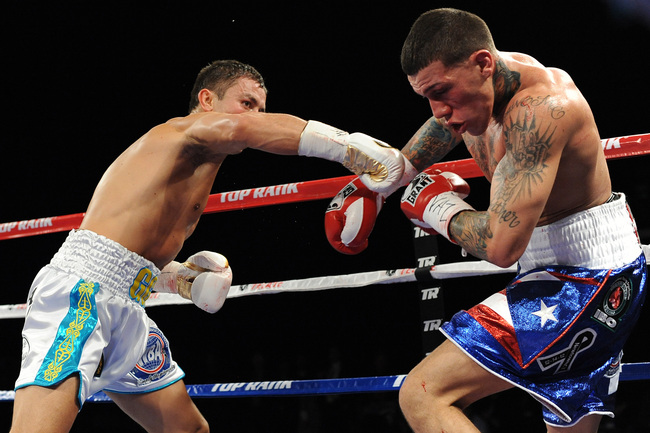 Gennady Golovkin wrecks everything in his path, but can Curtis Stevens put the brakes on this train?

Gennady Golovkin has been on an express train to the top of the middleweight division ever since his impressive HBO debut a little over a year ago. Since that night, he's run through everybody in his path, and he's steamrolled through a couple of quality fighters in Gabriel Rosado and Matthew Macklin.
"The Kazakh Machine" has lethal punching power, but he's found it difficult to make meaningful fights. You can say the rest of the big names at middleweight are scared if you wish, but even if they aren't, nobody seems in a hurry to step in the ring with him.
Golovkin is no worse than the second best 160-pound fighter in the world, and many are already willing to place him above longtime champion Sergio Martinez. Martinez seems in no hurry to settle that question either, and he's likely headed toward a bout with Miguel Cotto sometime next year, leaving GGG out in the cold.
Curtis Stevens was a decorated amateur standout in New York City in the early 2000's. He captured the 2002 United States National Amateur Light Heavyweight Championship, and was considered an upper-tier prospect when he turned professional in 2004.
"Showtime" spent much of his early career fluctuating between super middleweight and light heavyweight. He suffered a devastating defeat in 2010 against Jesse Brinkley—of The Contender fame–and took two years off from the sport before returning.
Stevens returned last year as a middleweight with a fresh commitment to the sport. He's looked extremely impressive—winning three of his last four by first round knockout—and he'll be fighting in front of a hometown crowd for the first championship of his career.
Strengths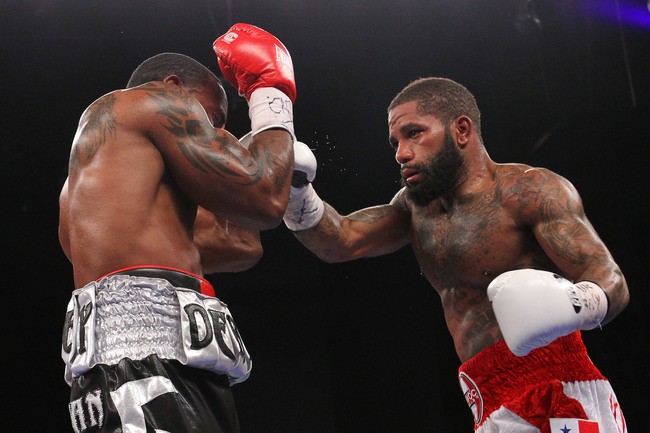 Everyone knows about GGG's punching power, but Stevens can crack with the best of them too.

Gennady Golovkin hits really, really hard.
Don't believe me? Just ask Gabriel Rosado—one of the toughest fighters in boxing—who had his face mashed up into a crimson mask earlier this year. Or ask Matthew Macklin who succumbed to one of the most vicious body shots you'll ever see inside a boxing ring.
Golovkin is very solid technically, and he's more than just a puncher. He has a dangerous and highly effective jab, which he uses to setup his power punches. He has the skill, and ability, to outbox his opponents, but that rarely ever has to happen since few have been able to handle his power shots.
Curtis Stevens is one of the few fighters in the middleweight division that may be able to match Golovkin punch for punch, or, at least come close. He has excellent punching power in his own right, and it'll be very interesting to see how GGG takes his best shots, if he can land them.
People can sleep on Stevens at their own risk. He was once considered an elite prospect, and he's looked very good since recommitting to the sport last year. He has excellent hand speed and good movement in the ring.
Stevens has huge power in both hands, and he has more than a punchers chance in this fight if he can connect.
Weaknesses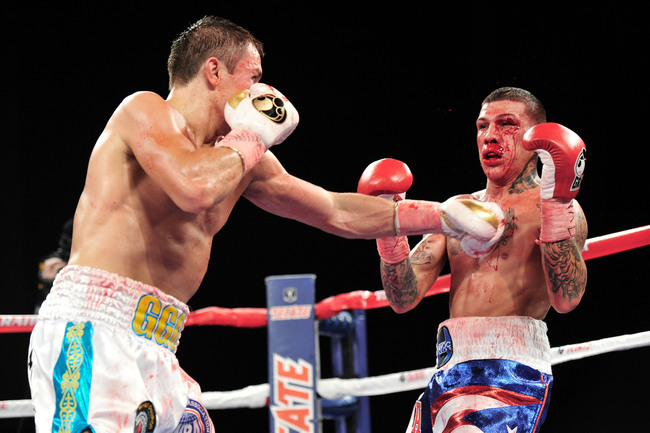 Golovkin's reputation might outpace his actual accomplishments.

Gennady Golovkin has received more hype than any fighter in recent memory. He has developed a sort of mythical boogeyman-type reputation, and a lot of that is based on how impressive he's looked in rising through the ranks.
There are still some detractors who will point out that GGG isn't the fastest fighter, that he sometimes fights a little stiff and that he's never been in there with a fighter who has the type of power to back him up and force him to fight off his back foot.
Some of that criticism was deflated when he blitzed veteran contender Matthew Macklin in June, but still, a lot of his biggest wins have come against smaller fighters and fringe contenders.
Curtis Stevens has looked extremely impressive since returning to the sport as a middleweight last year. He's won three of his last four fights with first-round knockouts, but it's fair to say that he'll be taking an absolutely massive leap in competition level this weekend.
It's hard to see how guys like Saul Roman, Elvin Ayala and Derrick Findley will do anything to prepare you for this type of fight, but everyone has to start somewhere, and you can never tell in boxing.
Stevens has had durability issues in the past and his defense is so-so. That's a potentially devastating combination against a fighter like Golovkin.
Gennady Golovkin Will Win If...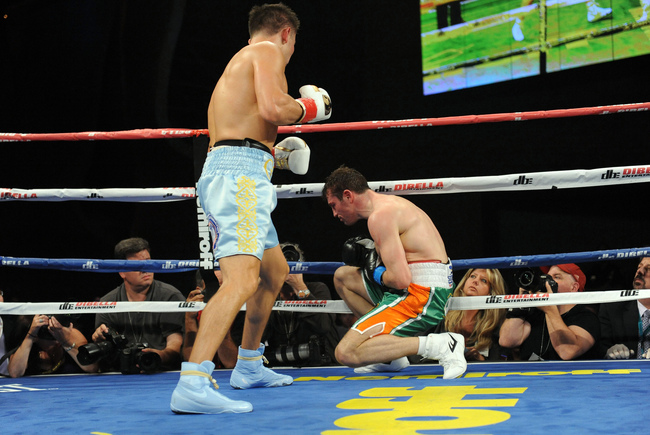 Golovkin just needs to fight his fight.

Gennady Golovkin is the more complete fighter, and should be able to box effectively enough to setup his power punches and hurt his opponent. And if he does, he will win the fight.
Curtis Stevens doesn't have the best defense—it's a potential huge Achilles' heel in this fight—and GGG should have no problem landing his heavier punches. This should be compounded by the fact that Stevens will look to be aggressive and try and force Golovkin on the defensive.
Ironically, Stevens best chance to win the fight is the one that puts him at the most risk, and that's something GGG can exploit.
He'll win this fight as long as he's able to make Stevens miss—or absorb his bigger punches—and make him pay. He's more precise, more damaging and more technically sound.
Curtis Stevens Will Win If...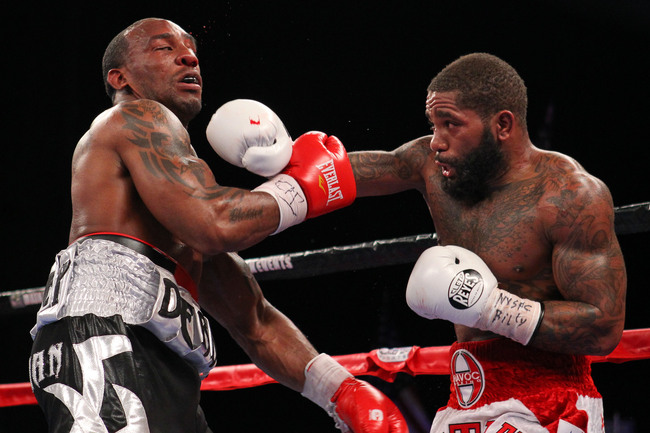 Stevens has more than a punchers chance.

Curtis Stevens has slightly more than a punchers chance in this fight. He has the type of power that we haven't seen Gennady Golovkin face before, and if he connects clean, it'll be interesting to see what happens.
Look for Stevens to attack at the onset—he's been crystal clear that he won't be intimidated—and try and check Golovkin's chin early and often. That's his best strategy, but it also holds many risks.
It's extremely difficult to see a way that "Showtime" can win this fight without being the offensive aggressor. Golovkin is a better boxer, has the harder hands and it seems like the one thing we don't know about him is his ability to take a big shot from a full-fledged middleweight.
If Stevens can be the first guy to ask that question, he could win the fight.
And the Winner Will Be...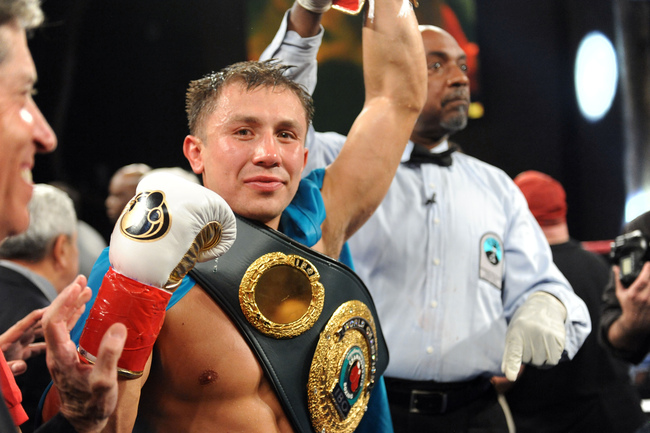 It'll be dramatic, but Golovkin will win.

Gennady Golovkin's train to superstardom will keep racing down the tracks Saturday night, and unfortunately for Curtis Stevens, he'll be standing on them when it gets there.
Stevens will have some moments in the early rounds, and it would not be at all surprising to see him land something that rocks Golovkin back on his heels. It'll be that type of fight, where everyone holds their breath each time somebody lands a big punch.
But Golovkin is more complete, and while Stevens resurgence is certainly impressive, it's hard to see how anything he's seen in his last few fights prepares him for what he'll see on Saturday.
GGG is not Saul Roman or Elvin Ayala. He's a lethal power puncher who is just coming into his own. He'll have too much for Stevens in a surprisingly dramatic, but short fight.
Golovkin TKO's Stevens in 5
Keep Reading