NC State vs. FSU: Live Score and Highlights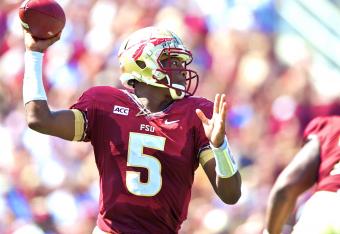 Getty Images
The Florida State Seminoles were not caught looking ahead to a future game against Miami as they took care of North Carolina State 49-17 on Saturday.
Jameis Winston played only one drive in the second half after a solid first half performance, during which he threw for three touchdowns as Florida State took a 42-0 lead into halftime.
FSU also got their running game going, as Devonta Freeman and Karlos Williams both found the end zone and had solid days on the ground.
For NC State the game was not as close as the scoreboard would indicate. They kept their starters in the game for the entire second half against backup defensive players for FSU, and managed to find the end zone thanks to do-it-all running back Shadrach Thornton.
Check out the live blog updates below for my thoughts from the game as it unfolded.
Be sure to stop by and read my "10 Things" I learned from today's game.
Thanks for following along!
Looking ahead for FSU, the tackling and catching must improve to remain undefeated, but they otherwise appear to be a legitimate contender for a BCS title.
For NC State, the goal is to find players to step up next year as they continue to build up a program under new head coach Dave Doeren. Shadrach Thornton made a statement about his role in the offense moving forward.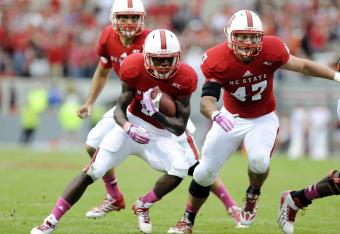 The full game statistics for FSU look a lot like the halftime statistics, so let's take a look at the standout performer for NC State.
Sophomore Shadrach Thornton finished with 23 carries for 173 yards and two touchdowns, and added in five catches for 32 yards.
He's going to be an important part of the NC State offense next season when Jacoby Brissett is eligible to play at quarterback after transferring from Florida.
Florida State did not get caught looking ahead to Miami, as they dominated North Carolina State and get revenge for last year's upset loss at the hands of the Wolfpack.
Jameis Winston looked as good as advertised, while his receivers were a bit inconsistent.
For the Wolfpack, they need a lot of work to regain chemistry with returning starting quarterback Brandon Mitchell. They could not move the ball against the FSU defense until the second half when backups were in the game.
Overall, this game showed just how dominant FSU is in the ACC, and shows that they're ready for Miami a week from now.
NC State punts the ball back to Florida State with 37 seconds left in the game, and FSU will run the clock out to end this one.
Final Score: 49-17 Florida State
WHAT A BLOCK BY JACOB COKER!

— Patrik Nohe/M_Herald (@PatrikNohe_MH) October 26, 2013
Touchdown, Florida State!
The Seminoles dial up a reverse to Levonte Whitfield, and Jacob Coker gets out ahead and lays a nice block to seal the deal for an FSU score.
49-17, Seminoles.
Kelvin Benjamin's left hand is wrapped. Trainers were looking at him after the hit that caused the INT. #FSU

— Warchant.com (@Warchant) October 26, 2013
If Benjamin can't play against Miami, that would definitely be a hurdle to overcome on offense.
There are still plenty of weapons for Jameis Winston to throw to, but Benjamin is important as a receiver and a blocker for the Seminoles.
Freeman finishes with 92 yards, 2 TD. Williams has 84 yards and 1 TD. And Williams is still chugging. #FSU

— Warchant.com (@Warchant) October 26, 2013
The FSU running backs who did an admirable job filling in for James Wilder Jr.
It's 17-7 NC State since the start of the 2nd quarter.

— Patrik Nohe/M_Herald (@PatrikNohe_MH) October 26, 2013
At least NC State has proven that they're better than the backups from Florida State.
Moral victory?
Touchdown, NC State.
Shadrach Thornton with another touchdown, this one from two yards out.
42-17 Florida State, 7:16 to go in the game.
Beating NCSU by 70 points doesn't gain you anything. Being healthy for Miami (and rest of schedule) is MUCH more important.

— Corey Clark/TDO.com (@Corey_Clark) October 26, 2013
Some great perspective as to why FSU took their foot off the gas.
FSU have seen two backup defenders leave the field with injuries late in this game.
This is why NCAA football rosters are so deep, because there are plenty of players to rotate in when players need a break or are injured. Hopefully there are no long-term injuries for the Seminoles or Wolfpack moving forward.
Shadrach Thornton with a career high in rushing for NC State. He's only a sophomore, and will be joined next season by Florida transfer quarterback Jacoby Brissett.
There are reasons for optimism about the NC State offense moving forward, but will it be enough in an increasingly difficult ACC?
We have another official scoring change: The Jameis Winston pass will officially go as an interception.

— TomahawkNation.com (@TomahawkNation) October 26, 2013
The official scorekeepers are getting bored, obviously.
It's official. College Gameday is coming to Tallahassee next weekend for FSU vs. Miami. #Noles

— FSU Football (@FSU_Football) October 26, 2013
Should be a huge game based on the rankings, but Miami has been struggling in recent weeks.
I'm not sure this one will be competitive at all. FSU has a chance for a statement game and a huge win against an inconsistent Miami team.
Man, these young babies for FSU getting playing time are super fun & excited.

— Michael Felder (@InTheBleachers) October 26, 2013
The backups on defense were fired up after getting a stop on fourth down.
FSU's backup defense get a sack on third down to set up 4th-and-12 for NC State.
The crowd in Tallahassee gets behind their defense who tackle a runner short of the line to gain and get the turnover on downs to get the ball back. Big moment for the unheralded guys for the FSU defense.
Jameis Winston has his helmet on and appears to be warming up again.

— Patrik Nohe/M_Herald (@PatrikNohe_MH) October 26, 2013
Seems like Jimbo Fisher isn't fond of how his backups are playing.
End of the 3rd Quarter
42-10 Florida State leads NC State.
Here's a GIF of Thornton running for a big gain and a score against the FSU backups.
Interception, NC State.
It's another deflected pass that's intercepted by NC State, and this one won't be changed to a fumble. Coker overthrows the pass, and it bounces right to a Wolfpack defender.
That 72-yard run is the longest given up by #FSU this season. previous long was 30 yards.

— Warchant.com (@Warchant) October 26, 2013
That has to be a sore spot for FSU, even though they're using second-string players on defense. NC State is playing for pride, FSU is playing to build experience for backups. A learning moment for the reserves for the Seminoles.
Shadrach Thornton goes 72 yards for a TD.

— Pack Pride (@PackPride) October 26, 2013
Touchdown, NC State.
It's nothing but consolation, but Shadrach Thornton breaks a huge run against backup defenders and puts the first touchdown on the board for NCSU.
Thornton has been the workhorse for the Wolfpack offense.
42-10 FSU, 0:59 left in the 3rd Quarter
Coker sacked and the #Noles will punt.

— FSU Football (@FSU_Football) October 26, 2013
Jacob Coker comes in to play for Jameis Winston, and looks good on his first drive before a sack ends his momentum.
FSU punts the ball away.
This article is
What is the duplicate article?
Why is this article offensive?
Where is this article plagiarized from?
Why is this article poorly edited?