Steelers vs. Raiders: Live Scores, Highlights and Analysis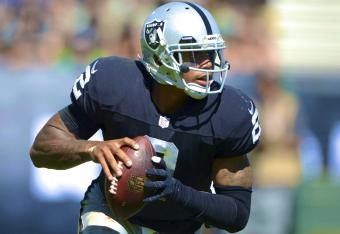 Getty Images
The Pittsburgh Steelers got behind early on a couple of big plays and were never able to come back, as the Oakland Raiders held on to defeat them 21-18.
This was a game marred by mistakes and turnovers on both sides of the ball, but in the end there just wasn't enough time and too many errors to overcome. The Steelers fall to 2-5, while the Raiders improve to 3-4 on the season.
The Steelers should get the ball back, but with almost no time left on the clock. The Raiders take the delay and leave 0:28 left on the clock.
Sushi is part of the team, didn't get job done. He is one of many to blame. Tomlin, AB, defending read option in first half, etc…. #Steelers

— David Todd (@DavidMTodd) October 27, 2013
Raiders have the ball with 1:20 to play, 2nd-and-9. The Steelers have one more timeout.
This is a shameful display by #Raiders offense in the 2nd half. Defense held up very well all things considered.

— Levi Damien (@LeviDamien) October 27, 2013
Wow! Sanders improvises and gets the two-point conversion. The Raiders lead 21-18 with 1:24 to play. An onside kick is coming.
Le'Veon Bell with the short touchdown run, and the Steelers still have a breath of life in them.
The Steelers catch a break there with the hold prior to the interception.
Very important 45-yard punt return by Antonio Brown.

— Andrea Hangst (@FBALL_Andrea) October 27, 2013
What a return by Antonio Brown. That gives the Steelers offense a short field.
What a play by Polamalu. He's still so athletic.
It will be interesting to see if the Steelers defense can maintain their intensity after seeing their offense let them down.
I can't wait to review all 22 on this game to see if these sacks are coverage-related or not.
Antonio Brown has seven catches today, giving him 54 on the season in just under seven games. Expect to see him targeted more today.
Pryor is scared. He had tucked that one and was ready to run well before the pressure was there.
Taiwan Jones will lose that job real quick if he keeps running kicks out from 8 yards deep in the endzone. #Raiders

— Levi Damien (@LeviDamien) October 27, 2013
Sometimes you just have to let Ben be Ben. The Steelers now trail 21-10 with just over 12 minutes to play.
Lamarr Houston playing really well again today. There's a reason his agent is making GM Reggie McKenzie wait on new contract talks

— Vic Tafur (@VicTafur) October 27, 2013
Looks like this one is going to be reversed if the refs have the right angle.
Jacoby Ford has become a liability for the Raiders

— Emory Hunt (@FBallGameplan) October 27, 2013
And just like that, the Steelers get the ball back, deep in Raiders territory.
13:06 remaining in the fourth quarter
INTERCEPTION! CB Mike Jenkins picks up QB Ben Roethlisberger in one-on-one coverage of Emmanuel Sanders. Raiders 1st and 10 at the 16.

— OAKLAND RAIDERS (@RAIDERS) October 27, 2013
This article is
What is the duplicate article?
Why is this article offensive?
Where is this article plagiarized from?
Why is this article poorly edited?