Stanford vs. Oregon State: Live Score and Highlights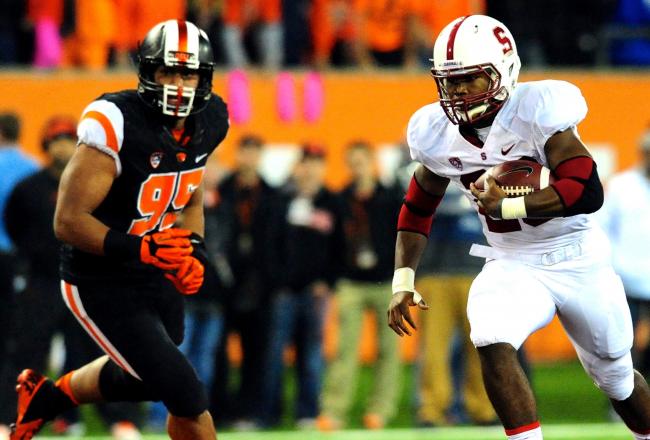 Presswire
Stanford 20, Oregon State 12 — FINAL
No. 6 Stanford defeated Oregon State on Saturday to move into sole possession of second place in the Pac-12 North.
Cardinal quarterback Kevin Hogan finished with just 87 passing yards on the night, but fortunately for Stanford, running back Tyler Gaffney had his back. Gaffney ran for 145 yards and all three touchdowns for Stanford.
Stanford's defense held the explosive Oregon State offense to just 292 total yards. Beavers' quarterback Sean Mannin came into the game leading the nation in passing yards and touchdowns. Mannion was held to 274 passing yards on 58 attempts Saturday.
The Cardinal will meet Oregon in two weeks in the Pac-12's game of the year. The winner could be in line for a shot at the national title.
You can find the full box score at NCAA.com.
Final Thoughts: Oregon State
It was a tough loss for the Beavers, but their season is hardly over. They fall to 6-2 on the season, 4-1 in the Pac-12. Oregon State still has yet to play Oregon, so winning the Pac-12 North is still in play.
It was an up-and-down night for Sean Mannion. Yes, he passed for 274 yards, but was pressured all night. He was often forced to check down in the passing game because he had little confidence in his protection.
Mike Riley made several questionable coaching decisions. There were two occasions in the first half where his team was in field-goal range, yet he went for it on fourth down. Would that have changed things in the end? No one knows that, but you can't keep taking possible points off the board.
The Beavers should be encouraged by their overall defensive performance. Their biggest problem was tackling Tyler Gaffney.
OSU did allow just 87 yards through the air.
The Beavers stay home next week to host a USC team they should beat. It will be a big test to see how far this program has come.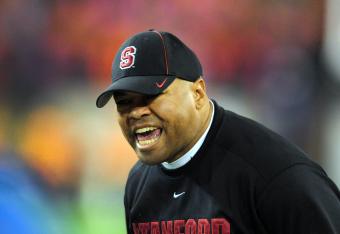 "Quarterback, receiver, and coach, we can do much better." - David Shaw

— David Lombardi (@DavidMLombardi) October 27, 2013
Final Thoughts: Stanford
It wasn't their best performance, but the Cardinal pulled out a big road win in a tough environment. The Beavers were on a six-game winning streak and had the top passing offense in the country. Stanford limited OSU to just 274 yards through the air on 58 attempts.
Most importantly, they held Brandin Cooks in check. Cooks did catch 10 balls for 82 yards and a score, but didn't beat Stanford deep.
The stage is now set for a Nov. 7th showdown against Oregon. If the Cardinal can win that game, they will remain in national-title contention.
For the Cardinal to truly play to their potential, they must get quarterback Kevin Hogan to play better.
Final Stats
Kevin Hogan: 8-of-18, 87 yards
Sean Mannion: 42-of-58, 274 yards, one touchdown
Stanford Total Offense: 285 yards (198 rushing)
Oregon State Total Offense: 292 yards
All stats courtesy of NCAA.com.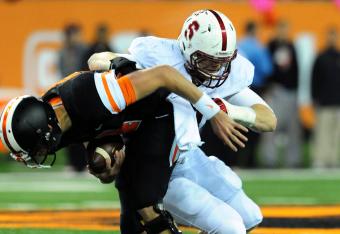 Defensive Player of the Game: Trent Murphy
The senior linebacker looked like the best defensive player in America on Saturday. Murphy was in Oregon State's backfield all night long.
He finished with 2.5 sacks on the night and had several additional pressures. He got his hands up and knocked two passes down at the line of scrimmage. Oregon State had no answer for him.
As a team, Stanford sacked Mannion eight times. Murphy, though, was the catalyst and is having an All-American season.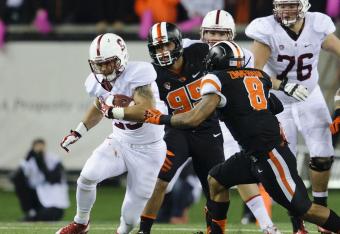 Offensive Player of the Game: Tyler Gaffney
Gaffney was the offense for Stanford on Saturday. He ran the ball 22 times for 145 yards and was responsible for all three Cardinal touchdowns.
His only mistake was a fourth quarter fumble that led to an Oregon State field goal.
Gaffney could have ran for a lot more as the Beavers had no answer for him. It is Gaffney's second straight dominant performance after he ran for 171 yards in the win over UCLA last week.
Now if Kevin Hogan could get the passing game going.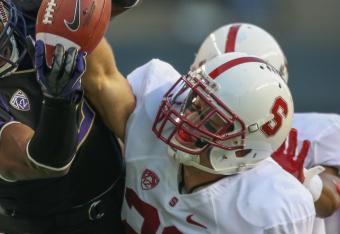 Turnover on Downs, Stanford Ball
Mannion throws a nice pass to Kevin Cummings in the end zone, but Stanford safety Ed Reynolds hits Cummings right as he gets his hands on the ball and knocks it loose.
Ballgame.
It all comes down to one play. 4th-and-goal, 7 seconds remaining.
Mannion must throw it into the end zone.
Murphy right back into the game.
How can you not love this guy?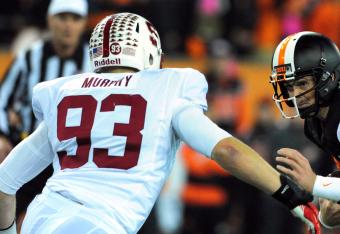 Murphy hits Mannion, yet again. Fortunately for the Beavers, Mannion got rid of the ball just in time to avoid the sack.
Trent Murphy is injured on the play. Looks a lot a like a stinger for Murphy.
16 seconds remain.
How can Oregon State not get the ball to Cooks on EVERY play?
Seriously. He cannot be covered.
Amazingly, Mannion is sacked again. However, on the next play, he throws the ball downfield and gets a questionable pass interference penalty called on Stanford.
What a return by Brandin Cooks, another excellent return puts Oregon State in Stanford territory with 1:34 left.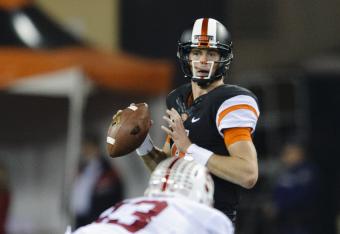 Gaffney is short on third down. Oregon State and Sean "Please call me Peyton Manning" Mannion will get one more opportunity to lead the Beavers on a game-tying drive.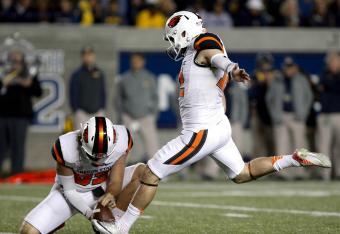 Field Goal, Oregon State
A field goal with just over three minutes remaining cuts Stanford's lead to 20-12. An absolute wasted opportunity by the Beavers there.
This is absolutely comical. Mannion sacked for the seventh time. Yes, Murphy is an All-American and a terrific player, but step up in the pocket, dude.
Mannion has had no problem checking down on all night, yet stands in the pocket, patting the ball, waiting on Chad Ochocinco to come back to Corvallis and get open.
Fumble, Stanford, Recovered by Oregon State
Tyler Gaffney fumbles deep in his own territory, Oregon State recovers and is in business.
Just like Riley drew it up.
What is Mike Riley doing?
Over four minutes remain, down 11 points, and you punt? You've went for it four times tonight already.
Absolutely baffling.
Great decision by Mannion. Checkdown to a running back, behind the scrimmage, with a linebacker in his face.
So much for that Heisman talk.
DJ Alexander has a stinger and is having difficulty getting feeling in his right hand.
Officially, his return is questionable.
Tyler Gaffney has 3 touchdowns. The Stanford single game record belongs to Darrin Nelson. He scored 5 TDs right here at Oregon State in 1981

— David Lombardi (@DavidMLombardi) October 27, 2013
Plenty of time left and Oregon State cannot tackle him.
Is it possible?
Stanford back on offense. Expect to see Gaffney, Gaffney and more Gaffney here.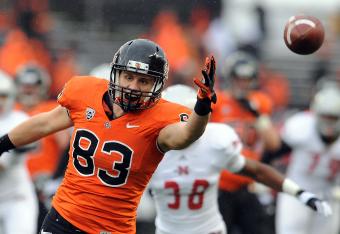 Kellen Clute, Oregon State's 19th string tight end, with a scintillating five-yard reception.
Captain Checkdown must throw the ball more than five yards in the air.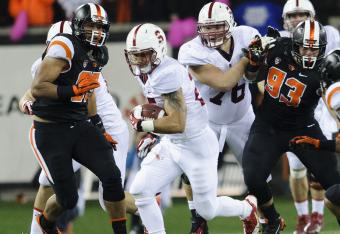 Touchdown, Stanford
You can't stop Tyler Gaffney, you can't even hope to contain him. Gaffney's third touchdown of the night. This time from 32 yards out.
Hogan missed Montgomery deep before hitting Whitfield for a first down. His inaccuracy has kept this game much closer tonight.
This article is
What is the duplicate article?
Why is this article offensive?
Where is this article plagiarized from?
Why is this article poorly edited?