Bundesliga Talking Points: Bayern Have a Plan B and Max Meyer Is a Phenomenon
Saturday produced some thrilling action in the Bundesliga as Champions League hopefuls Bayern Munich and Bayer Leverkusen each overcame a scare, and Schalke 04 and Borussia Dortmund faced off in the Ruhr derby.
The Bavarians were down a goal early against Hertha BSC but came back to reverse their deficit with a 3-2 victory thanks to a brace from Mario Mandzukic and a key third from Mario Gotze. Leverkusen similarly were a goal behind Augsburg before goals from Simon Rolfes leveled and Emre Can scored a late winner.
In Gelsenkirchen, Dortmund roared out of the gate and took an early lead through Pierre-Emerick Aubameyang. Nuri Sahin netted a screamer after half-time before Max Meyer pulled a goal back for Schalke. Jakub Blaszczykowski ensured BVB's win later, snapping a two-game losing streak in the derby for the black-and-yellows.
Click "Begin Slideshow" for a rundown of the take-home messages from this Saturday's action.
Begin Slideshow

»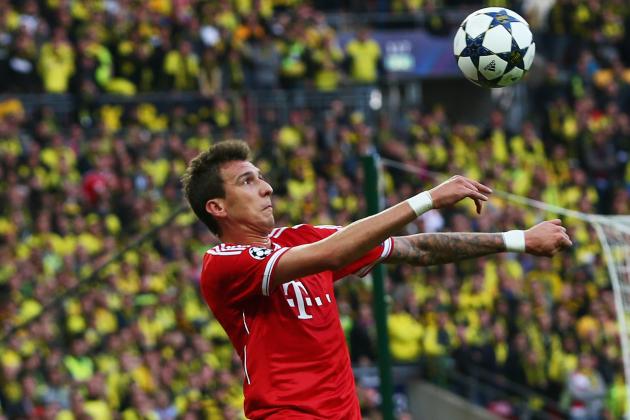 Ever since Pep Guardiola took his role as Bayern Munich's coach in July, the Twittersphere has been abuzz with statistics pertaining to the Bavarians' tiki-taka style of play. Their overwhelmingly dominant share of possession and otherworldly number of passes completed have captured the awe of many. But games aren't won by mere ball control.
Guardiola started Saturday's match with Hertha BSC without a natural striker. Tiki-taka struggled to have a positive effect and the visitors went ahead early. Before the half-hour mark Guardiola substituted on Mario Mandzukic and the Croatia international added a much-needed dimension to the Bayern attack. Two headers from free kicks later, Bayern were 2-1 ahead. They went on to win 3-2.
Guardiola was often criticized at Barcelona for lacking a "Plan B" and being overly committed to "high-brow" football, as though goals were only worthwhile if they were pretty. At Bayern he has his "Plan B" in Mandzukic, whom he didn't need to bring into the fray but nonetheless trusted with his team needing two goals to maintain their first-place status in the Bundesliga. The Croat did not disappoint.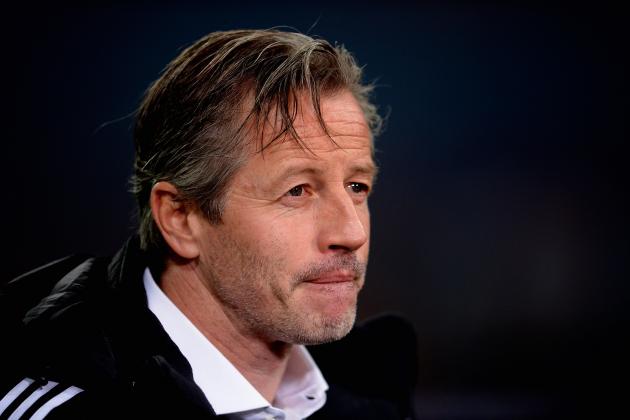 Schalke coach Jens Keller named a rather odd starting XI to face Dortmund in the much-anticipated Ruhr derby. The trainer's starting lineup featured three natural left-backs, Dennis Aogo, Christian Fuchs and Sead Kolasinac, two of whom were used out of their natural position (Aogo in defensive midfield and Fuchs on the left wing)
It was a very odd lineup for Keller but was indicative of the problems he now faces with his squad. After his team's capitulation against Chelsea in midweek, he wasn't comfortable with the risk of starting either of his 18-year-old prodigy midfielders, Max Meyer and Leon Goretzka.
Midfield anchor Jermaine Jones has been out of favor for several weeks now; the team's woeful defensive record with him on the pitch giving Keller little reason to start the veteran. With Marco Hoger having torn an anterior cruciate ligament, Keller was very short of options in the center of the park.
If Keller truly sees his XI to face Dortmund as the best he has for Schalke's toughest matches, it's a real problem for the Gelsenkirchen side. It's been years since they, with Manuel Neuer in goal and Felix Magath as their coach, played defensive football. Surely they won't be able to entirely reform their style of play at this point. And with so many defensive players on the pitch, it's hard to see Schalke scoring many goals. Their injury problem has turned into a crisis.
Those who watched Max Meyer at the U17 European Championship in the summer of 2012 were treated to an early preview of Germany's next great attacking prospect. The diminutive midfielder was unplayable at times and was named the tournament's best player even though Germany finished runners-up. And now with each passing week he looks better and better.
Meyer, who celebrated his 18th birthday last month, gave his first Bundesliga assist at the end of September. He's scored in each of the three league matches Schalke have played since, with Saturday's goal against Dortmund being the most significant and most impressive yet.
Two minutes after entering the game as a substitute, Meyer danced past a pair of defenders and set up Adam Szalai with a clear chance on goal. The Hungarian couldn't finish but his 18-year-old teammate could with an effort that gave Schalke some hope in the derby.
Meyer is on fire now and comes with an outstanding pedigree, hailing from the same academy that produced such greats as Mesut Ozil and Julian Draxler. If he stays healthy and continues on his current trajectory, he can become a hero of the game. Keller must be careful, however, to protect Meyer's talent. The player is still very young and therefore more prone to injury. But the way Meyer is playing now, it's hard to limit his playing time.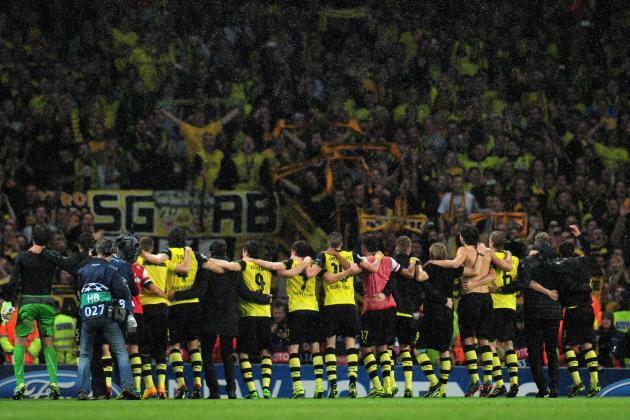 In Dortmund's pre-match press conference on Thursday, CEO Hans-Joachim Watzke explained that the Ruhr derby with Schalke means "less than it did three or four years ago."
Judging from the way Dortmund played against Schalke, the derby still means a great deal to BVB. Last year they lost to Schalke both home and away, their legs clearly weary after midweek fixtures. But on Saturday, just four days after edging Arsenal 2-1 at the Emirates in a thriller, BVB managed to find their form and fitness as they took the game to Schalke in Gelsenkirchen.
The visitors were dominant especially in the first half hour, and although Schalke found their way back into the game after that, BVB were never in danger of losing and were ahead by two goals for about a third of the 90 minutes.
Both sides played passionate football, the kind that is so characteristic of teams from the Ruhr. A hero was born in Max Meyer, while Nuri Sahin's long-distance screamer conjured memories of the goal he scored against Bayern two years ago—and gave hope that he may be approaching the same phenomenal form he showed in 2011-12. As such, the derby was every bit as enjoyable as it ever has been. Watzke wasn't kidding anyone.