Wake Forest vs. Miami: Live Score and Highlights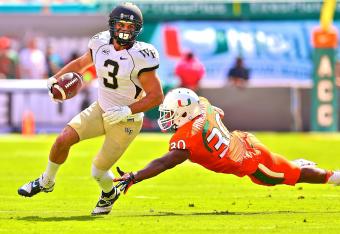 Getty Images
Miami 24, Wake Forest 21—FINAL
Miami beat Wake Forest in a valiant comeback effort. The Hurricanes had to make a ton of plays in the final two drives to finish the game out 7-0. They get to take on Florida State next week in what looks to be a battle of Top 10 teams in Tallahassee.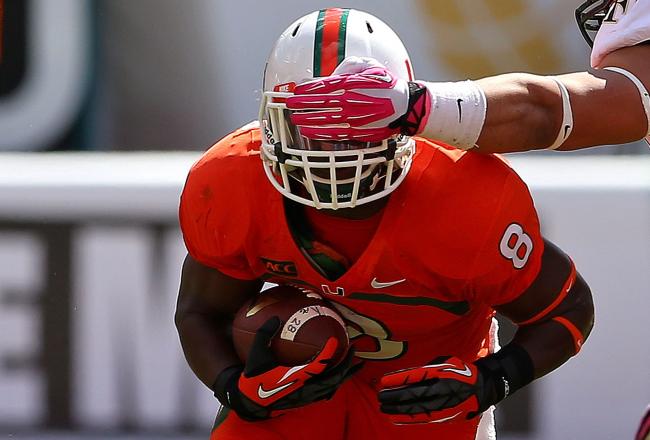 Stephen Morris played a clean game for once today. His 17-of-28 (60.7 percent) passing for 191 yards and one touchdown did just enough to keep the offense moving all day.
Tanner Price also had a very good game, with a 25-of-45 (55.6 percent) performance that netted 302 yards and two touchdowns. However, the crucial interception at the end was a dream killer.
Today's player of the game is easily Duke Johnson. He had 30 runs for 168 yards and two touchdowns. On top of that, he returned three kicks for 75 yards to accumulate 243 all-purpose yards on the day. Without Johnson, Miami loses this one in the clutch.
The game-sealing interception.
Miami holding on was an insane comeback that should not have even happened. But the Hurricanes are proving that they aren't a championship-caliber team this year. As Mike Asti succinctly puts it, they are a survivor.
All Miami (Fl) ever does is survive. Not once have the Hurricanes gone out and really impressed yet this season.

— Mike Buzz-saw Asti (@MikeAsti11) October 26, 2013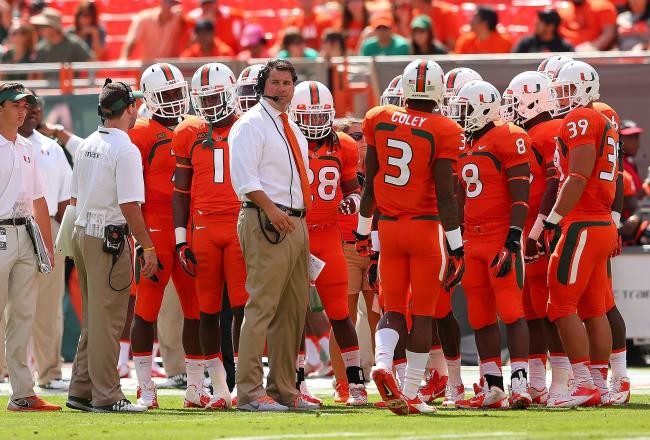 Wake Forest's Tanner Price missed on both of his passes to close the game out. Unfortunately, the second miss was an interception by Miami's Antonio Crawford. Miami downed the ball just once, and this game is over.
Miami 24, Wake Forest 21—FINAL
First career 30-carry game for Duke, and last one counts the most. He shouldered the load today with 168 yards. Bravo, young man. Bravo.

— Camron Ghorbi (@CamronGhorbi) October 26, 2013
The Duke Johnson go-ahead score.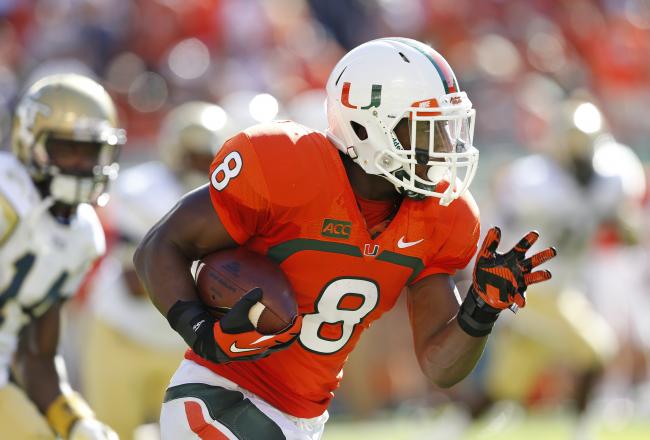 And on second down, Duke Johnson says, "GIVE ME MY TOUCHDOWN!" He plows right up the middle for a touchdown to give Miami the lead with 53 seconds left in the game.
Miami 24, Wake Forest 21—0:53 4th Quarter
Holy cow.
The Hurricanes just got screwed by the referees' call on what should have been a touchdown. Duke Johnson was ruled out on the half-yard line on the first-down run.
Duke Johnson and Dallas Crawford combined for 11 yards on a pair of runs to gain another first down, but then an illegal-snap penalty made it 1st-and-15 from the Wake 21. Stephen Morris hit Clive Walford for seven. Then, Duke Johnson followed that up with a run for the first down to give Miami the ball at the Wake 6-yard line.
Duke Johnson almost peeled out of a final tackle at the end of a 17-yard run. After a six-yard throw to Herb Waters, Wake absorbed a pass-interference call to give Miami the ball at the Wake 27-yard line with two minutes left.
Morris trust level: low. RT @CourtneyNBC6: 10 straight rushing plays by the Hurricanes, dating back to last drive.

— Matt Porter (@mattyports) October 26, 2013
After a good return by Duke Johnson brought it to the Miami 27, he gave the Hurricanes eight yards on the first two runs of the drive. Miami has been uniquely turnover-free today. It's a good look for the 'Canes, but they have to win to make it mean anything.
The wheel-route touchdown to Dominique Gibson.
This Wake-Miami game is REALLY starting to feel like that WVU-Miami game in '03. The Winslow fingertips game.

— Joedy McCreary (@JoedyAP) October 26, 2013
Great time for Gibson's first-career touchdown.

— Wake Forest Football (@WakeFB) October 26, 2013
With 4:02 left, #Wake leads #UM 21-17. Tyrone Cornelius couldn't make the tackle for #UM

— Manny Navarro (@Manny_Navarro) October 26, 2013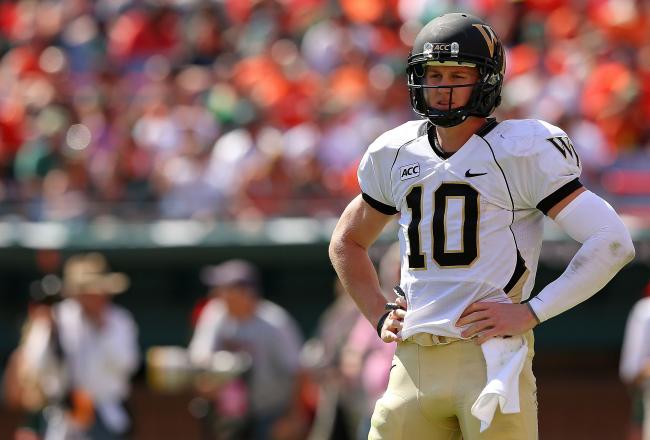 Wake Forest is trying to get a signature drive to close the game out. After the Deacons opened up on their own 25-yard line and missed the first pass, Michael Campanaro drew a pass-interference call for a first down. A five-yard pass and an Antonio Crawford pass deflection led to a 3rd-and-5 at the Wake 45.
Tracy Howard then knocked it away to force the fourth down. On 4th-and-5 from the Wake 45, Tanner Price hit Jared Crump over the middle for the first down. On first down, Price went to Dominique Gibson on a wheel route for a 44-yard touchdown and the lead.
Wake Forest 21, Miami 17—4:02 4th Quarter
The Duke Johnson go-ahead touchdown.
Walford with a strong block to seal the edge. Duke to the end zone. #Canes to go up 17-14 after XP. 8 play, 51-yard scoring drive in 4:05.

— Matt Porter (@mattyports) October 26, 2013
Play is confirmed and Miami takes a 17-14 lead with 5:36 to play.

— Wake Forest Football (@WakeFB) October 26, 2013
After losing a yard on first down and a false-start call, Duke Johnson's running and a facemask penalty on the Demon Deacons gave the Hurricanes the ball in a 1st-and-goal situation. Johnson ran it in from four yards out on second down to bring the Hurricanes their first lead of the day.
Miami 17, Wake Forest 14—5:36 4th Quarter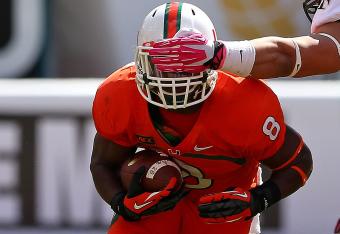 It's the Duke Johnson experience for the Wake Forest defense. It gets to experience him running around and through the Demon Deacon defense with three runs for 25 yards to open the drive. Another seven yards gained from an end-around gave Miami a 1st-and-10 from the 19.
Can't believe this game. TRAP GAME

— Michael Irvin (@michaelirvin88) October 26, 2013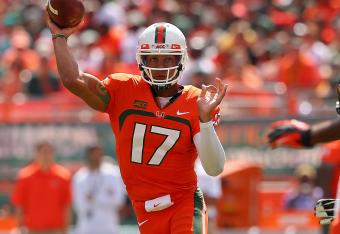 After a Josh Harris run for three yards and a throw away on second down, Tanner Price just makes a horrible throw to fail on a crucial third down. A confusing situation happened on the punt after the punter may have heard a whistle from the stands.
The officials made the right call to force the re-kick. Miami gets the ball back around midfield.
After getting a great catch from Stephen Coley, Miami punts it on 4th-and-2 from Wake's 38. What a horrible decision by Al Golden. Wake could create a terrible situation for Miami with a touchdown on this drive.
Why is Miami not going for it here? 4th-and-2 on the Wake 38 and you punt?

— Justin Russo (@FlyByKnite) October 26, 2013
This article is
What is the duplicate article?
Why is this article offensive?
Where is this article plagiarized from?
Why is this article poorly edited?