Friday night's preseason contest between the Milwaukee Bucks and Toronto Raptors from the BMO Harris Bradley Center in Milwaukee was cancelled midway through the first quarter, as the officials deemed the slippery court too unsafe to play.
UPDATE: Wednesday, Oct. 30, at 9:19 p.m. ET
The Bucks provided an update on the court and their plans to fix it:
Bucks & NBA have determined the combination of factors that were the cause of the traction issues leading to the cancellation of #MILvTOR.

— Milwaukee Bucks (@Bucks) October 31, 2013
The Bucks & NBA officials have agreed to have the new court completely resurfaced & refinished, a process that is expected to take 2-3 weeks

— Milwaukee Bucks (@Bucks) October 31, 2013
Fans can guarantee they are there when the new court makes its debut by purchasing a "New Floor Guaranteed" ticket for the #BucksOpener.

— Milwaukee Bucks (@Bucks) October 31, 2013
---End of update---
The Raptors' Media Relations Twitter feed gave us the news:
Game against Bucks in Milwaukee cancelled at 5:58 mark of 1st qtr. due to unsafe playing conditions with the court surface.

— RaptorsMR (@RaptorsMR) October 26, 2013
The Bucks added this:
Redemption is now available at the @BMOHBC. Fans with tickets for tonight's game can exchange for ANY home game in November.

— Milwaukee Bucks (@Bucks) October 26, 2013
With the way things were going, it was probably the right decision.
Less than six minutes into the game, Bucks guard O.J. Mayo had already slipped and fallen, while Toronto's Amir Johnson and DeMar DeRozan also suffered falls due to the slippery conditions.
With preseason games meaning next to nothing—perhaps even more so with the start of the regular season less than a week away—the officials opted rather to be safe than sorry and called the game after a lengthy delay and discussion.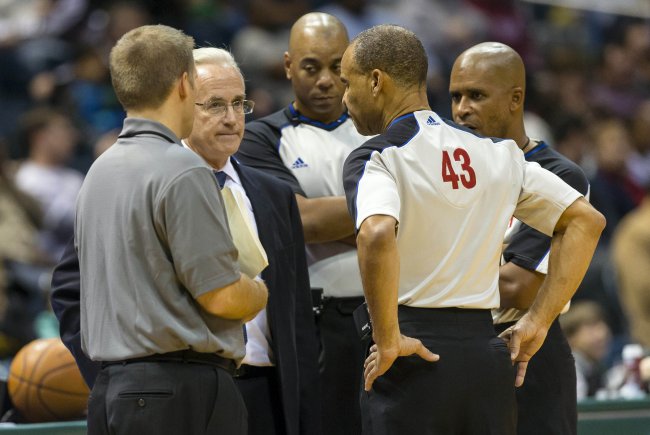 Still, while there's very little harm in canceling a preseason game in the first quarter, this doesn't exactly paint an encouraging picture for the regular season.
That's because the court at the Bradley Center in Milwaukee is brand new. The Bucks' official Twitter feed posted a picture in September of the ongoing renovation:
Pardon the dust. We are busy making something for you… pic.twitter.com/bMbXVq2DhG

— Milwaukee Bucks (@Bucks) September 18, 2013
By the end of September, the new design was finished and the court was ready.
Hopefully this is just a one-time thing or an easily fixable problem, because canceling a regular season game due to a slippery court is pretty much not an option—and the alternative is a potential injury.
Milwaukee's first home game of the regular season, ironically enough, is a rematch of this six-minute contest against the Raptors on Saturday, Nov. 2.
We can only hope that this turns out be just a funny preseason story and not a sign of foreshadowing.