Analyzing What Lionel Messi and Cristiano Ronaldo Must Do at El Clasico 2013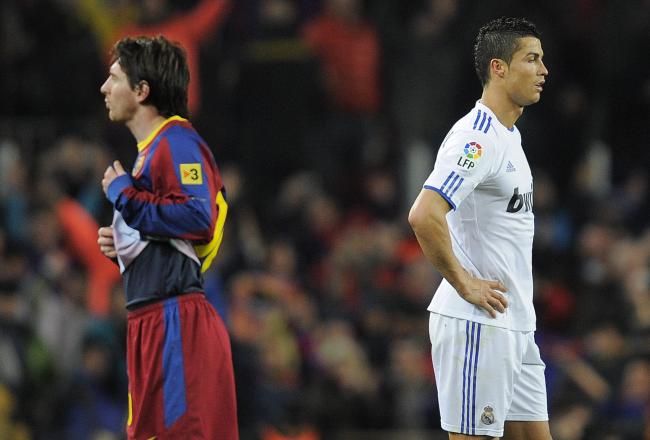 (Photo by David Ramos/Getty Images)
Although the play of Lionel Messi and Cristiano Ronaldo alone won't win El Clasico for either Barcelona or Real Madrid, their performances will help to set the tone.
Even clubs with as much talent as Barca and Madrid need their star players to perform up to a certain standard, especially in matches as grand as El Clasico.
Each and every one of Messi and Ronaldo's moves will be magnified to the nth degree. If they play well, their performances will go down in history, like Ronaldinho's 2005 game that had the Santiago Bernabeu crowd applauding him.
Here's a comparison of the two up to this point in the season, via WhoScored:
GRAPHIC: Stats Comparison - Lionel Messi vs @Cristiano in La Liga 2013/14 #Clásico pic.twitter.com/gPNyu6FE6F

— WhoScored.com (@WhoScored) October 25, 2013
Beyond the glaringly obvious—score, play well, don't get sent off—here are two quick things both Ronaldo and Messi must do to ensure their respective club wins El Clasico.
Cristiano Ronaldo
Use Speed and Physicality to Get in Behind the Defense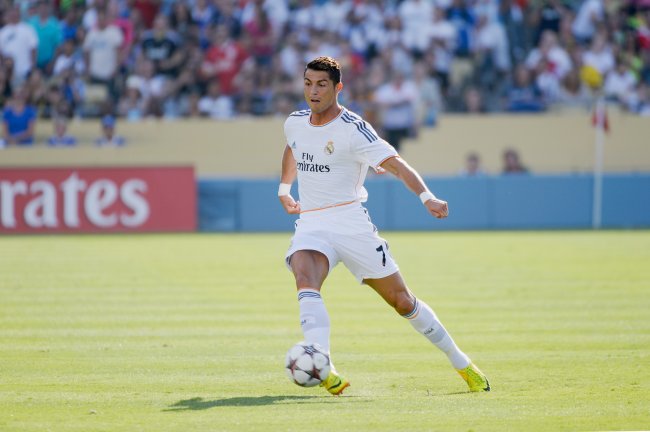 /Getty Images
In Real Madrid's 2-1 win over Juventus in the Champions League, Ronaldo did a great job of using his positional awareness to score his first goal. As Martin Caceres played him onside, the Portuguese winger timed his run perfectly, receiving Angel Di Maria's pass with no defender around and only Gianluigi Buffon to beat.
That goal was a great example of how Ronaldo's off-the-ball movement can hurt you just as much as when he's got the ball at his feet. He's such an athletic player that he can outrun you and outjump you, depending on what the situation calls for.
That movement will be key against Barcelona. More than likely, Ronaldo's going to be shadowed by two or three defenders at all times. He'll be much better off trying to shake those markers when he's off the ball, rather than taking defenders head on and attempting to dribble past them.
Barcelona's back line isn't the most physically imposing. Ronaldo should use that to his advantage by jostling for space, and then when he's got that space, exploiting it with his speed.
Don't Try to Force Shots When in Tight Spaces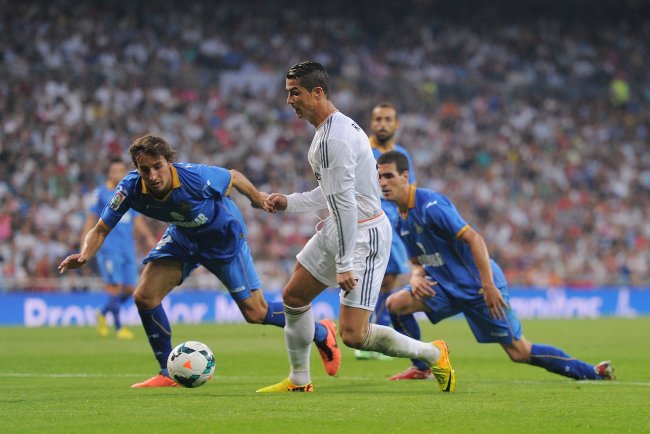 /Getty Images
As great as Ronaldo is, he can be an extremely frustrating player. For the most part, his selfishness on the pitch isn't a major problem. It can become one when he decides to try to force shots that aren't there or dance his way through the defense, only to lose the ball and then remonstrate for a foul.
Real Madrid are unlikely to get a ton of shots on goal. They've got to make the most of every attacking opportunity in the final third.
What they don't need is Ronaldo cutting in from the left, putting the ball on his right foot and either launching a shot out of play or attempting a shot, only to have it blocked because he's surrounded by defenders and doesn't have a clear look at the goal.
Carlo Ancelotti will want Ronaldo to have that edge near goal. The important part will be to balance that desire to score with the need to make the smart football move.
Lionel Messi
Drop Toward Midfield When Not on the Ball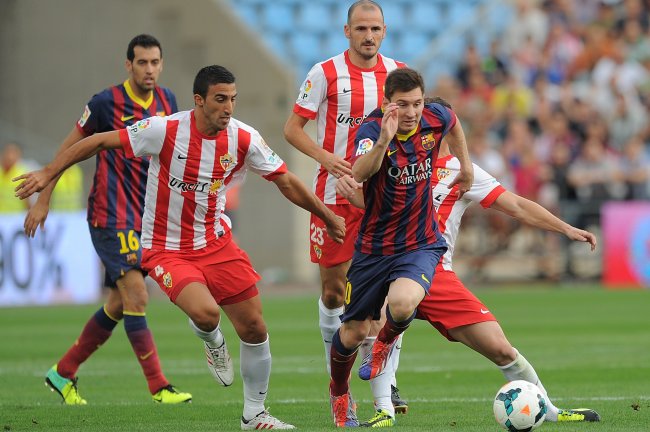 /Getty Images
It's not a news flash to hear Messi doesn't hover around the 18-yard box like a normal striker. He operates as more of a No. 10-type creative midfielder.
Part of what that serves to do is drag the defenders around the pitch. Opposing players will be too afraid to give Messi any sort of space off the ball, so they'll try to close down on him, even when he's near midfield.
Now that can be successful for a time. For an entire match, probably not.
You'll eventually run into one of two problems. Either your defenders start tiring out toward the end of the match, or they've run out of position, and the opposing team has a numbers advantage in the final third.
Should Madrid's centre-backs hold firm in their positions, Ancelotti will be asking somebody like Luka Modric, Sami Khedira or Asier Illarramendi to mark Messi, and that could be a recipe for disaster for Madrid. That's why Messi is much better dropping as deep as possible.
Play Off Neymar's Runs from Left Flank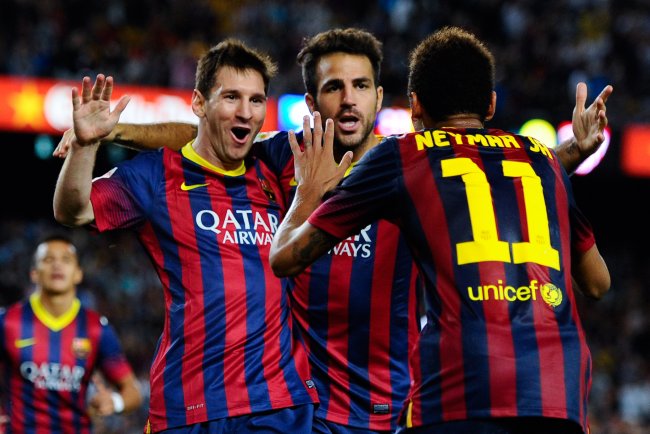 /Getty Images
Before the season started, there was a bit of consternation among some Barca supporters about how well Messi and Neymar would jell on the pitch. Both guys were used to being the top dog, and the Brazilian star always looks to run inside, which could cause problems as Messi looks to run on goal from the centre-forward position.
So far, so good for Barcelona. Neymar has become more of a playmaker rather than scorer, while Messi remains the target man, or at least as much of a target man as Barca can have.
Messi would be smart to let Neymar cut inside and draw the defense's attention. He doesn't have to be the engine on every attack.
This is why the Brazilian star was brought in. He was supposed to add that different dimension and provide another goalscoring threat. As Neymar is running in from the left, he's eventually going to drag some defenders over from the center, opening up some space in front of goal.
Messi should use that to his advantage
This article is
What is the duplicate article?
Why is this article offensive?
Where is this article plagiarized from?
Why is this article poorly edited?