What Are the Hottest Twins in Sports Up to Now?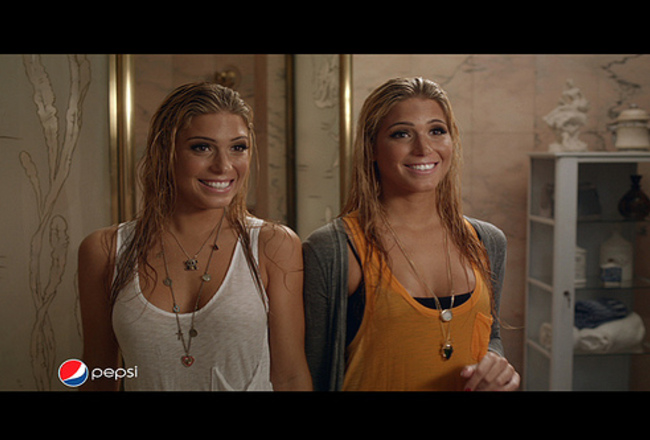 Image via YouTube.com
While one is good, we all know that two is better.
And when we're talking about two hot girls, let's face it, any dude tries their hardest to hold back their excitement.
Not me, though.
Instead of creepily staring at these girls or embarrassing myself by talking to them if ever seen in public, I'm just going to creepily talk about them—even though they don't know me at all—all for your enjoyment.
So sit back, take a peek and see what's up with some of the hottest sets of sports twins we've ever seen.
Honorable Mention: Gisele and Patricia Bundchen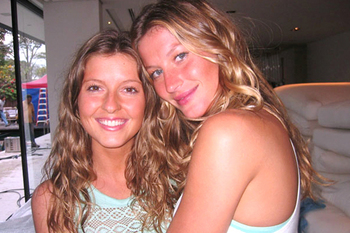 Image via EliteDaily.com
OK, so this might be a bit of a cop-out on my part, considering neither Gisele or Patricia Bundchen are actually athletes themselves.
But the title of the slideshow gives me an out, since it represents just the hottest twins involved in sports, and Gisele is married to Patriots quarterback Tom Brady—so it counts, right?
I'm making the executive decision with that one—because who the hell doesn't like seeing pictures of one of the sexiest ladies on the planet, Gisele Bundchen, and her fraternal twin sister, Patricia?
If you answered negatively, just leave now.
Honorable Mention: Gisele and Patricia Bundchen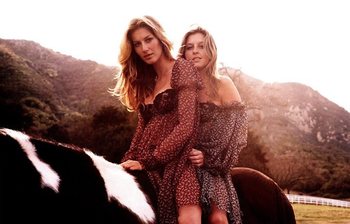 Image via fanpop.com
As you might imagine, it's pretty difficult to find any updates with Patricia Bundchen.
She's not famous, so trying to track down what's up with her is a little more difficult than I imagined it would be.
The good news is that her sister, Gisele, is very famous, and we get the pleasure of seeing her either run around in skimpy outfits as a model, supporting her husband at Patriots games, or just being a hot mom with her and Brady's newest little one, Vivian.
Brie and Nikki Bella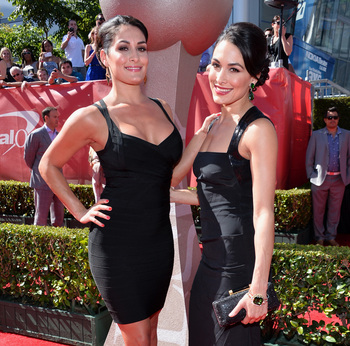 You probably didn't think you'd get a little language lesson today, but WWE entertainers Brie and Nikki Bella are just too hot not to give you the obvious.
As an Italian dude, I know that the word "Bella" means beautiful, so is it any coincidence that these two chose that last name for their stage moniker? Their real last name is Garcia-Colace.
It's probably not an accident, and I must admit that it's damn fitting for them.
Brie and Nikki Bella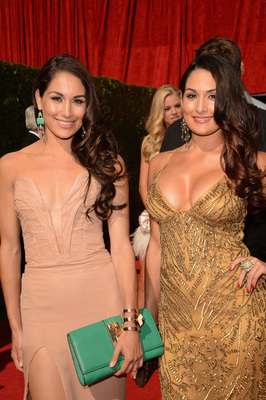 Making their name with the WWE, The Bella Twins came to their senses after doing some independent work and are back on the wrestling circuit with the top brand.
After all, how in the hell were we supposed to keep up with them when they were competing in the low-end CTWE Pro Wrestling series?
Right, we really couldn't.
Thank God they're back in the big leagues and can be seen on the WWE TV show, Total Divas, which profiles the lives of seven WWE Divas.
If you like athletic, sexy drama, I'd suggest you check out them out.

Alissa and Amber Czisny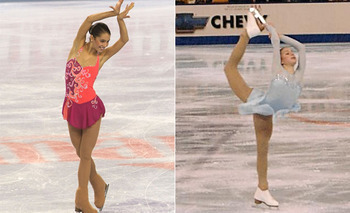 Image via BleacherReport.com
If someone asked me what I was doing at 18 months old, I'd tell them their guess is about as good as mine, with my days probably being filled with tons of sleeping, crying and hopefully a little running around.
For figure skating sisters Alissa and Amber Czisny, though, they were actually on the ice moving in their skates.
That's pretty damn impressive.
What's more is that they turned out being quite cute too, making their early sports start well worth it if it meant we got introduced to them.
Alissa and Amber Czisny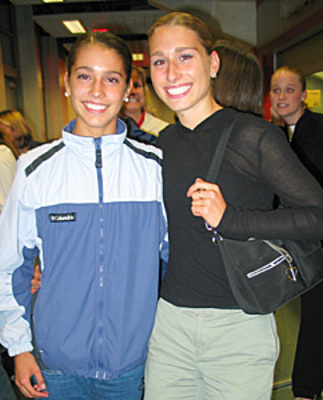 Image via figureskating.about.com
So what are these two ice-cold twins doing these days?
Alissa has gone on to compete in a number of different skating competitions and even took home the gold medal at the Skate Canada International tournament a few years ago.
She injured her hip earlier this year but is back training these days.
As for her sister, Amber, she got bit by the injury bug one too many times, forcing her to retire earlier than she imagined.
It's not all bad for her, though, as she's staying busy with aspiring skaters as a coach and choreographer.
Amber and Angela Cope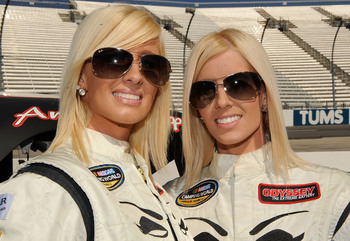 We all knew that NASCAR had Danica Patrick to hold down the fort for obscene hotness, but it's pathetic of me for not knowing more about these twin drivers, Amber and Angela Cope.
Starting their "driving" careers by spinning the wheel on go-carts at age nine, the two have gone on to make history, becoming the first twins to compete in one of NASCAR's top three series, when they started at the Camping World Truck Series in 2010.
Amber and Angela Cope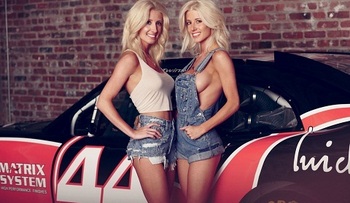 Image via Maxim.com
Still both racing, the Cope Sisters have gotten pub in the past year or so thanks to a tiff with fellow driver Kevin Harvick.
Harvick went after Amber through Twitter, blaming her for a loss at last year's F.W. Webb 200 race.
When they aren't splitting time on the racing circuit in the No. 24 car for SR2 Motorsports, they're speaking up about domestic violence, becoming activists for a campaign to educate people.
Trust me, any guy would be wise to listen to everything they want to say.
Hailey and Sierra Partridge
While I'm personally a major fan of sexy surfer Ellie-Jean Coffee—especially her Instagram pics—how can one go wrong with the double-trouble sexiness of wave-riders Hailey and Sierra Partridge?
Oh, that's right, you can't!
With a sport that requires competitors to wear bikinis, I'd say these two chose the most accurate one for them—just look at those wicked bodies!
I really am mesmerized by these two.
Hailey and Sierra Partridge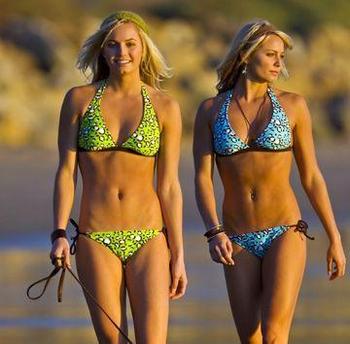 Image via David Puu
When they're not living the good life on the water, these twins are doing a number of different things—one of which includes graduating college last year from UC-Santa Barbara with a major in communication.
They look to spread their sport and healthy lifestyle as much as possible and have traveled to Europe and other continents as surf instructors for their sponsor—surf company O'Neill—to teach impaired kids how to surf.
Looking and doing good in bikinis, these two are a couple of dimes in a couple hundred dozen.
Bia and Branca Feres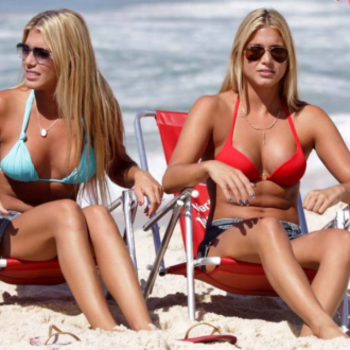 Image via twitter.com/brancaferes
Good Lord.
There's no other way to describe this former synchronized swimming duo from Brazil than that because, yes, I literally just spent about half of my day trying to decide what pictures were hottest of them to show you.
That's a good problem to have, by the way.
As great as they look in every single photo ever taken of them, Bia and Branca Feres stopped competing back in 2007 after the Pan-Am Games.
You'll see why in a second...
Bia and Bianca Feres
Though they were rumored to be training for the '08 Beijing Olympics, sadly they never actually were.
So, what did they do instead?
What any other mega-hot sets of twins would do—focus on modeling.
Thankfully, they were caught in the rain during this Pepsi commercial, because it's seriously one of the best sights ever.
Keep Reading