World Football's 20 Most Iconic Stadiums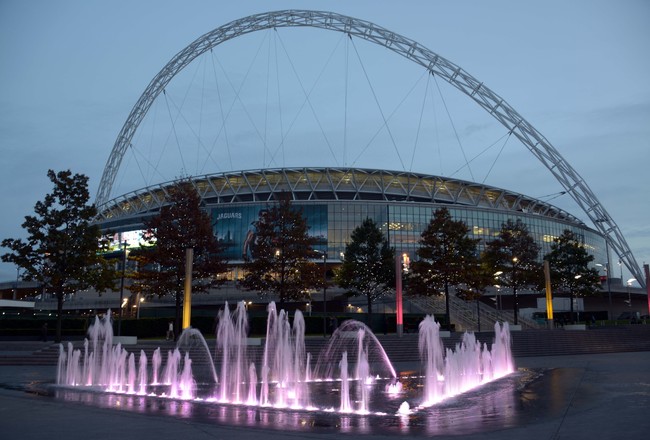 As the biggest sport in the world, it's only suiting that football gives setting to some of the most beautiful venues the globe has to offer.
However, it's not just size or aesthetic value that filters into a stadium being deemed iconic, with particular events that occurred within also playing their role in the history of the location.
With just about every corner of the globe being touched by football's far-reaching influence, each continent has their offering of superb stadia, with South America and Europe unsurprisingly ranking among the more prestigious.
Regardless of how their inhabitants, national or club level, may be faring at this moment, read on to find the world's top 20 stadiums, with capacity, history and prestige all playing as factors.
Honourable Mentions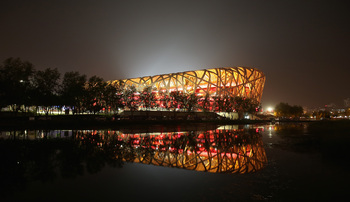 Soccer City
Known more officially as the First National Bank Stadium, South Africa erected their premier ground in 1989 and renovated it in 2009 in time for the 2010 World Cup, whereby it gained the nickname Soccer City in order to fall into FIFA regulations.
The 12th-largest stadium in the world, Bafana Bafana share the 95,000-seat capacity stadium with their national rugby team on occasion in what's easily the pearl of Africa's hosting abilities.
The Bird's Nest
Erected in the build-up to the 2008 Beijing Olympics, the Bird's Nest certainly rolls off the tongue far more easily than the Beijing National Stadium.
It doesn't take a genius to realise why the avian-inspired structure is called the Bird's Nest, combining Chinese innovation with as much beauty as any other ground has been known to muster, where the 2008 Olympic football final took place.
Ataturk Olympic Stadium
The 2005 Champions League final will undoubtedly go down as one of the most memorable of all time, and the Ataturk Olympic Stadium deserves a nod just for its part in playing host to such a dramatic comeback.
Liverpool's heroics against Milan that year were probably the greatest thing that will ever happen to the 76,000-seat gem, built in the hopes that Turkey might win the 2008 Olympics but sadly couldn't live up to their own billing.
20. Ferenc Puskas Stadium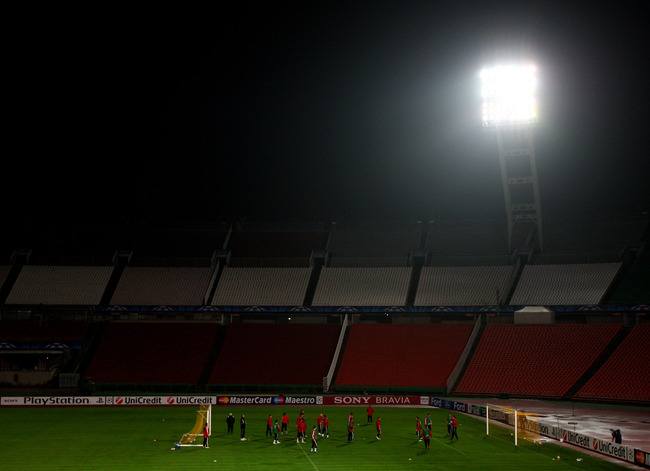 Location: Budapest, Hungary
Capacity: 56,000
Named after the superstar that brought the country such massive plaudits during the 1940s and '50s, the Ferenc Puskas Stadium was built in tribute to the best footballing power the nation has ever produced.
Mainly used for the national team and some European matches, such as that between Debrecen and Liverpool during the 2008/09 Champions League campaign, the ground rarely receives the attention matching that of the talents for whom it's named after.
Regardless, the stadium will have been a terrifying place to travel during Hungary's glory years, as England found out in 1954 when they lost 7-1 to their hosts—to this day the biggest defeat the Three Lions have ever suffered.
19. Hillsborough Stadium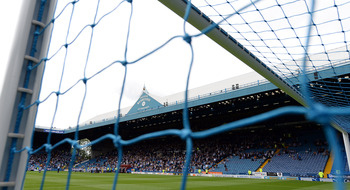 Location: Sheffield, England
Capacity: 40,000
Unfortunately famed more for the FA Cup tragedy than anything else, Hillsborough is a name that now rings significantly for any football fan even slightly aware of the events that unfolded against Liverpool on April 15, 1989.
Though Sheffield Wednesday have come a long way from the dizzier heights they might have been used to around that period, the stadium itself nonetheless holds tremendous weight on the global stage for its saddening historic value.
18. Celtic Park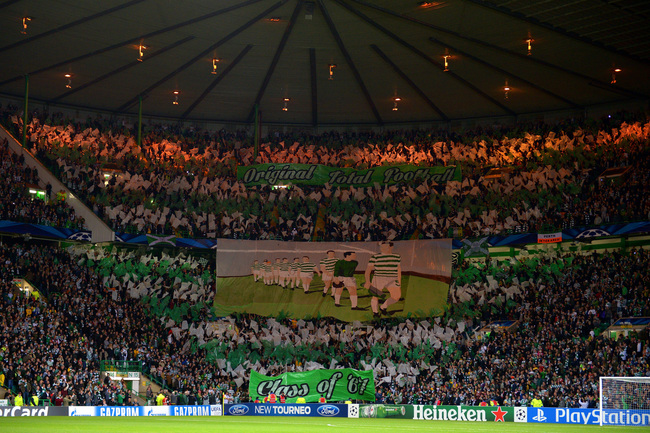 Location: Glasgow, Scotland
Capacity: 61,000
Another example of a ground with its glory days behind it, Celtic Park is nevertheless a daunting place for clubs to travel whether it be on the Scottish club scale or European spectrum.
When Hampden Park has been unavailable in the past, Celtic's home ground has gladly stepped in to host the Scottish international team and has seen its fair share of magnificent sights down the years, not least of which is the 83,500 capacity record attendance Old Firm encounter it hosted in 1938.
Now, the seating is down to a much more manageable 61,000, but those Parkhead walls aren't likely to forget the rampage Celtic went on during the 1960s and '70s under the highly successful reign of Jock Stein.
17. Estadio Da Luz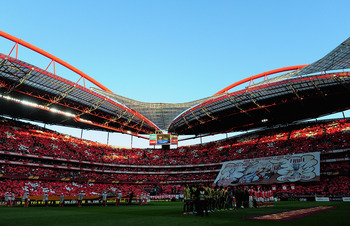 Location: Lisbon, Portugal
Capacity: 65,500
Although Porto have dominated recent years in terms of title success and European competition, Benfica can at least be resolute in knowing that they boast Portugal's biggest stadium, with the Estadio da Luz seating some 65,000 on its finer days.
A beautiful construction that incorporates the club's Eagles reputation, the Estadio da Luz has a light and agile feel to it, incorporating polycarbonate roofing that allows sunlight to beam through, while the arches also lend themselves perfectly to the motif.
16. Signal Iduna Park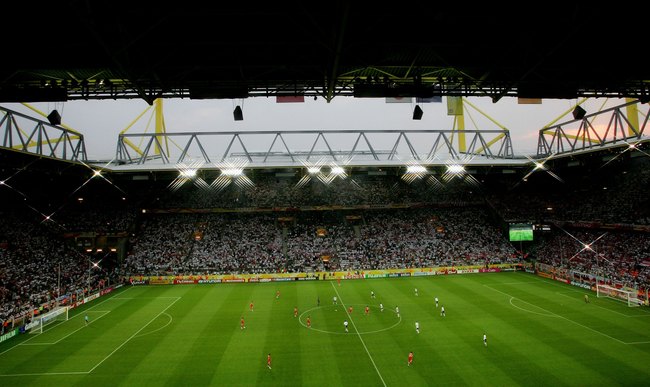 Location: Dortmund, Germany
Capacity: 80,500
Recognised more as the Westfalenstadion among some circles, Borussia Dortmund's meteoric rise back to international recognition has a titanic structure to house the club's recaptured size and spectrum.
Home of the "Yellow Wall," the most prestigious of football occasions have been played at Signal Iduna Park, ranging from World Cup encounters to the latest legs of Champions League competition.
What's more, a standing season ticket at the ground (where else would you want to be?) would only set you back €187 in Yellow and Blacks' 2012/13 campaign, meaning it costs far from an arm and a leg to witness the action at one of football's most passionate venues.
15. Allianz Arena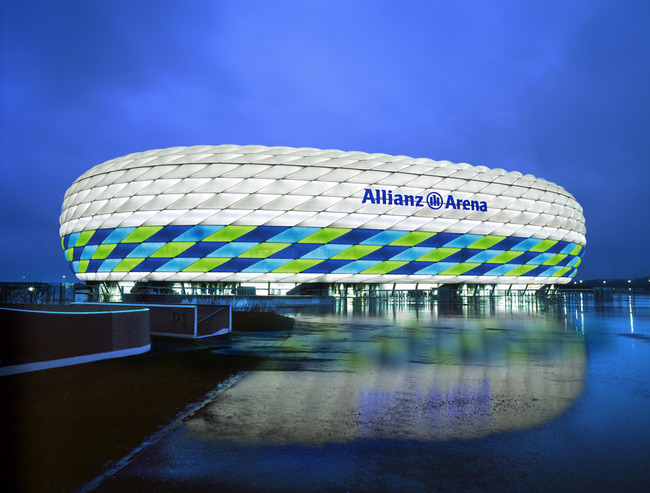 Location: Munich, Germany
Capacity: 71,000
In a very familiar case of circumstances, Bayern Munich just about edges Borussia Dortmund in the stadium stakes, not unlike the way they pipped their close German competitors to the Champions League and Bundesliga titles last season.
Granted, Signal Iduna Park has about 25 years on its Bavarian counterpart, but Bayern's success during that time matches the Yellow and Blacks', as well as the stadium itself being a much more modern and arguably more beautiful design.
Constructed for the 2006 World Cup, 1860 Munich also play home games at the venue but hold no rights to its ownership, as they have been bought out of their share in 2006.
The Allianz holds a Bayern museum inside and can change its luminous exterior to match the colours of the team playing inside or adopt a white facade for neutral matchups, one of the most attractive technological wonders in stadium innovation.
14. Stade De France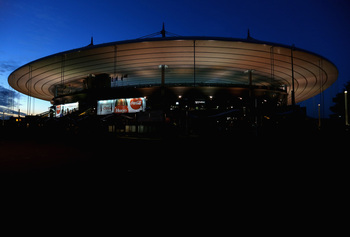 Location: Paris, France
Capacity: 81,000
Home of Les Bleus, the Stade de France has an all-seater capacity of just over 81,000 and will be most fondly remembered for its contributions toward the highly entertaining 1998 World Cup.
The plate-roof design is an iconic feature of the Parisian ground, whose name was first put forth by none other than Michel Platini, forever having input on the renown of his country.
13. Stadio Olimpico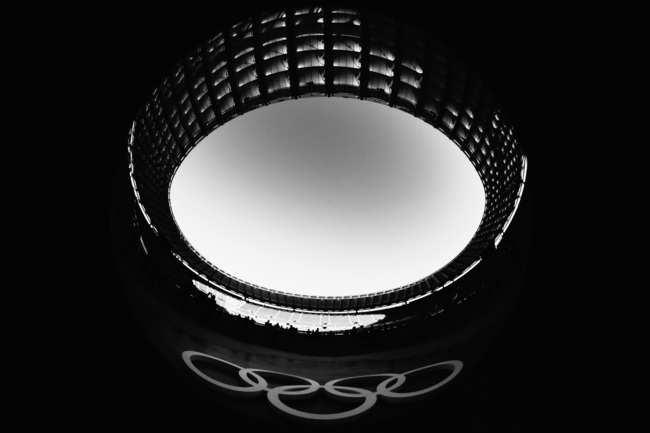 Location: Rome, Italy
Capacity: 82,000
Surrounded by the art and architecture that Rome, and indeed the whole of Italy has built a reputation on, the Stadio Olimpico is far from the intricacies of some sculptures, simply relying on the simplistic features of its "O" shape design.
AS Roma and Lazio currently call the ground home and continue to play out their bitter rivalry at the 85-year-old stadium, with five Serie A titles and 15 Coppa Italias between them.
The 1990 World Cup final, 1968 European Championship final and 1977 European Cup final are just some of the historic matches to have unfolded at the ground in the last half-century and all lend to the majesty of one of Italy's most recognisable venues.
12. Olympiastadion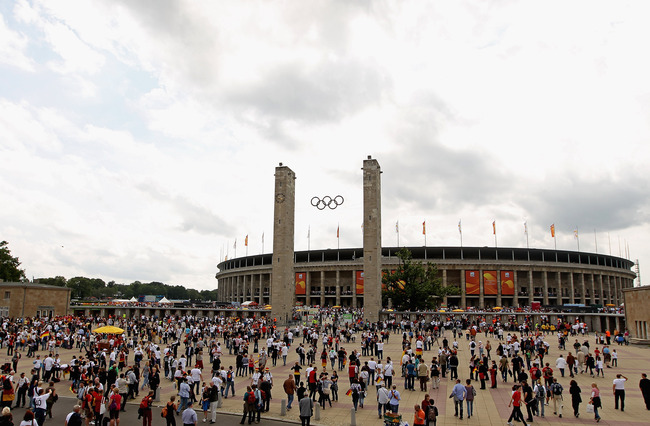 Location: Berlin, Germany
Capacity: 74,000
Closely following Signal Iduna Park as Germany's second-biggest stadium, but one that's had a lot more happen within its hallowed walls, is Berlin's Olympic Stadium, or Olympiastadion.
As the name suggests, the venue was built for the 1936 Olympics and was fortunate enough to suffer relatively low amounts of damage during the Second World War, after which it was used as a headquarters for the British for some years.
Hertha Berlin have used the ground as their home location for the last 50 years, and in 2006, the ground was the location of Zinedine Zidane's infamous headbutt on Marco Materazzi.
In 2015, the venue will play host to the Champions League final.
11. Anfield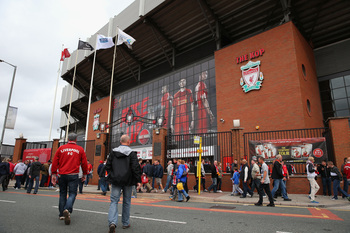 Location: Liverpool, England
Capacity: 45,500
Though far from the biggest when compared with some of its fellow European monuments, Anfield is no Shrinking Violet amongst the rest of the continental icons, as defiant and rebellious as the side that's inhabited it for the past 129 years.
Liverpool are widely regarded as one of the most historically important clubs that the world, let alone England, has seen, and their continuing ability to draw in huge talents speaks of that feat.
The Reds have gone seven separate seasons without losing a home match at the ground, and their longest unbeaten streak at Anfield ran for three years, between January 1978 and January 1981.
10. San Siro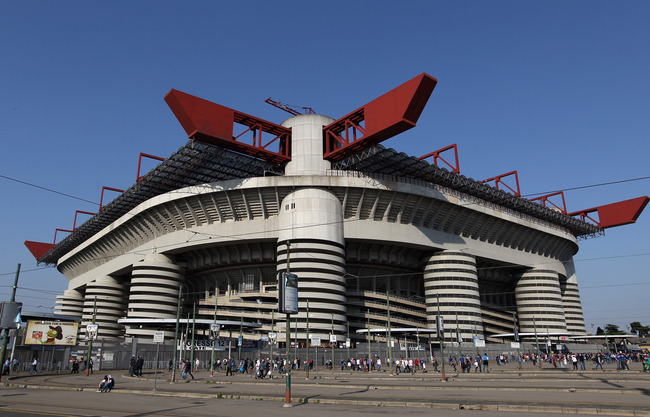 Location: Milan, Italy
Capacity: 83,000
Rome isn't the only Italian hub with its own inner-city rivalry, and it's only suitable that one of the biggest juxtapositions in top-flight football receive one of the best arenas in which to do battle.
The 83,000-seat capacity Stadio Giuseppe Meazza, known more commonly as the San Siro, regularly hosts duels between Inter and Milan, who have generously obliged with some of the most entertaining derbies known to man through the decades.
In its 87-year history, the San Siro has undergone seven renovations and sticks out like a sore thumb among other stadia, easily recognisable for its cornered rafters and swirling supports.
9. La Bombonera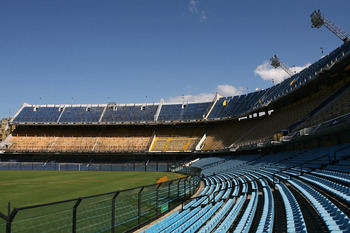 Location: Buenos Aires, Argentina
Capacity: 49,000
Like many entrants on this list, the Estadio Alberto J. Armando isn't going through its most fruitful period in terms of quality regularly seen on its pitch right now, but it remains one of the most valued grounds in South America for its past moments of magic.
Translated into English, La Bombonera means The Chocolate Box, for which the stadium is named thanks to its shape resembling, well, a box of dairy treats.
The home support of Boca Juniors are known more fondly as La Doce, or "The 12th Man," thanks to the incredible acoustics that the ground is believed to generate.
8. Estadio Centenario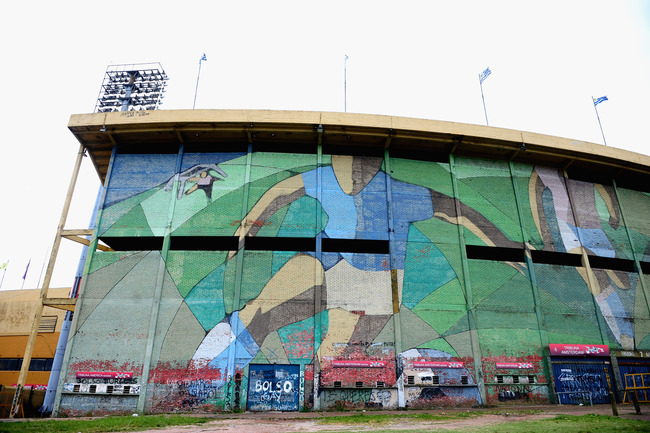 Location: Montevideo, Uruguay
Capacity: 65,000
Given the history that the ground is now steeped in, it boggles the mind to think that the Estadio Centenario cost a little more than $1 million to build in 1929 and took just nine months to construct.
The first ever ground to host a FIFA World Cup, Uruguay evidently took inspiration from their achievement and went on to win the inaugural 1930 championship in front of home support.
To this day, La Celeste still use the ground as their home venue. It is now creeping up to its 90th anniversary, and it is a stadium that combines meaningful national value with genuine aesthetic worth.
7. Monumental Antonio V. Liberti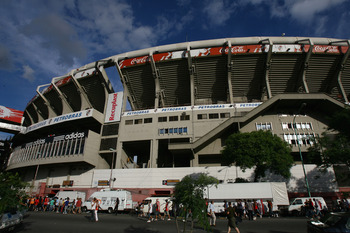 Location: Buenos Aires, Argentina
Capacity: 61,321
Like rivals Boca Juniors, River Plate have endured tumultuous times in recent years, including a shock relegation to Argentina's second tier.
However, the beauty of their ground is that even such pitfalls can't eradicate the sheer magnificence of El Monumental, just another of Buenos Aires' football feats.
As if it wasn't enough to have one of the world's most recognisable arenas in one city, the 77-year-old Monumental is a wonder in its own right and plays as home to the Argentine national side, also hosting four Copa America finals.
Beautifully expansive in its design, there is no need for a roof makes for a visually impressive venue that opens up to the skies, almost sending its own message of limitless potential.
6. Camp Nou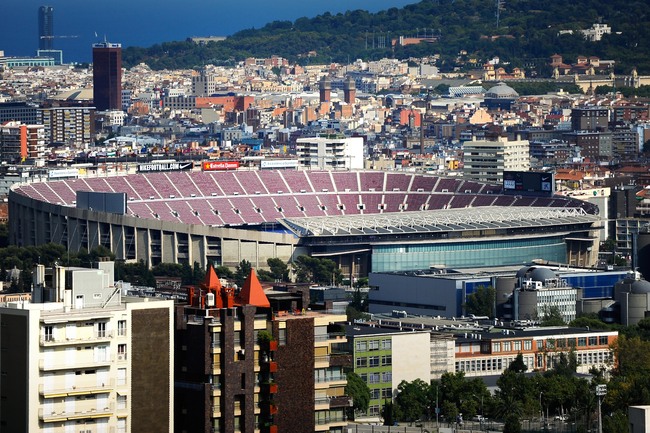 Location: Barcelona, Spain
Capacity: 98,787
The third-largest football stadium in the world suitably belongs to one of the sport's most successful clubs and a side that continues to prosper on both the domestic and international level.
Barcelona's home ground is coming up to its 60th anniversary and is one of only several grounds to host two Champions League finals.
In 1982, Pope John Paul II held a mass to a congregation of more than 120,000 at the stadium.
5. Old Trafford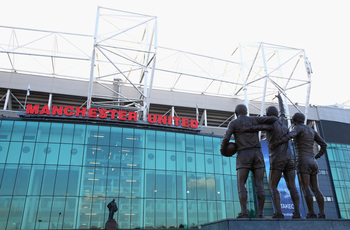 Location: Manchester, England
Capacity: 76,000
Thanks largely to the efforts of the now-retired Sir Alex Ferguson, the last 25 years have been especially good to Old Trafford, with a great deal of Manchester United's 64 titles being celebrated after its construction.
Believe it or not, only £90,000 was needed to make the original construct, on several occasions being renovated into its now-hulking frame, boasting a seat capacity of almost 80,000.
Housing one of, if not the biggest club in the world, Old Trafford is arguably the most heard of stadium in the world.
4. Santiago Bernabeu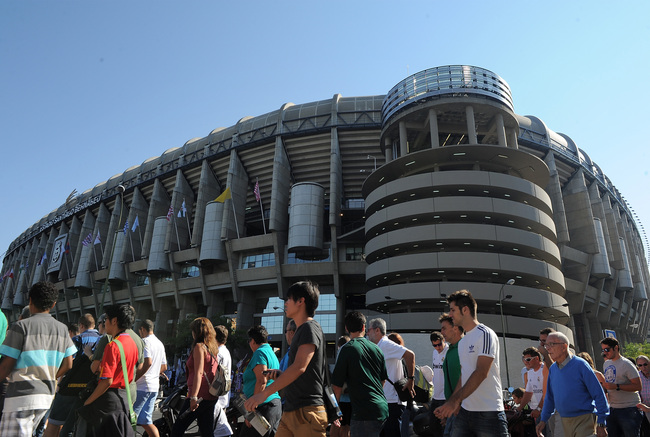 Location: Madrid, Spain
Capacity: 85,500
The only stadium that might rival Manchester United in terms of worldwide recognition when it comes to their ground, Real Madrid boast a beast of their own in the Spanish capital.
Though dwarfed by the Camp Nou in terms of capacity, the Estadio Santiago Bernabeu, built in 1944, has seen some of the most consistently exciting football played within its confines over the last 50 years; Los Merengues' achievements in that time speaks volumes.
Four European finals and a World Cup final have been played at the Bernabeu, as not many other locations have the same magnetic pull to fans as Real Madrid's.
3. Estadio Azteca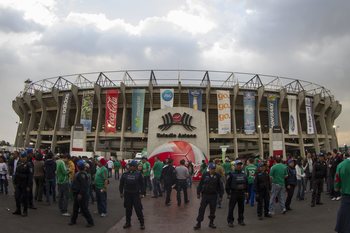 Location: Mexico City, Mexico
Capacity: 105,000
The only venue in the world to have hosted two World Cup finals, the Estadio Azteca is a gargantuan stadium rivalling any other that the world has to offer in regards to dimensions.
If that wasn't enough, the two aforementioned finals are arguably the most memorable to have ever occurred: the 105,000-seat stadium hosting Brazil's triumphant 1970 final win over Italy and Diego Maradona's infamous "Hand of God" and "Goal of the Century" in 1986.
Only India's Salt Lake Stadium and North Korea's Rungnado May Day Stadium beat the Azteca for capacity in football circles, but one might say there's no other steeped in as much history.
2. Wembley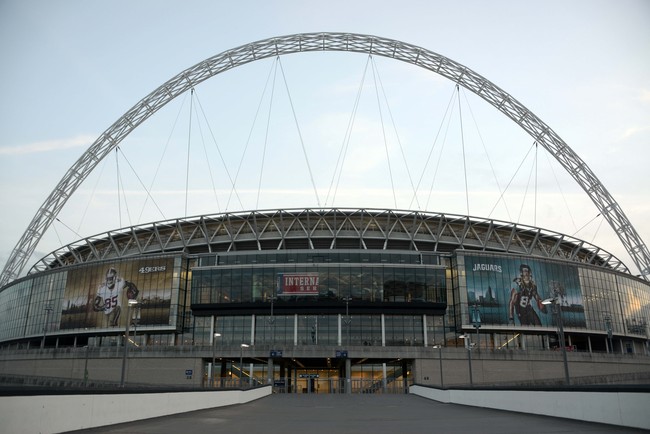 Location: London, England
Capacity: 90,000
Built on the remains of the Old Wembley, the newest incarnation of England's national stadium is a much bigger testament to the capabilities of today's architectural horizons.
Famed for its trademark arch spanning 317 metres and with a height of 134 metres, Wembley boasts the longest single-span roof structure in the world and is the only one of its kind to require beacons in order to warn low-flying aircraft.
Wembley generally plays host to every major English tournament final, such as the FA Cup and League Cup finals, even recently drawing the attention for NFL expansion, showing just how much advertising power the ground has to international audiences.
It was at the Old Wembley that the 1966 World Cup final took place, England famously beating West Germany, though not without the controversy of that contentious crossbar decision.
1. Estadio Do Maracana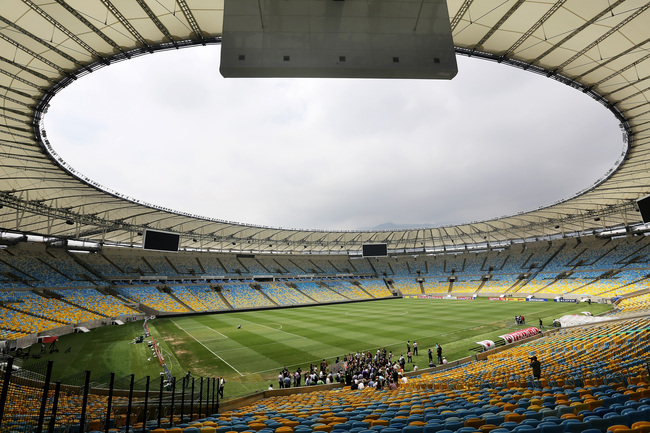 Location: Rio de Janeiro, Brazil
Capacity: 78,838
Currently preparing to once again take centre stage at the 2014 World Cup, the Maracana combines everything that makes a stadium iconic and one to remember: size, beauty, history, great crowds and quality in terms of what one can witness on its pitch.
Opened in 1950 to host that year's World Cup, it was in that tournament that the ground held a record attendance of 199,854, then the world's largest stadium by capacity.
For safety reasons, that capacity has since been cut by more than half, but there's no denying the Samba support that home spectators have for the Selecao, Brazil's national team.
Next summer, the Maracana will once again assume its place in front of the world and show exactly why there are few who can compete with its standards as an icon of the sport, embodying everything football was founded on.
Keep Reading