Breaking Down the Best and Worst of the WWE for Week of Oct. 21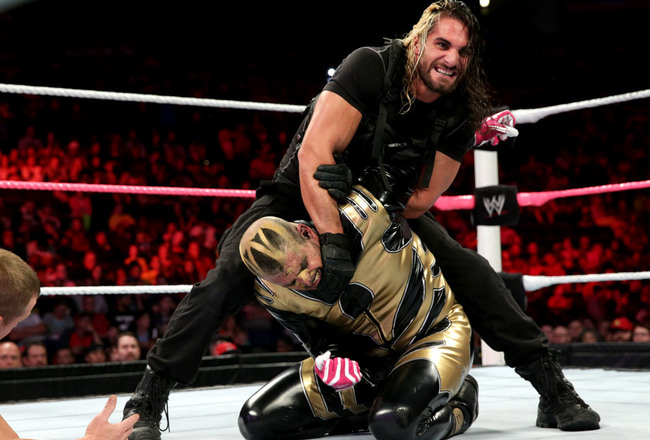 Photo: WWE.com
The last week of October, the last chance to promote Hell in a Cell, saw WWE rock the build for the pay-per-view's undercard and flounder with two of the marquee matches.
The company pointed the spotlight in the wrong place for the WWE Championship match and didn't point it enough for the World Heavyweight Championship bout. On the flip side, WWE succeeded in choosing enticing bouts to complement those and did well to get fans primed for them.
A giant took center stage, a villain emerged on NXT and Paul Heyman shot his mouth off with excellent results in the best and worst of WWE this week.
Best: Paul Heyman's Insane Promo
Paul Heyman channeled Mercutio from Romeo and Juliet and Rorschach from Watchmen with a little Daffy Duck tossed in. His interview hyping his upcoming Hell in a Cell match against CM Punk was an entertaining display of insane energy.
He mockingly called the bout with Punk, "an execution live on WWE pay-per-view."
Heyman delivered a string of metaphors, motoring through his speech, equally fearful, confident and deranged. Rambling about being the lava dripping from a volcano, Heyman made sure we were listening and may have given some fans flashbacks to the Ultimate Warrior.
Props to Renee Young, Ryback and Curtis Axel for keeping straight faces throughout this feverish performance.
Worst: Lack of Buildup for World Heavyweight Championship Match
Photo: WWE.com
WWE saving John Cena's return for Hell in a Cell is understandable as it entices the Cenation to purchase the pay-per-view to see him after a two-month absence.
Too little attention was paid to his upcoming match, though. An engrossing story is at the ready, one of Cena taking a career-threatening risk to return so soon against a man liable to re-injure his recently recovered arm.
Monday's Raw featured a career retrospective for Cena and a clip of Alberto Del Rio cranking the cross armbreaker on a number of foes, but that was it.
There was no pre-taped interview from Cena or Del Rio making a statement about his challenger. There was more hype about the tag team title bout than there was about Del Rio vs. Cena this week.
Sure, WWE has a chance to build more for it on Friday's SmackDown, but this clash deserved more focus on Raw.
The world title match just doesn't feel as important as it should. This is partly why critics say that the world title's prestige has decreased in recent years.
Best: Goldust vs. Seth Rollins
Wednesday's Main Event featured a matchup that was fresh, timely and absorbing.
Seth Rollins and Goldust helped hype the Triple Threat tag match at Hell in a Cell by lacing into each other as singles competitors. Goldust continued his fantastic run, matching speed with the dynamic Rollins. The energy of this bout dazzled.
Cody Rhodes and Roman Reigns prowled the outside and eventually became the deciding factors to the match. The distraction of Reigns threatening him led to Goldust losing focus and losing the match.
This is how you make Main Event must-see and get fans pumped for a pay-per-view match.
Worst: Big Show in Excess
Big Show opened Monday's Raw by interrupting Triple H and Stephanie McMahon via satellite. He insulted both of these dictators before getting his video feed cut. The episode ended with him defying "The Authority" once more, driving a big rig into the arena and distracting Randy Orton long enough to get a knee to the mouth.
After all that, fans will surely be excited to see Big Show's Hell in a Cell match.
Big Show isn't on the card, though. This amount of airtime on someone who is on the periphery of the main event is an odd move. Daniel Bryan and Orton seemed to go from the foreground to the background, while this championship bout's subplot has usurped the main narrative.
Best: Corey Graves vs. Adrian Neville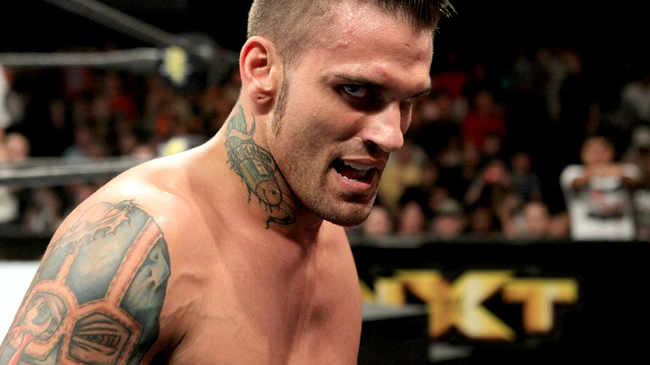 Photo: WWE.com
The dissolution of the former NXT tag champs continued as Corey Graves dominated Adrian Neville on the Oct. 23 episode of NXT.
Last week, Graves turned on Neville, smashing him with punches after their loss to The Ascension. This week, the two former partners battled each other in what wasn't an especially great match, but was an impressive showcase of Graves' potential as a heel.
His array of submission holds is a great fit for a villain, torture devices in the arsenal of a man without remorse.
He attacked Neville's leg early in the match, grounding the high-flyer. Graves then continued to pinpoint that body part until he locked in Lucky 13 and forced Neville to tap out.
Heeldom is the best fit for Graves and he proved it here. Look for him to flourish as he continues to practice the art of wickedness.
Best: Hell in a Cell Additions
Not only did WWE add the right matchups to Hell in a Cell, but the company did well to give them all a boost of momentum throughout the week.
AJ Lee will now face Brie Bella for the Divas Championship once more, Big E. Langston gets a title shot against Curtis Axel and The Shield, The Usos and Cody Rhodes and Goldust will compete in a Triple Threat match for the tag titles.
Making use of Langston's babyface turn, WWE pits the powerhouse against Axel, giving both men an ideal rival. The excitement of Langston potentially winning his first title on the main roster pairs perfectly with the possibility of Axel fending off one of his toughest challengers.
AJ and Brie is a repeat of Battleground, but the animosity has built up between them and Brie has pinned the champ several times recently. That puts doubt in the audience's mind as to whether AJ can retain or if Brie and Daniel Bryan can both walk out of the event as champions.
One of the best matches on Monday's Raw saw The Usos face The Shield again.
The chance to face the Rhodes brothers was on the line. Rhodes and Goldust found themselves throwing and dodging fists, ruining that night's match, but creating an intriguing one for Hell in a Cell.
The undercard now looks far better than it did for Battleground, adding depth to Sunday's pay-per-view.
Keep Reading