WWE's Top Tweets, Instagram Photos and Viral Videos for Week of Oct. 21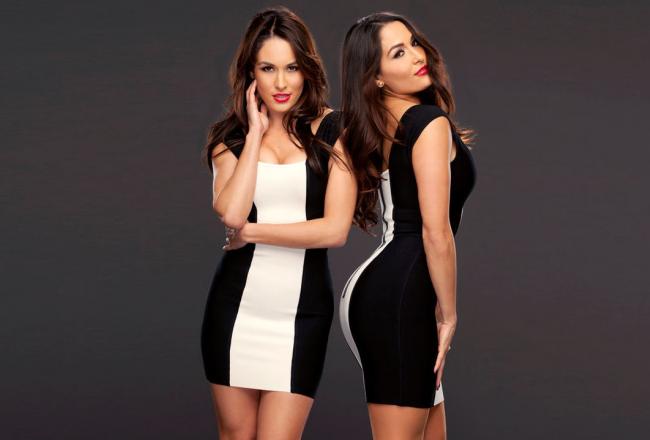 Photo: WWE.com
The Shield and The Bella Twins don't often end up on the same list, but they both provided fans with some of the most fun WWE social media items this week.
Before Hell in a Cell arrives, several tweets, Instagram photos and viral videos helped to tell some of the stories surrounding that event's matches. Other social media goodies sought to distract and entertain during the work week.
On Monday's Raw, Roman Reigns and Seth Rollins had to go through The Usos in order to get a rematch against Cody Rhodes and Goldust for the tag team championships. That match had no winner thanks to a brawl featuring all three teams.
WWE then decided to give the audience all three teams packed into a single bout.
The company shared an image of all three squads on its Instagram page.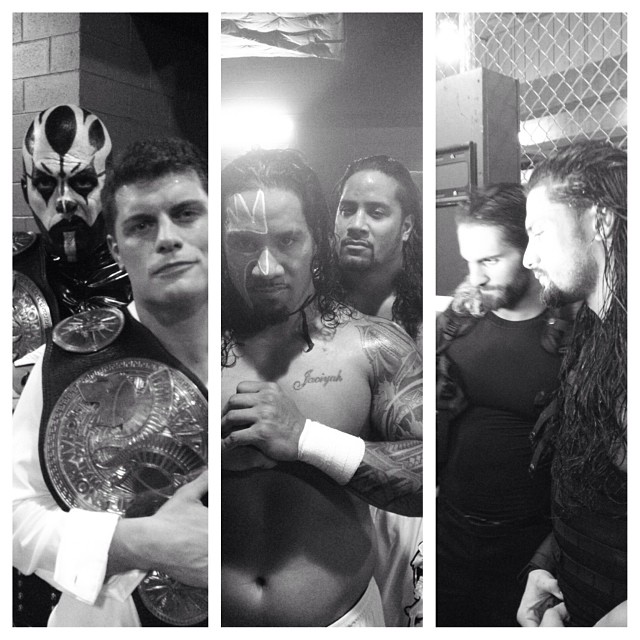 The simple photo, which features some dramatic lighting behind The Usos and crams in each team vying for the gold, earned over 20,000 likes. As serious as Reigns and Rollins look here, it's hard to imagine them being in a video that is among the funniest of the week.
Thanks to folks editing the WWE world via WWE 2K14, The Shield are seen here using the Spirit Squad's entrance.
It's hard to tell what's more amusing, how ridiculous The Shield members look or the comments from fans taking it at face value, wondering how the game developers screwed up the trio's entrance so badly.
Another Superstar getting a title shot at Hell in a Cell generated some buzz online as well.
Big E Langston will face off against Curtis Axel for the Intercontinental Championship after the powerhouse took offense to Paul Heyman's dismissal of him. Via Twitter, he shared his plans for after the bout, should he win the title.
After I become the Intercontinental Champion at #HellInACell, I vow to travel the world as an ambassador for peace & skin-tight singlets.

— Big E Langston (@BigELangston) October 22, 2013
This kind of self-deprecating humor is why Langston is such a good fit as a babyface.
Expect WWE to show more of this side of him onscreen, regardless if he wins or loses on Sunday. He's a consistently entertaining Superstar to follow on Twitter, but he has mostly been the brooding, silent type on TV.
Could a returning Rey Mysterio soon be challenging for a title as well?
Mysterio showed up at a WWE event in Tupelo, getting fans excited for his eventual full-time return to the ring. WWE posted this shot of him on Instagram.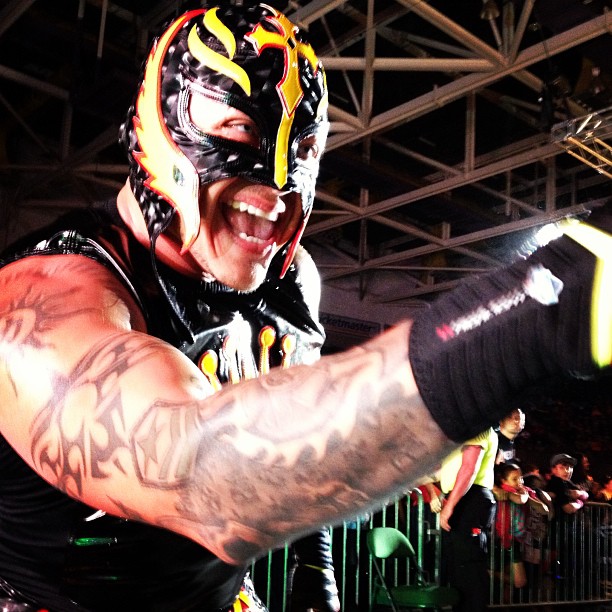 Injuries have grounded Mysterio for several months, and his sporadic appearances like this one have to leave one cautiously optimistic about him being ready to fly again soon.
A man known for instructing us to follow the buzzards was the subject of a notable tweet. Bray Wyatt, even though he's been limited by injury, has been creeping out the WWE audience by way of his hypnotizing promo work.
Jake "The Snake" Roberts has noticed.
Roberts, generally regarded as one of the greatest talkers in wrestling history, had some kudos to send Wyatt's way.
@WWEBrayWyatt Love what you are doing. Reminds of someone else I know. Keep it up.

— JakeSnakeDDT (@JakeSnakeDDT) October 21, 2013
Those words carry significant weight coming from such a respected name. Wyatt has been doing exceptionally well with his sinister, cult-leader character, even if he hasn't been given the right rival yet. WWE has him hunting The Miz now, which may turn out to be a good warmup feud for something bigger soon.
Nikki and Brie Bella earned some compliments as well this week for a completely different kind of performance.
The sisters appeared on Jimmy Kimmel Live and played a prank on one of Kimmel's security guards. Normally, the Bella's do their "twin magic" routine to get dishonest victories in the ring but here used it to make a woman think she was going crazy.
We played a fun prank on our security guard Adelina - with help from @WWE wrestling duo The Bella Twins @nicoleandbri http://t.co/gjGI2Np9kC

— Jimmy Kimmel Live (@JimmyKimmelLive) October 23, 2013
The food fight/brawl at the end of this would have fight in on an episode of Raw.
Endings to Raw were the subject of a video celebration making its way around the Internet. Giving a hat tip to Rhodes and Goldust ending the Oct 14. episode as tag champs, WWE put together a list of the most exciting final segments in the show's history.
The order of these and which additional moments should have been included is a debate waiting to happen. Still, there are some awesome moments to savor here.
The Rock 'N' Sock Connection and Evolution are featured, as is Steve Austin, who is all over the list. Big Show, who is sure to be a huge part of Hell in a Cell despite not being scheduled for a match, ends up being on the wrong end of a number of these celebrations.
He has a chance to end Hell in a Cell alongside Daniel Bryan, celebrating rather than lying on his back as he is on this clip several times over.
This article is
What is the duplicate article?
Why is this article offensive?
Where is this article plagiarized from?
Why is this article poorly edited?