10 Greatest Real Madrid-Barcelona Clasico Clashes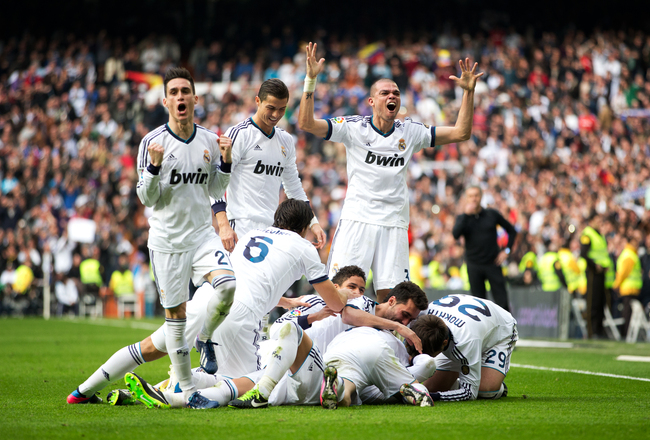 It might be just a number, but 10 really isn't enough when it comes to sorting out the greatest Clasico clashes between Barcelona and Real Madrid down the years.
Due to the restriction, it means the numerous recent defeats Pep Guardiola's Barca dished out (6-2, 5-0) don't quite sneak in.
Nor does Madrid's extra-time Copa del Rey win in 2011—likewise la Blaugrana's late win in the same competition in 1983.
The famous incident involving Luis Figo and a pig's head misses out because the match wasn't actually as entertaining as the storyline, while hat-tricks from Josep Samitier, Gary Lineker and Lionel Messi go unrecognised.
Fortunately, they are all included in B/R's 100 Greatest El Clasico Moments.
As for the clashes to savour? Read on.
10. Real Madrid 11-1 FC Barcelona, 1943
Real Madrid recorded the biggest ever Clasico win in 1943, overturning a 3-0 deficit from the first leg as they beat Barcelona 11-1 to advance in the Spanish Cup.
Pruden, with a treble, and Barinaga, who hit four, were the main benefactors of the win.
Unfortunately, as is occasionally the case in the history of El Clasico, the win has lost some of its sparkle due to revelations that Franco put the frighteners on the Barca players.
He, or maybe his director of state security, supposedly went into the Catalans' dressing room to warn them of the consequences should they win the match.
9. FC Barcelona 1-2 Real Madrid, 2012
All was calm because Cristiano Ronaldo was there—or, at least, that's what the Portuguese forward told us when he scored the winner at Camp Nou in 2012.
Alexis Sanchez had just pulled Barca level, following Sami Khedira's opener, when Ronaldo scored what proved the decisive goal in the title race.
It was the first real sign—more so than the 2011 Copa win—that Jose Mourinho's Madrid had overcome the mental restraints which had seen them without a La Liga Clasico win in seven encounters.
Calma, calma.
8. Real Madrid 0-3 FC Barcelona, 2005
You know you've just witnessed something special when Real Madrid's fans are delivering a standing ovation to one of Barcelona's players at the Bernabeu.
That's what Ronaldinho managed to achieve in 2005.
The Brazilian's stunning performance bore two goals and a deserved reception in the Spanish capital as Barca ran out 3-0 winners.
Samuel Eto'o scored the other goal.
7. FC Barcelona 5-0 Real Madrid, 1994
The Dream Team's crowning Clasico moment came in the clash against Real Madrid in 1994.
En route to their fourth successive title, Johan Cruyff's men put in a sweltering performance to tear their great rivals apart 5-0 at Camp Nou.
Brazilian striker Romario stole the plaudits with a treble, but it was the nature of the team's performance which really caused jaws to drop and superlatives to be written.
Ronald Koeman and Ivan Iglesias were also on target for the Catalans.
6. Real Madrid 5-0 FC Barcelona, 1995
If not for that 5-0 defeat in 1994, Real Madrid's win the following year—by the same scoreline—might not have tasted so sweet.
Inspired by Michael Laudrup, who they had tempted away from Barcelona, Los Blancos were rampant in showing their Clasico rivals what it's like to be beaten 5-0.
This time, it was Chilean striker Ivan Zamorano helping himself to a hat-trick, while Luis Enrique—who would later jump ship in the opposite direction to Laudrup—and Jose Amavisca added the other two.
Madrid would go on to win the title.
5. 2011 Champions League Semifinal
Towards the end of the 2010/11 season, there were Clasicos popping up in all sorts of directions.
There was a league meeting, the Copa del Rey final and two Champions League semifinal clashes; it was manic, with Jose Mourinho desperately trying to wear Pep Guardiola down.
Guardiola's Barca stayed on task, though, leaving the Bernabeu with a two-goal advantage in Europe—thanks to a brace from Lionel Messi—ahead of the return leg at Camp Nou.
Madrid huffed and puffed in Catalunya, but Barca weren't for beating.
Marcelo did eventually cancel out Pedro Rodrgiuez's opener, but la Blaugrana advanced to the final where they would beat Manchester United for the second time in three years.
4. 1960 European Cup Semifinal
Real Madrid winning the European Cup was once a formality; not even Barcelona could stop them.
The two sides were pitted together at the semifinal stage in the 1959/60 season, with los Blancos winning both legs 3-1.
Alfredo di Stefano (two) and Ferenc Puskas were the scorers in the first leg, while Puskas (two) and Paco Gento helped to seal the job at the relatively new and shiny Camp Nou in the return match.
As for Barcelona not being able to stop them, they eventually did.
It was the Catalans who ended Madrid's run of European Cup success when they knocked them out the following season.
3. 2002 Champions League Semifinal
The 2002 Champions League meeting between Real Madrid and Barcelona produced exactly the same results as the 2011 one, except the roles were reversed.
Madrid went to Camp Nou in the first leg and won 2-0.
Zinedine Zidane opened the scoring, while Steve McManaman scored a late—and what proved to be decisive—second.
Back at the Bernabeu, an Ivan Helguera own goal and one from Raul meant los Blancos advanced to the final on the back of a 1-1 draw.
2. Real Madrid 5-0 FC Barcelona, 1953
The story of Alfredo di Stefano and the tug-of-war between Barcelona and Real Madrid is a well known one.
All sorts of underhand tactics were thought to have been used by Madrid to eventually secure the Argentinian as their player—Jimmy Burns' book says this incident exacerbated the traditional enmity between the clubs.
From Madrid's point of view, it all proved worth it, though.
In his Clasico debut, Di Stefano shone as los Blancos beat Barcelona 5-0.
1. Real Madrid 0-5 FC Barcelona, 1974
After Alfredo di Stefano there came Johan Cruyff in the 1970s, and this time Barcelona did eventually get their man.
Barca stalled over his signing originally, quickening their pace once Real Madrid began sniffing around the Dutchman.
There was never any doubt in Cruyff's mind, though.
Upon his arrival, he told the press that he could "never play for a team associated with Franco," per Phil Ball's book Morbo.
As if that wasn't enough to elevate him to hero status at Camp Nou, he then scored one and made three as Barca beat Real Madrid 5-0 in his first Clasico—the Catalans would go on to win their first title since 1960.
Keep Reading