Under-the-Radar Players Who Could Still Play Huge World Series Roles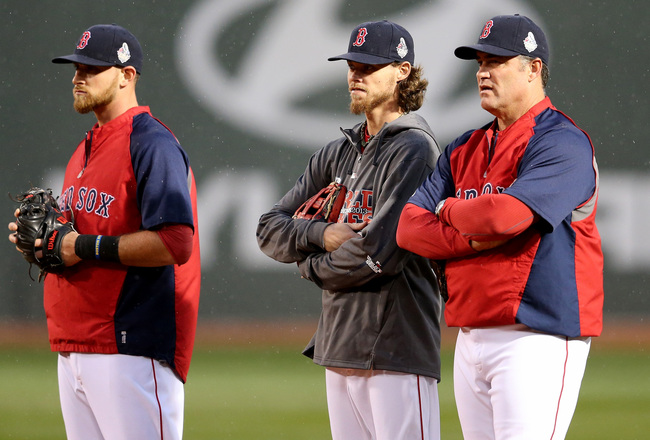 The World Series is back to square one after the St. Louis Cardinals beat the Boston Red Sox in Game 2.
Outside of pitching changes, neither team has made many substitutions. In fact, it's only been one for both teams in each game.
But as the series moves to St. Louis, the game changes in a dramatic way. Gone is the designated hitter, and true managing comes into play. John Farrell and Mike Matheny will now have decisions concerning pitchers in the batting order, double-switches and more.
That means there are a lot of players that could still make a huge difference in the series.
Here's a look at a five under-the-radar players who could still play a huge role in the World Series.
Note: All stats were obtained from Baseball-Reference.com unless otherwise noted.
Will Middlebrooks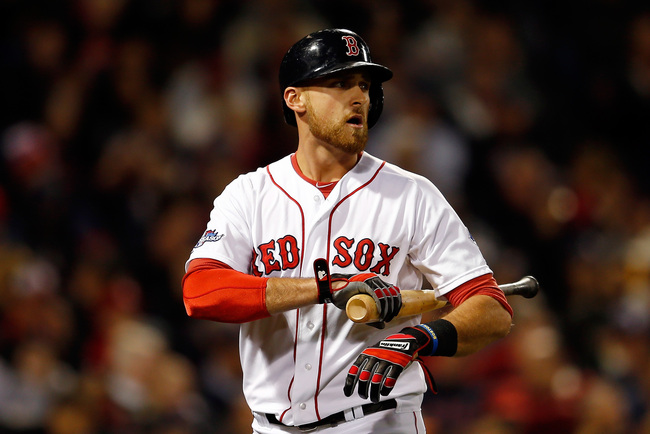 Will Middlebrooks hasn't gotten into the World Series yet, but there will be opportunities for him over the next few games.
He did struggle during the regular season, batting .227 with 17 home runs and 49 RBI. In the playoffs, it's been just as bad, batting .174 with only one RBI.
Xander Bogaerts is starting at third base over Middlebrooks, batting .250 with one RBI during the postseason. In the World Series, he's 0-for-6 with one RBI.
Now, Middlebrooks may not supplant Bogaerts totally at third, but if Bogaerts struggles in Game 3 again, Middlebrooks could start in Game 4 to shake things up. He could also get a key pinch-hit appearance in the pitcher's spot.
There's power in his bat, meaning he'll get an opportunity in a key situation.
Quintin Berry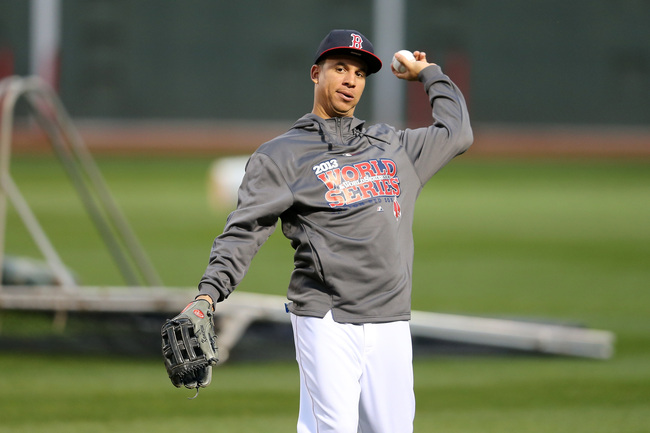 During the Red Sox's run at the 2004 World Series title, they first had to come back from a 3-0 deficit against the Yankees in the ALCS. In Game 4 of that series, Dave Roberts stole second in the bottom of the ninth and the Red Sox went on to tie (and eventually win) the game.
This year, Quintin Berry is Boston's Dave Roberts. He has the speed to change the game and likely will be called upon late in a game to steal a base or score from second on a single.
Will he change a game, and maybe the entire series, with one steal? Berry stole 30 bases in the minors this year and his speed is the sole reason why he's on the playoff roster.
David Ross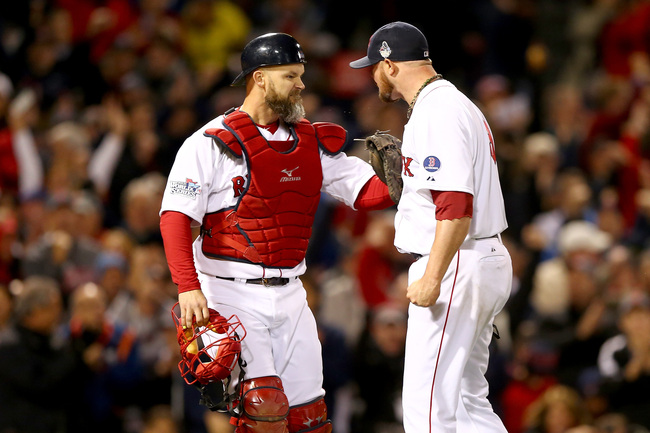 David Ross is Jon Lester's catcher, so he generally starts when Lester starts.
Therefore, since Lester will have at least one more start (Game 5), Ross is going to have a chance to make a difference. So far this postseason, Ross is 4-for-13 with two doubles and an RBI.
Jason Mastrodonato of MLB.com wrote how the Lester-Ross combination has paid dividends for the Red Sox:
The Red Sox's value the mind, and they know a catcher with a good one when they see it, as (Jason) Varitek spoiled the organization with his.

"The most important thing is the pitchers understand that the catcher is fully invested in the pitcher on the mound at that given time," said Red Sox bullpen coach Dana LeVangie, who has spent the last 23 years with Boston in various roles. "That's what we've established here. We learned that way from Jason, his time here. That's what we're all about, first and foremost. The guy on the mound is the No. 1 responsibility. Anything after that, we take care of."
Ross has a great approach at the plate and brings veteran leadership behind the dish. Unlike the other catchers in the series (Jarrod Saltalamacchia and Yadier Molina), Ross isn't thought of as much of a difference-maker.
But for a player who will be starting in an all-important Game 5, what he does at the plate and behind it could be the difference in whether or not the Red Sox raise their third World Series trophy in the last decade.
Shelby Miller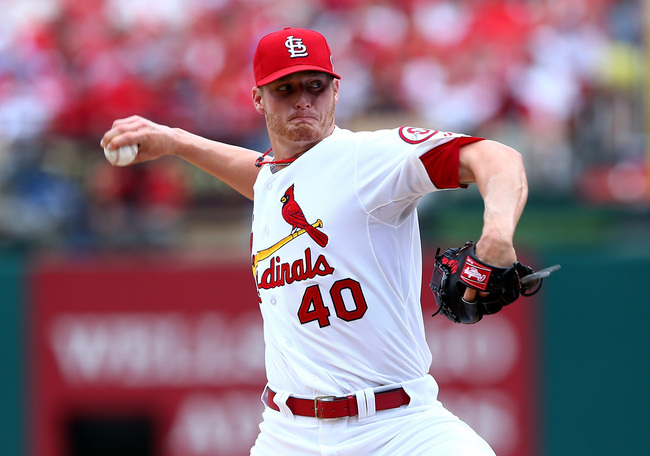 Shelby Miller has only pitched one inning in the postseason, but it's not far-fetched to think he won't make a significant contribution at some point during the World Series.
During the regular season, Miller went 15-9 with a 3.06 ERA and 169 strikeouts. But he has largely gone unused in the playoffs.
As Rob Neyer of SB Nation writes, the Cardinals had good reason to keep Miller out of the playoff rotation:
It seemed the Cardinals had some pretty good reasons for dropping Miller from their postseason rotation. Six reasons, that we know about:

1. Miller faded down the stretch.
2. Miller is young, and presumably fragile.
3. Adam Wainwright,
4. Michael Wacha,
5. Lance Lynn, and
6. Joe Kelly.
One of St. Louis' starters will struggle at some point in the series, and the Cardinals are going to need someone who can eat some innings. Even if it doesn't have a direct effect on the game Miller pitches, what it will do is save the bullpen for another day.
Kolten Wong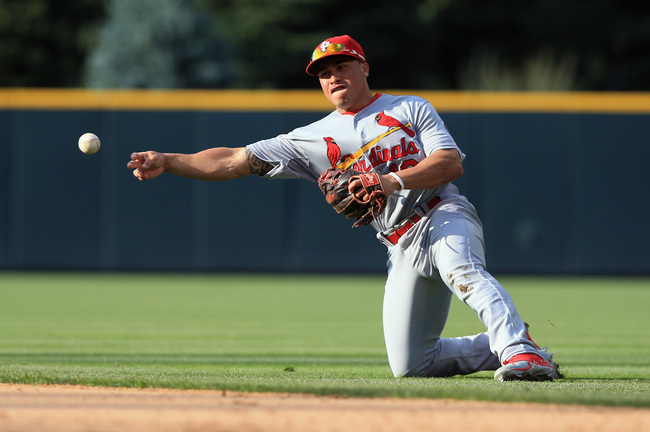 Kolten Wong has been called on as a pinch hitter five times this postseason, so it's hard not to believe he won't get called on again in the World Series.
Granted, Wong is 0-for-5 in those at-bats, but there's a reason why the Cardinals have called on him and will continue to do so. Wong was the No. 49-ranked prospect according to MLB.com at the end of the regular season, batting .303 with 10 home runs and 45 RBI in the minors this year.
With the pitcher's spot coming into play for Game 3, Wong will be used more as a pinch hitter there, as opposed to a defensive replacement for Matt Carpenter.
Keep Reading