Big E Langston Will Be an Impressive Babyface in the Long Haul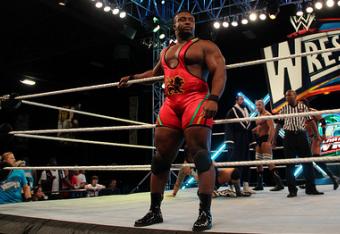 Photo Credit: godiseven, Flickr.com
Big E Langston made a name for himself in the past two weeks.
His abrupt face turn made just as much noise as his WWE debut last December. But instead of ambushing John Cena, he surprisingly saved CM Punk. Langston and Punk fought on the October 18 edition of SmackDown. Punk was victorious, hitting Go To Sleep for the three-count.
Paul Heyman arrived after the match and congratulated Punk for taking out a "rookie, barely out of the NXT division." Ryback and Curtis Axel attacked Punk until Langston, who awoke from the GTS, helped Punk turn back the Heyman guys.
This all seems very sudden. No one could have foreseen Big E Langston turning face to help CM Punk. Frankly, this might be the move Langston needed to make a splash. It couldn't have come at a better time.
Big E Langston will become an impressive face in the long haul.
Don't judge from the two TV appearances and athletic ability alone. We haven't seen Langston go the distance on WWE television. However, we know his potential.
Langston is an explosive individual who can get the crowd behind him. He was the main face of NXT while defeating Seth Rollins and becoming the second NXT champion in its history.
Langston began with an obsession for the "five-count," in which he demanded his opponents pinned for five seconds instead of three. It may sound silly, but it worked. Langston was over with his power-heavy moves, vicious attack and the five-count chants.
He ran through the division even after debuting in the WWE last December. His NXT reign lasted through WrestleMania 29. That's right; Langston wrestled as the champion while teaming with Dolph Ziggler to face Team Hell No. Langston barely scratched the surface in matches so far. But he's won over fans through a different medium: Twitter.
After I become the Intercontinental Champion at #HellInACell, I vow to travel the world as an ambassador for peace & skin-tight singlets.

— Big E Langston (@BigELangston) October 22, 2013
Big E Langston is arguably the most entertaining WWE Superstar on Twitter. His tweets reveal an impeccable sense of humor that is rarely displayed by his fellow WWE wrestlers. Whether he comments on colleges or AMC's The Walking Dead, Langston entertains. He also answers questions from fans with the same humor and never takes himself seriously.
Charisma in 140 characters or less can be translated through live television. All Langston needs is that profile spot to display that charisma. He should get it in time, and time is a necessity for Langston.
His in-ring persona is hardly developed, which is maddening considering he's been taking on some of the best in the WWE today. Langston got lost in the shuffle when the WWE's creative team decided to separate him from Ziggler and AJ Lee. Now, he's been thrust into an important spot in his career. He may be relegated to the kickoff facing Curtis Axel, but it's a huge improvement from floundering in the midcard division.
Big E Langston will be an impressive babyface in the future. He is what the WWE is looking for. Langston will thrive in time, and his name will be remembered for that same skill and charisma.
This article is
What is the duplicate article?
Why is this article offensive?
Where is this article plagiarized from?
Why is this article poorly edited?