The Royce White experiment in Philadelphia is over. White was among the four players cut by the 76ers on Thursday, general manager Sam Hinkie has confirmed.
Tom Moore of Calkins Media spoke to Hinkie about the cuts.
Hinkie: Sixers also waive Royce White and Vander Blue.

— Tom Moore (@tmoore76ers) October 24, 2013
Following the news, White took the time to wish his Sixers teammates luck on Twitter:
S/O to the @Sixers... Good luck to my boys, great guys. #BeWell

— Royce White (@Highway_30) October 24, 2013
Adversity... Adaptation.... Adversity... Adaptation. I've been here before, may be here again, but it's never over until it's over. #Life

— Royce White (@Highway_30) October 25, 2013
The Sixers also waived Vander Blue, Khalif Wyatt and Mac Koshwal, bringing their roster down to 16 players. The NBA will give teams until 5 p.m. ET on Monday to pare their rosters down to the maximum 15 players. Philadelphia will now likely choose between Hollis Thompson and Rodney Williams for the final roster spot.
The team concluded its preseason on Wednesday with a 125-102 loss to the Minnesota Timberwolves. White scored five points on 2-of-6 shooting and grabbed six rebounds in 23 minutes of play. While he showed flashes of promise at times, the preseason was mostly a struggle for White, as he committed costly turnovers and fouls while showing a lack of polish with his jumper.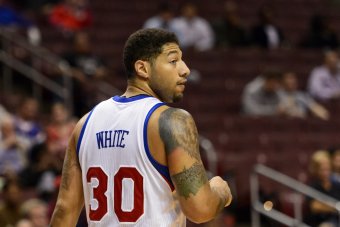 In five appearances, he averaged five points and 4.4 rebounds per game while making only nine of his 23 shots.
Drafted in the first round by the Houston Rockets in 2012, White has been an unending source of controversy since. He spent much of the 2012-13 season battling the Rockets over the "inconsistent" treatment of his anxiety disorder and never suited up for a game. He missed the beginning of his rookie season and was absent all the way until February—when the team assigned him to the Rio Grande Valley Vipers of the D-League.
In 16 games with the Vipers, White averaged 11.4 points, 5.7 rebounds and 3.3 assists per game. He refused to travel with the team during its D-League postseason stint. The Rockets traded White to Philadelphia in July, one of many cap maneuvers designed to free up space for Dwight Howard.
Will Royce White ever live up to his NBA potential?
Although White had struggled during the preseason, Philadelphia seemed like a near-perfect landing spot. The Sixers are in the midst of a full-scale rebuild under Hinkie, who was Daryl Morey's assistant general manager in Houston when it drafted White. Since taking the job in Philly this past May, Hinkie has reconstructed the roster and built for the future—most notably by trading All-Star point guard Jrue Holiday and acquiring center Nerlens Noel, who is unlikely to play this season due to a knee injury.
With a flock of young players brought into camp, the Sixers hoped White's prodigious talents would shine. But it's likely that the distraction of his travel anxiety—White did not travel when the team went to Spain this preseason—and his ineffective play led to this move.
He will now go through waivers, at which point the remaining 29 teams will have the chance to pick up the rest of his contract. Philadelphia is still on the hook for the $1.72 million on White's contract for the 2013-14 season if no team chooses to bring him in.

Follow Tyler Conway on Twitter: