The Night LeBron James Met the NBA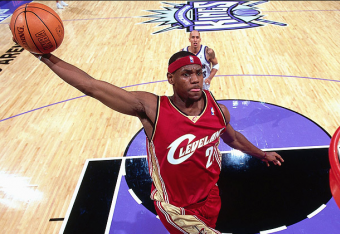 Via ESPN
Exactly 10 years, four MVP awards, two championships and one Decision ago, LeBron James made his NBA debut against the Sacramento Kings. It was Oct. 29, 2003, and nobody was sure how James, the most highly touted rookie anyone could remember, was going to handle the pressure.
Outwardly, James projected calm in advance of his first ever NBA game. Even at that early stage, LBJ had adopted a relaxed demeanor.
If the 18-year-old phenom had any hidden butterflies, they had to flutter around in his gut a little longer than usual that night, thanks to the demands of television.
James' first Nike commercial, depicting the pressure of his first NBA game and filmed at Arco a month earlier, is running 'round the clock on TNT and ESPN. Talk shows and columnists are running amok. Some 45 minutes before the game, hundreds of fans press up to the court, straining to watch James warm up.

Another sellout crowd is rattling the building, but TNT's early game goes into overtime, so everyone waits. James plops his 6-8, 240-pound frame on the scorer's table and waits for the whistle to call him to the opening tip. A cameraman is a foot from him, shooting from a low angle and focusing on his face. LeBron is biting his nails.
Once the broadcast was cleared for launch, James introduced the world to a pregame ritual with which he'd forever be associated. Nail-biting time was over, and James walked to the scorer's table to chalk up.
Notably, James didn't toss the powder as he would in later years. Maybe he was trying to fly under the radar in his first game.
His efforts at subtlety went out the window quickly enough, though, as James drilled his first field-goal attempt just a couple of minutes into the game.
Ironically, the baseline jumper LBJ hit over the Kings' Brad Miller is precisely the kind of shot he recently phased out of his repertoire.
Long, contested twos are verboten in today's NBA.
When James broke the seal, ESPN's Sean Elliott actually sounded relieved: "That's good to see because during the preseason, he wasn't able to hit those kinds of jumpers."
Nowadays, there's almost no shot James can't hit. What a difference 10 years makes, huh?
The first-quarter deluge continued from there, featuring a spectacular finish that showed off the elite athleticism that would come to be one of LBJ's calling cards.
And what celebration of James' NBA debut would be complete without a nod to his signature unselfishness? Even in the midst of his own hot offensive start, King James gave up an easy jam so the inimitable Ricky Davis (remember him?) could throw one down.
It didn't take a basketball genius to know that Davis was fond of getting buckets, but it's still impressive that James gave up a sure slam in the middle of a debut that was going so well.
Windhorst recapped the incredible first quarter as follows:
Late in the period, he makes steals on three of four Kings possessions. With one, he races to the other end and throws the ball down with vigor; the right-handed soaring jam in the Cavs' new wine-color jersey is still one of the most recognizable shots of him. The other two he passes off to teammates for dunks, including one when he turns and waits for teammate Ricky Davis, bends and shovels it to him for an alley-oop. He is selfless, spontaneous and spectacular in a single moment.
James didn't attempt a shot in the second quarter, showing remarkable restraint considering how well his first period had gone.
But he came out with guns blazing in the third.
LeBron flipped in a ridiculously tough 10-foot floater, finished with a righty scoop on the break and then showed off a disgustingly smooth left-handed finger roll.
The nonstop highlights prompted Scott Ostler of the San Francisco Chronicle to joke in his postgame column: "Hey, Nike: $90 million to rent James' feet? You guys low-balled the kid."
From there, James piled up a few more baskets, including a driving layup that cut the Kings' fourth-quarter lead to just a single point.
Sacramento pulled away gradually, denying LBJ a victory on his first try. Despite the Cavs' 106-92 defeat, there was little doubt that LeBron was the real deal. He finished with 25 points, nine assists, six rebounds and four steals on 12-of-20 shooting.
After the game, everyone agreed that they'd witnessed something special.
Per the The Oregonian via InsideHoops.com:
The 18-year-old rookie did nothing to dampen the super-charged hype surrounding him. His all-around game against the Kings should put a huge smile on the face of NBA commissioner David Stern. It's the kind of coming-out party that can eclipse the negative publicity the league has endured.

Anointed as the Association's savior after just one game? Sure, why not?
If you think about it, not much has changed since James' debut in 2003.
Sure, he's a far more polished product now, a player devoid of any discernible weakness. But in terms of the unreasonable expectations he continues to face—and exceed—James is still a lot like the rookie version of himself that shocked the world 10 years ago.
The main difference is that he has a little extra hardware these days.
He'll start his second NBA decade tonight. Here's hoping it's as good as his last one.
This article is
What is the duplicate article?
Why is this article offensive?
Where is this article plagiarized from?
Why is this article poorly edited?

Miami Heat: Like this team?