5 Biggest Missed Booking Opportunities in WWE History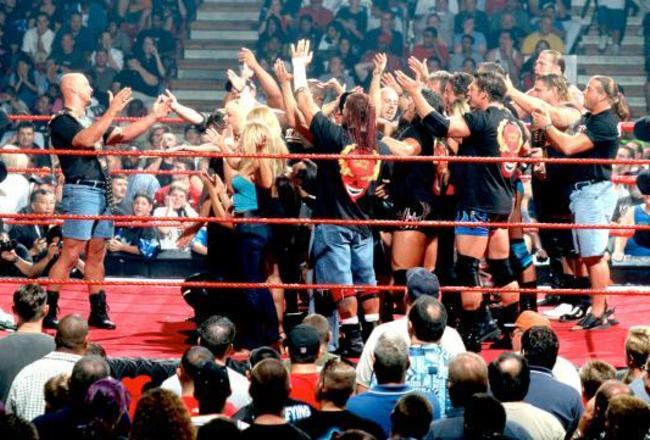 Steve Austin leads the invasion (from WWE.com)

Alas, WWE has botched quite a few surefire angles over the years.
It may be the biggest and most profitable wrestling company on the planet, but that doesn't mean Vince McMahon and friends haven't made their fair share of mistakes. Well, they're only human.
So, looking at just how badly the angle was screwed up, as well as how much was lost, here are the top five missed opportunities in WWE history.
Man, what was Vince thinking when he let the ship sail on these storylines?
5. Not Turning Randy Orton Face After He Punted Vince
In one of the most astonishing moments in WWE history, Randy Orton viciously punted Vince McMahon at the end of the January 26, 2009. (Official medical explanation: The voices in his head made him do it.)
Rather than hating Orton, his attack on the WWE owner just made the fanbase love him even more—they may have even seen him as a sort of modern-day Steven Austin.
Instead of going with Orton's huge pops and turning him babyface, WWE kept the star heel and proceeded to have undisputed tough guy Shane McMahon (hah!) beat him up on television and pay-per-view for several months.
Oh dear.
Orton did eventually turn face, of course, but it didn't have nearly the same impact it would have if he'd turned in early 2009.
4. Not Doing Daniel Puder vs. Kurt Angle
Tough Enough contestant Daniel Puder shocked the world when he almost made Kurt Angle tap out during their short shoot fight on SmackDown in 2004—only some shoddy officiating allowed Angle to be the victor and emerge with his dignity relatively intact.
Riding on the wave of the controversial fight, Puder went on to win the Tough Enough competition and gain a contract. He was officially in the company.
So, what did WWE do?
Wisely capitalize on the SmackDown fight and script Puder and Angle to have further confrontations on television, building to a big-time match between the two somewhere down the line?
Erm, no.
They sent Puder down to developmental before quietly releasing him from his contract a year later. What a letdown this was.
3. Botching the Nexus Storyline
In June 2010, heel group Nexus had one of most impressive debuts in wrestling history. The seven NXT stars—Wade Barrett, Daniel Bryan, Michael Tarver, David Otunga, Heath Slater, Darren Young and Skip "Ryback" Sheffield—crashed Raw's main event match between CM Punk and John Cena and proceeded to violently lay waste to everything in sight, including parts of the actual set.
Gripping, dramatic and genuinely shocking in places—valet Serena's scream of terror upon seeing the group was truly great—it remains one of the best closing segments to WWE's flagship show...ever.
Regrettably, instead of capitalizing on its tremendous debut and booking it as the biggest, baddest heel group there ever was, WWE spent the next several months having Cena systematically destroy them in segments and matches.
By the end of the year, the Nexus was a shell of its former self and the potential of the group to change the industry was long gone.
This debacle may have marked the point when WWE's obsession with making Cena look at strong as possible became a major problem.
2. Not Having Stephanie McMahon Leave Triple H for Kurt Angle
The love triangle involving Kurt Angle, Stephanie McMahon and Triple H was a highlight of WWE programming in the summer of 2001. It had everything: great acting, wonderful chemistry—you could really believe Kurt and Stephanie were falling in love—and a sympathetic protagonist played by a husband who'd been wronged in Triple H.
The proper culmination of this storyline was to have Stephanie go off with Kurt and turn Triple H, whom the fans had been itching to cheer for, babyface. This would have also been the extra boost that could've made Angle one of the top heels in the business.
Unfortunately, at Unforgiven 2000, the love triangle fizzled out. Triple H defeated "The Olympic Hero" clean, remained a heel and the whole storyline promptly dropped without an explanation. Sigh.
1. The Invasion Disaster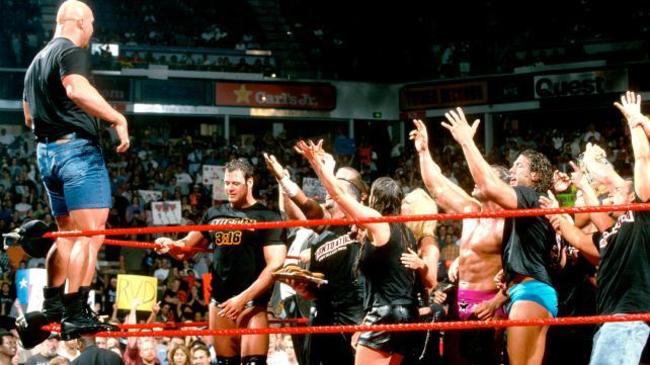 Austin during his short-lived stint as head of The Alliance (from WWE.com)

In 2001, thanks to his purchase of rival promotion WCW, Vince McMahon had the chance to make himself and his company enough money to buy a country (or at the very least, a few tropical islands).
Because many fans were salivating at the possibilities of an invasion angle. Ideas for dream matches like Steve Austin vs. Hulk Hogan or Bill Goldberg vs. The Undertaker got thrown around. Eric Bischoff showing up to feud with archnemesis Vince also seemed a tantalizing possibility.
Throwing in Paul Heyman and the ECW brand—a beloved cult promotion that had disbanded several months earlier and had a genuine bone to pick with Vince over stealing their ideas—only added to the promise. This angle looked set to become the biggest in history.
Of course, this famously didn't happen.
WWE ended up spectacularly botching the once-promising program.
The company refused to shell out for stars like Hogan, Goldberg and Ric Flair to get involved—although all three did end up joining the company in the years following. Without the big names, the angle didn't feel like nearly the big deal it should have been.
Oh, and Vince, presumably still feeling like he had a point to make about WWE superiority, made the rather foolish decision to make the WCW/ECW Alliance appear as weak as possible as often as he could.
Wacky, swerve-based storytelling (just how many times did Kurt Angle turn during this feud? Three? Four?) didn't help, either.
What a waste. This mess was easily the biggest missed opportunity in WWE history.
Keep Reading