Kentucky vs. Mississippi State: Live Score and Highlights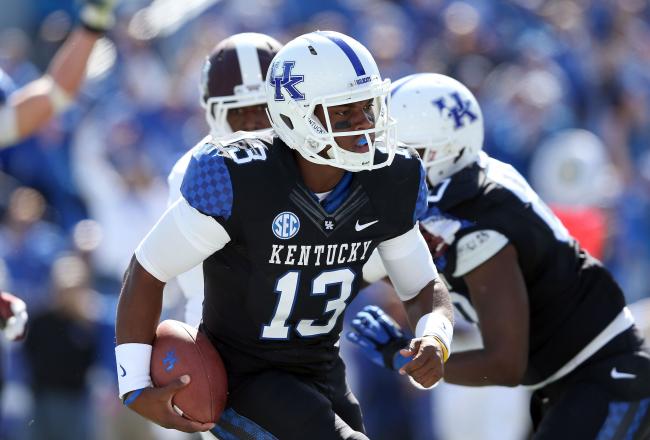 Andy Lyons/Getty Images
Kentucky: 22
Mississippi State: 28
FINAL
It wasn't the prettiest game in the world but you take what you can get when your team is struggling. This is why you won't hear any complaining from Mississippi State, a team that improves to 4-3 on the season after a tight victory over an SEC rival.
Quarterback Dak Prescott played extremely well and led a Bulldogs offense down field for nearly 450 yards of offense, while the defense came up with timely stops. Kentucky played well defensively and the offense did show flashes throughout the game, but neither quarterback (Maxwell Smith or Jalen Whitlow) could get going.
Mississippi State was simply the better team and now has a winning record, while Kentucky drops to 1-6 on the year.
Kentucky will play Alabama State next week and Mississippi State will travel to South Carolina.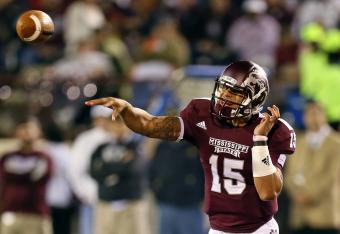 FINAL THOUGHTS
Mississippi State fans should be thrilled they were able to win and keep their bowl hopes alive. However, it's time to look towards the future, and quarterback Dak Prescott is just that. He threw for 268 yards and two touchdowns, while displaying a great deal of athleticism. He has the potential to be the next great dual-threat quarterback if he can continue to play at this level.
Overall, the Bulldogs played solid on both sides of the ball and showed that they can be a respectable team when playing together as a team.
While the box score may not show it, Kentucky also played well. The running game produced 160 yards and the defense got more than enough stops to keep this game close. But it was the quarterback situation that prevented the Wildcats from winning. Whether it is Maxwell Smith or Jalen Whitlow, somebody has got to take control of the offense.
Kentucky reminds us that there is still a lot of work remaining, while Mississippi State showed a great deal of promise for the future.
Kentucky can't convert another fourth down. Mississippi State's going to win 28-22.

— Eye on College FBall (@EyeOnCFB) October 25, 2013
Final
Incomplete pass for Kentucky.
It wasn't pretty but...
Mississippi State wins! Mississippi State wins!
Fourth-and-eight for Kentucky.
Clock ticking!
Exactly one minute remaining. Kentucky facing a third-and-seven.
Raymond Sanders picks up the first down and nearly took it the distance! Kentucky has the ball at the Bulldogs 30-yard line.
Remember when Mississippi State worried whether it would be able to keep Dan Mullen?

— Stewart Mandel (@slmandel) October 25, 2013
Ouch.
Kentucky facing a fourth-and-one. The coaching staff burns its last timeout.
Mississippi State goes for it on fourth-and-eight and Kentucky comes up with a sack!
The Wildcats have great field possession with just over two minutes remaining!
Kentucky gets a stop on third down!
This is not a misprint!
Mississippi State facing third-and-nine.
Can Kentucky's defense get off the field?
Kentucky starting to use its timeouts. 2:21 left in this one.

— Michael Bonner (@MikeBBonner) October 25, 2013
The Bulldogs are in field goal range.
Story of this drive...
Mississippi State moves the chains on third-and-11.
Kentucky looks gassed defensively and that may be the ball game.
The Bulldogs pickup another first down, this time on third-and-eight. Not only is Mississippi State approaching field goal range, but there is now less than four minutes remaining in the game.
Kentucky needs to force a turnover.
Kentucky can't get off the field on third-and-six.
Mississippi State moving the ball near the 50-yard line and watching the clock tick under six minutes.
Mississippi State: 28
Kentucky: 22
Not exactly what Kentucky was hoping for, but a Joe Mansour 44-yard yard kick brings the Wildcats within one possession. Mississippi State now needs to focus on working the clock and finding the end zone one last time to put this game out of reach.
Maxwell Smith completes a pass on fourth down to move the chains for Kentucky! The Wildcats are in field goal range and looking to punch this ball into the end zone.
We're approaching the nine minute mark.
Kentucky's defense once again comes up with another big stop. If the Wildcats are going to get back into the game, the offense needs to answer on this possession with 11 minutes reaming in the fourth quarter.
It's now or never for Kentucky.
Spotted: Kentucky fan in front of me looking up the UK basketball schedule.

— Alex Sims (@apsims) October 25, 2013
This football game is real popular.
Click here to check out Jameon Lewis' touchdown pass to quarterback Dak Prescott.
Back to the QB carousel. Smith pass for 5, Whitlow run for 3. Third-down QB when the fourth quarter starts will be???

— Kyle Tucker (@KyleTucker_CJ) October 25, 2013
Tim Tebow!
This is the second time this season Lewis has passed, rushed, and caught a touchdown. That's pretty insane.

— Michael Bonner (@MikeBBonner) October 25, 2013
Impressive.
This article is
What is the duplicate article?
Why is this article offensive?
Where is this article plagiarized from?
Why is this article poorly edited?