Why 2013-14 NBA Rookie Class Will Be Better Than Expected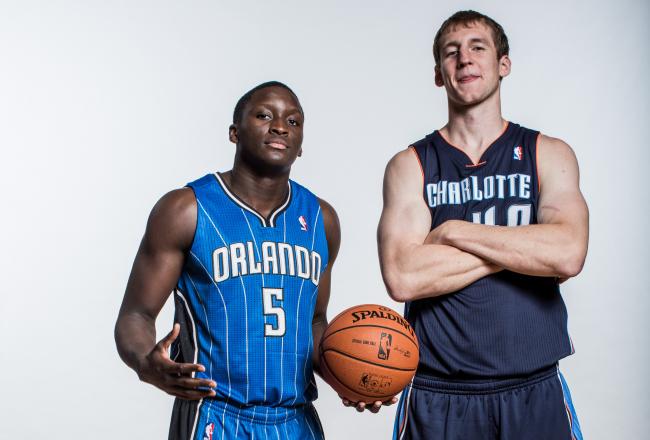 Nick Laham/Getty Images
Franchise building means different things in different markets, but the time-tested method of creating a dynasty remains making sound decisions on draft night.
The Miami Heat don't land LeBron James and Chris Bosh without first making Dwyane Wade the fifth overall selection in 2003. The San Antonio Spurs have raised four championship banners since 1999 as a direct result of their draft-day heists.
Even the Los Angeles Clippers don't emerge as a realistic home for Chris Paul without drafting a collection of players good enough to get him out of New Orleans (Eric Gordon, Chris Kaman) and others with enough skill to satisfy him when he arrived (Blake Griffin, DeAndre Jordan). That assist from commissioner David Stern helped, too.
The importance of draft night can't be understated.
Yet, because the 2013 class lacked a James, a Derrick Rose or even an Anthony Davis, suddenly this whole crop of rookies was miscast as unimportant. The 60 names announced on June 27 arrived with minimal fanfare and hordes of criticism.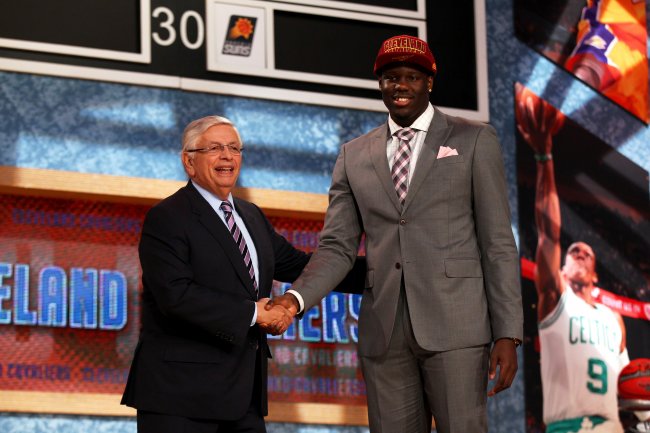 /Getty Images
Maybe I'm wrong, but I never knew draft classes were judged strictly by the strength of their tops. The real power has always rested in numbers, and under that lens, this crop of first timers looks stunningly brilliant.
Since all of the focus has been slanted toward the front, why not start with No. 1 pick Anthony Bennett? The new Cleveland Cavalier arrives with NBA size (6'8" 240 lbs) and a number of NBA-ready skills.
Slowed by rotator cuff surgery on his left shoulder in early May, the UNLV product has stumbled through some ups and downs early on, but that's to be expected with any rookie. He's tallied double-digit points in three of his first seven games and managed double-digit boards twice, despite having yet to top 26 minutes of floor time.
You can question his opportunity with former lottery pick Tristan Thompson sitting ahead of him at the power forward spot, but you can't question his talent. He's a force on the glass (8.1 boards in 27.1 minutes a night last season) and has a sweet stroke from distance (38.1 three-point percentage).
His best days are a ways down the road, but he'll play an important role for the playoff-hopeful Cavaliers this season.
Moving past Bennett, we have perhaps the class' most exciting player, Victor Oladipo. An overwhelming favorite to capture Rookie of the Year honors according to the league's annual GM survey, Oladipo has both the talent and the opportunity to have a monstrous debut.
He's ripped off 22 points in two of his last three preseason outings, but it's his across-the-board production that raises the most eyes. He's clearly still getting his feet wet as a lead guard (3.4 turnovers per game), but you can see the makings of a floor general (six or more assists three times).
Just 6'4", his work as a glass eater (6.0 rebounds per game) and ball hawk (1.6 steals) lends some credence to those lofty comparisons to Dwyane Wade and Russell Westbrook. Oladipo's far removed from that ceiling for now, but he's already building some highlight reels that might strike a familiar chord with Miami Heat and Oklahoma City Thunder fans.
Washington Wizards forward Otto Porter was viewed as one of the safest picks in the class, but that always reads as more of a slight (see: limited potential) than a compliment. Since when is having a number of NBA-ready traits (scoring inside and out, defending all along the perimeter, high basketball IQ, good court vision) a bad thing?
It's hard to buy the Wizards' playoff stock without also supporting Porter's game. But since this class is reportedly weak, I guess that's a high-wire act fans will have to perform all season.
Cody Zeller's been active and productive during his first foray onto basketball's biggest stage. Oladipo's teammate at Indiana, Zeller has poured in 8.2 points and corralled 6.3 boards in 23.5 minutes a night.
It's hard to say this about any player, but Zeller may have found the perfect home with the Charlotte Bobcats. His mobility works well with speedy point guard Kemba Walker, and his ability to hit mid-range jumpers forms a nice high-low attack with free-agent addition Al Jefferson.
It might not happen right out of the gate, but over the course of the season Bobcat fans will wish to take back their spirited greeting for Zeller.
But enough about the early picks. The power of this crop rests in its depth.
Sacramento Kings rookie Ben McLemore (No. 7 pick) has All-Star ability.
His shooting struggles from the summer league (.333/.194) haven't carried over into the preseason (12.0 points with a .482/.400/.727 slash). Who would have thought that the combination of a shooting stroke that's been compared to Ray Allen's (the league's all-time leader in made threes with 2,857) and top-flight athleticism would be such a deadly combination?
Clearly not the 2013 draft critics.
Utah Jazz rookie Trey Burke (No. 9 pick and 2012-13 national player of the year) is still waiting for his NBA break. Any chance to erase concerns over his summer league stumbles (.241/.053 shooting, 2.3 turnovers in 26.8 minutes per game) was lost when the former Michigan Wolverine suffered a broken right index finger early in the preseason.
To think that Burke won't bounce back, though, is the same as dismissing his two seasons in Ann Arbor (16.9 points and 5.7 assists per game). He'll have ample opportunity to make noise with the rebuilding Jazz and could be producing at a deafening level by season's end.
Good fits continue to rain down as you move outside of the top 10.
Kendrick Perkins has set the bar for Thunder centers so painfully low that simply catching a pass for an easy finish is a substantial upgrade. But big man Steven Adams has brought so much more to this front line (7.9 points, 8.0 boards and 1.1 blocks in 23.4 minutes a night), looking far more polished than scouts said he would.
The Boston Celtics frontcourt was even more thin, to the degree that simply a strong summer league showing (18.0 points, 7.8 boards) seemed to guarantee Kelly Olynyk a starting gig. The fact that he's remained productive in the preseason (9.0 points, 4.5 rebounds in only 23.3 minutes a night) has kept him primed for that position.
New York Knicks guard Tim Hardaway Jr. has shown that the clutch gene runs in his family, and his biggest asset (three-point shooting, 40.5 percent in the preseason) just so happens to blend perfectly with this system.
Still not convinced of this class' better-than-advertised talent? Well, there are several high-upside players who could shatter the notion of this being a starless class.
Atlanta Hawks guard Dennis Schröder has drawn Rajon Rondo comparisons (ESPN Insider subscription required) for his length, athleticism and court vision. Those are obviously big shoes to fill, but if he does he'll be Rondo with a jumper (53 percent on catch-and-shoot jumpers in Germany last season, via DraftExpress.com).
Milwaukee Bucks forward Giannis Antetokounmpo carries the nickname "Greek Freak" for a reason. The 6'9" 18-year-old has tremendous length (and freakishly large hands), and has drawn NBA comparisons to Kevin Durant, Paul George and Nicolas Batum.
His defense is already prepared for the NBA's bright lights (1.7 blocks and 1.0 steals in 21.5 minutes per game this preseason), but his offense needs work (5.7 points on .348/.167/.773 shooting).
Which rookie are you most excited to see?
Tragically, that raw ability may not get the chance to blossom just yet. Bucks coach Larry Drew has yet to commit to a regular-season rotation spot for the league's youngest player, via Charles F. Gardner of the Milwaukee Journal Sentinel. But if he finds his way to the hardwood, he has the chance to be special
Archie Goodwin has a good shot to rebuild the massive potential he lost during a failed run as Kentucky's point guard last season. Back at his natural off-guard spot, the explosive 6'5" 19-year-old should be a force in Phoenix Suns coach Jeff Hornacek's uptempo system.
Rudy Gobert's a gigantic project player—literally, he's 7'2 with a 7'8" wingspan—on a Jazz team that has a thing for developing young bigs. One step the Utah coaching staff can skip in his development: steering clear of bad photo ops.
Honestly, this list could go on and on. There are plenty of players poised for stellar seasons who aren't mentioned here.
The point is, don't let the lack of a surefire star warp your view of this rookie crop. And don't be surprised when this class actually produces several stars.
This article is
What is the duplicate article?
Why is this article offensive?
Where is this article plagiarized from?
Why is this article poorly edited?