How Long Can New York Rangers Survive Without Rick Nash?
Use your ← → (arrow) keys to browse more stories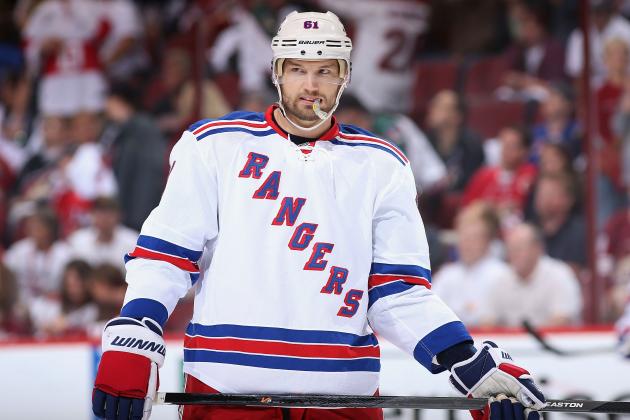 Christian Petersen/Getty Images

The New York Rangers lost Rick Nash to a concussion during a game against the San Jose Sharks back on Oct. 8, and the team has had trouble scoring ever since. In the five games without Nash, the Blueshirts have been outscored by a margin of 3-to-1, or by a tally of 15-5.
The reason for acquiring Nash in July of 2012 was to add some scoring depth, but in the wake of his injury, how long can the Rangers survive without him?
Fans with a recent history of the team will tell you that it is possible to win games without a goal scorer, but it all depends who is calling the shots behind the bench. John Tortorella could take this merry band of misfits and turn them into a winner with ease, but Alain Vigneault may not have the same success in a similar time span.
That is exactly what Tortorella did when he took over the team, and as Jesse Spector of The Sporting News wrote, the Rangers overachieved during his tenure.
Vigneault's system is predicated on having big-name talent with marquee skill, and right now, Brad Richards is the only offensive player that fits that profile. Having the Sedin twins, Ryan Kesler, Alex Edler and other marquee names made Vigneault very successful during his time with the Canucks.
While it is all good and well that Richards is leading the team in scoring, history suggests that he will eventually start to slow down. Most players don't have career years after the age of 27, and Richards is currently 33.
That leaves the burden of scoring on Derek Stepan and Derick Brassard, and although both are talented, neither have a history that suggests they can carry the team. The rest of the lineup is a hodgepodge of grinders, "has-beens" and players with talent that never reached their potential.
In the salary-cap era, this is the case for most teams, but most teams have not had the injury struggles the Rangers have had. Losing Nash was bad enough, but the Blueshirts are also without Ryan Callahan and Carl Hagelin.
The two youngsters are not All-Stars by any means, but when they are in the lineup, the whole is able to play better than the sum of its parts. For example, this is what a healthy lineup would look like.
Healthy Rangers Lineup

| | | |
| --- | --- | --- |
| Rick Nash | Derek Stepan | Brad Richards |
| Carl Hagelin | Derick Brassard | Chris Kreider |
| Mats Zuccarello | Brian Boyle | Ryan Callahan |
| Benoit Pouliot | Dominic Moore | Derek Dorsett |
Mockup of Lines Based on Roster
This lineup is not the best in the league, but it is better than what the Rangers are currently putting on the ice.
So what should the Rangers do? The simple answer is to plan for a future without Nash.
As pointed out by Greg Wyshynski of Puck Daddy,
When Rick Nash was hit in the head by Brad Stuart of the San Jose Sharks – earning Stuart a 3-game suspension – the New York Rangers lost their best offensive player at a time when the team was in a early season tailspin. But the bigger issue was Nash's overall health. It's his second concussion in two seasons with the Rangers. The style he plays portends there could be more.
Nash likes to use his body to go to the net, an area where it is very easy to get hit.
Nash has had two concussions, and he could be prone to have more. If this happens, the Rangers won't be killed financially because of his $7.8 million cap hit; he could be put on long-term injury reserve (LTIR) a la Marc Savard and Chris Pronger.
#NYR "Nothing new" is the official response from team when asked about Rick Nash. Has been sidelined w/ concussion for almost two weeks

— Katie Strang (@KatieStrangESPN) October 21, 2013
There have been little to no updates on the status of Nash's health. When and if he comes back, there is no guarantee he will be the same player he has been for the most of his career. If there was ever an excuse to sacrifice some young talent to add a top-six scorer, now is the time.
The Rangers could justify it because they would be preparing for life without Nash. If Nash comes back, the roster's scoring depth would be substantially better than it was before.
Writing this season off and waiting for a lottery pick isn't an option the team would likely take, because there is a lot invested in this roster, and this attitude isn't accepted in New York unless you are the New York Mets.
To wrap things up, the Rangers need to score to win games. The franchise would be wise not to put all of its eggs in Nash's basket, and it should seriously consider making a trade.
Worst-case scenario is that Nash is out the rest of the season and the newest scorer has to carry the team. But in the best-case scenario, the Rangers improve their chances at winning its first Stanley Cup in 20 years.