Why WWE Will Never Buy TNA Wrestling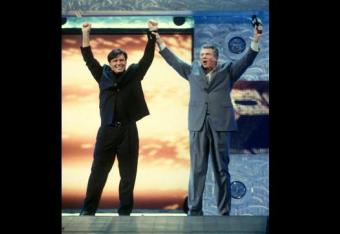 Photo courtesy of WWE.com

There is more of a chance of TNA Wrestling surviving another five years then there is of WWE buying the company out.
It's one of the most popular conversations I hear from wrestling fans on a weekly basis. The chatter of WWE buying TNA increases the more that pictures surface of TNA's low attendance numbers or every time a new headline is written about a wrestler leaving the promotion.
Things aren't good in the company. Dixie Carter is the heel authority figure on-air, but I don't think she has the control she once had. Her mother is running the daily operations, and it does seem like they're trying to shape the company up to make it as attractive as possible to sell.
WWE won't be the buyer. Vince McMahon's company is a collector, not a hoarder. There is a difference.
If WWE purchased TNA, it would be hoarding. It would be accumulating a lot more stuff that has little to no value.
When WWE purchased WCW, it did so because the latter had value. An endless supply of footage from an extensive video library was the biggest draw. WWE isn't going to spend millions for the video rights to the best of AJ Styles.
WCW had valuable brands, most notably the nWo, which I say was worth more than the letters WCW. TNA doesn't provide any of this.
WWE also doesn't publicly acknowledge TNA as competition. WCW was recognized competition to WWE. Both companies were in the wrasslin' business (say it in Ted Turner's voice). There was massive talent swapping during the time. WWE went head-to-head with WCW and almost got beat. When a company that almost puts you out of business is made available to purchase, business school professors will tell you to acquire it.
Even though WWE represents itself as an entertainment brand with a stage that happens to be a wrestling ring, the best thing it could hope for is for TNA to thrive as a company.
Some people have called me a "WWE mark" or "TNA hater." This isn't accurate. Do I prefer WWE? Absolutely. Always have and always will. WWE was the first wrestling I ever saw. My grandfather worked with WWE guys while I was growing up. My exposure to wrestling in my professional career has revolved around WWE. But I want TNA to be as strong as possible.
The stronger TNA is, the better WWE's product will be. Right now, Vince McMahon does not view TNA as direct competition. However, if a big enough percentage of those fans who usually watch WWE on television or in a live arena started to split their time and money between WWE and TNA, it would push McMahon to produce a better product.
If TNA thrives, it gives more work to both wrestlers and people like me. I don't talk much about TNA because it's not in demand like WWE is. I've never had a paying gig where I've been instructed to talk or write about TNA—it's always WWE first. If TNA was ever a thriving company, that would change.
The most attractive selling point TNA has is that its weekly broadcasts are on Spike TV in a good time slot. While its ratings might not seem great, you have to remember that Spike TV isn't that big of a network. I don't even think it's in the top 20 networks in terms of size. Spike TV is where the biggest and most consistent bit of revenue comes in for the company. This means Spike TV calls the shots (see Tito Ortiz and Rampage Jackson involvement).
What does the future hold for TNA? In my opinion, it will be sold to new buyers in the next year. Who those buyers are, I don't know. But I do know who it won't be.
This article is
What is the duplicate article?
Why is this article offensive?
Where is this article plagiarized from?
Why is this article poorly edited?