Preseason NBA Stars Guaranteed to Keep Momentum Rolling into the Regular Season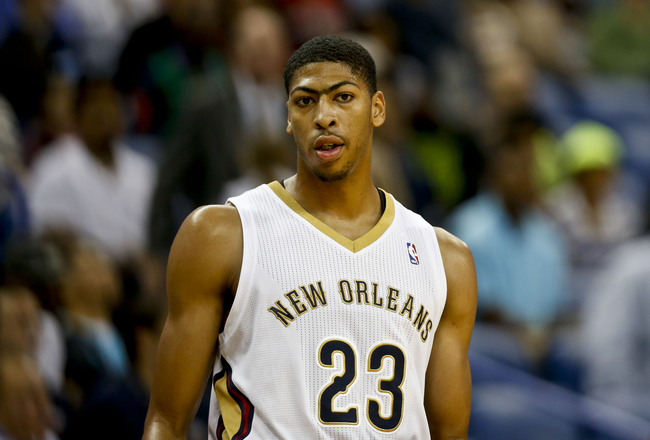 Derick E. Hingle-USA TODAY Sport
NBA preseason action can be a deceiving beast, but that doesn't mean every breakout is illegitimate. Some players just get their tracks to stardom started when the games don't count, and the momentum carries over into the regular season.
Those are the guys who we're focusing on here—the preseason stars who won't experience a decline when their teams are playing past October.
However, it's also worth noting that established stars won't be eligible for this article.
LeBron James and Kevin Durant have been great, sure, but they've already made multiple All-Star teams and established themselves as the top two players in the Association. The same goes for other standouts from the past, unless they've improved rather significantly or have some serious extenuating circumstances.
This is all about the breakout stars from the preseason, so long as they'll continue to break out in November and beyond.
It's also a list dominated by young players. Youth and upside help out significantly when trying to get started on the fast track to stardom.
So, does your favorite team have a representative?
Note: All stats are current through Oct. 23.
Bradley Beal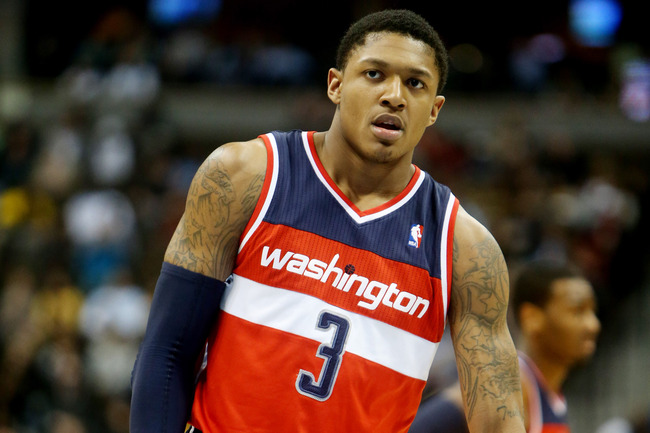 USA TODAY Sports
Team: Washington Wizards
Position: SG
Age: 20
Preseason Stats: 20.7 points, 2.9 rebounds, 1.6 assists, 1.3 steals, 0.4 blocks
It's not all that uncommon to have two players on the same team average 20 points per game. The Miami Heat and Oklahoma City Thunder both did so last year, and they figure to repeat those numbers in 2013-14.
Well, the Washington Wizards might have a duo of their own capable of challenging the 20-point barrier on a nightly basis. John Wall and Bradley Beal will ultimately fall short, but they'll be close.
We know about Wall already, but Beal has looked like a bona fide star throughout the preseason. He's scored in a vast array of methods, utilizing his athleticism on rim assaults and his silky-smooth shooting touch to drain looks from the outside.
He's a confident scorer who can play with and without the ball, and it's quite clear that he was worth all the draft-day hype that accompanied him before he was selected in the 2012 NBA draft.
Beal won't shoot 51.9 percent from the field and 47.2 percent from beyond the three-point arc once the regular season begins, but there's no reason to think he'll experience a sizable decline. He's still only 20 years old and has a long way to go before reaching his ceiling.
Eric Bledsoe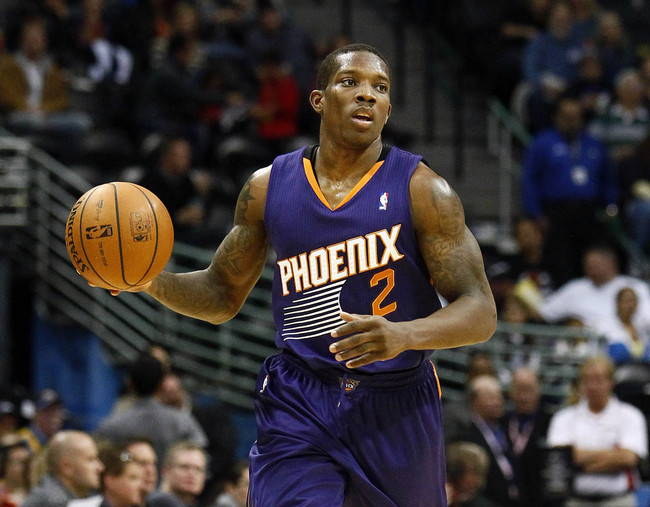 Isaiah J. Downing-USA TODAY Spor
Team: Phoenix Suns
Position: PG/SG
Age: 23
Preseason Stats: 13.0 points, 3.9 rebounds, 5.9 assists, 2.7 steals, 0.6 blocks
Can we already call the Goran Dragic-Eric Bledsoe backcourt pairing a successful experiment? Is it too soon for that?
Dragic and his 58.3 percent shooting from the field have been undeniably impressive, but the Phoenix Suns have to be even more pleased with what they've seen from Bledsoe. The former backup to Chris Paul is ready for the spotlight.
Not only is he proving to be a dynamic offensive player even without the aid of a consistent perimeter jumper, but he's asserting himself on the defensive end of the court as well. Players jumping into much bigger roles typically experience a setback on the less glamorous side of the ball, but that doesn't appear to be the case for Bledsoe.
Even while distributing the rock effectively and performing impressive feats of athleticism, he's had enough energy to serve as a true pest on defense. The steals are fantastic, but so too is his ability to move his feet quickly and stay in front of his man.
Phoenix doesn't have much hope for the 2013-14 campaign, but at least the Suns have Bledsoe in the fold.
DeMarcus Cousins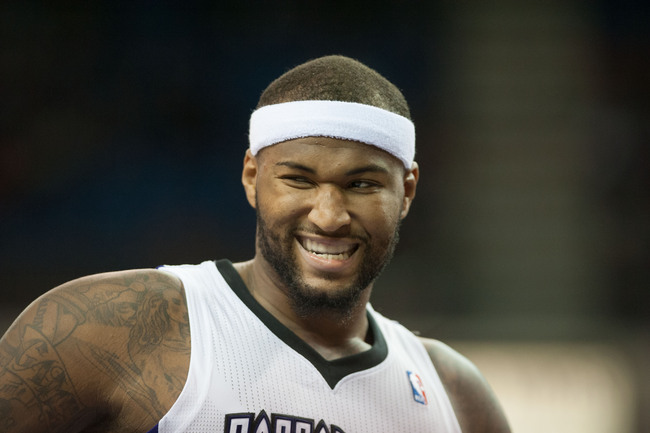 Ed Szczepanski-USA TODAY Sports
Team: Sacramento Kings
Position: C
Age: 23
Preseason Stats: 19.2 points, 9.0 rebounds, 2.0 assists, 2.4 steals, 0.8 blocks
I have to admit that I was seriously worried about DeMarcus Cousins.
The 23-year-old center has long been known for both his physical play and his tendency to go a little crazy on the basketball court. Poor decision-making has plagued his career, as he's had technical fouls, ejections and even suspensions pile up to limit his effectiveness.
On the heels of signing a maximum contract, it would have been easy for Boogie to check out and dance his way to a big payday. He no longer had to work hard to prove himself, and it would have been nothing for him to become so unengaged that his picture would appear next to the word in a dictionary.
But that hasn't happened.
If Cousins is exerting himself in the preseason, he'll do so in the regular season as well.
That's more important than the numbers the Kentucky product is putting up, dominant as they may be. His effort is the key to his success, just as it always has been.
So far, so good in Sac-Town.
Anthony Davis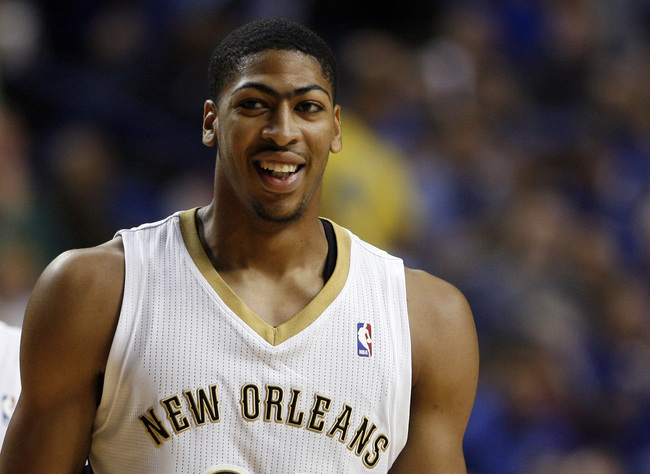 Mark Zerof-USA TODAY Sports
Team: New Orleans Pelicans
Position: PF/C
Age: 20
Preseason Stats: 21.4 points, 6.6 rebounds, 0.9 assists, 2.0 steals, 2.1 blocks
Anthony Davis is a stud.
There's no need to deny it. Damian Lillard may have had the better rookie season last year and enters the season as the player held in higher esteem, but Davis isn't ready to give up the crown for the 2012 draft class.
If the preseason had an MVP, you'd be looking at his unibrow in the picture at the top of this slide. As impressive as some of the more established studs have been, Davis has been the driving force behind the 6-1 New Orleans Pelicans, who experienced their first loss at the hands of the always-tough Miami Heat.
The 20-year-old big man has shown off a newfound ability to handle the rock and create for himself, but he's also dominated opponents with some thunderous slams. It's not easy to score 21.4 points per game while shooting well over 50 percent from the field, and yet that's exactly what Davis has done.
Additionally, he's looked like a vastly improved defender. Not only is he racking up steals and blocks, but he's rotating properly, and it's been much tougher to body up against him in the paint.
The 2013-14 season will inevitably be filled with plenty of reminders about why Davis was the No. 1 pick in 2012.
Andre Drummond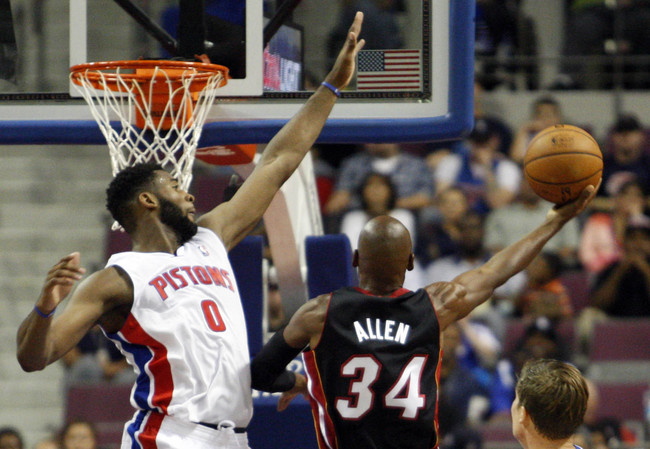 Raj Mehta-USA TODAY Sports
Team: Detroit Pistons
Position: C
Age: 20
Preseason Stats: 12.7 points, 10.9 rebounds, 1.0 assists, 0.7 steals, 1.6 blocks
Speaking of dominant big men from the 2012 draft class...
Andre Drummond has been tabbed as the next breakout star by so many sources that you can just Google his name and see for yourself. Seriously. Everyone in the world seems to be expecting big things from him.
At this point, I think you could go to the Sahara desert, yell out "ANDRE DRUMMOND" and expect to hear someone shout back about how good he's going to be.
But it's not like there was any sort of guarantee that a 20-year-old center with a half-season worth of experience to his name was going to burst forth and become the next superstar.
Up to this point, Drummond is making anyone who has ever doubted him look foolish. And I'm ready to put my foot in my mouth here, because I thought he'd become a massive bust when he was coming out of UConn.
Drummond's work ethic has been unparalleled, and it's resulted in staggering improvements. He looks more than competent on the offensive end, especially with some newfound skills in the post, and he's remained a young man who's fully aware of how to use his body. The rebounding numbers and defensive play have both been superb, and that's where he'll make his mark during the regular season.
Although the Detroit Pistons big man won't score enough points to factor heavily into the Most Improved Player race, he'll be a player who takes absolutely massive strides between his freshman and sophomore seasons.
I wish I could say that you heard it here first, but again, this is nothing new.
Derrick Favors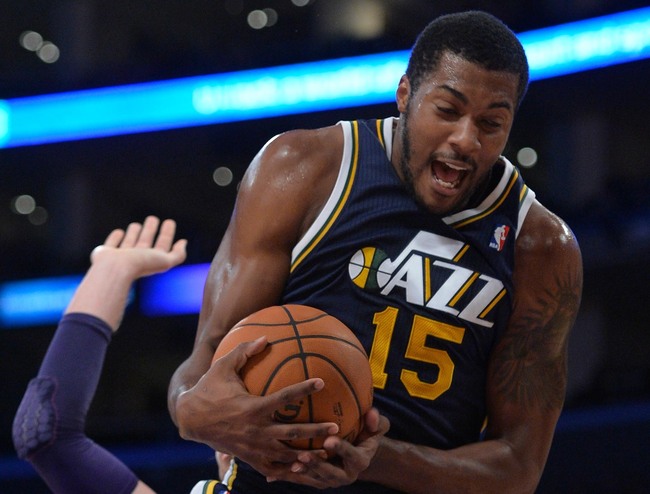 Robert Hanashiro-USA TODAY Sport
Team: Utah Jazz
Position: PF
Age: 22
Preseason Stats: 9.6 points, 11.9 rebounds, 1.3 assists, 0.3 steals, 1.6 blocks
This just in: Derrick Favors is really good at rebounding.
Actually, it's not just in.
Basketball fans have known that for a while now if they've taken the time to pay attention to the Utah Jazz. Basketball-Reference shows that during the 2012-13 season, Favors finished 17th in offensive rebounding percentage, 19th in total rebounding percentage and 13th in total rebounding percentage.
Those numbers are quite impressive, but questions endured as to whether he could maintain those rates when he stepped into a larger role.
Well, Al Jefferson and Paul Millsap are gone. Favors is a starter. And the numbers have been maintained.
Favors is averaging nearly a dozen rebounds per game during the preseason, and he's doing so while playing an average of 26.9 minutes per contest. That's not just good. It's not even great.
It's insanely great.
Performances like Favors' 24-point, 17-rebound outing against the Los Angeles Clippers don't leave much room for uncertainty. He's ready to become more than just a mid-level starter, even though he has only 44 games started up to this point in his career.
Rudy Gay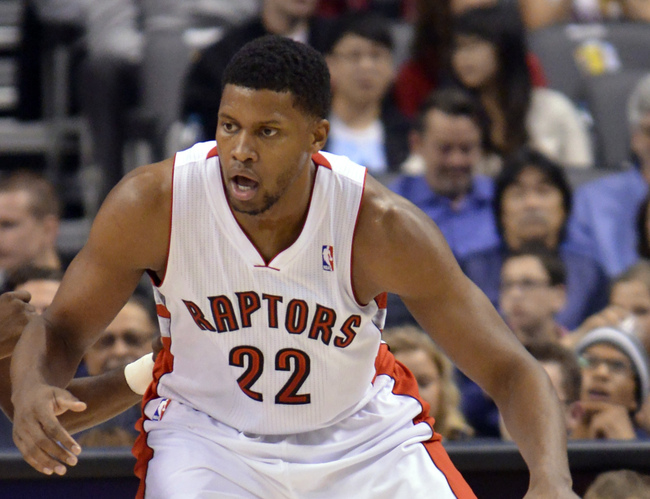 Mark Konezny-USA TODAY Sports
Team: Toronto Raptors
Position: SF
Age: 27
Preseason Stats: 14.0 points, 4.1 rebounds, 1.3 assists, 1.0 steals, 0.6 blocks
It's amazing what being able to see can do for a player's basketball game.
Sparked by his newfound vision (and I'm talking about literal vision, not court vision), Rudy Gay has actually been—gasp—efficient.
I've been highly critical of Gay's offensive game in the past, namely because he's put up points in bunches without worrying about his percentages. His scoring output was so worthless that he actually managed to rack up negative offensive win shares with the Memphis Grizzlies in 2012-13 despite averaging over 17 points per game.
But that's changed during the preseason, and I haven't seen any reason to doubt the sustainability of his more-efficient outputs.
Gay has shot 48.3 percent from the field and 40 percent from beyond the three-point arc en route to his 14 points per game. Not bad for a man who has averaged 45 percent and 34.3 percent from those respective areas throughout his career.
This small forward needs to become the true leader of Canada's NBA representative. If he maintains this level of play, we might seriously have to start considering the Toronto Raptors as a serious threat for one of the final postseason spots in the Eastern Conference.
DeAndre Jordan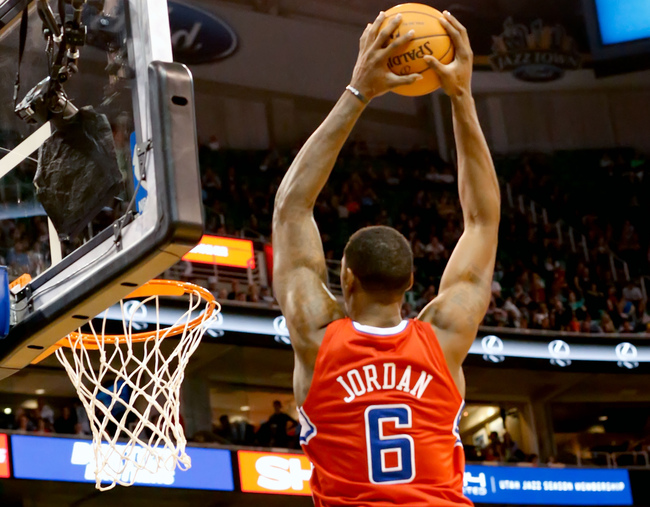 Chris Nicoll-USA TODAY Sports
Team: Los Angeles Clippers
Position: C
Age: 25
Preseason Stats: 10.8 points, 7.7 rebounds, 0.7 assists, 0.7 steals, 3.5 blocks
Doc Rivers has already had quite the influence on DeAndre Jordan.
Not only has he looked like a vastly improved defender throughout the season—one who blocks shots and rotates properly without giving up easy buckets—but he's also been a consistent offensive performer.
Did you ever think Jordan would average 10.8 points per game in just 23.7 minutes of action each contest? Maybe if his first name were Michael...
This is a big man whose career high in the points column is 8.8 points per game. And he did that while playing 24.5 minutes per outing throughout the 2012-13 campaign.
If Jordan is going to become a consistent double-double threat, then that eases pressure off Chris Paul and Blake Griffin, allowing them to stay healthy for the inevitable postseason run.
Now if only we could get that putrid free-throw percentage turned around. Despite the strides he's taken on both ends of the court, Jordan is shooting only 35.5 percent at the charity stripe, which is apparently misnamed because it's been far more charitable to players fouling him.
Even for the 25-year-old center, that's a new low.
Victor Oladipo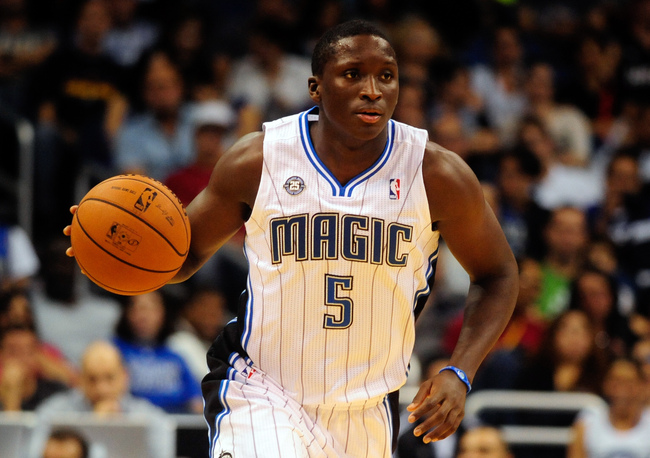 David Manning-USA TODAY Sports
Team: Orlando Magic
Position: PG/SG
Age:
Preseason Stats: 14.4 points, 6.0 rebounds, 5.0 assists, 1.6 steals, 0.3 blocks
While I'm hesitant to include a rookie from a relatively weak draft class here, it's hard to deny the future stardom that belongs to Victor Oladipo.
He's done everything that the Orlando Magic have asked, and he's done it well.
Sure, the three-point stroke could use some improvement, but that's to be expected for a player who isn't used to creating his own looks off the bounce quite as often as he's been doing. And Oladipo is still shooting a respectable 43 percent from the field while converting 80 percent of his looks at the free-throw line.
But what truly earns the Indiana product a spot in this article is the two-way presence he's already displayed.
Not only can Oladipo run the offense as a point guard in short spurts or function effectively off the ball, dishing out dimes and scoring at elite levels, but he's also settling in as a top-notch stopper. It won't be long before he's in the All-Defensive Team conversation at this rate, as he's already shown his thievery abilities while still staying in front of his man.
Going into the 2013-14 campaign, Oladipo has to be considered the heavy favorite to succeed Damian Lillard as the Rookie of the Year.
Derrick Rose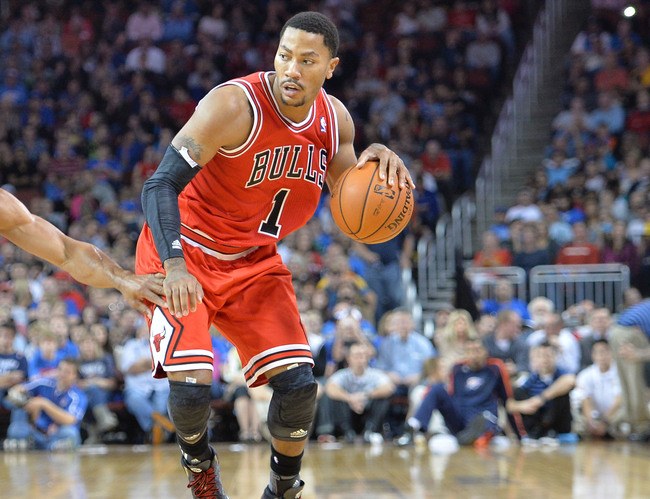 Peter G. Aiken-USA TODAY Sports
Team: Chicago Bulls
Position: PG
Age: 25
Preseason Stats: 21.7 points, 3.2 rebounds, 4.5 assists, 1.2 steals, 0.2 blocks
Established superstars—as stated earlier—aren't typically eligible for this article.
Yes, Kevin Durant and LeBron James have been fantastic during the preseason. Chris Paul put up 40 points in a game and looks better than ever.
Of course all of those guys are playing well, and of course that success is going to carry over into the regular season. That's not the point of this article, though.
Derrick Rose may be an established superstar, but he was anything but a sure thing heading into the preseason. No one knew how he'd fare in his return from the ACL injury that kept him entirely out of the 2012-13 campaign, and if they said they did, they were lying.
Now we do.
Rose will be an MVP candidate again. Not only is he acting like he never missed any time, but it appears as though he's added new elements to his game.
The Chicago Bulls point guard has averaged 21.7 points per game, and he's done so while shooting 50.7 percent from the field and 52.2 percent from downtown. Rose has developed a jumper, and that's made it even more difficult to contain his explosive bursts to the rim and the devestating crossover that has already knocked back multiple defenders.
Quite frankly, the way he's played thus far borders on unfair, and it means that you're going to see one hell of a comeback season.
Klay Thompson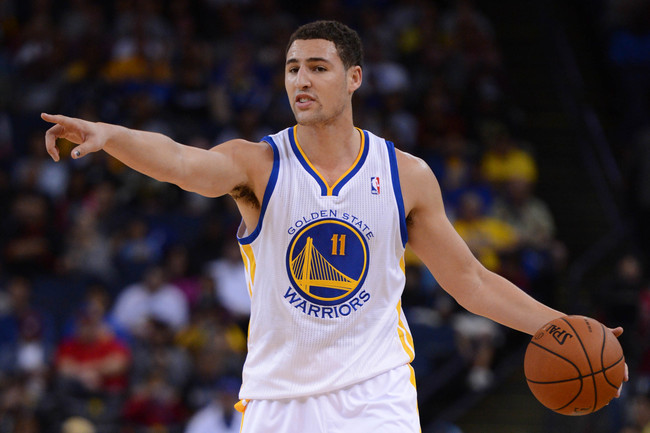 Kyle Terada-USA TODAY Sports
Team: Golden State Warriors
Position: SG
Age: 23
Preseason Stats: 17.0 points, 2.7 rebounds, 1.8 assists, 0.7 steals, 0.8 blocks
Stephen Curry isn't the only member of the Golden State Warriors who can drain three-pointers. They call him and Klay Thompson the Splash Brothers—not the Splash Brother—for a reason.
Thompson made more three-balls than everyone not named Curry or Ryan Anderson last year, and he's looking to build upon that success in 2013-14 by displaying both an improved shot from downtown and a more well-rounded offensive game.
So far, he's done part of that.
His percentage from beyond the arc is down to 39.5 percent (which is impressive in itself), but he's scoring in more diverse ways, creating looks for himself with increasing frequency and generally looking like an offensive stud.
However, just as impressive is his defensive effort.
Thompson used the second half of the season to show off his newfound point-stopping habits, and that's carried over into the offseason. He'll never be mistaken for a true shutdown wing player, but he's doing his darnedest to make sure that he gets close.
Look out for him and Andre Iguodala to form an underrated defensive tandem early on in the 2013-14 season.
Tristan Thompson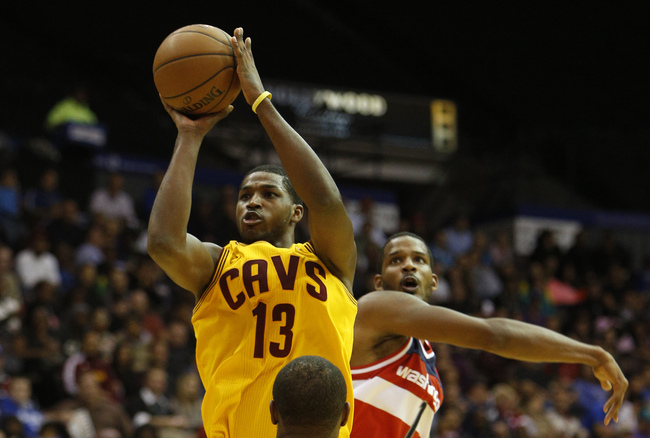 David Kohl-USA TODAY Sports
Team: Cleveland Cavaliers
Position: PF
Age: 22
Preseason Stats: 12.7 points, 9.3 rebounds, 1.4 assists, 0.7 steals, 0.7 blocks
When I was growing up, my dad would tie one hand behind my back in an effort to force me into becoming an ambidextrous passer and dribbler. It worked, but it also meant that I never really learned how to shoot.
If only I'd realized all I needed to do was switch hands and start shooting like a southpaw. Maybe then I'd be playing in the NBA instead of writing about it.
Or not, since I can't help the fact that I'm only 6'0" and can't dunk.
But still, Tristan Thompson has set an awesome precedent. Can't shoot? Just switch hands! You'll be throwing up big numbers in no time at all!
Thompson has looked like a strong Most Improved Player candidate, continuing to dominate on the glass while emerging as a heady passer and an efficient scorer. Not only has he expanded his range well beyond the paint en route to shooting 54.7 percent from the field, but he's also hit 61.3 percent of his free throws.
That last number might not seem impressive, but you have to remember that Thompson hit a career-high 49 percent from the charity stripe last year.
His growth has been staggering, and he's still only 22 years old.
And he can dunk.
Keep Reading