Fantasy football owners with injured starters have some tough decisions to make heading into Week 8.
Do you start your star player in the hopes that he'll play like he's capable when healthy, or do you make the difficult decision to bench him in favor of a healthy backup?
Given the unpredictable nature of this game we love, it's impossible to predict what will happen on game day. However, taking into account the latest news and looking at the matchups for this upcoming week, it is possible to come up with a reasonable hypothesis about what to expect.
Start 'Em: DeMarco Murray, RB, Dallas Cowboys
/Getty Images
Murray has been out with a sprained MCL for the past game-and-a-half, but all signs point to a return to action this weekend against the Detroit Lions.
ESPNDallas' Calvin Watkins expects Murray to play, and Michael Fabiano of NFL.com is gearing up for his return, as well:
I expect DeMarco Murray to play Sunday.

— Calvin Watkins (@calvinwatkins) October 24, 2013
It looks like DeMarco Murray is coming back for Week 8. Time to move Joseph Randle down your RB rank lists...

— Michael Fabiano (@Michael_Fabiano) October 24, 2013
Detroit's defense isn't good against the run, allowing a league-worst 5.1 yards per attempt. The Lions also feature one of the league's worst pass defenses, allowing 282 yards per game, which means the Cowboys should be able to move the ball at will.
Murray is a dual-threat running back who is adept at making big plays in the passing game. He'll be a big part of Dallas' game plan against the Lions this weekend. Provided his knee holds up, it's not out of line to expect him to touch the ball at least 20 times, which should lead to a significant amount of production.
Projected Stats: 120 total yards with one touchdown
Sit 'Em: Percy Harvin, WR, Seattle Seahawks
Percy Harvin is undoubtedly one of the NFL's most exciting playmakers, and he's finally back on the field, practicing with his team for the first time during the regular season, as noted by the NFL:
Percy Harvin back at practice for the @Seahawks. pic.twitter.com/XQaXvkj0ir

— NFL (@nfl) October 23, 2013
Before you work yourself into a tizzy thinking about all the points Harvin will earn on Monday night against the reeling St. Louis Rams, you'd be smart to remember this: Rob Gronkowski practiced for weeks with the New England Patriots before finally hitting the field last Sunday, as Bleacher Report's Alessandro Miglio pointed out:
A reminder that Rob Gronkowski practiced for weeks before seeing game action. Re: Percy Harvin practicing.

— Alessandro Miglio (@AlexMiglio) October 21, 2013
Furthermore, Seahawks head coach Pete Carroll has been quick to point out that he doesn't intend on rushing Harvin into action, as Pro Football Talk recently noted:
Pete Carroll: We'll continue to take our time with Percy Harvin http://t.co/2nriwzBt3j

— ProFootballTalk (@ProFootballTalk) October 24, 2013
Seattle is one of a few teams that are legitimate Super Bowl contenders right now. Harvin will be an invaluable weapon for Russell Wilson and his offense in the months of December and January.
With that in mind, nobody should be surprised if Harvin doesn't even suit up in Week 8. Even if he does, there's a good chance he'll receive only limited snaps.
Projected Stats: None
Start 'Em: Michael Vick, QB, Philadelphia Eagles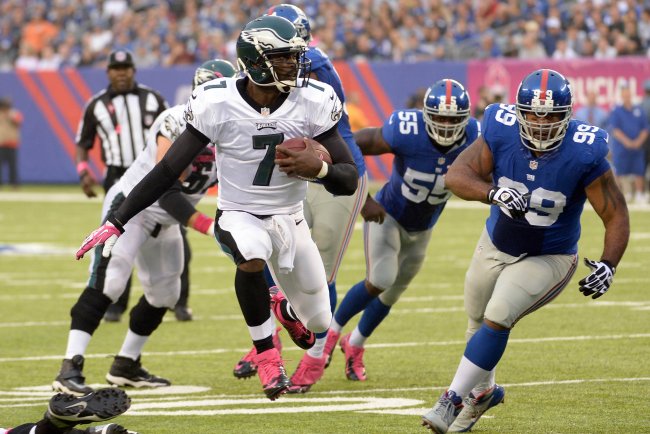 Robert Deutsch-USA TODAY
After sitting out the past two-and-a-half games with a hamstring injury, Michael Vick expects to make his return to Philadelphia's starting lineup this weekend when the Eagles host the New York Giants, as reported by NFL.com:
Vick handled all of the first-team reps Tuesday, expects to start vs. Giants http://t.co/QxDoQJPONH

— NFL: AroundTheLeague (@NFL_ATL) October 22, 2013
Head coach Chip Kelly hasn't confirmed the report, opting to keep his official call on the matter under wraps for now, as noted by the Eagles on Twitter:
Chip Kelly said Michael Vick will practice Thursday, but no declarations regarding if Vick will start Sunday: http://t.co/dnlNcza4Ig

— Eagles Insider (@EaglesInsider) October 24, 2013
However, with Nick Foles out with a concussion and Matt Barkley clearly not ready to lead Philly's offense (three picks in limited work last weekend), it appears that Vick's presence in the team's starting lineup this weekend is a foregone conclusion.
This is good news for Vick fantasy owners, as New York features one of the NFL's most dysfunctional defenses. Vick was having a nice fantasy showing (especially on the ground, with 79 yards on seven carries; 184 total yards) against this same team before injuring his hamstring three weeks ago.
Barring him reaggravating the hamstring, the dangerous dual-threat quarterback should have a huge game in his return to the lineup.
Projected Stats: 350 total yards with three touchdowns
Sit 'Em: Steven Jackson, RB, Atlanta Falcons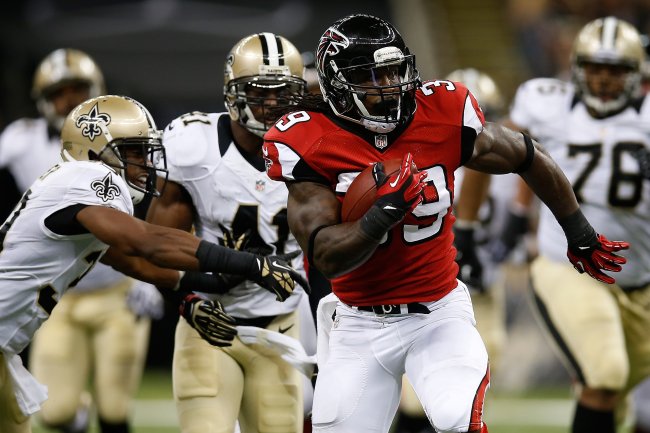 /Getty Images
When Steven Jackson was signed by Atlanta this past spring, most analysts agreed that he was the perfect fit. The Falcons were just a player or two away from earning a trip to the Super Bowl last season, and one of the missing links was a dominant running back.
Unfortunately, Jackson hasn't been able to play due to a nagging hamstring injury, but he's expected to finally make his return to the field this Sunday when the Falcons take on the Arizona Cardinals, as reported by D. Orlando Ledbetter of The Atlanta Journal-Constitution:
#Falcons RB Steven Jackson plans to play vs. #Cardinals http://t.co/0v13vMqYU5

— D. Orlando Ledbetter (@AJCFalcons) October 23, 2013
While Jackson certainly provides Atlanta with an upgrade at the running back position, he can't block for himself. The Falcons' offensive line is in disrepair—as it has been all season—and the team is averaging only 3.6 yards per carry this year.
Starting Jackson this weekend against Arizona—which features the league's No. 6-ranked run defense (3.6 yards per carry)—and expecting him to have a big game wouldn't be a smart move. This is a bad matchup, and nobody knows exactly how much Jackson will be able to do once the opening whistle blows.
Projected Stats: 50 total yards and zero touchdowns
Follow me on Twitter @JesseReed78