WBC heavyweight boxing champion Vitali Klitschko officially announced his intention to run for president of Ukraine in the country's 2015 election.
The BBC reports that Klitschko, who leads the Ukrainian Democratic Alliance for Reform party, made the declaration amid pressure from the opposition, which is trying to prevent him from being allowed on the presidential ticket.
He made his announcement in response to a bill passed in parliament that bars candidates who have lived outside Ukraine during the past 10 years.

The pro-Western Udar party MP has permanent resident status in Germany.
Klitschko tweeted an update on Sunday, Dec. 1:
To clear any confusion, the WBC have given me until the 15th of December to make my official decision to retire or carry on fighting. VK.

— Vitali Klitschko (@VITALIKLlTSCHKO) December 1, 2013
The longtime boxer, who hasn't stepped in the ring since last September due to his rise in politics, is currently serving in the Ukrainian parliament but has set his sights on a higher office after disagreements with the current leader, President Viktor Yanukovych.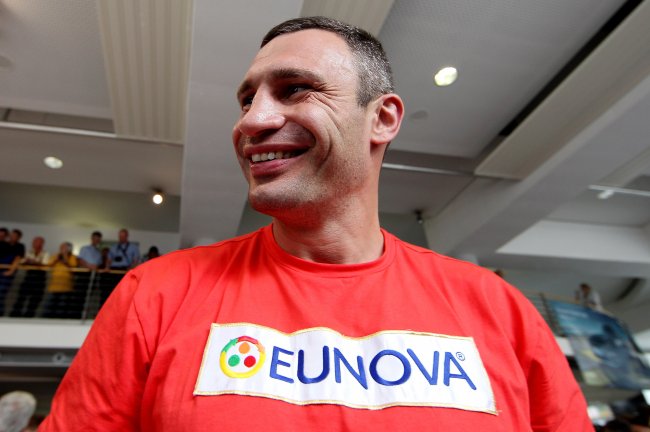 /Getty Images
Klitschko has spoken out against what he believes are authoritarian tactics by the current administration, and will now attempt to take his case to the people, according to the report:
[Klitschko] has spoken out against corruption in the country and the jailing of former Prime Minister Yulia Tymoshenko for abuse of office—a charge that her supporters claim was politically motivated.

"We can't be a democratic country with political prisoners," he said.
Reuters reports via The Star (Malaysia) that Klitschko made the declaration about running for president during a fiery speech before parliament:
Striking the rostrum with his hand, the two-metre (6ft 7in) tall Klitschko said: "Everything that has taken place in parliament today with texts of laws, directly backed by ruling party deputies, does not intimidate me and will not stop me.

"To head off these various schemes and attempts at getting even with me as a possible candidate, I want to declare this: I will run for President."
The Klitschko-led party is seen as a rising force in Ukrainian politics after winning 40 seats during last year's parliamentary elections. He is clearly trying to capitalize on that success by launching a bid to become the head of state.
But the BBC report states the current ruling party and its allies are trying to eliminate him from contention because he has permanent residency status in Germany. Klitschko's comments make it clear he's not going to let those attempts stop him from running.
Klitschko holds a 45-2 career boxing record with an astounding 41 KOs. He defeated Manuel Charr in his most recent bout, but he has clearly turned his attention to politics.