5 Things Inter Milan Must Do to Compete for the Scudetto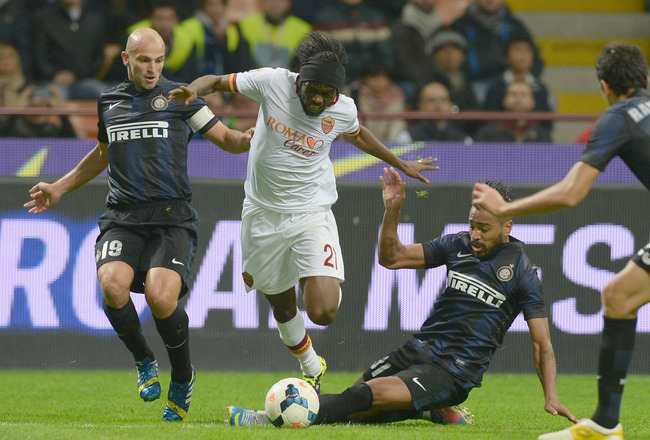 Claudio Villa/Getty Images
There are a lot of positives to take from Inter's start to the season. With the exception of the draw with Cagliari and perhaps the comprehensive nature of their defeat at home to Roma, the results have been encouraging.
The Nerazzurri are still some way from where they want to be, but given the abysmal season they endured last year, the way that they've began 2013-14 is encouraging.
There have been some impressive displays, including a ruthless demolition of Sassuolo and a solid draw with champions Juventus. Both results show that Walter Mazzarri is on the right track, and are far more indicative of where Inter really are than the slip ups. But what do they have to do to step up a rung and become Scudetto challengers once again?
Give Mazzarri Time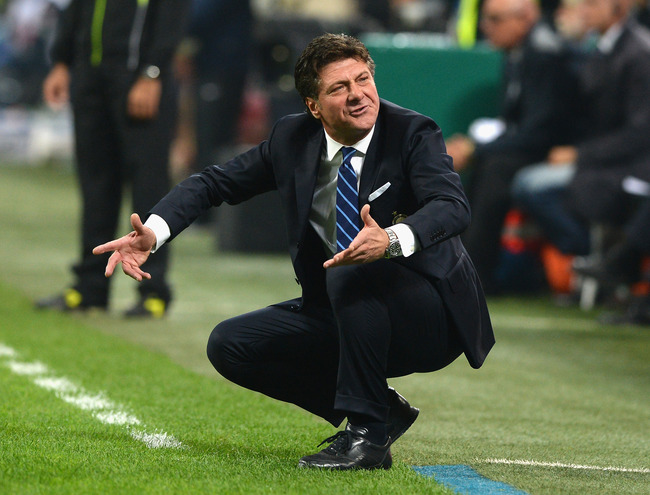 Walter Mazzarri is an accomplished coach. Since first taking the reins in Serie C2 with Acireale, the Tuscan has found a successful formula everywhere he's been. He brought Cristiano Lucarelli and Livorno to Serie A, and he kept Reggina there for three seasons against all odds. His spell at Sampdoria was the Genoan side's best in recent memory and his fine work at Napoli needs no introduction.
Put simply, if this Inter fail, it won't be solely the manager's fault. The pressure for results is keenly felt at a club of Inter's side, but in recent years too many top-quality managers have paid the price for an ageing, under-motivated squad and a chairman no longer able to spend sufficiently in the transfer market.
Mazzarri mustn't meet the same fate. He's proven that he doesn't need massive sums to succeed, but at Napoli he was allowed to fashion a side in his image and then he was given time to fine tune it. Once the right balance was struck, it survived the loss of several key players—and seemed stronger year on year.
That's just what Inter need him to do now in Milan. But they have to have faith in his methods, and some measure of patience.
Improve the Defence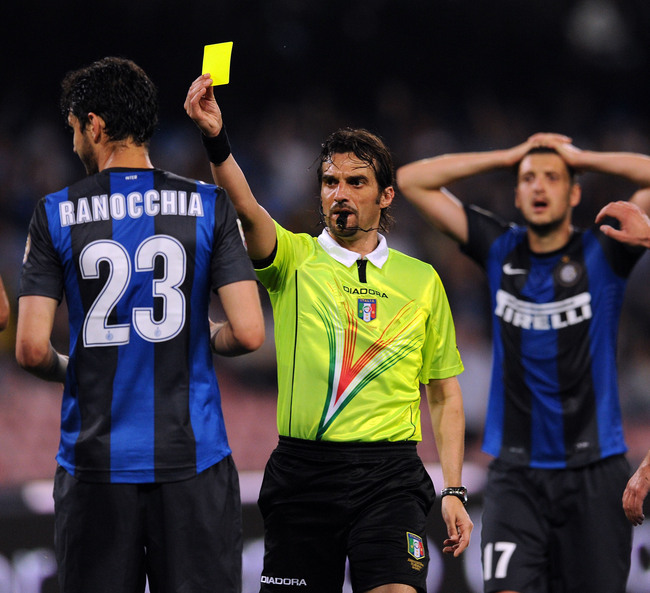 Inter aren't going to win anything with this defence.
Bringing the experienced Hugo Campagnaro with him from Napoli was a shrewd move by Mazzarri, but though the Argentine is talented and comfortable operating in a back three, at 33 he's not a very long-term solution.
On top of that, when he's out things fall to pieces. I've said it before but it bears repeating: Andrea Ranocchia is not good enough for a club like Inter. At least not on this evidence. He was to blame for much of what went wrong against Roma and more recently away at Torino. He's slow to react and lacking in physical pace—two fatal weaknesses for any player at the heart of a three-man defence.
Walter Samuel and Cristian Chivu are both long past their best and Marco Andreolli is a squad player at best. Rolando looks like a capable footballer, but he's not world class and anyway, he's still on loan. Juan Jesus has the potential to be a star but he's still to raw, while Yuto Nagatomo and Alvaro Pereira are defenders in name only.
If Erick Thorir wants titles, he needs to bring in at least one top quality defender.
Replace the Squad's Ageing Stars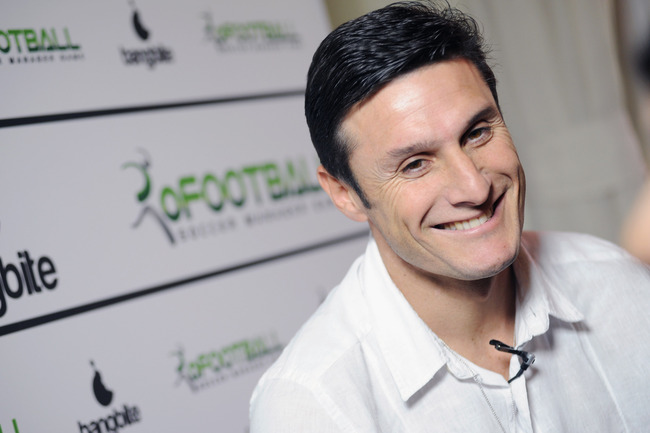 Javier Zanetti, the aforementioned Samuel and Chivu, Esteban Cambiasso, Diego Milito—all incredible players. But all are at or near the end of their careers. Despite this, they're still the names that anyone in charge of Inter would turn to if they needed an inspirational performance. That needs to change.
The club is going in the right direction with the likes of Mauro Icardi, Mateo Kovacic, Saphir Taider and Ishak Belfodil but more youth—or at least a proven talent in his prime—is needed for a title push.
In recent years Inter have let two many young talents slip through their fingers. Mario Balotelli is the obvious example, but not the only one. Players like Mattia Destro and Philippe Coutinho should be lighting up the San Siro, but instead their valued members of exciting squads at Roma and Liverpool. The Nerazzurri need to put more value—and trust—in youth for the sake of the first team's future.
Consolidate the Squad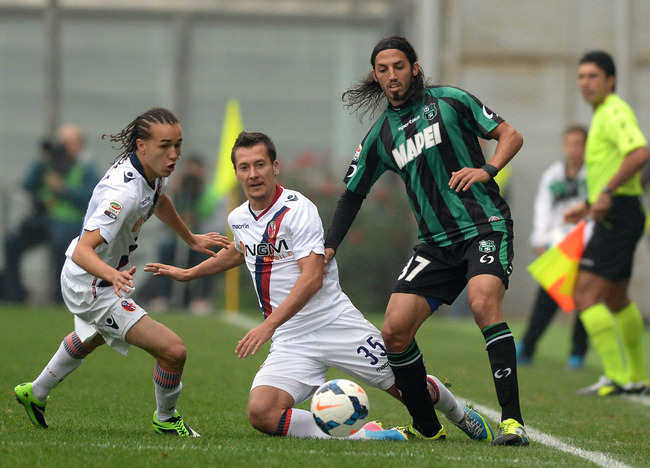 This feeds on from the last point, but merits its own mention: Inter need to focus on the future and build a squad with a purpose and a clear identity.
Currently there are a massive 27 Inter players out on loan—that's only one fewer than Mazzarri's entire squad.
It's good for prospects like Marco Benassi and Ibrahima Mbaye to go and gain experience, but dead weight—Matias Silvestre, Joel Obi and Ezequiel Schelotto to name but three—is a huge burden on the club's future plans.
Finding loan destinations is time consuming and not a guaranteed thing, and the financial insecurity that too many players on the books creates is undeniably a negative influence on transfer strategy. Inter need to rid themselves of these old mistakes and concentrate on not repeating them in the future.
Buy One Marquee Player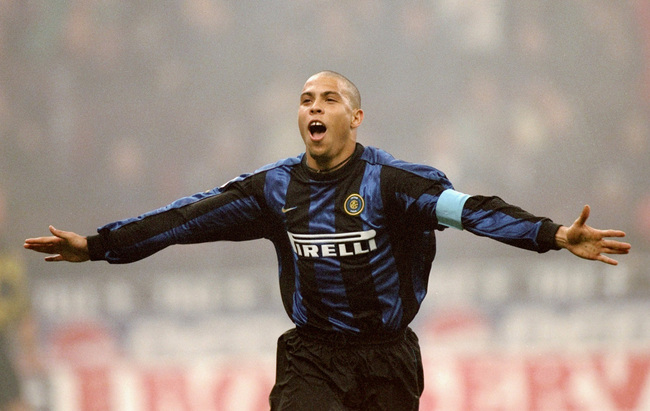 From the days of Giuseppe Meazza up to Ronaldo, Zlatan Ibrahimovic and Samuel Eto'o, Inter fans have always enjoyed a truly world-class forward leading the line at the San Siro.
No disrespect to Diego Milito or Rodrigo Palacio, but that's no longer the case. The rebuilding work at Inter has already begun, and there's likely a few future stars already in the ranks. But to make an immediate impact and to prove his intentions to the Nerazzurri fans, Thorir's best bet is to lure a big-name striker to Inter.
Having one of the game's top forwards at the club would do wonders for the image of the team and for the league in general. It would also add a final touch of class to a promising but still somewhat raw young core and perhaps serve to inspire younger players like Icardi.
Keep Reading

Inter Milan: Like this team?