Alphabet Soup: The Legends of Lambeau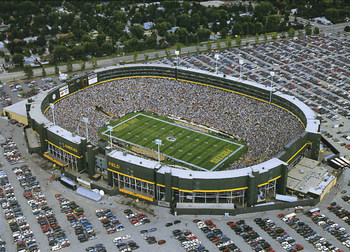 The Green Bay Packers have 21 players that are in the Hall of Fame, and you will see 13 of them on this list.
There is no 'X' (obviously), and no 'Y' (three Youngs and none of them good) on this list.
Also, I have doubled up two letters, and you will understand when you see them.
There is a reason that Green Bay, Wisconsin is the true Titletown, USA. A lot of these guys will show you why this holds true.
And away we go...
A is for Adderley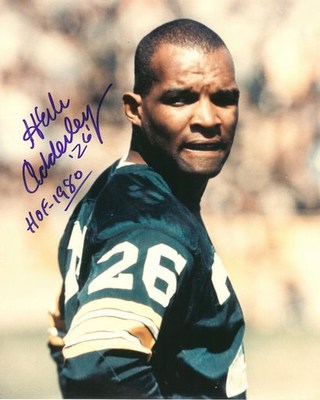 Herb Adderley spent the 1961-69 seasons in Green Bay and played 125 games for the Pack.
He is tied for second for INTs in franchise history with 48, with a career-high of seven in '62, and has seven TDs.
Adderley also had 3,080 return yards with seven TDs for the Packers.
He was given his bronze bust in 1980.
B is for Butler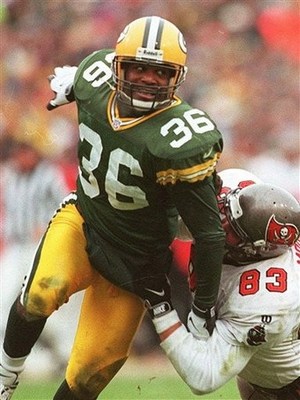 LeRoy Butler was a fan favorite throughout the 1990-2001 seasons with the Packers.
In 181 games, he had 38 INTs, 20.5 sacks, 721 tackles and one of his three TDs began the greatest tradition in all of the NFL.
During a game against the L.A. Raiders in 1993, Reggie White recovered a fumble, flipped it to Butler, who went on to score and then decided to jump into the stands.
And thus, the Lambeau Leap was born.
LeRoy Butler and the Packers were the creators of this celebration, the rest are just copy-cats.
Honorable Mention: Ken Bowman, Edgar Bennet and Robert Brooks
C is for Canadeo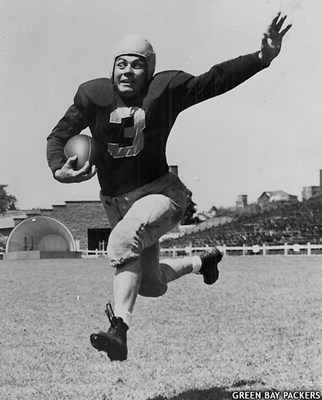 Tony Canadeo played in Green Bay from 1941-44 and again from 46-52, in which he did mostly everything.
He rushed for 4,197 yards with 26 TDs and five rushing TDs. He also had nine INTs on defense.
Canadeo played 116 games for the Packers, and he was given his yellow jacket in 1974.
D is for Davis
Willie Davis played from 1960-69 in Green Bay and suited up for 138 games in the green and gold.
Without sack totals in his days, we are unsure just how dominant he was. Davis does have two career interceptions though.
Definitely one of the leaders on the field during all those Lombardi years.
Davis was elected to the Hall of Fame in 1981.
Honorable Mention: Bobby Dillon, Boyd Dowler and Rob Davis
E is for Evans
Doug Evans played 79 games in Green Bay during the 1993-97 seasons.
He amassed 12 INTs, six sacks and a TD, with a career-high five INTs in 1996.
Evans had an amazing INT in Super Bowl XXXI, in which he juggled a pass and got both feet down, all before going out of bounds.
It's arguably one of the best plays from that game.
F is for Favre...duh!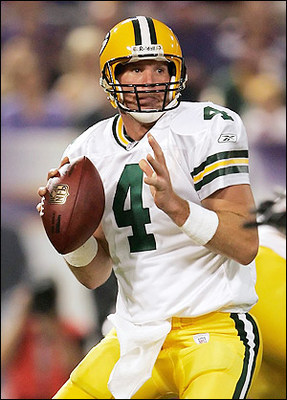 We know the records and stats of Brett Favre during 1992-2007 seasons in Green Bay, so I don't need to repeat them all.
Favre played 255 games as a Packer and 253 straight, where he amassed a 160-93 record as the leader of the Pack.
A no-brainer for this list, who is one the best to ever wear the green and gold.
Favre is a first-ballot Hall of Famer, whenever he decides to finally call it quits (if he ever does).
G is for Gregg
Forrrest Gregg was a mainstay on the offense line from 1956-70 in Green Bay.
His given name is Alvis Forrest Gregg, and he played 187 games for the Packers.
There may not be stats for the O-line, but the picture definitely shows why Gregg was one of the best. He would do anything for his team.
Gregg was given his Hall ticket in 1977.
H is for Hornung...AND Hutson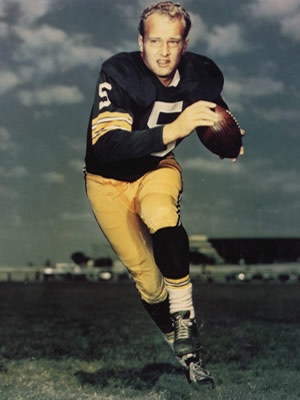 It was hard to leave either one off the list, so Paul Hornung and Don Hutson get the nods.
Hornung played from 1957-66, and Hutson from 1935-45, but both had similar roles.
In Hutson's era, there was no prior WR position in the NFL, so he kind of invented the position. He had almost 8,000 yards receiving with 99 TDs, with a career-high 17 in 1942.
In 116 games, Hutson also had three rushing TDs, was 7-for-17 on field goals, went 1-for-11 passing with one TD, and had 30 INTs on defense with one TD.
The Golden Boy, Hornung, played 104 games in GB (suspened the entire '63 season for gambling) and had 3,711 yards rushing with 50 TDs.
He also had 12 receiving TDs, was 66-for-140 on field goals and 190-for-194 on PATs, and threw for five TDs.
Hornung and Hutson simply did it all during their time in Green Bay.
Hutson was enshrined in Canton in 1963, and Hornung in 1986.
Honorable Mentions: Arnie Herber, Clarke Hinkle and Cal Hubbard
I is for Isbell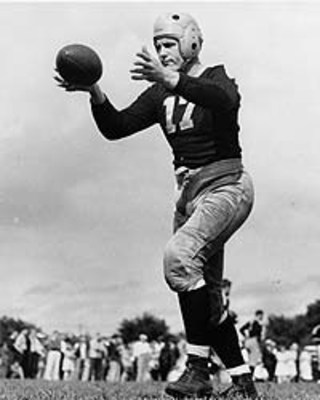 Cecil Isbell played five years from 1938-42, which amounted to 54 games in Green Bay.
He threw for 61 TDs and 52 INTs, and had 10 rushing TDs.
Isbell played defense too, getting nine INTs, including six in 1942. And as the picture shows, he also punted for the Packers.
J is for Jordan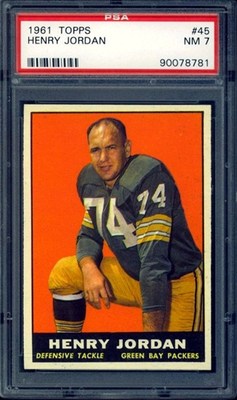 Henry Jordan spent the 1959-69 in Green Bay and played 139 games.
He had one INT in his career, with 21 fumble recoveries and one TD.
Jordan was a typical, mean-looking defensive end from the Packers.
He was given his Hall pass in 1995.
K is for Kramer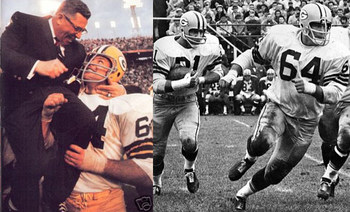 Jerry Kramer played 130 games from 1959-69 for the Packers, and is known for his one famous block.
He was the one that Bart Starr followed in Green Bay's infamous Ice Bowl victory over Dallas.
But what some may not know is that he was also a part-time kicker for the Packers. He was 29-for-54 on field goals and 90-for-95 on PATs.
L is for Lambeau...AND Lombardi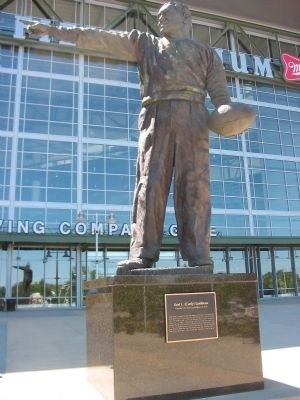 Again, how do you leave one or the other off this list, but Lambeau gets first billing.
Earl "Curly" Lambeau was the man who started in all back in 1919, before the NFL even existed.
He spent time as a player coach, but is more known for being the caoch and his tenure lasted from 1919-49.
Lambeau played in 77 NFL games and has a 209-104-21 as coach, including six NFL Championships (1929-31, '36, '39 and '44).
Heck, Green Bay even named its stadium after him.
Lombardi was just as good, compiling an 89-29-4 record, with 5 NFL Championships, including wins in the first two Super Bowls.
Lombardi lost his first playoff game in GB, vowed that it would never happen again, and won his last nine for the Packers.
In nine season with Green Bay, Lombardi came out on top five times, put Titletown back on the map.
Lambeau was given his bronze bust in 1963, and Lombardi in 1971.
Honrable Mention: James Lofton
M is for McGee
Max McGee played in Green Bay in 1954, and again from 1957-67.
Over 148 games, he had 6,346 yards with 50 TDs, nine coming in '54. McGee also had one defensive TD.
All Packers fans know the story of that one Super Bowl Sunday, where McGee was hung over, and yet caught two TD passes from Bart Starr.
There were many 'Ms' to choose from, but how can you go wrong with Max?
Honorable Mention: Don Majkowski, Johnny McNally and Mike Michalske
N is for Nitschke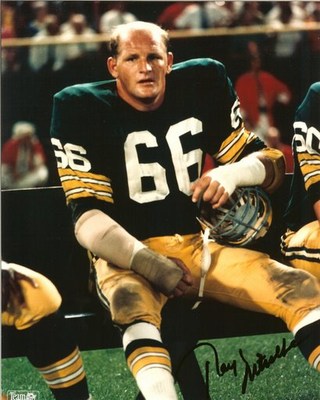 Just saying Ray Nitschke's name gives me goosebumps, and it did the same to opposing offenses.
Nitschke played his entire career in Green Bay from 1958-72 and totalled 190 games in the green and gold.
He had 25 INTs and two TDs, and countless broken bones (both his and ones he caused).
Nitschke got his yellow jacket in 1978.
O is for Odom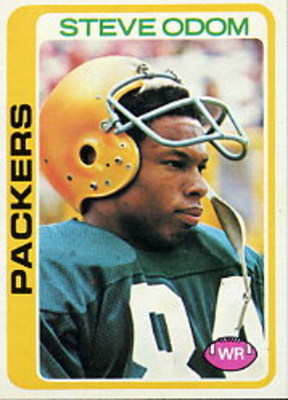 Steve Odom was one of the few 'Os' to have a decent career as a Packer.
He was mainly a return specialist, with 194 returns for almost 4,500 yards and two TDs.
Odom also had 11 TDs as a receiver, and one rushing, in his 75 games in Green Bay from 1974-78.
P is for Pitts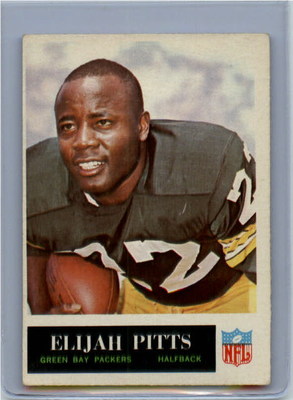 Elijah Pitts played from 1961-69 and again in '71, and was more of a short yardage and goal-line back.
He played 126 games, had over 1,600 yards with 28 TDs. Pitts also had six receiving TDs and 1,245 yards.
He returned a punt for a touchdown and was four-for-nine passing with a TD.
Q is for Quinlan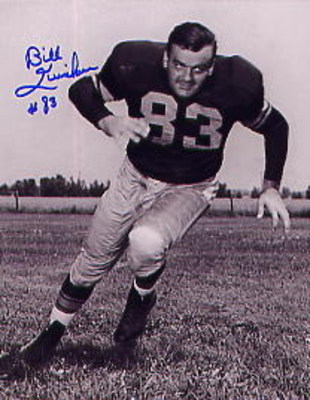 Not too many names to choose from, so Quinlan gets the spot.
He played 52 games in Green Bay from 1959-62.
Quinlan's lone standout stat was his 21 INTs.
R is for Robinson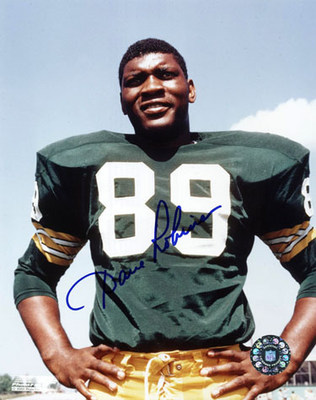 I was torn between Jim Ringo and Dave Robinson, but gave Big Dave the nod.
Robinson played 127 games for the Packers between 1963-72. He too, was one of those mean-looking defensive guys under Lombardi.
He had 27 INTs with one TD during his time in Green Bay.
Honorable Mention: Jim Ringo
S is for Starr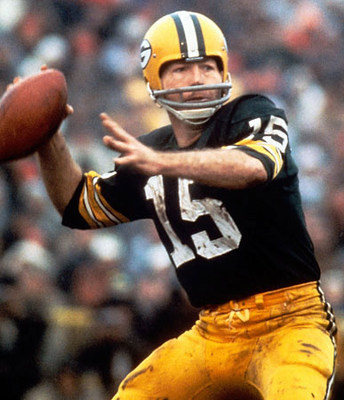 Like Favre after him, Bart Starr was not afraid to throw the ball either during his 1956-71 tenure in Green Bay.
With the game on the line, you wanted Starr under center. After all, he did win two straight Super Bowl MVPs.
In 196 games, Starr had a 94-57-6 record and threw for over 25,000 yards. He threw 152 TDs, with the 138 INTs because he was a risk-taker.
Starr had 15 rushing TDs, but none more famous than his Ice Bowl sneak.
Starr was enshrined in Canton in 1977.
T is for Taylor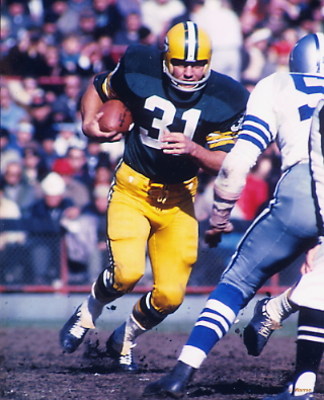 Jim Taylor was tough as nails and played from 1958-66 in Green Bay, adding up to 118 games.
Taylor still owns the record all-time rushing yards as a Packer with 8,207. He also had 10 receiving TDs.
He once played a game with his tongue split wide open, but that was the norm in the '60's wasn't it?
Taylor got his call from the Hall in 1976.
Honorable Mention: Fuzzy Thurston
U is for Uecker
No, not that Uecker.
Kevith Uecker played 64 games from 1984-91 in Green Bay.
All I could find out about this guy is that he started 47 of those 64 games.
I don't think there is any relation to Bob, but perhaps he would be more interesting if he was.
V is for Verba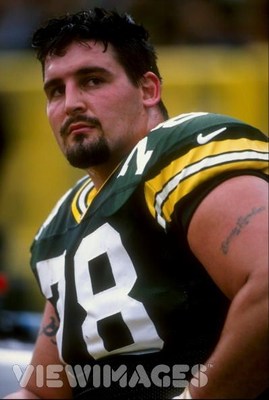 'V' was another tough one, but Verba gets the spot because the O-line is often under-appreciated.
He played 59 games from 1997-2000, and started 53 of those.
Verba was highly touted coming out of Iowa, but seemed to have mixed reviews from Packers fans.
W is for Wood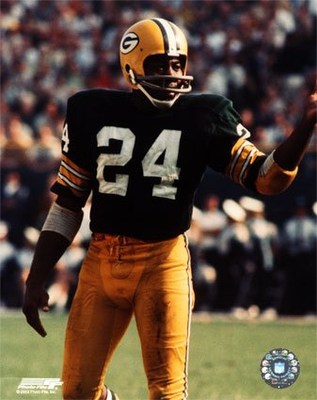 I think Willie Wood is often a forgotten member of the Packer greats.
He played 166 games in Green Bay from 1960-71 and is tied with Herb Adderley for second in all-time INTs with 48.
Wood had a career-high nine in '62 (remember, Adderley had seven that same year), and had two defensive TDs.
He also had two TDs off kick returns.
Wood was given his ticket to the Hall in 1989.
Honorable Mention: Reggie White
Z is for Zatkoff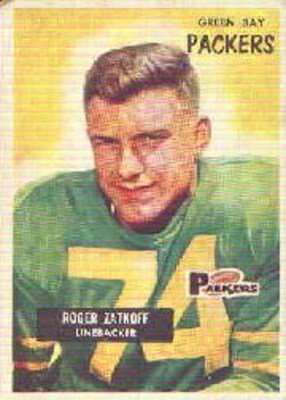 Not many 'Zs' in Green Bay, or the NFL, but Roger Zatkoff makes the list.
He played 48 games for the Packers from 1953-56.
Zatkoff had four INTs in Green Bay, and three of those came in 1955.
Another list complete, from A to Z, the all-time Green Bay Packers.
Keep Reading

Green Bay Packers: Like this team?