Antonio Cromartie Faces Another Tall Task vs. Bengals WR A.J. Green
October 25, 2013
Debby Wong-USA TODAY Sports
Jets cornerback Antonio Cromartie admitted he's not playing up to his own standards this season.
He might want to get that corrected, quickly, with Bengals wide receiver A.J. Green up next on the schedule. This is just the latest challenge in a season full of them. He was locked in on Buccaneers wide receiver Vincent Jackson in Week 1, then Julio Jones when the Jets faced the Falcons in Week 5 and Steelers wideout Antonio Brown the very next week. 
Cromartie and Green will likely be seeing a lot of each other this Sunday.
If that happens, Cromartie can expect a lot of passes thrown his direction. Green has been targeted 77 times this season, more than double the next closest Bengal (tight end Jermaine Gresham with 37).
That's not without reason. 
"What does the kid not have?" Jets head coach Rex Ryan said of Green. "He has size, speed, athleticism, route running (and a) great catching radius. Like I said, in my opinion, he's probably the best receiver in the AFC. There are some good receivers, but in my opinion, he's probably the best."
Bengals quarterback Andy Dalton keys in on Green frequently, but most often when the Bengals are looking to move the chains. Green has 27 of the team's 130 total first downs, marking 20.8 percent of the Bengals' production in terms of moving the chains. The Bengals have faced 97 third downs this season, and Green has been the target 21 times (21.6 percent), catching nine passes and taking seven of those for a first down.
Such information isn't available on Cromartie, but while it may seem like he's been giving up big plays in coverage, it's not been all bad for the veteran cornerback. He allows one reception for every 13 snaps he plays in coverage, which is 15th-best in the NFL according to Pro Football Focus (subscription required). He's allowed 23 receptions on 45 throws into his coverage (51.1 percent) for 399 yards (17.3 yards per reception) and three touchdowns. He's yet to intercept a pass or register a pass defense this season.
Tale of the tape
Player
Antonio Cromartie
A.J. Green
Height
6'2"
6'4"
Weight
210 lbs.
207 lbs.
Reach
33"
34.4"
Vertical
38"
34.5"
NFL experience
8
3
Age
29
25
NFL.com
The tale of the tape is almost completely an even split. The two players represent the ideal perimeter threat at wide receiver and cornerback, respectively—as Rex said, the size, speed and athleticism. 
Green has shown more than capable of winning those matchups throughout his career, and he's been a highlight reel yet again in 2013 with five touchdown catches in seven games.

Against Bills cornerback Leodis McKelvin, Green ran a sluggo route: sprint eight yards downfield, fake inside, then break out-and-up.

McKelvin initially played the inside route when Green started to break toward the inside, but thus, he was turned completely in the wrong direction before he was any wiser.
That allowed Green to turn on the jets and get to the outside, where the ball was thrown perfectly for Green to get underneath it.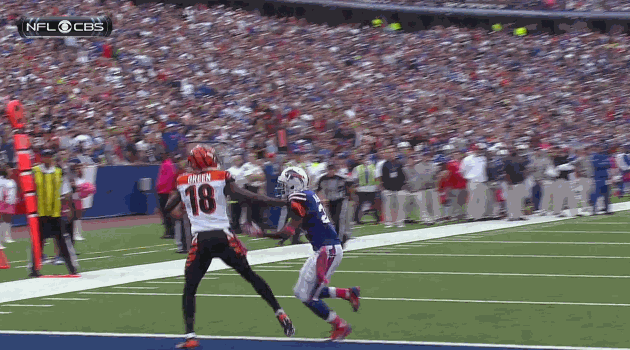 He did just that, leaping and catching the pass.
The physical skill sets of both players is a key to the matchup, but it may come down to the hands—both in terms of jamming and getting off jams at the line and in terms of making plays on the ball, either catching or batting passes away.
"I have to keep his hands down," Green said of Cromartie, via Darryl Slater of The Star-Ledger. "He has some real long arms and he gets his hands on you well. So I'm really going to have to work him well. I think he's one of the best in the league." 
Cromartie's hand technique isn't flawless, as evidenced by his four pass interference penalties for 50 yards this year—and another pass interference that was overturned against the Falcons. 
But when he gets it right, he can make big plays by using his hands in the right place at the right time.
On this near-touchdown pass to Julio Jones, Cromartie ran stride-for-stride downfield with the receiver and timed his swipe perfectly to break up the pass.
Cromartie is great at using his hands for getting a jam on the receiver at the line of scrimmage as well. There's one problem with that strategy against Green (besides the fact his frame might help him stay away from that jam or work through it): More so this season than years past, we've seen Green line up as a slot receiver. He's run 50 of his 266 routes from the slot this year. By comparison, Cromartie has been in coverage in the slot on 10 of his 320 plays in pass coverage.
That means either Cromartie will have to cover Green without a jam, or the Jets will have to put someone else on Green.
The outcome of the game will be determined by more than just this one matchup, but based on the importance of Green to the Bengals offense, the team who wins this matchup greatly increases their chances of winning the game.
Erik Frenz is also a Patriots/AFC East writer for Boston.com. Unless otherwise noted, all quotes obtained firsthand or via team news releases.