Examining CM Punk's History in Hell in a Cell Matches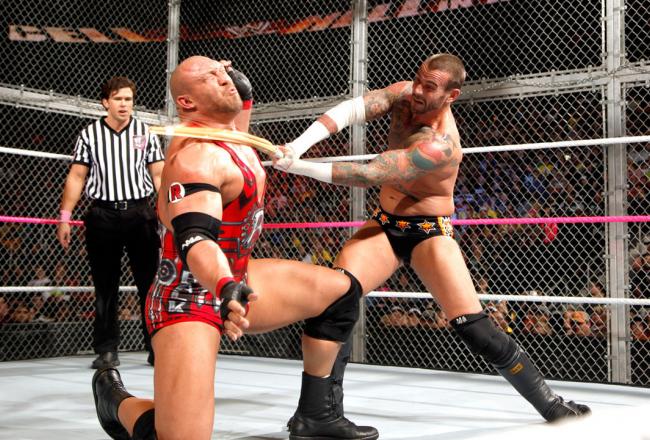 Photo: WWE.com

When CM Punk steps into the Hell in a Cell, expect conspiracies to be carried out and history to be made.
A structure with a brutal past has been the home of subterfuge when Punk is involved, villainy outshining violence. He has fought in four Hell in a Cell matches (one untelevised) all with a world title on the line and will soon add a non-title fight to his resume when he battles both Ryback and Paul Heyman at Hell in a Cell 2013.
While one may think first of Mick Foley, The Undertaker and Triple H as men who made history in that enclosed cage, Punk has been a pioneer in his own right. The first title change inside Hell in a Cell involved Punk. He was featured in the first Triple Threat version of the match, the first one not aired on TV or pay-per-view and soon the first 2-on-1 Handicap match in the cell.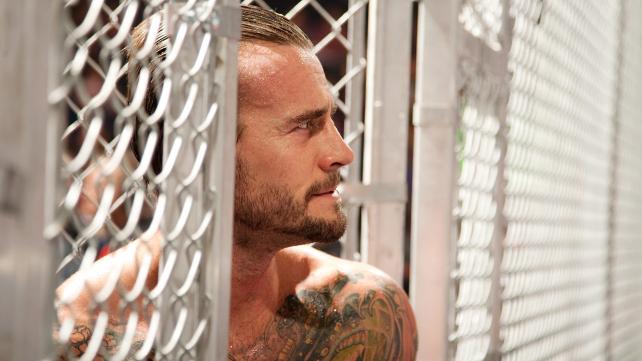 These clashes have been more about big, surprising moments rather than overall greatness.
A crooked ref decided a match, a competitor was locked out of the structure during another bout and Punk's body crashed on its roof. What will be the lasting image of his grudge match with Heyman and Ryback? Will we see another act of collusion or some underhanded scheme?
For his World Heavyweight Championship match against The Undertaker, the corruption began long before the opening bell rang.
CM Punk vs. Undertaker, Hell in a Cell 2009
Punk was seemingly done at Breaking Point. Undertaker had him trapped in the Hell's Gate submission, the big man's legs coiled around Punk's arm and neck. Despite Punk tapping out, he didn't lose that night.
Teddy Long announced that Undertaker's move was an illegal one so the match had to reconvene.
Punk vs. Undertaker preview
Punk soon applied his own MMA-inspired hold, the Anaconda Vise. Evoking memories of Bret Hart's controversial loss to Shawn Michaels in 1997, the bell rang even though Undertaker had not tapped out.
The conspiracy to keep Undertaker from being world champ was in full effect.
Thanks to a kidnapping and long stay inside a coffin, Long was inspired to book a rematch inside Hell in a Cell. Punk played the scurrying mouse in that bout, doing his best to escape Undertaker's claws. Whenever Undertaker caught Punk, he flung him around the ring.
Punk vs. Undertaker-full match
To slow Undertaker's charge, Punk focused on his knee, attacking it to the point that "The Deadman" limped with every step and winced after delivering every move. The strategy was not effective enough; Undertaker drove Punk's head to the mat to win the world title.
Five-Man Hell in a Cell Match, Raw-Sept. 26, 2011
The only five-man Hell in a Cell match was only seen by the folks in attendance that night in Kansas City, Mo. Punk joined Jack Swagger, Dolph Ziggler and Alberto Del Rio in challenging John Cena for his WWE Championship in a match that began and ended after Raw went on the air.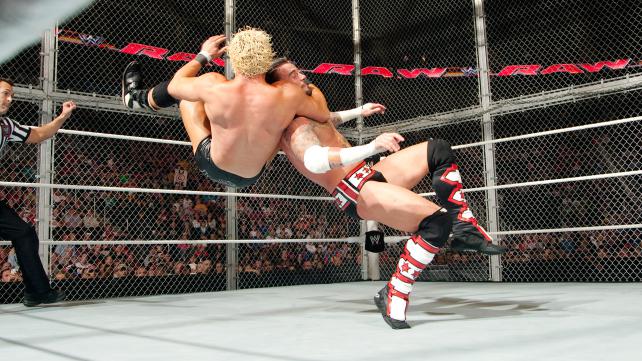 It was about a five-minute affair that featured a lot of the heels double-teaming the fan favorites.
Cena scooped up Swagger with an Attitude Adjustment to win and retain the championship. So ended the shortest, most obscure Hell in a Cell Match ever.
As big of a spectacle as Hell in a Cell matches are, it's surprising that WWE chose to have one for such a limited audience. For three of the competitors from that match, it served as a warm up for a bout that occurred just six days later.
CM Punk vs. John Cena vs. Alberto Del Rio, Hell in a Cell 2011
Punk's third straight Hell in a Cell loss came in his most exciting match inside "The Devil's Playground." While his match with Ryback was buoyed by a surprise ending, Punk's collection of appearances inside the steel structure isn't all that impressive, save for this Triple Threat encounter.
Punk vs. Cena vs. Del Rio preview
Cena tried to fend off Del Rio and Punk to keep his WWE Championship in a match where all three men worked extremely well together.
There was a fluidity and buzzing energy that powered this match to excellence. It certainly doesn't measure up in terms of carnage when compared to Hell in Cell's most violent offerings, but it was well-paced and engaged the audience throughout.
Del Rio played the mastermind here, leading to another loss for Punk.
Punk vs. Cena vs. Del Rio-full match
The man John "Bradshaw" Layfield calls "Mexico's Greatest Export" locked Cena out of the cell as Ricardo Rodriguez threw in a steel pipe, allowing Del Rio to trade a combatant for a weapon. Del Rio used that pipe to knock Punk out, gain a pinfall and become WWE champ.
Miz and R-Truth, who claimed to be victims of a conspiracy at the hands of WWE, then entered the fray and laid a beating on all three Superstars from the match. A year later, it was Punk providing the shocking moment—not being on the receiving end of it.
CM Punk vs. Ryback, Hell in a Cell 2012
Had Cena not needed surgery on his elbow, it would have been Cena and Punk inside that cage. Instead, WWE stumbled onto an opportunity to see what it had in Ryback.
Ryback was tearing through the lower part of the roster, taking on two or three bottom feeders at a time. He entered this WWE Championship match undefeated.
The powerhouse then reprised Undertaker's aggressor role from 2009 while Punk played the evader once more. Punk used his speed along with a kendo stick and a fire extinguisher to keep Ryback at a distance.
Eventually, Ryback took control and looked assured of a victory. He had Punk in position for the Shell Shocked when referee Brad Maddox hit him with a low blow and issued a quick count to cheat him out of the win.
Punk vs. Ryback-highlights
Ryback then went on the kind of rampage that many believe Punk will go on against Heyman this time around.
Fans later discovered that Heyman had paid Maddox to prevent Ryback's win, continuing Punk's history of conspiracy surrounding the Hell in a Cell. That fraudulent victory left Punk with a 1-3 record in Hell in a Cell bouts. He looks to better that against Ryback and Heyman.
2013 will be an intriguing inverted image of 2012 as Heyman will go from Punk's advocate to Ryback's and Punk and Ryback switch good-guy/bad-guy roles.
Don't bet on Punk's next entry into Hell in a Cell to be devoid of controversy, that has been his trademark in these matches. Although, with Heyman opposite from him in the ring, it's likely that Punk will be the victim of trickery, not the one doling it out.
This article is
What is the duplicate article?
Why is this article offensive?
Where is this article plagiarized from?
Why is this article poorly edited?