The rumour mill, its cogs greased by an approaching World Cup and a potential power shift in the Premier League, will thrum and whir between now and January, delivering sack loads of gossip and occasional shreds of truth.
At the time of writing, every club in the Premier League can point to at least one area of weakness in their squad. Even those who spent big during the last transfer window—Arsenal, Chelsea, Manchester City, Tottenham Hotspur—all have their Achilles heels.
Overseas, Real Madrid, Monaco, Juventus, Barcelona, et al, for all their summer expenditure, are still in want of reinforcements.
However, Manchester United are one club who really need to act in January, and they need to move wisely.
United's transfer failings were well documented, discussed and ridiculed over the summer. New manager David Moyes and chief executive Ed Woodward had little to show for their attempts to bring in new players, come September 2.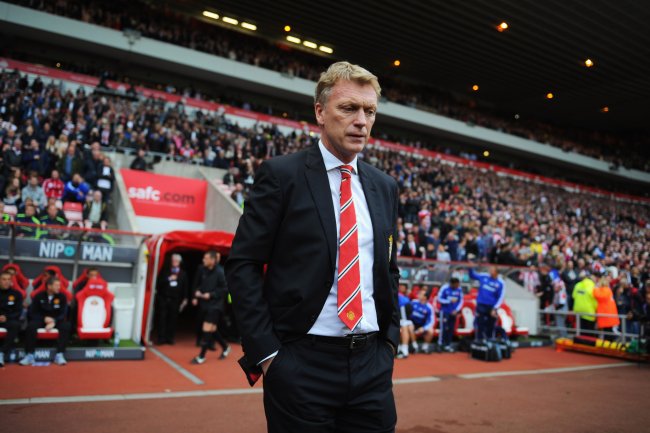 /Getty Images
The arrival of Guillhermo Varela and, later, Marouane Fellaini did little to assuage worries for the club's fans. Eyebrows were raised and conclusions jumped to.
But it should be remembered that Moyes and Woodward were hurtling headfirst into one of the most difficult jobs in football—that of replacing Sir Alex Ferguson and David Gill. They are still new to the job and they need time.
The well-worn idea that United are a team not known for their winter spending is about to change. January will not provide all the answers, but it will offer an opportunity to address what United so severely lack, which is creativity.
Currently sitting eighth in the top flight, Moyes' side have not looked like the United of old this campaign. The "fear factor" has gone, teams aren't scared of coming to Old Trafford anymore, and the one area that's crying out for change is in midfield. It lacks craft, guile and a Paul Scholes-esque player who can dictate the flow of the game.
Moyes and Woodward know this. They demonstrated as much over the summer, when they set their sights on Cesc Fabregas, Thiago Alcantara and Ander Herrera.
It's incredibly unlikely that Fabregas will leave Camp Nou, Athletic Bilbao are reported to have closed the door on a Herrera exit, as seen in the Express, and Alcantara, who signed for Bayern Munich, is out of the running.
Would Koke be a good addition to Manchester United this January?
Mesut Ozil's arrival at Arsenal shows just how much one player can lift an entire team, but who will be Manchester United's Ozil?
Koke, a 21-year-old currently playing at Atletico Madrid, has been linked with a winter move to Old Trafford by ESPN.co.uk.
A quick glance at his skill-set and he seems to tick all the right boxes. He's young, he can play in a variety of positions across midfield, he's consistent, hard working, creative and he comes very, very highly rated.
As seen in the ESPN article, Koke is held in such high regard that he is often dubbed "the next Xavi," and is being widely tipped to take over from the 33-year-old in the Spanish national team.
Physically, the player looks way beyond his 21 years and if his current form continues, he is only going to keep improving with age.
Last term was his breakout season—Koke played in 33 of Atletico's 38 La Liga games, won the UEFA Super Cup against Chelsea and the Copa del Rey against Real Madrid. With his country, the attacking midfielder won the European U-21 Championships over the summer, which saw him elevated into Spain's senior squad.
His versatility allows him to slot into a number of roles. This season, he has played on both wings, where manager Diego Simeone has given him license to roam and cut inside.
His early form speaks for itself. After nine La Liga ties, Atletico's Diego Costa is currently top scorer with 10 goals, Koke is joint-top assist provider, with six, the same as Cesc Fabregas and one more than Neymar.
The Squawka graphic below shows the areas of the pitch that Koke has delivered chances from this season.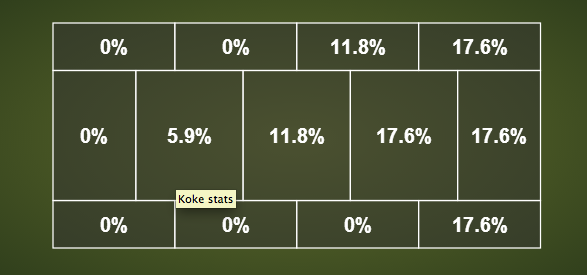 On the club's official website, the Spaniard is described as such: "Koke has earned a place in the first team with hard work and talent. He has a great final pass and is no longer seen as someone with a promising future but a benchmark of the academy."
With a reported release clause of £16 million, Koke looks cheap when compared with deadline-day buy Fellaini. He is also significantly cheaper than Herrera, who is said to be in the region of £30.5 million by the Independent.
With Koke's burgeoning reputation, Atletico would be loathe to let him leave for such a fee. But if his rumoured release clause is accurate, they will be powerless to stop him leaving unless they renegotiate his contract.
Transfer rumours should always be viewed with some doubt, but what is without doubt is that, if Manchester United's next attempt at signing a young midfielder on Spanish soil goes well, Koke would turn the Premier League season on its head as the huge January transfer.