Clay Buchholz Injury: Updates on Red Sox SP's Shoulder, Likely Return Date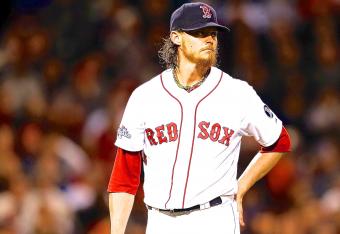 Despite an easy rout of the St. Louis Cardinals in Game 1 of the World Series, things are not going as planned for the Boston Red Sox with Game 3 at Busch Stadium on the horizon.
Boston was set to send Clay Buchholz to the mound for Game 3, but Buchholz will not be making the start due to soreness in his shoulder as reported by Jeff Jacobs of the Hartford Courant and SportsCenter:
Farrell pointing to Game 4 for Buchholz. Evidently has some shoulder tightness.

— Jeff Jacobs (@jacobscourant) October 24, 2013
BREAKING: Clay Buchholz will not start for Red Sox in Game 3 of World Series. Jake Peavy will start for Boston.

— SportsCenter (@SportsCenter) October 24, 2013
From Alex Speier of WEEI:
Farrell says on @WEEI that Buchholz is available for tonight and tomorrow.

— Alex Speier (@alexspeier) October 30, 2013
From Sean McAdam of CSN NE:
Buchholz, feeling stronger than expected after Game 4 start, has offered to pitch in relief for Game 6 (and 7, if need be).

— Sean McAdam (@Sean_McAdam) October 28, 2013
From Alex Speier of WEEI:
Buchholz 'has already offered' to pitch out of bullpen back in Boston. 'By no means has he shut anything down,' Farrell said.

— Alex Speier (@alexspeier) October 28, 2013
From FOX Sports' Jon Morosi:
Buchholz said he doesn't feel a lot of discomfort but the ball isn't coming out of his hand like it did in spring training.

— Jon Morosi (@jonmorosi) October 26, 2013
Clay Buchholz said he's "not 100 percent" but acknowledged no one really is this time of year.

— Jon Morosi (@jonmorosi) October 26, 2013
From Rob Bradford of WEEI:
Buchholz will throw scheduled side session today. Both he and Nieves said on way out last night still on target for Game 4 start

— Rob Bradford (@bradfo) October 25, 2013
From Trenni Kusnierek of CSN New England:
Clay Buchholz just threw on flat ground in the OF with Nieves watching. Seemed to be a jerky pause in easy motion. Body language not great.

— Trenni Kusnierek (@trenni) October 24, 2013
Rob Bradford of WEEI.com has the latest on Buchholz's status. The Boston pitcher assured Bradford this issue isn't as severe as the shoulder injury he suffered during the season, saying:
Just a little bit of fatigue setting in. ... That's my outlook on it. For me, taking a couple of days of getting treatment and rest and pumping the fluids and getting the anti-inflammatories in my system. My view right now is to be ready to pitch on Sunday.

[...]

It's just a little dead at certain points. It's not a pinpoint straight point where you say, "That's where it is."
Buchholz went on to note that the issue first arose in Game 6 of the ALCS, the last time he started.
We had a long inning, bases were loaded. I sat in the dugout for 15 minutes or so, went back out, and I couldn't get loose as quick as did two innings previous and it stayed that way through the sixth inning. It wasn't like a one pitch deal where I was like, "That's not right." It was just a constant tightness that I felt and that's all there is.

I've got maybe one start left so this is where you want to throw it all on the line. That's sort of how I'm looking at it now. I haven't been 100 percent for a long time now and pitched less than 100 percent for the last couple of months. What's one more.
Original Text
Buchholz himself weighed in on the situation via Pete Abraham of the Boston Globe:
CB: "If it does come down to the wire and I'm going to run out there and not help the team win, there's no reason for me to run out there."

— Pete Abraham (@PeteAbe) October 24, 2013
As a result, Jake Peavy will take the mound in the first of three straight games in St Louis. Ideally, the Red Sox had wanted Buchholz available so that they could have Peavy pitch Game 4, especially after ace Jon Lester was able to go more than seven scoreless innings in the 8-1 blowout in the series opener. Lester could have then taken the mound in Game 5 on normal rest, if needed.
Peavy last pitched in Game 4 of the ALCS in a stint where he allowed seven runs to the Detroit Tigers in a little over three innings. Now he will be tasked with either extending the series lead or breaking the tie in a hostile environment.
Buchholz is tentatively scheduled to get the start in Game 4, according to ESPN Boston's Joe McDonald.
Game 3 occurs on Saturday, Oct. 26, on Fox at 8:07 p.m. ET.
Follow B/R's Chris Roling on Twitter for more news and analysis @Chris_Roling
This article is
What is the duplicate article?
Why is this article offensive?
Where is this article plagiarized from?
Why is this article poorly edited?