Rajon Rondo Injury: Updates on Celtics Star's Knee, Likely Return Date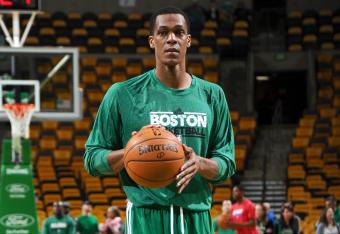 Brian Babineau/Getty Images
Updates from Thursday, Dec. 5
Chris Forsberg of ESPNBoston.com provides a statement from Danny Ainge discussing Rajon Rondo's injury and recovery:
Ainge on Rondo: "I think he's still got little bit of a limp, his strength is not quite there, but he is making progress. We're not close."

— Chris Forsberg (@ESPNForsberg) December 5, 2013
During appearance on @Toucherandrich, Ainge says Rondo played competitive 2-on-2 with Pressey, Lee, Brooks yesterday. Got upset when lost.

— Chris Forsberg (@ESPNForsberg) December 5, 2013
Ainge continued, courtesy of Forsberg:
More Ainge on Rondo via @toucherandrich: "We're going to be very cautious with him and make sure he's right before he comes back. There's just a little bit of a limp still. He's gotta get that strength back in the knee up to 100 percent before they'll let him back out on the court."
Updates from Wednesday, Nov. 27:
Mark Murphy of the Boston Herald reports Rajon Rondo has yet to be cleared to participate in full practice:
According to a source, the Celtics point guard will also meet with his knee surgeon, Dr. James Andrews, somewhere between Dec. 7-10 in Pensacola, Fla. Rondo still needs clearance to take part in full practices.

The Celtics are as quiet as ever about a Rondo timetable.

"Even if it's 100 percent, there aren't other bodies on the floor," coach Brad Stevens said of Rondo's level of activity. "He's been playing a little bit of one-on-one before games, but I haven't seen a lot that would say he's close to ready. I haven't seen a timeline, or heard about anything in the near future."
Updates From Monday, Nov. 25:
Baxter Holmes of The Boston Globe has an update on Rajon Rondo's recovery:
NBA source: "Rondo looking pretty close to 100% in warmups -- playing pretty hard against MarShon 1-on-1, dunking, etc."

— Baxter Holmes (@BaxterHolmes) November 25, 2013
Rondo's workload has increased lately, as Stevens said today. Given how he looks, a December return looks probable. Not guaranteed, though.

— Baxter Holmes (@BaxterHolmes) November 25, 2013
Updates From Thursday, Nov. 14:
From the Celtics' official Twitter feed:
Ainge on Rondo: "He's making great progress. I don't have a return date for him... I don't see anything happening this month."

— Boston Celtics (@celtics) November 14, 2013
Original Text:
While Rajon Rondo is taking his time rehabbing his torn ACL, he's already said he's preparing to be back at some point this season.
Following the Boston Celtics' 101-97 win over the Brooklyn Nets, the veteran point guard gave reporters an update on that right knee, via Boston's Twitter account.
Rondo says he'll be back in 2013-14 season: "It's getting stronger. (The leg) is probably about 87% depending on how my day goes."

— Boston Celtics (@celtics) October 24, 2013
Rondo wanted to make it clear that when he does return, he won't be taking it easy. He'll play with the same physical style that was a hallmark of his game prior to the injury.
Rondo on the suggestion from media he may be 'eased back in': "No. When I get back, I want to go full speed...I don't want any limitations."

— Boston Celtics (@celtics) October 24, 2013
He also revealed the point at which he'll feel he's ready to get back on the court, via ESPNBoston.com's Chris Forsberg.
Rondo: "Whenever I'm able to jump off my right leg and probably dunk, that's when I think I'll be back to play."

— Chris Forsberg (@ESPNForsberg) October 24, 2013
Earlier in the month, Rondo discussed how he's in the same situation Derrick Rose was in last season, when the Chicago Bulls point guard worked to get back from his torn ACL, via the Chicago Tribune's K.C. Johnson:
Until you go through this type of injury ... a lot of people gave Derrick Rose a lot of heat about not playing, but this injury isn't easy. It's more mental when you come back. And you get around 10-11 months, it's just feeling confident, especially the type of players and competitors we are.

Our legs are pretty much everything. We use our speed. (Rose is) very athletic. I'm athletic. And you need that mental aspect to go up and come down without thinking about your leg again. Because the last jump, for myself and him, we've come down and torn our ACL. Just being mentally ready, when I get there, I'll play.
At least there's no immediate need for Rondo to get back on the court. He can take his time knowing full well the Boston Celtics are in rebuilding mode.
Doc Rivers left to coach the Los Angeles Clippers, while Paul Pierce and Kevin Garnett are now members of the Brooklyn Nets. What's left is a starting lineup that will likely include some combination of Kelly Olynyk, Kris Humphries, Avery Bradley, Courtney Lee, Brandon Bass, Jeff Green and Gerald Wallace.
Not to mention the Celtics are also welcoming a first-year head coach who's 37 years old and is making the jump from college to the NBA.
Put it all together, and you've got what looks to be a surefire lottery team.
Sure, Rondo could possibly make the difference between finishing as the No. 8 seed and missing the playoffs, but when balancing everything out, it probably makes much more sense to ensure the star point guard is 100 percent when he returns and continue building toward next season.
This article is
What is the duplicate article?
Why is this article offensive?
Where is this article plagiarized from?
Why is this article poorly edited?