Will It Take Major Changes to Get New York Rangers Back on Track in 2013-14?
Don Smith/Getty Images
One step forward and two steps backward; that has been, although surely not intentionally, the New York Rangers' pattern in the early stages of the 2013-14 season.
After opening the campaign in Phoenix with a 4-1 loss, the Rangers traveled up to L.A. to take on the Kings. The Blueshirts dominated possession and zone time en route to a 3-1 victory, and at that point in time it seemed as if the game against Phoenix, and all the evident troubles it presented, was miles away.
But the next night in San Jose, fans were reminded just how much work still had to be done. The Rangers infamously lost the game 9-2 courtesy of four goals by rookie Tomas Hertl, and to add insult to injury, the Ducks extended the Rangers' nightmarish start, beating them 6-0 two nights later.
New York showed signs of life in its next match with St. Louis, but poor goaltending and defense put the Rangers in a hole early, and they eventually lost the game 5-3. Carrying whatever momentum they could grab onto in the St. Louis game, the Rangers traveled to Washington and, for only the second time this season, played a semi-complete game and eventually shutout the Capitals 2-0.
But, in true Blueshirt fashion, the Rangers again disappointed three nights later in New Jersey, falling to their most bitter of rivals 4-0 and handing the Devils their first victory of the season.
Over the course of the Rangers' tumultuous and uninspired start, the team has exemplified all the qualities of a poor hockey club, and sometimes even all at once. The defense has, generally, been laughable, goaltending has been questionable, generating consistent offensive pressure has been a rarity and, maybe most alarming, the Rangers have failed to show any positive signs of life.
Surely, at 2-5, New York is a bottom-feeder, lottery team, right? Well, they're definitely playing that way right now, but it's not that simple.
Pundits and fans alike seem to forget the circumstances surrounding the team in the early going and simply call for all of management to be fired and players to be traded. But the circumstances are quite serious, and should not be ignored.
This is a Rangers team still adjusting to a drastic coaching change. John Tortorella and Alain Vigneault preach wildly different philosophies, and for many of the players on the roster who were around for most or all of Tortorella's tenure, it's taken time to adjust. Few of the returnees have looked comfortable in Vigneualt's more offensive system, as if they're still stuck in the defensive ways Tortorella pounded into their heads.
On top of the coaching change, the team has had to deal with a boatload of injuries and absences. Ryan Callahan, Carl Hagelin and Derek Stepan all missed the entirety of training camp; the former two were out with a shoulder injury while the latter was locked into a contract dispute with general manager Glen Sather. Therefore, AV began his tenure without the services of what could have been his entire second line.
Furthermore, Callahan is out injured again—for a month now—after returning to play for just five games. Star forward Rick Nash suffered a concussion in the Rangers' third game of the season and has not returned to the lineup since. Hagelin remains out until at least the 29th, as he was placed on long-term injured reserve to start the season, and now starting goaltender Henrik Lundqvist appears to be out, as he is dealing with a "nagging issue."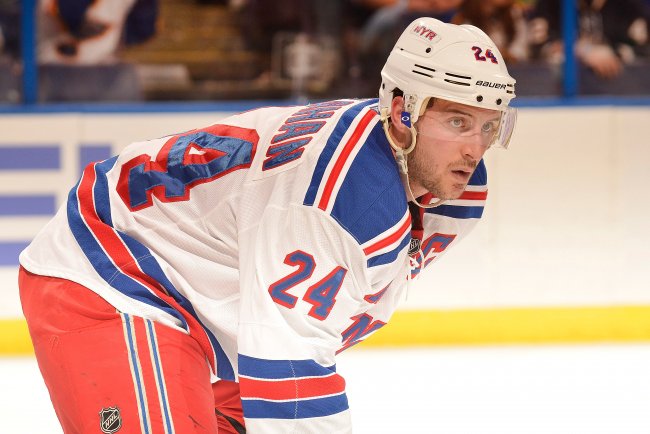 /Getty Images
And, finally, the Rangers have yet to play a single game on home ice. Not even a preseason game. With Madision Square Garden wrapping up its final stage of transformation, the Rangers have been on the road on and off since September 16th, when they opened up their slate of preseason games in New Jersey. The marathon, which will have lasted almost a month and a half when it's all said and done, will have taken the Rangers out west for four preseason games then back home for a few days before flying back out west to play five regular season games, followed by a trip home yet again to take on Washington, then, of course, flying back home once again ahead of matches with the Flyers and Red Wings.
If you think that hasn't taken a toll on this team, you're simply out of your mind. But if the travel was the only adversity the team had to face in the first nine games of the season, they wouldn't have such a concrete excuse. But it's more than that. It's a circus, really.
And as much as these circumstances are to blame for the poor start, there is still a question yet to be answered, and we probably won't know the answer until it's too late: is this team, as it is when it's healthy, really that good? And can they get to where they want to go with all the pieces in tact?
AV and the players said during training camp that the Stanley Cup was the goal for the club. Is that feasible? Looking up and down the Rangers roster, it's evident that some pieces are there. The goaltender, although apparently hurt and playing poorly, is the best in the business when he's on his game. He's taken a lot of blame in the early going, but he can only do so much between the pipes. The defense, too, is as solid as could be in this league. If and when they get a grip on AV's system, then they'll be a force again.
But the biggest question marks are found on offense. The Rangers have themselves three solid centermen in Stepan, Brad Richards and Derick Brassard, but they lack talent on the wings. And it's funny because at the trade deadline last season, the Rangers surrendered their top goal-scorer over the previous three seasons, and now find themselves short on exactly that: another offensive force to work parallel to Nash.
Ryan Callahan is the team's second option for goals at this point, and that's a problem. Cally is a consummate professional and one of the most difficult players to play against in the league, but if you're counting on him to break a game open, you're going to be disappointed more times than not.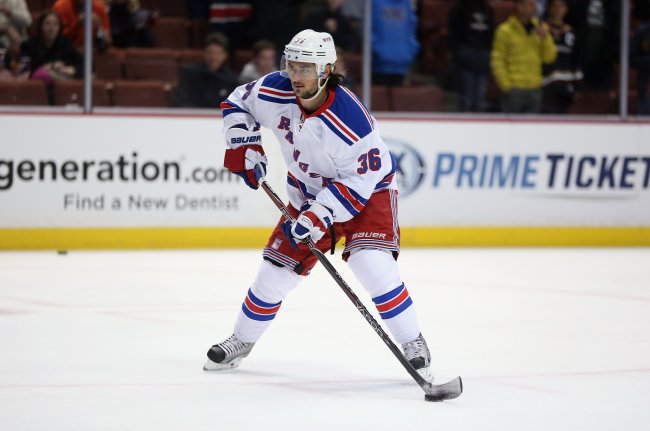 /Getty Images
Mats Zuccarello and Benoit Pouliot have been handed chances to be legitimate sources of offense early in the season, but both have fallen flat on their faces. Chris Kreider and Jesper Fast have, too, failed to seize the opportunity with all the injuries the team has faced.
When this team is healthy, they have the personnel to be a good team; that is if they get a handle on the system. But they're no longer Cup contenders. To be contenders they would need to acquire a big, talented winger, and they simply don't have the cap space to do that.
And in that vein, no, it wouldn't take major changes to get the Rangers back on track, and by back on track I mean a playoff team, not a contender. When this team is healthy, and they sort out the system, they'll be a good team again and make the playoffs if it's not too late. But if they want to be a contender, it's going to take some major changes. They would need to move a lot of cap space out, which is nearly impossible in this day and age, and bring in some top-end talent, which is equally as impossible to find via trade without giving up a king's ransom.
So, regardless, the only major changes this team has the potential to make this season would come at the trade deadline if they really can't ever pull it together. At that point, of course, it would be a fire sale on Broadway.
This article is
What is the duplicate article?
Why is this article offensive?
Where is this article plagiarized from?
Why is this article poorly edited?

New York Rangers: Like this team?