What Manchester United's Sociedad Win Means for Their Champions League Hopes
October 24, 2013

Alex Livesey/Getty Images
In their third UEFA Champions League match of the season, Manchester United got the result they wanted with  1-0 win over Real Sociedad.
With this result, they bring their Champions League run of form to two wins and one draw, putting them atop Group A with seven points.
At this moment in time they look like favorites to win the group, or at the very least claim one of its top two spots.
But past that, should anything more be expected of them?
Despite getting three points, United looked extremely unconvincing against Sociedad, with their lone goal coming from a catastrophic Inigo Martinez miscue following a brilliant run and shot by Wayne Rooney.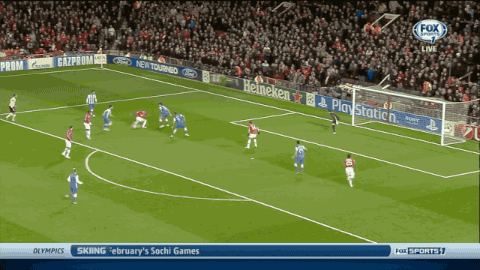 Even while maintaining 55 percent possession and notching 18 shots, they repeatedly failed to finish in front of goal, with Rooney, Shinji Kagawa, and Antonio Valencia guilty of squandering good chances.
United's uncreative, long-ball style of play has endured plenty of criticism thus far, but there is an even bigger problem if the Reds are not converting the rare clear-cut chances this playing style provides them with. 
Additionally, they were extremely fortunate to not surrender a goal, as the defensive unit of Patrice Evra, Phil Jones, Jonny Evans and Rafael struggled mightily at times in the second half.
Sociedad playmakers David Zurutuza and Antoine Griezmann penetrated the United half with ease, as the pair looked lively and combined for four attempts on goal.
With his only shot of the game, Griezmann nearly shocked the Old Trafford crowd with a wicked left-footed free kick that struck the bar in the 42nd minute.
Of Sociedad's other 11 shots, five were blocked by United defenders in last-ditch efforts, as the Spanish club challenged United with attacking second-half football, as reported by WhoScored.
Not to mention that Evans came close to replicating the actions of Martinez with a head-shaking clearance that sailed only slightly wide of the United goal.
It can be argued that Evans and Jones are not the best options in the centre of defence, but the sluggish and sloppy play of Rio Ferdinand and Nemanja Vidic has put David Moyes in a tough situation.
United would be able to survive a mediocre defence with a strong attack, but their current long-ball tactics haven't satisfied that demand.
A mere 21 goals in 13 games in all competitions puts them under two goals a game with a per-match average of just 1.62.
United, however, will be relieved to move on with a victory, as the BBC quoted David Moyes as considering the win a "job done." 
It should be noted though, while this sort of "job" will likely be enough to get them to the knockout rounds, it will not give them any sort of legitimate chance to compete with elite clubs such as Bayern Munich, Barcelona, Real Madrid and Borussia Dortmund.
Just like Griezmann's attempt just before halftime, this game should be viewed as a wake-up call, as United's defence was nearly dismantled by the team currently 12th in La Liga.
While this is not meant as disrespect to Sociedad, United are massively underachieving right now, rarely looking dominant even in wins.
Even with many changes in the starting lineup, the Reds are not excused for the lack of consistency shown on both sides of the ball.
Their attacking brand of football was only seen sporadically in the second half, with an end product completely nonexistent.
The defence, meanwhile, experienced lapses within a decent overall performance that could've easily allowed their opponents to get on the scoresheet.
If these problems persist, United are nothing more than a knockout-round team in the UEFA Champions League.
Time to make some changes.
(All stats and info via ESPNFC unless otherwise indicated)
Follow Manchester United Featured Columnist Jake Nisse on Twitter