The Cincinnati Bengals are coming off a very impressive 27-24 Week 7 victory against the Detroit Lions. Now, the Bengals sit atop the AFC North with a 5-2 record and will face a surprisingly good 4-3 New York Jets team at Paul Brown Stadium this coming Sunday.
Cincinnati had many positive takeaways from its Week 7 win. However, there is still work to be done if this team is to reach the postseason for the third consecutive year.
The Jets have not been pushovers this season—they beat the New England Patriots this past week—and the Bengals will need to be in top form to continue their winning streak.
A.J. Green's Bengals beat Calvin Johnson's Lions http://t.co/9twX883zgl

— ProFootballTalk (@ProFootballTalk) October 20, 2013
The Bengals are still a very capable team on the defensive side of the ball. Mike Zimmer's unit is now ranked ninth overall in yards per game allowed and tied for seventh overall in points allowed. The defense is no stranger to sacks, as it has accumulated 18 through seven games—good enough for 16th in the league.
Despite those impressive numbers, the Bengals must deal with a huge setback this week after the season-ending Achilles injury to top cornerback Leon Hall.
In Hall's absence, numerous members of the secondary must step up to fill the void. Adam Jones, Terence Newman, Dre Kirkpatrick, Reggie Nelson and George Iloka must all be accountable for their on-field actions.
However, one name should see more action this week than he has all season—Chris Crocker.
Crocker has been showing improvements and shaking the rust off since rejoining the team after his contract expired over the offseason. Last week against the Lions, he stepped up in a big way after Hall was injured.
Stout against the run and vigilant against the pass, Crocker is a chess piece for Zimmer, as he can play deep at safety, on the line of scrimmage or in the slot.
Crocker's talent was showcased during two plays in particular against the Lions.
First, he is lined up at the safety position, which allows Nelson to drop down for a blitz. This package matches up defensive end Michael Johnson in coverage against tight end Joseph Fauria—a pairing that benefits Detroit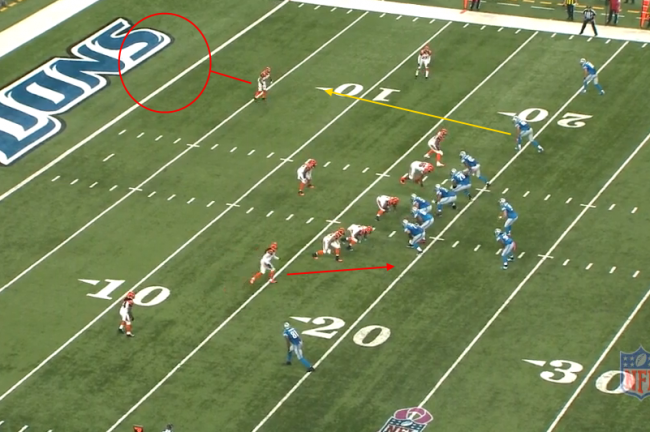 As the ball is snapped, Johnson does a nice job of sticking with Fauria up the seam. Crocker sits deep downfield and watches quarterback Matthew Stafford's eyes as he looks in Fauria's direction.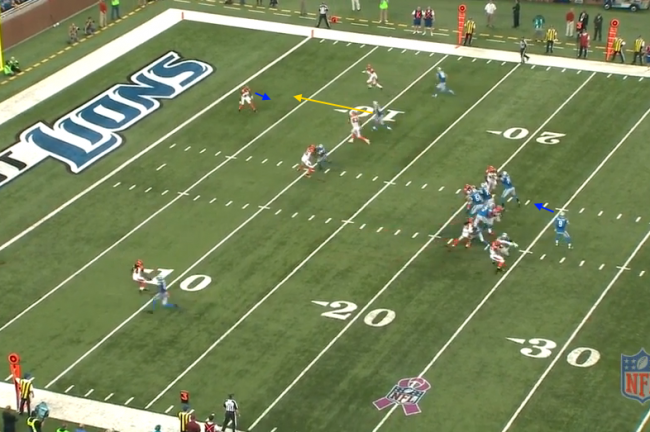 The blitz gets to Stafford, but not before the ball is released. Crocker makes a break for the point of reception.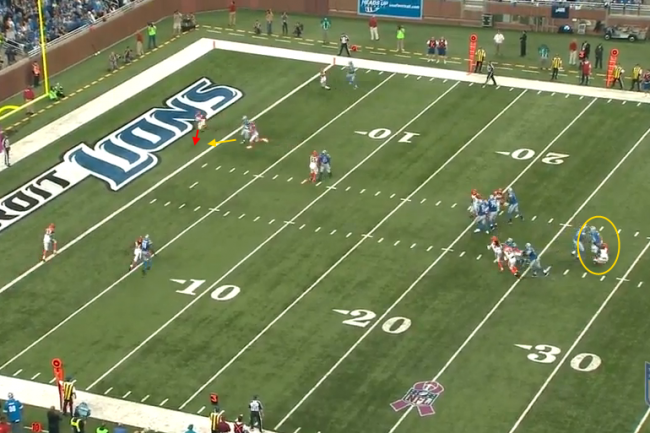 The play is timed perfectly by the veteran safety, as Crocker is able to deflect the ball away from Fauria—who ends up beating Johnson downfield—and save a touchdown.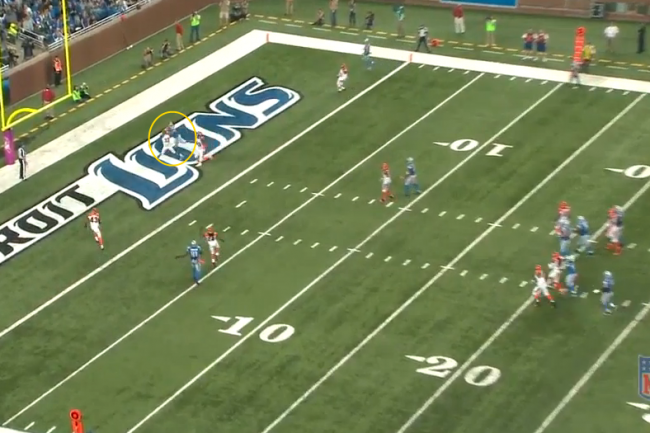 Now, watch the play in its entirety:
Crocker, however, does not only benefit the defense by defending against the pass.
During this play, Crocker is set to blitz from the right side. He times it perfectly and gets to the line of scrimmage just as the ball is snapped. Elusive running back Reggie Bush takes the handoff and Crocker misses the initial tackle.
However, he slows Bush enough to make him hesitate in the backfield. Crocker rights himself and hustles back for the tackle. The play results in a one-yard loss.
These types of game-defining plays will be crucial against the Jets. New York has plenty of weapons on the offensive side of the ball and will be looking to hit the Bengals with everything it has—especially due to the absence of Hall.
On the offensive side of the ball, the Bengals must concentrate on establishing the run. It is the most effective way to sustain a long, clock-eating drive and keep an opposing offense off the field.
Yes, quarterback Andy Dalton has been playing at a phenomenal level over the past couple of weeks. With that said, he is at his best when a balanced offense is established. Dalton is simply not capable of continuously posting a 135.9 passer rating—as he did last week—when the offense only attempts to run the ball 18 times.
So, what do the Bengals need to do to get the running game going? Simple: Get the ball into the hands of rookie running back Giovani Bernard.
Bernard has been absolutely electrifying so far in 2013. He has now rushed 67 times for 264 yards and two touchdowns. He holds an average of 3.9 yards per carry. Bernard has also caught 25 passes for 233 yards and two touchdowns.
The Bengals offense seems to gain a more dynamic feel when Bernard is in the game. The rookie provides a spark and also creates mismatches for other members of the offense.
Green-Ellis has reached double digit carries in six of seven games this year + has more carries than Bernard in 5 of 7. #bengals

— Mike Clay (@MikeClayNFL) October 21, 2013
Veteran running back BenJarvus Green-Ellis has been running better of late. However, he is still averaging just 3.2 yards per carry for the season and has only eclipsed 4.0 yards per carry once in seven games this year.
There is a good reason for the lack of Green-Ellis' success this season. He is not an explosive runner, but he also tends to hesitate in the backfield. The veteran continues to move east and west before reaching the line of scrimmage, which results in plenty of runs that lose yardage.
Green-Ellis did this multiple times against the Lions, but one run stood out among the rest.
This is a simple off-tackle run to the strong side. Green-Ellis lines up in the backfield in a dual-tight-end set.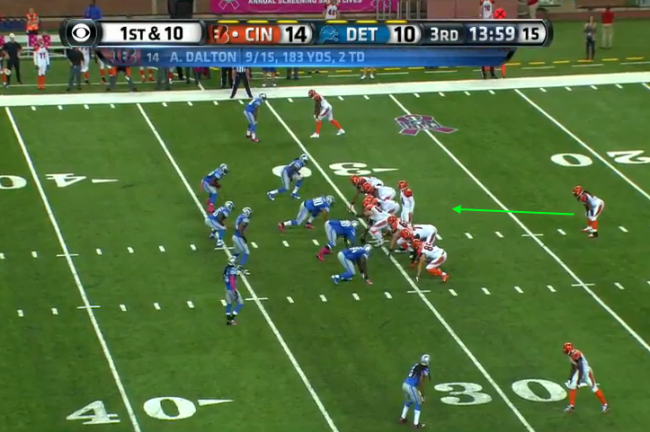 The protection breaks down and a hole is not readily available. Instead of continuing forward with a head of steam, he elects to attempt to make a cut in the backfield.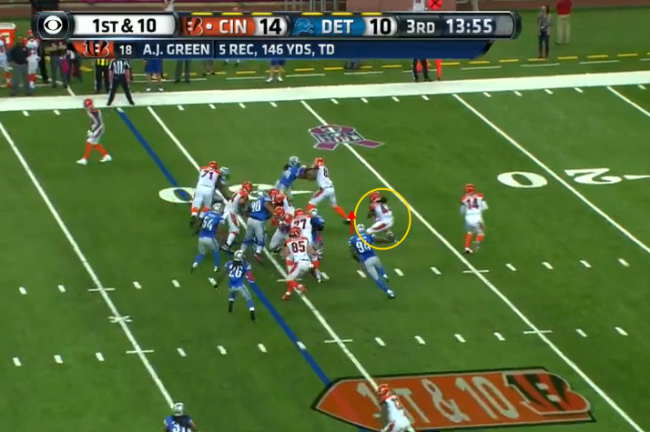 His slow cut completely stalls his run and he is swarmed from the back side.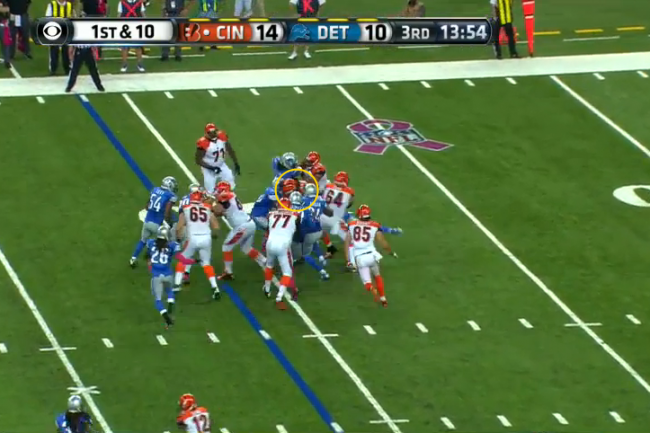 He is brought down immediately for a two-yard loss.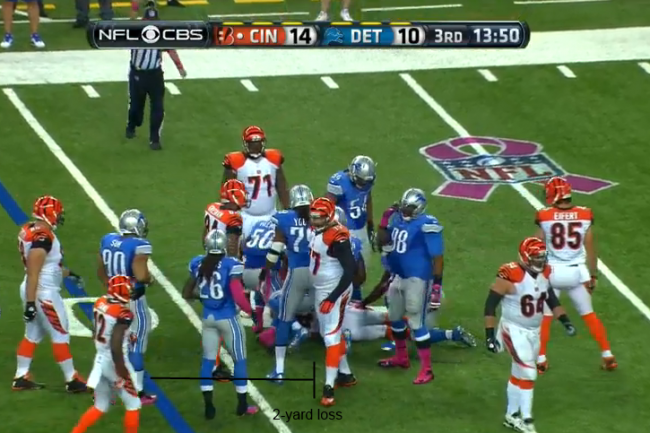 Now, watch the play in its entirety:
The Bengals' West Coast offense is built around the running game and short-to-intermediate passes. The most effective way of stopping this type of attack is to create 3rd-and-long situations. Runs like this one from Green-Ellis result in stalled drives on many occasions.
One thing that the Bengals must take advantage of this coming week is the Jets' lack of a second cornerback. Antonio Cromartie has been decent this season and will likely shadow A.J. Green through the duration of the upcoming contest.
The Bengals can combat this by unleashing second-year receiver Marvin Jones.
#Jets worked out a few CBs today, including Ras-I Dowling (Patriots) and Curtis Marsh (Eagles, Bengals), per source.

— Rich Cimini (@RichCimini) October 22, 2013
After a performance against the Lions that resulted in four receptions for 57 yards and a touchdown, Jones proved that he has solid rapport with Dalton. Their timing is impeccable at the moment and must remain so going forward.
During this play, Jones is running a simple dig route. He uses his great burst and speed to get off the line quickly, which makes a defensive back think he is heading deep downfield.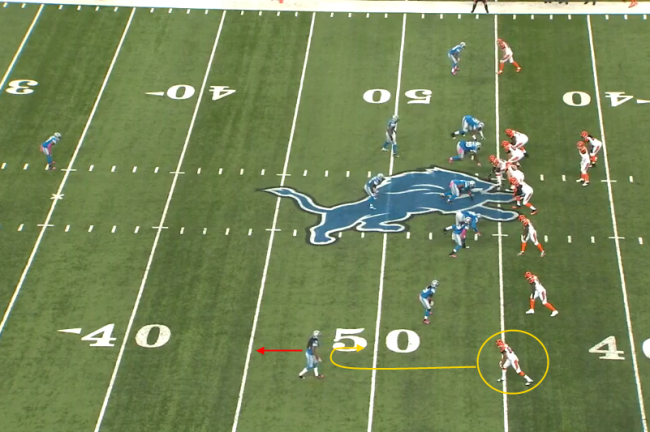 His ruse works, and once he breaks off his route, he has gained eight yards of separation from the cornerback.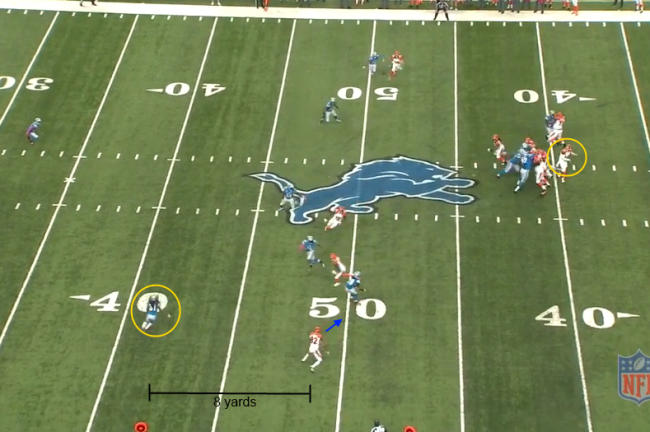 Jones is not done yet, as he is contacted by the corner but keeps fighting for more yardage.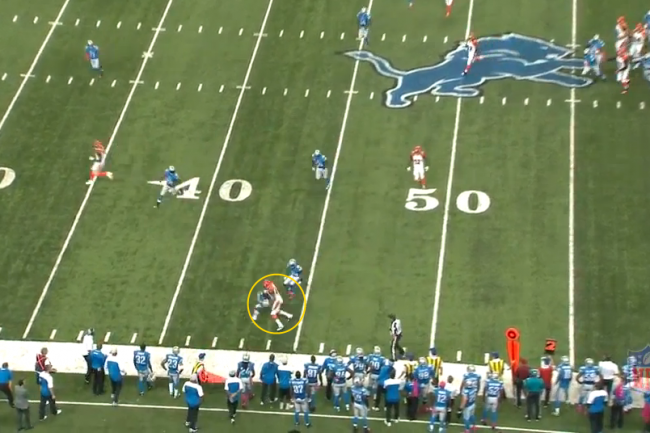 By the time he is finally brought down, he has gained an extra six yards after contact.
Now, watch the play in its entirety:
The Bengals' deep corps of wide receivers can be a valuable asset against a Jets team that lacks depth in the secondary. With Jones gaining a great amount of trust from Dalton recently, he must be targeted with a fair amount of frequency this week.
This matchup favors the Bengals nicely, and with the right game plan heading into this Week 8 matchup, there is a very good chance that Cincinnati moves to 6-2 on the season.
All screen shots courtesy of NFL Game Rewind.