Carolina Panthers vs. Tampa Bay Buccaneers: Live Score, Highlights and Analysis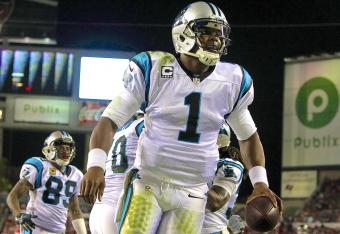 Getty
The Tampa Bay Buccaneers have fallen to 0-7 at the hands of the Carolina Panthers, who are now 4-3 and over a .500 winning percentage for the first time since 2008.
The Panthers won 31-13, which marks the first time in franchise history that the Panthers have scored 30 or more points in three straight games.
Cam Newton led the way for Carolina, with three total touchdowns and no mistakes, as the Panthers held onto the football all game long and managed long, sustained drives to break down the Tampa Bay defense.
The Buccaneers were unable to get a running game going, and shot themselves in the foot with multiple mistakes on offense. Botched snaps, allowing sacks, and dropped passes shut down potential scoring drives for Tampa Bay.
Check out the updates below for my thoughts on the game as it unfolded.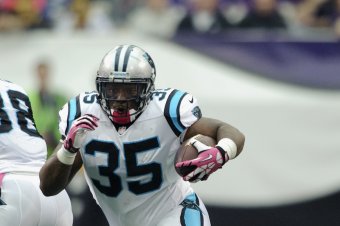 Here are some final statistics:
Cam Newton - 23 of 32 for 221 yards and two touchdowns, 11 carries for 50 yards and one touchdown
Mike Glennon - 30 of 51 for 275 yards and one touchdown
Ted Ginn - Five catches for 80 yards
Mike Tolbert - Seven carries for 35 yards, four catches for 29 yards and one touchdown
Lavonte David - Nine tackles, three assists, one sack
Time of Possession - 34:33 for Carolina, 25:27 for Tampa Bay
The NFL Network postgame show is simply ripping into Greg Schiano and the Tampa Bay Buccaneers right now.
It's hard to remember a coach as disliked as Schiano.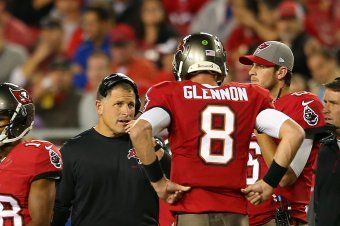 For the Buccaneers, the loss tonight drops them to 0-7 on the season. Greg Schiano's team has now lost 12 of their last 13 games, and things have grown progressively worst during the 2013 season.
For the Panthers, the win brings them to 4-3, which means they've above .500 for the first time since the end of the 2008 season. They're now legitimate playoff contenders.
The Buccaneers shot themselves in the foot over and over tonight, and seemed outcoached and outmatched in every area of the game.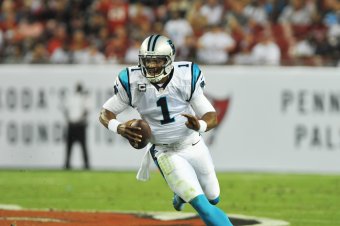 This game is over.
31-13 Carolina wins.
We'll wrap things up here in just a moment with some statistics and closing thoughts.
And the Buccaneers decide to go for it on the next fourth down (after kicking a field goal on the last fourth down, down 18 with minutes to go), rather than kicking another field goal, and Mike Glennon throws the ball out of the back of the end zone.
Yes, Greg Schiano is rolling dice to make decisions at this point.
Charles Johnson down

— Jonathan Jones (@jjones9) October 25, 2013
Oh no.
This is horrible moment for Carolina, Hopefully he's alright, because it would be a shame to lose a player like Johnson in the last two minutes of a meaningless game.
Lindell hits a 45-yd FG...but there's a flag down. Personal foul on Carolina. 1st down #Bucs. Take the points off the board

— Tom Krasniqi (@TKras) October 25, 2013
So the Buccaneers opt to take the points off the board, after kicking a field goal that didn't matter at all.
Is Greg Schiano just spinning a Twister board or consulting a Magic 8 Ball on the sideline to make decisions at this point?
LOL at Cam and Mooch's reactions to the cannons.

— Cat Scratch Reader (@CatScratchReadr) October 25, 2013
NFL Network showing Cam Newton's reaction to the cannons going off at Raymond James Stadium.
It's incredibly loud and startling. I can't blame them for being a bit surprised.
Panthers fans, be sure to stay tuned for the post-game show. Cam Newton will be the guest player.

— Cat Scratch Reader (@CatScratchReadr) October 25, 2013
He's quite the character, especially when he's happy. Definitely worth tuning in to see.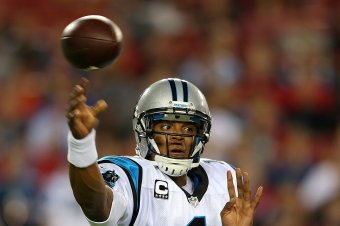 Mike Glennon goes for another deep ball.
And as usual, he misses horribly.
Cam Newton, on the other hand, was perfect on the deep ball he attempted earlier in the game. It was dropped by Ted Ginn.
These two young quarterbacks could not be any more different.
Well, the Buccaneers just recovered an onside kick.
A well-executed touchdown drive, followed by a well-executed onside kick. This is the epitome of "too little, too late."
Touchdown, Buccaneers.
Tim Wright is wide open in the end zone, and the Buccaneers tack on some consolation points.
2:53 left in the game, the Buccaneers trail the Panthers 31-13.
And...Derrick Brooks has just left the building. #SeenEnough

— Dan Lucas (@WFLADan) October 25, 2013
With over five minutes to go, the greatest Buccaneer of all time has seen enough.
Sad days for Tampa Bay.
Derek Anderson warming up on Carolina sideline.

— Pat Yasinskas (@PatYazESPN) October 25, 2013
The epitome of adding insult to injury.
Field goal, Carolina.
The turnover on downs sets the Panthers up with a short field, and Graham Gano hits his 10th field goal of the season.
31-6, Panthers. 6:14 to go in the game.
I never thought that by midseason, Revis would wish he was back with the Jets.

— numberFire (@numberFire) October 25, 2013
Or anywhere else but Tampa.
Even elite players like Revis only have so long to play, and being 0-7 with no hope of improvement has to be the worst feeling in the world.
3rd-and-7, down 22 points, and the Buccaneers throw behind the line of scrimmage to Brian Leonard.
4th-and-10, and Mike Glennon hits a defensive back in the face with a pass to end the drive.
The Buccaneers turn the ball over with 7:51 to go in the game.
Is there a mercy rule in the NFL?
Cam Newton has had another fantastic game, for the third week in a row.
With 8:59 to go, Newton has thrown for two scores, rushed for another, and has almost entirely avoided mistakes.
A dropped interception by Mark Barron is the only negative for the Auburn product.
They had some fans in Tampa Bay for awhile but they have almost all left now. pic.twitter.com/e6MO2tmbj4

— scott_fowler (@scott_fowler) October 25, 2013
An 0-7 team with no fans in the seats for the Buccaneers.
A team over .500 for the first time in five years for the Panthers.
Two teams going in opposite directions in the NFC South.
Based on conversations with bucs sources @rapsheet and I don't expect schiano to be fired tomorrow...

— Michael Silver (@MikeSilver) October 25, 2013
Well, that's good news for Greg Schiano.
Not sure who else it's good news for, thought.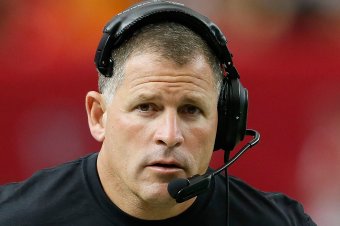 The Buccaneers apparently have no desire to win this game, as they punt the ball away despite being down by 22 points in the fourth quarter.
That's not the lack of fight you'd expect from a coach on the verge of being fired.
Star Lotulelei getting his name called for the first time. The big rookie from Utah showing great hustle to chase down a runner.
He's just one of the young players who will keep this Carolina defense very good for a long time.
Despite a Tampa Bay player yelling "That's not holding," the Buccaneers are called for a hold while returning a kickoff and will start their drive deep in their own territory.
Mistakes are killing Tampa Bay.
Lighting win 6-5 in OT! Bucs have scored 6 points themselves. Wow.

— Pewter Report (@PewterReport) October 25, 2013
(The Lightning are a hockey team, by the way.)
This article is
What is the duplicate article?
Why is this article offensive?
Where is this article plagiarized from?
Why is this article poorly edited?