NFL Power Rankings: Identifying Each Team's Position Heading into Week 8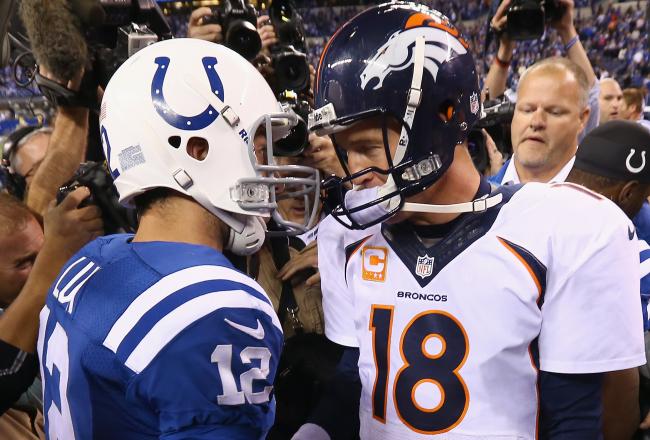 Andy Lyons/Getty Images
Nearly halfway through the season, NFL power rankings make less sense than they did in the preseason. Looking at head-to-head matchups quickly becomes a tangled mess.
However, with seven weeks of play under our belts, the strengths and weaknesses of teams are coming into full view. At least we have that to help guide the power rankings. It's not like I'm complaining. This all makes the season a joyride.
1. Seattle Seahawks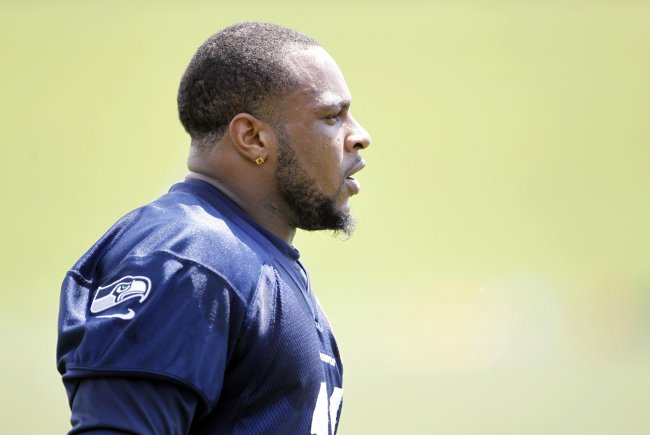 Joe Nicholson-USA TODAY Sports
The difficulty in power ranking teams this week starts right at the top. The Broncos had held a stranglehold here, but not this week after their loss to the Indianapolis Colts. So I welcome the Seattle Seahawks to the top of the heap.
Seattle's defense is second in passing and sixth in rushing. That unit will be able to match up with any team. Offensively, the team is second in rushing with Marshawn Lynch and the dual-threat ability of Russell Wilson.
The passing game is struggling a bit at No. 25 and Russell Wilson's completion percentage has dropped from his rookie season. However, with Percy Harvin back on the practice field, this offense is about to get a huge boost.
For all these reasons, the Seahawks are the most complete team in the league.
2. Denver Broncos
Yes, the Colts just beat the Broncos and I have Denver three spots ahead of the Colts and a spot ahead of the team they are staring up at in the division standings.
However, this team has certainly earned that right. Last week, the Broncos were on the road, and had they not made some uncharacteristically silly mistakes, they likely would have won.
This is still a powerful team with a nearly unstoppable offense. That said, the pass defense is vulnerable and the offensive line is allowing Peyton Manning to get hit too often.
There is also this:
Peyton Manning was 1 of 8 #Broncos who did not participate in today's practice, but said he plans to practice Thurs: http://t.co/oMyoWOzo4Y

— Denver Broncos (@DenverBroncos) October 23, 2013
I'm not saying to overreact to this news, but it's certainly not a good sign.
3. Kansas City Chiefs
The Chiefs are the league's last remaining unbeaten team. However, they have played an easy schedule, which is a big reason why I have them at third in the power rankings despite having the best record.
I like the Chiefs, and their defense will make them a tough matchup for everyone. However, in terms of being an elite team, the offense is concerning.
Kansas City is 27th in yards per pass. This is going to make it very difficult for this team to come from behind or keep up with a team that has the ability to limit the damage caused by the Chiefs defense.
4. New Orleans Saints
There is trouble brewing in New Orleans:
Had Saints played Sunday, it would have been difficult for TE Jimmy Graham to play with his foot injury. Status for Sunday vs BUF uncertain.

— Adam Schefter (@AdamSchefter) October 21, 2013
Maybe this will prove to be nothing and Jimmy Graham will be back dominating the NFL in no time. However, foot injuries can linger, and the Saints need Graham. New Orleans still struggles on run defense, and the pass defense, while improved, is not enough to take this team to the Super Bowl without a dominant offense.
5. Indianapolis Colts
With wins over the Broncos, Seahawks and 49ers, the Colts' resume is loaded.
Still, this pass defense was exposed a bit in the second half against the Broncos. The pass rush will get crucial stops for this team, but given time, quarterbacks can beat it.
Then there is the depressing news of Reggie Wayne's season-ending injury.
I don't mean to bash the Colts, I'm just not ready to jump on the Super Bowl bandwagon with this team.
6. San Francisco 49ers
With receiver Michael Crabtree getting closer to returning to the field, the 49ers offense will be much harder to defend.
However, the 49ers can't allow that to let them lose sight of what has gotten this team back on track, and that is a return to smashmouth football led by the rushing of Frank Gore.
Over the last four games, all wins, the 49ers have averaged over 33 points per game.
7. Cincinnati Bengals
The Bengals have won three straight and two in a row by the score of 27-24. Pulling out close games is a strong sign for this young team.
Quarterback Andy Dalton, while still suspect on the deep ball, has solidified his play in the recent stretch, and he certainly has some nice weapons around him.
Defensively, this team is talented, but not complete. Also, the secondary has been the biggest culprit of inconsistency, and that isn't going to improve with the unfortunate news of Leon Hall's season-ending injury.
8. New England Patriots
Last week was a terrible sign for the Patriots. They fell to the Jets after an obscure penalty was called, but whether that penalty was called or not, this team would still have ample reason for concern.
The passing game is not coming around. Tight end Rob Gronkowski saw his first action of the season and he produced to the tune of eight catches for 114 yards.
However, that wasn't good enough to help quarterback Tom Brady complete more than 50 percent of his passes.
I had been convinced that this passing offense would improve as the season went on. I'm far from convinced of that fact now.
9. Green Bay Packers
I wonder if Aaron Rodgers has met all of the guys he will be throwing the ball to this week?
The Packers are getting drilled by the injury bug and the list includes most of Rodgers' favorite weapons with James Jones, Randall Cobb and Jermichael Finley all dealing with some sort of ailment.
Maybe this will just be one of those years where the Packers can never get healthy. If they can avoid that sad fate, this team could be dangerous.
This video will tell you why the Packers are dangerous regardless of the injuries:
10. Detroit Lions
The Lions have made nice strides from the disorganized and self-destructive mess they were last year. However, they haven't left all of their baggage in the past.
Mindless mistakes appeared on special teams and in pass defense last week, just as they did so many times last season.
The Lions need to make sure they learn from those errors and not let them spiral out of control.
11. San Diego Chargers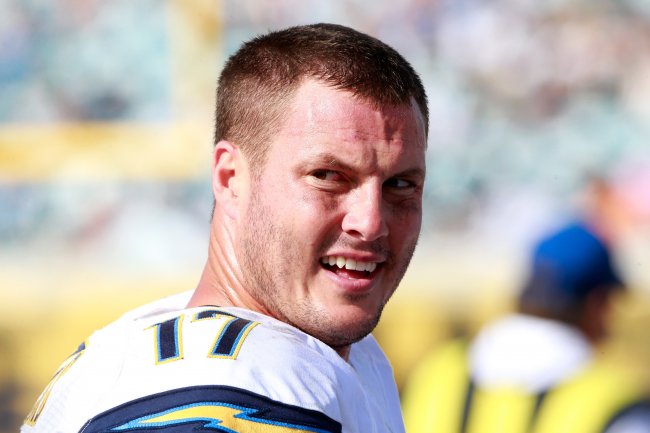 /Getty Images
I'm starting to like this team—which is saying a lot since I'm a Raiders fan. However, the Chargers crossed .500 for the first time this season.
Will the Chargers make the playoffs?
The offense has been outstanding. The Chargers are second in yards per pass, and Rivers is hitting 73.9 percent of his passes. Also, Ryan Mathews and the San Diego running game has sparked to life the last two weeks. In that span, Mathews has 43 carries for 212 yards and a touchdown.
Defensively, the Chargers remain suspect. They are 30th in yards allowed per rush and 29th in yards allowed per pass.
The last two weeks, the Chargers have allowed just 15 combined points. This is largely due to the fact that the Chargers' consistent offense didn't allow for either opponents (Colts and Jaguars) to hold the ball offensively for more than 23 minutes.
If San Diego can even make slight improvements on defense, this team will be a Super Bowl contender.
12. Dallas Cowboys
By beating the Philadelphia Eagles and Washington Redskins by a combined score of 48-19 over the last two weeks, the Cowboys have taken control of the embarrassing NFC East. Dallas has a one-game lead over the Eagles, and at 3-0 in division play, it is the only undefeated NFC East team.
While the offense is lethal in Dallas, defense is another story. The defensive line is banged up and the pass defense remains terrible at 30th in the league. I wouldn't expect anything but an up-and-down season in Dallas.
13. New York Jets
The New York Jets should not be 4-3. I don't mean to say they haven't earned that record, but with an offense that doesn't do anything well and a rookie quarterback who's already thrown 11 picks, four wins in seven games is amazing.
Rex Ryan has done a wonderful job with this defense, and the team is making plays when it has to.
14. Carolina Panthers
One of the great things about this season is that there are several teams lurking back in the standings that are close to being great. The Panthers are one of those teams.
Carolina's defense is outstanding. It is in the top five in both run and pass defense.
That means this season falls on Cam Newton for the Panthers. The last two weeks, he has thrown four touchdowns and no interceptions.
If he can keep avoiding turnovers like that, this team will be extremely dangerous.
15. Miami Dolphins
After a stellar start to the year, the Dolphins' season has taken a dark turn with three straight losses.
The flaws of this young team have been all too apparent. The offensive line is terrible and the pass defense is suspect.
Miami does have an explosive offense and nice potential, but this is not a serious playoff-contending team.
16. Chicago Bears
If the Dolphins' season took a dark turn, Chicago's took a nose dive into a black hole.
Injuries, including starting quarterback Jay Cutler, have eroded hope for the season. While Cutler's injury is troubling, it is the defense that is the biggest concern. That unit is 27th in passing and 25th in rushing.
17. Baltimore Ravens
Baltimore is last in the league with 2.8 yards per rush. Quarterback Joe Flacco does not have the weapons or the time in the pocket to overcome that lack of production on the ground.
The defense has looked good the last two weeks while allowing just 19 points in each game, but the Ravens still picked up losses due to the anemic offense.
18. Tennessee Titans
The Titans have picked up three straight losses, but they have come to the Chiefs, Seahawks and 49ers. This was a great week for them to have a bye.
Tennessee is good in the trenches on offense and defense. That will keep them competitive all season. If Jake Locker can stay healthy, this team can climb back into the playoff picture.
19. Arizona Cardinals
The Cardinals have a good defense, and the pass offense is wildly improved from last season. Unfortunately for Arizona, that pass offense is still not good at 17th in the NFL, and Carson Palmer is a mistake-prone quarterback. It doesn't help that the offensive line is terrible.
20. Cleveland Browns
Unless veteran quarterback Jason Campbell has forgotten how to play football, he will be an instant upgrade over Brandon Weeden.
Campbell is the master of the checkdown pass, but he does a good job of avoiding interceptions. He will be able to win some games with Cleveland's defense.
21. Buffalo Bills
It's pretty remarkable that the Bills are within a game of .500 and have lost just one game by more than seven points.
After already seeing injuries take away rookie quarterback EJ Manuel and former practice squad player Thad Lewis, the Bills have a lot working against them.
However, Mario Williams' stellar play has led to a vastly improved defense.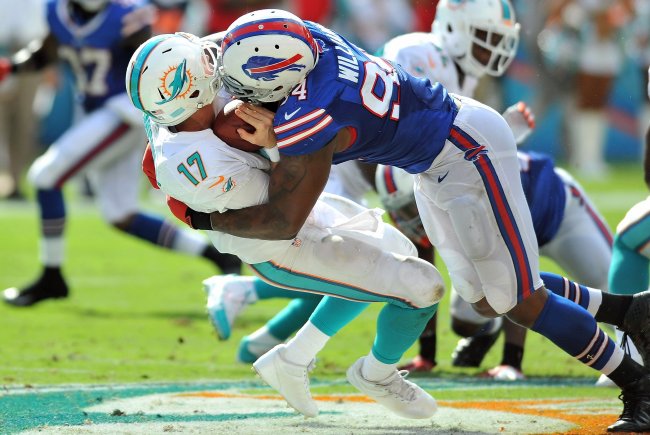 Steve Mitchell-USA TODAY Sports
The Bills are just 21st in opposing passing yards and 28th in rushing yards allowed, but they are 14th in sack percentage and seventh in turnovers forced. This has helped the defense pick up key stops and give the offense a chance.
Meanwhile, the Bills have a consistent ground game and are fifth in the league in rushing. This franchise is making nice strides under first-year coach Doug Marrone.
22. Philadelphia Eagles
Things could get ugly quickly in Chip Kelly's first year as coach. The Eagles came into last week having won two straight and tied for the lead in the NFC East.
They then scored just three points against the struggling Cowboys defense and are 3-4.
All of a sudden, those two wins look like nothing more than the product of playing two teams with one combined win.
23. St. Louis Rams
What happened to St. Louis' defense? I, and many others, had high hopes for it, and here they are at 17th in passing and 30th in rushing.
While the focus on St. Louis is on the injury to Sam Bradford and his impending expiring contract, the erosion of the defense is the real concern. If that defense continues to play like it has, it is back to square one for St. Louis in the rebuilding process.
24. Pittsburgh Steelers
The Steelers have a needed two-game winning streak in process, but they are still two games under .500.
While the offensive line has shown slight signs of improvement, the gains have been far too modest to think Pittsburgh can make any real noise this season.
25. Washington Redskins
One magical performance by quarterback Robert Griffin III and the 2-4 Redskins have hope.
It is concerning that after two weeks where the Redskins allowed just 45 combined points they let the Bears go for 41, but that is easily forgettable in the delirium of Griffin's return to form.
Given the fact they play in the NFC East, the playoffs are not out of the question for this team.
26. Oakland Raiders
As I mentioned above, I'm a Raiders fan, and I'm content with this season.
With a horrendous and injured offensive line, this team has no shot at making a second-half push to the playoffs. However, with the promising play of quarterback Terrelle Pryor combined with the defense's improvements, a path back to relevance is coming into view.
27. Atlanta Falcons
The Falcons won this past weekend, but who cares? This team improved to just 2-4 by beating the winless Buccaneers, is suffering from costly injuries and the defense is terrible.
This is going to be a long year in Atlanta.
28. Houston Texans
At least Houston was competitive for a whole game while playing Kansas City this past weekend. Also, quarterback Case Keenum did a solid job considering it was his NFL debut in a hostile setting.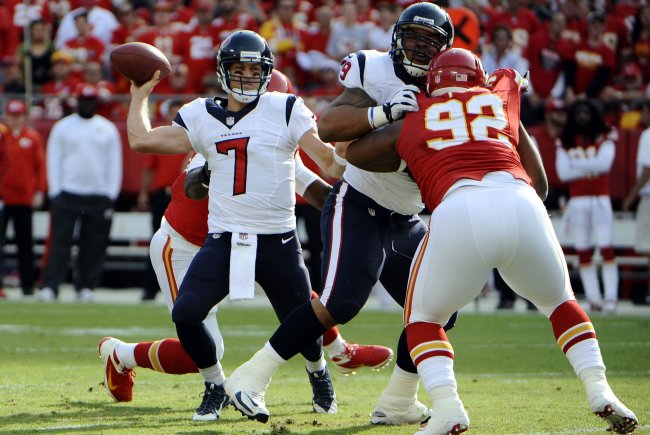 John Rieger-USA TODAY Sports
However, it is a sign of how wrong things have gone in Houston that I'm talking about such modest moral victories for this team.
29. New York Giants
I suppose it's fitting that the Giants would get their first win from a game that is a strong candidate for ugliest of the year, and it was sparked by Peyton Hillis.
The Giants will now play a vulnerable Philadelphia team. Who knows? Maybe they can start a win streak.
30. Minnesota Vikings
This is not all due to system adjustment:
Josh Freeman had 16 overthrown passes Monday night vs NYG. Peyton Manning has 16 overthrown passes THIS SEASON (via @ESPNStatsInfo)

— NFL on ESPN (@ESPNNFL) October 23, 2013
Josh Freeman has been bad all season. That only makes coach Leslie Frazier's decision to start him and have him throw 53 times, after being with the team for just two weeks, all the more baffling.
Now, this team will likely have to turn back to Christian Ponder:
Josh Freeman has a concussion, Vikings likely to turn back to Christian Ponder on Sunday night http://t.co/G4sgMGXcNY

— ProFootballTalk (@ProFootballTalk) October 23, 2013
What does Frazier say to Ponder at this point? Certainly not, "You're my guy."
31. Jacksonville Jaguars
Hey, don't look now, but the Jaguars are not 32nd.
With Chad Henne, Justin Blackmon and Cecil Shorts, the passing offense is making nice strides. This is a vast improvement over having nothing work for this team.
32. Tampa Bay Buccaneers
As if things weren't bad enough in Tampa Bay, running back Doug Martin will be out for an indefinite amount of time.
That is not going to make life any easier for rookie quarterback Mike Glennon as he adjusts to the NFL.
This article is
What is the duplicate article?
Why is this article offensive?
Where is this article plagiarized from?
Why is this article poorly edited?