Browns vs. Chiefs: Breaking Down Cleveland's Game Plan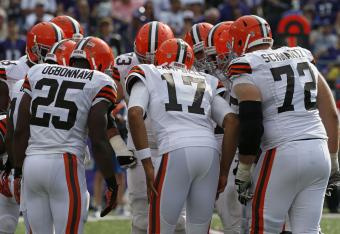 Mitch Stringer-USA TODAY Sports
The Cleveland Browns will start their 20th quarterback since their return to the NFL against the Kansas City Chiefs on Sunday. Jason Campbell will be the third starting quarterback for the Browns this season and hopes to stop their two-game losing streak.
The game plan for the Browns should be very simple: make Campbell comfortable and do not turn over the football.
This is much easier said than done. The Chiefs hold the best turnover ratio in the NFL. At the very least, the coaching staff made the correct move to start Campbell. Now they need to make sure the play-calling is suitable for him.
Campbell has similar tendencies to the man he replaced, Brandon Weeden. They both hold the ball longer than you would like and both throw short of first downs too often. The difference is that Campbell doesn't panic quite as much under pressure.
He is prone to turnovers, but they are usually aggressive throws downfield, not panicked reactions in the pocket. Offensive coordinator Norv Turner needs to choose plays wisely this week and mix up the calls like he did in Brian Hoyer's first start for the Browns.
Perhaps Campbell will be the spark that the Browns need. If they can pull off a victory, then they will head into the bye week with a .500 record and a legitimate shot at competing for the AFC North.
The Browns are 11-10-2 all-time against the Chiefs but have not had much success in Kansas City. The Chiefs are 8-3-1 against the Browns at home.
The Competitive Edge
Quarterback
Chiefs quarterback Alex Smith has maybe been the most surprising player in the NFL. He has thrown for 1,570 yards, seven touchdowns and four interceptions. More importantly, his team is undefeated at 7-0. He takes very good care of the football and is always able to find his weapons quickly.
Edge: Kansas City
Running Back
Jamaal Charles is having one of the best years in the NFL and is one of the main reasons why the team is playing so well. He is third in the NFL with 561 rushing yards, and he has 337 receiving yards and eight total touchdowns on the year. Covering him in space is nearly impossible. He will pose the toughest test to date for the Browns' inside linebackers.
Edge: Kansas City
Receivers
Despite Browns receiver Josh Gordon's poor performance last week where he was held to just two catches for 21 yards, the Browns still have the edge in this category.
It is no coincidence that the year Alex Smith shows up to play quarterback in Kansas City is the same year wide receiver Dwayne Bowe falls out of the elite category. Smith relies on the run and very rarely challenges the defense vertically with his weapons.
Edge: Cleveland
Tight End
Jordan Cameron had another great game against the Green Bay Packers, grabbing seven passes for 55 yards and a touchdown. Defenses have to choose between double-teaming him and Josh Gordon on every play. Cameron has made teams pay who allow him one-on-one coverage.
Edge: Cleveland
Offensive Line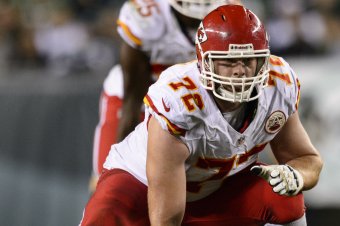 Howard Smith-USA TODAY Sports
The Chiefs boast a top-10 rushing offense and have only allowed 18 sacks on the year. In comparison, the Browns have the second-worst rushing offense and have allowed 27 sacks on the year. Kansas City's line is anchored by left tackle Brandon Albert, but it became elite once the Chiefs drafted Eric Fisher last season to play right tackle.
Edge: Kansas City
Defensive Line
These are two of the best defensive lines in the NFL. The Chiefs create a little more pressure from their line in the passing game, but the Browns are better against the run. Chiefs nose tackle Dontari Poe has 4.5 sacks and 25 tackles on the year. Browns defensive end Desmond Bryant has 3.5 sacks and 21 tackles on the year. There will be plenty of dominant big men in this game.
Edge: Push
Linebackers
The Chiefs currently have the most violent and disruptive pass-rushing linebackers in the entire league. Their linebackers have 22.5 of the team's 35 sacks. That's more than the Browns have as an entire defensive unit. Chiefs outside linebacker Justin Houston is tied for second in the NFL with 10 sacks already.
Edge: Kansas City
Defensive Backs
They say that a great pass rush makes for a great defensive secondary, and the Chiefs are living proof. All the pressure from their defensive front throughout the season has paid off. The Chiefs secondary has cashed in 10 interceptions and returned three of them for touchdowns.
Edge: Kansas City
Which return man will have the biggest impact Sunday?
Special Teams
Two of the best return units in the NFL will be doing battle in this game. Travis Benjamin will continue to return punts and Fozzy Whittaker will return kicks for the Browns. On the other side of the ball, Dexter McCluster and Quintin Demps are just as dangerous. If one of these two teams can spring a long return, it could mean a huge advantage.
Edge: Push
Browns Offense vs. Chiefs Defense
Good luck. The Chiefs are fast, violent and get to the quarterback better than anyone in the NFL. As a result of all their pressure, they create tons of turnovers.
This is what the Browns need to avoid.
To avoid being on the bad end of a blowout, the Browns will need to attack the weakest part of the Chiefs defense, which is against the run. While they are not terrible, they are certainly prone to giving up yards on the ground.
With a new starting quarterback in Jason Campbell, the Browns need to utilize their ground attack and alleviate the pressure that Campbell will see. They also need to get Travis Benjamin involved more on offense.
Benjamin has just six touches of the football on offense but has produced 150 yards. He should be catching bubble screens, running jet sweeps and even catching passes out of the backfield.
If offensive coordinator Norv Turner doesn't want this game to be a laugher at halftime, he will need to be very creative in how he attacks the Chiefs defense.
Browns Defense vs. Chiefs Offense
While the Browns have faced a laundry list of elite running backs this season, none is having quite the year that Jamaal Charles is for the Chiefs. His best ability is the Browns' biggest weakness.
He is so dangerous and elusive on draw plays and screens that he poses a serious threat to any team. When your inside linebackers have been among the worst in the NFL defending those plays over the past two weeks, he poses an even greater challenge.
Defensive coordinator Ray Horton is going to have to try and devise a way to help D'Qwell Jackson and Craig Robertson at the inside linebacker position. On Wednesday I showed how teams are targeting this part of the Browns' defense, and it is certainly working.
If Horton can use a safety or outside linebacker in zones every once in a while, it could deter teams from attacking this area. While that would hurt the Browns' pass rush, it would make teams think twice about blindly throwing into the middle of the field.
RBs & TEs the Last Two Weeks Against the Browns

| | | | | |
| --- | --- | --- | --- | --- |
| TEAM | COMBINED REC YARDS | TDs | | |
| Detroit | 131 yards | 4 | | |
| Green Bay | 106 yards | 1 | | |
| Total | 137 yards | 5 | | |
ClevelandBrowns.com Team Box Scores
Special Teams
This is about as closely as two teams can match up on special teams. Both teams boast elite return games and above-average kicking games.
The Browns will need Travis Benjamin and Fozzy Whittaker to be factors if they will contend in this game. The offense has had zero ability to create its own spark. If the return game can set them up with good field position, it will help build their confidence.
Browns kicker Billy Cundiff, while having a good year and only missing two field goals so far, has his work cut out for him on Sunday. Arrowhead Stadium is one of the loudest and most intimidating places in the NFL. When the kicker lines up for a field goal, the sound is deafening.
If the Browns are in the game late, the difference will only be about a field goal. It is very hard to envision a scenario where the Browns win by a large amount of points.
What They're Saying
Browns' head coach Rob Chudzinski on if Brandon Weeden has improved any and why they made the change at quarterback: "I think he has gotten better. As I mentioned, I think he has improved, but we're looking for the consistency and the production."
Chiefs' head coach Andy Reid on the Browns' new starter Jason Campbell: "He's a heck of a quarterback, smart, accurate (and) has great size. If you have an opportunity to tackle him you better wrap him up, he's a big man. He's a good football player."
Browns' Wednesday Injury Report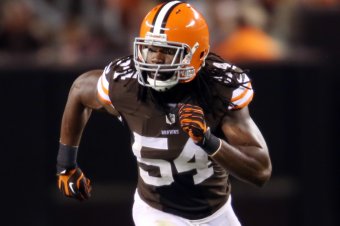 Ron Schwane-USA TODAY Sports
Did not participate: Outside linebacker Quentin Groves (ankle)
Rob Chudzinski said on Wednesday, via the Akron-Beacon Journal, that the team will have Groves' ankle looked at because it's "a little sore." This is bad news for the Browns, who just got him and Jabaal Sheard back from injury. This once again hurts the team's depth at that position, which in turn hurts the pass rush.
Limited: Linebacker Brandon Magee (oblique) and defensive lineman Billy Winn (quad)
Billy Winn has finally returned to practice, but this doesn't mean he will return to play Sunday. The Browns may elect to hold him out. If they keep him out Sunday, it allows two more weeks for his quad injury to fully heal.
Full Participation: Defensive back Chris Owens (finger), running back Chris Ogbonnaya (ribs), running back Willis McGahee (knee), linebacker Tank Carder (neck) and defensive lineman Armonty Bryant (shoulder).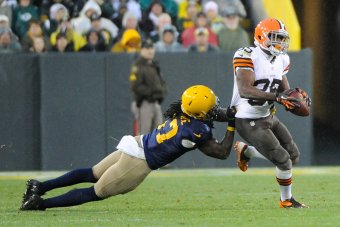 Benny Sieu-USA TODAY Sports
None of these injuries should be too troubling; these players were all full participants in practice on Wednesday. The only area for slight concern is having both Willis McGahee and Chris Ogbonnaya on the injury report. If for some reason they were limited, that would leave Fozzy Whittaker with a bigger workload at running back. That wouldn't be a good thing.
This Week's Game Stats and Facts
Jordan Cameron leads the Browns in receptions (45), receiving yards (515) and touchdowns (6). His reception total leads NFL tight ends and is tied for the most by a Browns player in the first seven games of a season.
Cleveland is allowing an average of 4.54 yards per play, second in the NFL. The Browns are the only team in the league to have not allowed a pass of 40-plus yards this season.
Travis Benjamin recorded a career-long 86-yard kickoff return at Green Bay, which set up a touchdown. It was his first kickoff return of the season and the fourth-longest in the NFL this year.
Chiefs OL Geoff Schwartz is the older brother of Browns OL Mitchell Schwartz.
All quotes and observations obtained firsthand unless otherwise noted. Game stats and facts are courtesy of the Browns' communications department.
This article is
What is the duplicate article?
Why is this article offensive?
Where is this article plagiarized from?
Why is this article poorly edited?

Cleveland Browns: Like this team?