Manchester United vs. Real Sociedad: 6 Things We Learned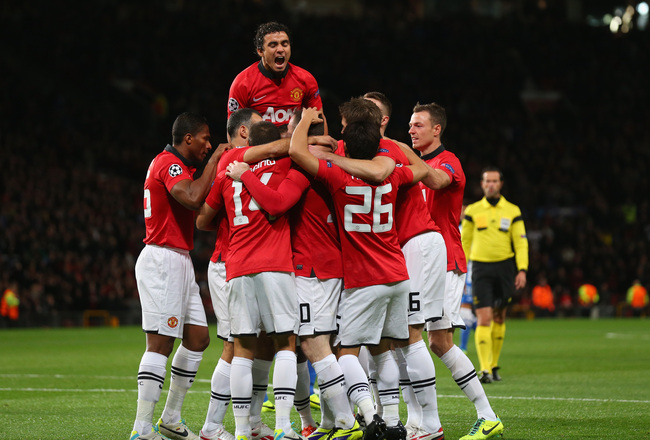 Alex Livesey/Getty Images
Manchester United's 1-0 win over Real Sociedad was far from the simple result that David Moyes may have liked to see but nonetheless fired the Red Devils to the top of their Champions League group.
Moyes' side are so far unbeaten in their first European campaign under the boss and looked good for periods of their most recent outing, but their performance most definitely left room for improvement.
La Real can also walk away from the result with reasons to be both encouraged and dismayed, leaving both teams with a lot to contemplate as they progress through the competition.
1. Complacency Remains an Issue for United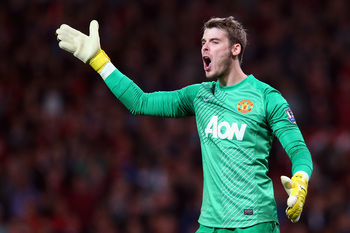 Julian Finney/Getty Images
Having gone minutes two to 90 without scoring a goal, United showed that they do indeed have the means to instil a sense of urgency in their play, something that hasn't been consistently evident so far this term.
Inigo Martinez's first-minute own goal was by no surprise thanks to the instant impetus of the English hosts, clearly looking to silence some doubters following their 1-1 draw with Southampton over the weekend.
However, one less pleasing aspect of the Red Devils' play did linger from that Saints' result.
As the game wore on, La Real forced their way further into the encounter, the visitors' midfield grasping their chance to worm their way into the possession ranks, especially as half-time descended.
After the break, Sociedad only thrived more in what share of the ball they managed to get a hold of and proceeded to expose the holes of Moyes' side, although not testing David De Gea as much as they may have liked.
The second period showed United once again not to have the same confidence in finishing as they did under Sir Alex Ferguson.
2. If You Don't Shoot, You Don't Score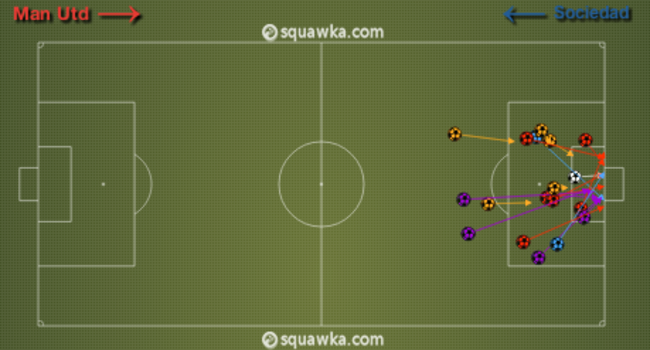 Manchester United shots vs. Real Sociedad (Infographic via Squawka)

Up until this encounter, United had been one of the least productive sides in the Champions League in terms of creating scoring opportunities.
In their first two European encounters this season, the Premier League champions managed to make just 10 opportunities, eight of which came in their opening fixture against Bayer Leverkusen.
Wednesday's outing told a far different story as the home side had an encouraging total of 18 shots at the Real Sociedad goal, five of which were on target with another two hitting the woodwork.
While the Red Devils finished up with just one of those chances actually hitting the back of the net, Moyes' men took a positive step forward in terms of actually showing more passion to test the opposition.
Wayne Rooney commented in a post-match interview with Sky Sports' Geoff Shreeves that his side "should have won 3, 4 or 5-0" against Sociedad, telling a story of just how strong their presence sometimes was moving forward.
3. Antoine Griezmann Living Up to His Plaudits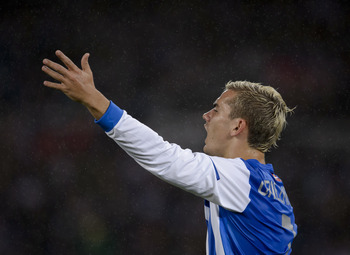 EuroFootball/Getty Images
For some years now, Antoine Griezmann has been a highly praised piece of the Real Sociedad chess set, on several occasions being linked with a move elsewhere.
However, the Frenchman has remained in Basque country and it's now that the forward is proving that any faith placed in his talents may have been deserved.
Griezmann played a big role in his side's magnificent 2012/13 campaign, scoring 10 goals and five assists in his La Liga season.
Against United, the 22-year-old again took his place as one of the leading members in any rebellion the Spaniards strove to enact and was De Gea's biggest threat for periods of the match.
So often do teenagers receive a big billing only to fall short of expectations, but should his current trajectory continue, Griezmann shouldn't be too concerned with the same happening to him.
4. Phil Jones' Physical Assets Paving Way for Succession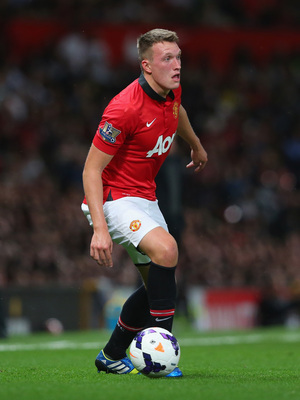 Alex Livesey/Getty Images
In the first half especially, Phil Jones will have given a great deal of the Manchester United support reason to be not so glum about the ageing figures of Rio Ferdinand and Nemanja Vidic.
For some time now, the young Englishman has been proposed as the eventual successor to whichever of those two might take their Old Trafford leave first, along with several other candidates for the job.
Wednesday showed off nothing if not Jones' considerable physical talents, his technical prowess perhaps not quite as impressive at times.
With Rafael bursting forward, Jones displayed his vast potential as a reliable covering unit on the right side of a centre-back pairing with Jonny Evans.
On several occasions, the 21-year-old beat the likes of Carlos Vela and the aforementioned Griezmann for pace, boasting the same kind of stride that saw him catch up to a rampaging Cristiano Ronaldo in this competition not so long ago.
Considering his position and the proficiency displayed in central defence in recent seasons, it's clear that strength lies among the youngster's skills, but there's so much more to the athletic figure of a player who continues to shine when played in the right position.
5. Referee's Input as Telling as the Players'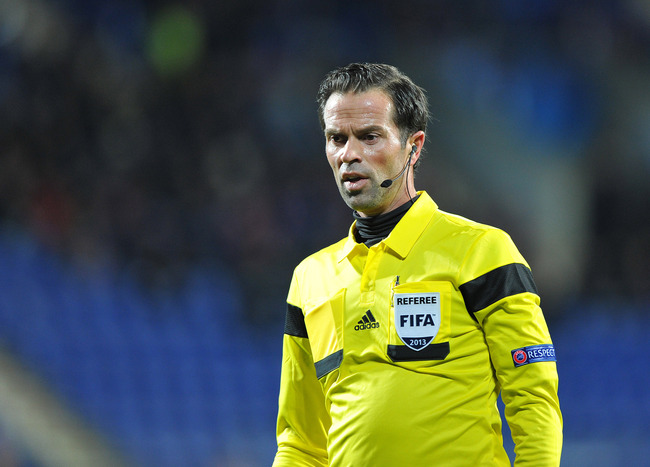 Bas Nijhuis
EuroFootball/Getty Images
As Gary Neville noted in his commentary on several occasions, the knee-jerk reactions of the referee were often detrimental to the pace and overall flow of the game.
It was Dutchman Bas Nijhuis who took charge of the fixture and, on several occasions, helped in proving right those who might argue that football has become accustomed to reacting harshly against the physical side of things.
Some of Nijhuis' decisions meant that the match stuttered and wasn't allowed to get into the stride that onlookers would undoubtedly have appreciated.
Although some will argue that the talent of those 22 on the pitch should ultimately win out, the official's performance sometimes took the limelight away from the players and made it something of a spectacle for the wrong reasons.
6. Wayne Rooney the Most Important Piece of the Moyes Puzzle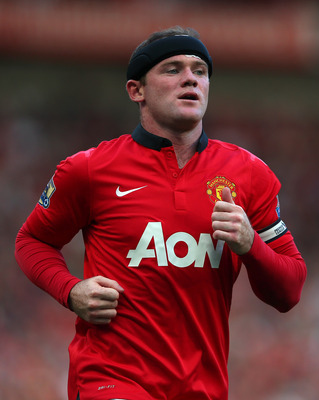 Alex Livesey/Getty Images
Possibly the most heated player discussion at Old Trafford of late has been in regards to what role Shinji Kagawa wants and indeed needs to play in the Manchester United team in order to succeed.
However, the other side of that argument is not what's best for the individual, but what's best for the team—or at least that's what Moyes might say.
The Japanese playmaker is undoubtedly at his best when played in a "trequartista" role in behind the main striker, acting as the conduit between midfield and attack while posing a goal threat himself.
On Wednesday, Kagawa's most dangerous moments came when he cut inside and injected his contributions from this more central position, if not sometimes ending up on the right flank at times.
The difficult counter-point in the argument is that it's also the area where United will arguably get the most out of Wayne Rooney right now, given that the likes of Robin van Persie, Danny Welbeck and Javier Hernandez need to be accommodated, too.
Ironic though it may be, considering his previous relationship with the manager, Rooney has been the most impressive player at United this season and continued to deliver on Wednesday, forcing the match's opener with some fine individual play at close range.
So, the question remains as to whether Rooney should be played out wide—he's certainly capable of doing so but risks a drop in production just so that Kagawa might rise in his place.
Keep Reading

Manchester United: Like this team?